Ohio State improved to 3-0 following a 51-10 blitzkrieg of Indiana yesterday afternoon in Memorial Stadium. 
Justin Fields wasn't quite as dominant as we had seen in the first two games yet still racked up 210 total yards and four touchdowns but the story of the day was Ohio State's rushing attack churning out 314 yards led by J.K. Dobbins and a hungry Buckeye defense that continued it's stellar improvement over last season. 
The Buckeyes used a 37-yard touchdown toss from Fields to Chris Olave, a punt block for a safety and a 9-yard Fields-to-K.J Hill connection to score 16 points in less than three minutes and take a 23-3 lead midway through the second quarter and never looked back. 
Next up for Ohio State is a date with the Miami RedHawks next Saturday in the Shoe but before we turn our attention to another non-conference foe, here are Five Things from yesterday's big win over the Hoosiers. 
---
CHASE-ING GREATNESS
So, Chase Young owned the line of scrimmage again. 
After recording 1.5 sacks in each of the first two games of the 2019 slate (along with a PBU and a blocked field goal), Young was back it versus Indiana.
The potential No.1 pick in next year's NFL Draft tortured the Hoosiers with three stops, 2.5 TFL and a pair of sacks before watching a sizable portion of the second half from the bench with Ohio State in control on the scoreboard. 
Young's sack for a 5-yard loss on a 2nd-and-10 play put Indiana in a hole leading a punt that Chris Olave promptly blocked for a 16-3 Ohio State lead early in the second quarter. 
He posted another 5-yard sack later in the half and opened the second half with intense pressure on a 1st-and-10 play leading to a punt three plays later. 
I cite this play as it is an example of even when Young didn't register a tick-mark in the stat sheet, he still impacted the game which is commonplace in between the sacks. 
Speaking of, Young now has 5.0 through three games. It's early, but it might be wise to make a mental note of Vernon Gholston's single-season school record of 14.0 sacks set back in 2007. 
J.K. LEADS THE WAY
Ohio State's junior tailback, J.K. Dobbins, continued his resurgent play with 193 yards rushing on just 22 carries, good for 8.8 per try, with one touchdown in a dynamic performance.
Only a lopsided score kept Dobbins from eclipsing the 200-yard mark after he gouged the Hoosiers for 175 yards on 20 carries in the opening half – the 6th-most for an OSU back in one half in school history. 
Dobbins was downright nasty in the second quarter in particular as he went for 125 yards on 11 tries (11.4 ypc) including a 56-yard jaunt through the Hoosiers defense and another 26-yard effort for a touchdown. 
The 56-yarder would set up a Justin Fields to K.J. Hill connection four plays later for a 23-3 Ohio State lead and his 26-yard burst through at least six broken tackles made it 30-3 good guys with 4:09 left before halftime. 
Dobbins had just one carry for negative yardage, a second quarter run that went for -1 but otherwise he looked quick, ran hard, took care of the football, and appeared to hit all the holes in his best game since hammering Maryland for 203 yards on 37 carries in a 52-51 overtime win last mid-November.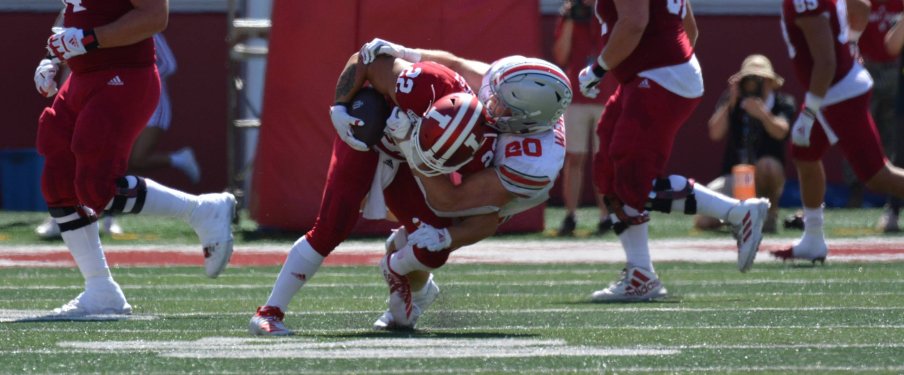 SHUT 'EM DOWN
I admit I was only cautiously optimistic about Ohio State's defense heading into the season and while I was certain they'd be better than last year (not hard), I didn't think they would elevate their performance to be a Top-25 total defense. 
Through the first two games, the defense ranked 20th nationally giving up 250.5 yards a game and yesterday they stayed on track giving up 257 total yards including just 97 in the second half. 
Still, it was in the first half – when Indiana thought they at least had a puncher's chance – that Ohio State's defense looked pretty damn special in posting these statistical nuggets:
On seven total possessions, Ohio State held Indiana to negative yardage of three series', forced three 3-and-outs and two 4-and-outs. 
Indiana converted on just 2-of-8 third down tries including an 0-for-6 start. 
The Hoosiers amassed nine rushing yards on 0.8 yards per carry which swelled to only 1.9 yards per carry when adjusting for sacks. 
The defense forced a safety and recorded a pair of sacks.
For the game, the Buckeyes held Indiana to a ridiculous 3-of-17 on third down conversion tries which comes on the heels of allowing Cincinnati to convert on just 3-of-14 attempts meaning the Bullets have allowed third down conversions on only six of the opponent's last 31 tries (19%). 
DAMON ATTACK
Redshirt senior cornerback Damon Arnette has spoken openly about how he didn't live up to his own expectations last year as Ohio State's defense was gashed repeatedly. 
He came back to right a wrong and hopefully improve his draft stock along the way and he certainly didn't hurt his cause against Indiana yesterday. 
Through the first two games, Arnette wasn't bad but I'd argue Jeff Okudah and Shaun Wade were the clear two-best cover guys versus Florida Atlantic and Cincinnati. 
Yesterday, however, Arnette had a hell of game highlighted by a 96-yard interception return for a touchdown for Ohio State's final points in the 51-10 thrashing. Arnette jumped a route in that flat with Indiana threatening at the OSU 7 yard line and waltzed through moderate traffic to the opposite end zone. 
Beyond the pick six, Arnette posted two PBUs, one of which came a few plays before his touchdown and another prevented a touchdown in the first quarter. There's no question about Arnette's commitment this year just as there's no doubt he is benefiting from the expert tutelage of Jeff Hafley. 
With Wade and Okudah already playing at an extremely high-level, Arnette starting to ball out would be huge for a defense hellbent on reestablishing itself as one of the nation's best after last year's dumpster fire. 
PETE BOSS
I'm sticking with the defense for this last one because Pete Werner deserves some love. 
A constant whipping boy last year – frankly oftentimes the result of simply being lumped in with Tuf Borland as the other linebacker seemingly not doing his job consistently enough – Werner was better than he got credit for last year. 
That's not to say he didn't have his issues, it's only to say he wasn't the biggest issue in the linebacking corps and this year, he's done his job and then some in all three games. 
Against the Hoosiers, Werner tied for the team lead with five tackles and added a pair of tackles for loss. 
On Indiana's second possession he showed his improvement tackling in space stopping Ronnie Walker Jr. for no gain. Three possessions later, on 3rd-and-1, he blew up a quarterback keeper for a 1-yard loss to force an Indiana punt. 
Five plays before Arnette's pick six, Werner brought the wood on a 2nd-and-10 play blasting Cole Gest for a 3-yard loss following a screen pass in the left flat. 
Werner has far exceeded my expectations through the first three games and probably a lot of yours too.