BLOOMINGTON, Ind. – Damon Arnette put an exclamation point on Ohio State's 51-10 win over Indiana on the final play of the third quarter of Saturday's game.
With the Buckeyes already ahead by 34 points and Indiana facing a 3rd-and-goal situation, Peyton Ramsey attempted to throw a touchdown pass to tight end Matt Bjorson. Instead, Arnette jumped the route to pick off the pass at the 4-yard line, then weaved his way all the way to the opposite end zone for a 96-yard interception return touchdown, the first touchdown of the fifth-year senior's Ohio State career.
PICK SIX!

Damon Arnette takes it 96 yards to the house to make it 50-10 for @OhioStateFB pic.twitter.com/kDPK2GNPbX

— FOX College Football (@CFBONFOX) September 14, 2019
Arnette had his share of struggles both on and off the field at Ohio State. He came close to leaving Ohio State for the NFL after this past season, had to make up ground in the classroom to graduate this summer and has had enough bad plays in his Buckeyes career that some have questioned whether he should still be in the starting lineup, even after starting at the position for the past two years. By making the biggest play of his Ohio State career to date on Saturday, though, Arnette showed why the Buckeyes have continued to keep their faith in him.
"I'm really proud of that kid," Ohio State head coach Ryan Day said after the game. "He's been through a lot. He had to pass a bunch of classes academically last spring and this summer, and to press reset, he's given himself completely to Jeff Hafley, and now he's practiced really, really well, he's prepared well, and then to see him make that play, was awesome.
"Just a few plays before, he was out. He got banged around, and at that point of the game, he could have taken himself out. He went right back in and makes that play. And so, really happy for him. He deserves that play. He's been through a lot. And it's great to have that play for him."
The interception return for a touchdown wasn't the only impressive play on the ball that Arnette made in Saturday's game. He swatted a pass out of Indiana wide receiver Donavan Hale's hands in the end zone to keep a potential touchdown off the board in the first quarter. He also broke up two additional passes on the same series as his interception, including one in the end zone just one play before his pick-six, and recorded two tackles.
Damon Arnette wasn't having it. pic.twitter.com/qI97ohgZx2

— Eleven Warriors (@11W) September 14, 2019
All four of Ohio State's starting defensive backs – also including Jeff Okudah, Shaun Wade and Jordan Fuller – made at least one impressive play on the ball to break up a potential downfield completion in Saturday's game, but while Wade had the biggest game of the group against Cincinnati (two pass breakups and a forced fumble) and Okudah and Fuller are the group's most established stars, it was Arnette who had the biggest day in the Buckeyes' secondary on Saturday.
Hilliard returns
Following in the footsteps of fellow Ohio State linebacker Tuf Borland, who accomplished the same feat last year, Justin Hilliard returned to action for the Buckeyes on Saturday just six months after rupturing his Achilles in March.
Hilliard saw playing time on multiple special teams units for Ohio State on Saturday, including the kickoff coverage and punt teams, and also saw playing time at linebacker on the Buckeyes' defense in the fourth quarter, after Ohio State had pulled its starters from the game. He recorded a tackle on Indiana running back Stevie Scott just one yard past the line of scrimmage on his first defensive play in the game.
Smith's first start gets cut short
One week after recording his first career sack, sophomore defensive end Tyreke Smith made his first career start for Ohio State on Saturday, lining up opposite Chase Young on the Buckeyes' opening defensive series of the game.
Smith's day lasted for only a half, however, as he watched the second half of Saturday's game from the sideline in street clothes. It's unclear exactly what happened to Smith, and no update was provided on his health after the game, as the Buckeyes' policy this season has been to not discuss the specifics of injuries. Smith told reporters on Wednesday that he had surgery to repair a groin injury this summer, but said he had fully recovered from that injury.
Smith did not record any statistics before leaving Saturday's game.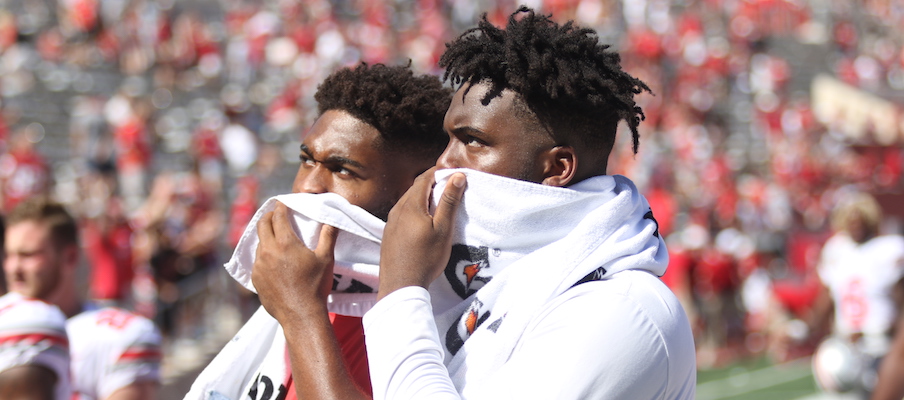 Young defensive ends join Chase on the sack board
For the third straight game to start this season, Chase Young recorded multiple sacks on Saturday. He was credited with three total tackles in Saturday's game, and all of them were behind the line of scrimmage – two quarterback sacks, as well as a tackle for loss (split with Malik Harrison) on a screen pass for a 3-yard loss.
Dating back to the final two games of last season, Young has now recorded sacks in each of his last five games, and with another dominant performance on Saturday, he continued to make his case for being the best defensive end in college football and a likely top-five overall pick if he declares for the 2020 NFL draft.
Three less established defensive ends also each recorded a sack for the Buckeyes on Saturday: sophomore Tyler Friday, who had three total tackles with two tackles for loss, as well as redshirt freshman Javontae Jean-Baptiste and true freshman Zach Harrison, who each had two total tackles.
Friday had only recorded one previous sack, last season as a true freshman, while Jean-Baptiste and Harrison both recorded the first sacks of their Ohio State careers. 
Young said after the game that he was "real proud of those dudes" for joining him on the sack board on Saturday.
"Always tell them, keep working, keep working, be patient, it's going to come. And today, it came for them," Young said. "I'm just real happy for them. I told them, 'You do it one game, you got to keep doing it.' That's what you gotta do to be great. So I'm going to keep working with them."
Asked about Harrison's sack specifically, Young said he was happy to see that the true freshman used the techniques that defensive line coach Larry Johnson has taught him to make his way to Ramsey and take him down.
"Young dude coming in here, always ready to learn, and he used technique when he got that sack and he won," Young said. "And I was just so happy that he used technique and won. So I let him know that it works, and he's always working, so you're gonna see a lot more out of Zach Harrison."