Ohio State scored enough points in the first eight minutes and 10 seconds against Florida Atlantic – 28 – to earn a win in its season opener last Saturday.
After being outscored 21-17 in the final 51 minutes and 50 seconds of that game, however, the Buckeyes have placed a major emphasis on making sure they are ready to play for four full quarters as they prepare for their second game of the season against Cincinnati this Saturday.
"We have to play for a full 60 minutes," Ohio State coach Ryan Day said this week. "Those first 6-7 minutes or whatever that was, was just completely dominant, but then the rest of it was just OK. So we can't take a deep breath after we go up like that. We have to continue to sustain."
The Buckeyes didn't need to play at their best for much more than half a quarter to beat FAU last week, but that probably won't be the case this week.
Cincinnati is coming off an 11-2 season in 2018 and already has a win over a Power 5 team, UCLA, in its season opener this year. And even though Ohio State has won 11 straight games against Cincinnati dating back to 1900, and hasn't lost to any in-state opponent since Oberlin College in 1921, the Bearcats – led by former Ohio State nose tackle and longtime Ohio State assistant coach Luke Fickell – are capable of giving the Buckeyes a real challenge, especially if Ohio State can't sustain playing at its best.
"We're going to have to play better," Day said. "This is a really good team who's won a lot of games, and they just beat a Pac-12 team and a coaching staff that I've got a lot of respect for. This is a team that although they're not a Power Five team, their talent level is just as good as most of them."
Cincinnati Breakdown
The biggest storyline leading up to this week's battle between the Buckeyes and Bearcats has been the return of Fickell, who is now in his third season as Cincinnati's head coach, to his alma mater and the school that was such an integral part of his path to getting to where he is now.
Fickell played for Ohio State from 1993-96 and was on the Buckeyes' coaching staff from 2002-16, including one year as Ohio State's interim head coach in 2011, before becoming a full-time head coach for the first time when the Bearcats hired him following the 2016 season. He's tried not to think about the past as he's prepared for this week's game, however, keeping his focus on the Bearcats' goal of earning a win on Saturday.
"I can't allow myself to get involved in any emotional type of things," Fickell said Monday. "I think this is really trying to stay, not just myself but all of us, focused into the things that we have to do as opposed to letting it be an emotional game or prep."
Fickell's coaching staff is led by offensive coordinator Mike Denbrock, who has coached at the collegiate level for more than 30 years, and defensive coordinator Marcus Freeman, who was a linebacker for Ohio State from 2004-08. Both of them have been at Cincinnati since Fickell's first season in 2017, and Day believes the Bearcats' coaching staff has done an excellent job building their program up over the last two-plus years.
"They're very, very well-coached," Day said. "They've done a good job recruiting. On offense, they know how to run the ball, they're very smart in what they do and how they attack you. They can control the football pretty well, run the ball. They don't turn the ball over. And then on defense, they're a good scheme. They run hard, they stop the run, they don't give you a lot of big plays. Play with a lot of passion on special teams, they're sound as well and they play hard."
Offensively, the Bearcats are led by a talented dual-threat quarterback in Desmond Ridder, who completed 62.4 percent of his passes for 2,445 yards and 20 touchdowns with only five interceptions and ran for 572 yards and five touchdowns in his first season as Cincinnati's starting quarterback last year. The American Athletic Conference's Rookie of the Year in 2018, Ridder has both the throwing ability to test the Buckeyes' defense downfield and the athleticism to be a running threat Ohio State must account for.
"He can throw the ball, he continues to keep drives alive, so just watching him, I think he's a hell of a quarterback," said Ohio State linebacker Baron Browning.
The bread-and-butter of Cincinnati's offense is its running game, which ranked 15th in the Football Bowl Subdivision with 239.4 rushing yards per game last season. The Bearcats' ground attack is led by Toledo native Michael Warren, who was Mr. Football in the state of Ohio for 2016 and rushed for 1,239 yards and a school-record 19 touchdowns on 244 carries last season.
At 5-foot-11 and 222 pounds, Warren is a hard-charging runner who will force the Buckeyes to be sound in their tackling in order to shut him down.
"He's a running back that breaks tackles," said Ohio State defensive lineman Jashon Cornell. "He likes to run downhill. He pretty much likes to bounce off defensive players."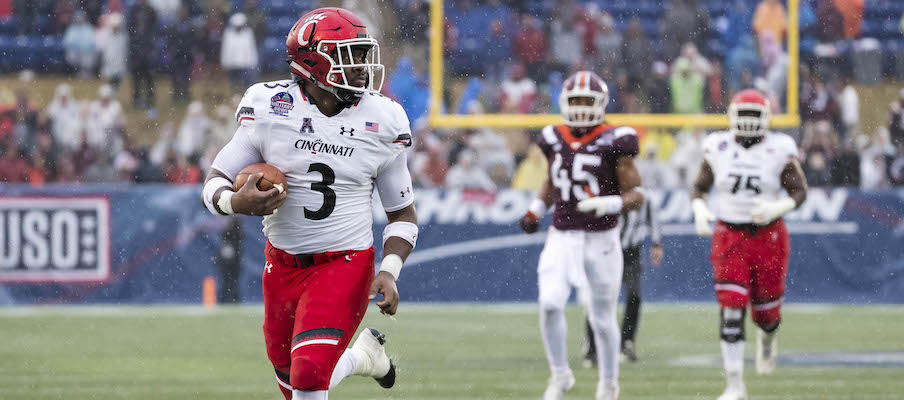 Together, Ohio State defensive line coach Larry Johnson described Ridder and Warren as "special," and overall, Johnson compared the Bearcats to a Big Ten team because of how physical and powerful they are. Johnson also noted Cincinnati's "big" offensive line, and the Bearcats also have a talented tight end in Josiah Deguara, who led the Bearcats with four catches for 53 yards and a touchdown in their 24-14 win over UCLA.
"Their offense isn't too complicated, but they've got big guys up front," said Ohio State linebacker Pete Werner. "Their tight ends are good too – they have really good tight ends – and they will use a lot of them. I've never seen formations where they've stuck so many tight ends in there before."
Defensively, the Bearcats still have six starters from a defense that ranked eighth nationally in points allowed per game (17.2), 11th in yards allowed per game (303.5) and 13th in yards allowed per play (4.7) last season. They suffered a significant loss before the season when star safety James Wiggins went down with a torn ACL, but they will still able to hold UCLA to just 218 yards in their season opener.
The stars of Freeman's unit include Columbus native Darrick Forrest at safety, cornerback Coby Bryant – the younger brother of former Ohio State safety Christian Bryant – and linebackers Perry Young and Bryan Wright, who are all returning starters from last year.
Ohio State's offense didn't face much resistance at the beginning of last week's game, which allowed the Buckeyes to explode out of the gates and score four touchdowns on 200 yards in their first four possessions, but they know that Cincinnati's defense likely won't allow anything to come that easily this week.
"They play very hard, they're definitely very technique-sound and they're going to come in here with a lot of energy," said Ohio State right guard Wyatt Davis. "They're all coached very well, use their hands very well. What stood out to me is they're all go-hard guys."
Buckeye Breakdown
Even with a scoring drought that lasted for seven possessions from the back end of the first quarter into the third quarter, Ohio State put up 45 points on 469 yards against FAU in what was overall, a demonstration of how dangerous the Buckeyes' offense could be this season.
All of that starts, of course, with quarterback Justin Fields, who had five total touchdowns (four passing, one rushing) – tied with Dwayne Haskins for the most ever by an Ohio State quarterback in his first start – on 234 passing yards and 61 rushing yards, including a 51-yard rushing touchdown on the Buckeyes' first drive of the game.
"It's kind of a crazy feeling with how explosive we really can be offensively, and after we got up on them fast with that 28-0 (lead), I was just sitting there like 'Wow, we can be something very special if we keep getting better and keep going through our progressions,'" Davis said.
Fields was not responsible for any turnovers in his first game as a Buckeye, and Day was impressed with the poise his young quarterback in his first live action at Ohio Stadium.
"He played well in terms of game management. Didn't try to do stuff that wasn't there," Day said of Fields' first start. "(There are) a few things, reads, a few protection things we've got to clean up, but the more experience he has, the better he's going to be."
As good as the Buckeyes looked out of the gates last week, though, their offense fell out of rhythm after the first four possessions, and it wasn't until their second possession of the third quarter that they drove back down the field for another touchdown. FAU was able to make adjustments to slow Ohio State down after being clearly overmatched early, but Day is also concerned that the Buckeyes might have gotten complacent after the hot start, and he's made it clear to his team that cannot happen this week.
"Our starters and older guys got to make sure they know they're in there for the 60 minutes," Day said. "We decide as coaches when they come out of there, and so they have to sustain that level for a long period of time. I thought they did that on defense. On offense, a little bit here and there, but we could have done a little bit better in that area, so we'll look to improve that."
2019 Statistical Comparison
 
OFFENSE
45.0
23rd
POINTS FOR
24.0
83rd
237.0
34th
RUSHING OFFENSE
175.0
66th
232.0
64th
PASSING OFFENSE
242.0
57th
469.0
48th
TOTAL OFFENSE
417.0
68th
.500
33rd
3rd DOWNS
.500
33rd
1.000
1st
RED ZONE
.500
110th
DEFENSE
21.0
57th
POINTS ALLOWED
14.0
36th
22.0
9th
RUSH DEFENSE
62.0
24th
206.0
67th
PASS DEFENSE
156.0
34th
111.5
49th
PASS EFFICIENCY DEFENSE
91.2
26th
228.0
24th
TOTAL DEFENSE
218.0
20th
.294
42nd
3rd DOWNS
.400
73rd
1.000
71st
RED ZONE
.333
12th
SPECIAL TEAMS
13.3
23rd
PUNT RETURN
25.0
4th
22.3
40th
KICKOFF RETURN
28.0
17th
42.5
31st
NET PUNTING
40.0
51st
MISCELLANEOUS
-1.0
78th
TURNOVER MARGIN
+2.0
12th
7.0
70th
PENALTIES
10.0
112th
9
EDGE
10
Ohio State's defense, which entered the season hungry to bounce back after a down year in 2018, was dominant for most of the season opener, forcing FAU to punt on each of its first eight possessions. Even without four key players in Jonathon Cooper, Taron Vincent, Tyreke Smith and Tyler Friday, Ohio State's defensive line led the way with a deep rotation up front. The linebackers looked faster running to the ball than they ever did last season, and the secondary – led by cornerbacks Jeffrey Okudah and Damon Arnette and safety Jordan Fuller – was stout on the back end.
Altogether, it was a very positive start for a defense that returns nine starters from 2018 but has four new assistant coaches. The Buckeyes held FAU to just 228 total yards, fewer than their opponents' totals in all but one game last year.
Even the defense, though, has placed an emphasis on finishing strong this week after allowing FAU to put together three second-half scoring drives of 65-plus yards after finishing the first half with minus-14 yards. Some of those yards and points came after the Buckeyes had already taken many of their defensive starters out of the game, but they believe it is important that they are playing just as well in the fourth quarter as they are in the first quarter regardless of which players are on the field.
"I think we played a really good first half. I know (co-defensive coordinator and secondary coach Jeff) Hafley was telling us that that was one of the best first halves of defense that he's seen. But I think the next step is to be able to go four quarters, and really just show that the Silver Bullets are back," Okudah said.
Ohio State's first game of the season wasn't perfect, but it nonetheless demonstrated the potential the Buckeyes have to be one of the best teams in college football this year. 
After watching the film from Ohio State's season opener, Fickell came away feeling as much as ever that his team will be in for a serious challenge on Saturday at Ohio Stadium.
"We got our hands full," Fickell said. "They were pretty vanilla in a lot of things defensively. They didn't have to do a bunch of things offensively. ... They continued to motor and move and create a lot of momentum, and I think that's gonna be a real challenge for us."
Game Forecast
Given that Ohio State's roster is loaded with players who were highly touted recruits, and Cincinnati's roster is largely composed of in-state prospects who didn't get Ohio State offers, there's no question that the Buckeyes are the more talented team entering this matchup. With home-field advantage on its side, Ohio State really should win on Saturday – just as it has in its last 41 games against opponents from the state of Ohio – and that's why the Buckeyes are 16-point favorites for Saturday's game as of Friday morning.
Ohio State's Last Five Games Against Cincinnati

| Year | Location | Result |
| --- | --- | --- |
| 2014 | Columbus | Ohio State 50, Cincinnati 28 |
| 2006 | Columbus | Ohio State 37, Cincinnati 7 |
| 2004 | Columbus | Ohio State 27, Cincinnati 6 |
| 2002 | Cincinnati | Ohio State 23, Cincinnati 19 |
| 1999 | Columbus | Ohio State 34, Cincinnati 20 |
Cincinnati also should be a better team on both sides of the ball than FAU was, though, and if the Buckeyes don't string together the quality four quarters of play that they're looking for entering this game, this one could get dangerous.
Against a defense that allowed opponents to top 30 points and 400 yards just three times last season, Fields isn't likely to have the wide open receivers and running lanes that he had early in the FAU game. He'll likely need to make more challenging plays with both his arm and his feet, and he'll also need more help from running back J.K. Dobbins, who Day challenged to elevate his play this week after running for just 4.3 yards per carry and losing a fumble last week.
Ohio State's defense looked better tackling against FAU than it did for most of last season, but Cincinnati could present a tougher test to the Buckeyes in that area too, while the threat of Ridder as both a passer and a runner and a solid group of playmakers around him will make this game a step up in competition for the Silver Bullets.
If Ohio State plays up to its ability, it should keep its nearly century-long streak going and win another game against an in-state school on Saturday. That said, it shouldn't come as a surprise if the Bearcats keep this game close – especially if their defense, which had four takeaways against UCLA, can force the Buckeyes into turnovers – because Fickell's squad should come to the Shoe prepared for a battle and with a chip on its shoulder.
This game looms as the first real test of the year for Ohio State, and with a first-year head coach and a first-year starting quarterback, there's potential for some turbulence in this one. The Buckeyes should win and could win comfortably if they execute to their ability, but betting on them to cover the spread could be a dangerous proposition.
---
ELEVEN WARRIORS STAFF PREDICTION: Ohio State 38, Cincinnati 20