Before each week's Ohio State game, Eleven Warriors catches up with a media member who covers the opposing team to get his or her perspective on the Buckeyes' upcoming opponent.
With Cincinnati coming to Columbus for Ohio State's second game of the season, we bring in Fletcher Page, who covers the Bearcats for the Cincinnati Enquirer, to get his perspective on Luke Fickell's squad. 
The Bearcats are coming off an 11-2 season in 2018 and earned a 24-14 win in their season opener last Thursday, so they could present a tougher test for Ohio State than the typical game against a Group of 5 opponent. Their coaching staff and player roster also both include multiple former Buckeyes, including Fickell as head coach, defensive coordinator Marcus Freeman and wide receivers L'Christian "Blue" Smith and Garyn Prater.
How has Fickell built Cincinnati into a program that can contend with Power 5 schools, what are the Bearcats' strengths and weaknesses and what would need to happen for them to become the first in-state opponent to beat Ohio State since Oberlin College in 1921?
Page answers those questions and more in our Cincinnati week edition of Across The Field.
Q: Cincinnati is coming off its first double-digit win season since 2012 and started off this season with a win over UCLA. What do you think Luke Fickell has done as head coach to turn the program around?

Page: I've been on the UC beat for just two months, but the immediate feel you get around the football program is maturity and stability. I think some of that comes from Fickell's personality, views on family and history of loyalty. It's also reinforced by the staff, including longtime offensive mind Mike Denbrock and probable future head coach in defensive coordinator Marcus Freeman. 

There's been only four assistant changes in Fickell's three seasons. There's something to that. The staff includes longtimer Jon Tenuta, who Buckeyes fans know well, and former UC stars Gino Guidugli and Mike Mickens. Given all the previous ties – Fickell coached Freeman and with Tenuta, against Guidugli, etc. – everything feels connected. 

It has also helped that Fickell has embraced recruiting the state of Ohio. It's dumbfounding that Tommy Tuberville didn't, but much of his tenure didn't make much sense. 

Since Fickell arrived in 2017, 44 recruits from Ohio have signed/committed (counting those in the 2020 class). In Tuberville's four seasons: 18.

And lastly, I think the UC program learned valuable lessons last season while still having success. Fickell admits the Bearcats could have won only one game in 2017. They got four wins, two by one point each and another by four decided in the final minutes. 

Last season, UC won 11 games while playing with a roster that was 78 percent underclassmen. So they've built to this moment where a roster with high-end talent and decent depth was possible.
Q: What were your takeaways from the season-opening win? What do you think are the Bearcats' strengths right now, and what are their biggest lingering areas of concern?

Page: It was the most lopsided 10-point victory I've covered in a long time. If not for two turnovers in scoring position and a completely blown defensive coverage, UC could have won by three touchdowns or more. 

But that's football in late August/early September. 

The most surprising aspect was how dominant UC's defensive line was. That was probably the biggest question mark entering training camp, and by the second quarter Freeman stopped calling blitzes because the front four was generating enough pressure on their own. The Bruins managed just 62 yards rushing on 36 carries (1.7 yards per carry) and gained nearly all of their 156 yards passing on two plays. 

UC's biggest area for concern right now has to be the left side of the offensive line. They start two redshirt freshman -- Lorenz Metz and Jeremy Cooper -- who had their share of issues against UCLA, including multiple false starts. Those guys are about to get a test at an entirely different level of difficulty Saturday. Obviously.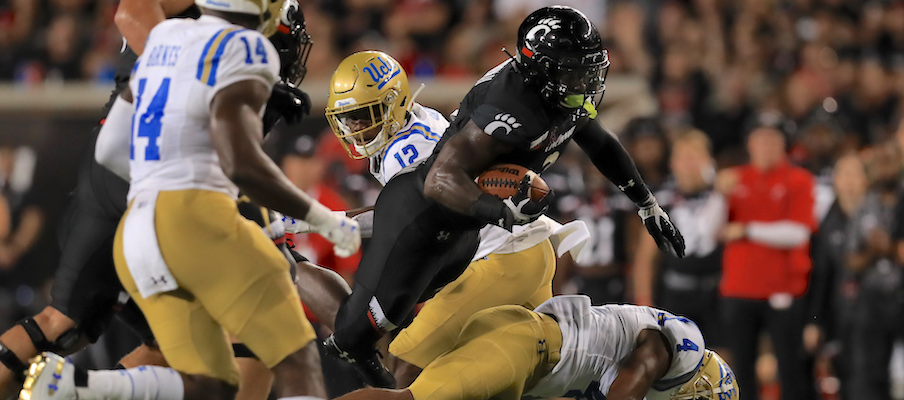 Q: Cincinnati ranked in the top 11 nationally in both scoring defense and total defense in 2018. What made the Bearcats' defense so effective last year, and do you think Marcus Freeman's unit is capable of similar success this year?

Page: It helped having three NFL-caliber defensive linemen in Cortez Broughton, Marquise Copeland and Kimoni Fitz. All those guys are gone this season, which is why the defensive front was in question before the opener. 

But let's be honest – the schedule last season played into UC's favor, too. Not saying it was easy, but this season's slate should be much more difficult to navigate toward 10 wins. 

UC's defense could be better, though, because of the returning experience. Linebackers Perry Young and Bryan Wright, corner Coby Bryant and safety Darrick Forrest are among the best defenders in the AAC. It's a shame this team lost safety James Wiggins to an ACL injury last week because he's probably one of the most impressive athletes in the country. 

Still, when you have seven starters returning from an already great defense like Freeman does, there's higher levels you can take an entire unit. They started further ahead in August compared to last year and the expectations are higher than ever. 

Q: Aside from Desmond Ridder at quarterback and Michael Warren at running back, who are some other players to watch on that side of the ball?

Page: The right side of the offensive line is stout with sixth-year senior Chris Ferguson at tackle and fifth-year senior Morgan James at guard. Also, senior Josiah Deguara is the captain of a deep tight end room. 

Q: Cincinnati added a couple transfers from Ohio State this offseason in wide receivers Blue Smith and Garyn Prater, but neither one of them played in the season opener. Do you expect either them to play bigger roles this year as the season progresses?

Page: Prater is two months removed from back surgery to repair two herniated discs. He practiced for the first time last week, so he should have opportunities later in the season. 

Smith injured his foot late in training camp and still doesn't appear to be 100 percent. 

Both of those guys are intriguing because they're essentially built like tight ends at the wide receiver spot. I think the coaching staff would like to play around with potential mismatches, but neither has been healthy enough to see what they've got.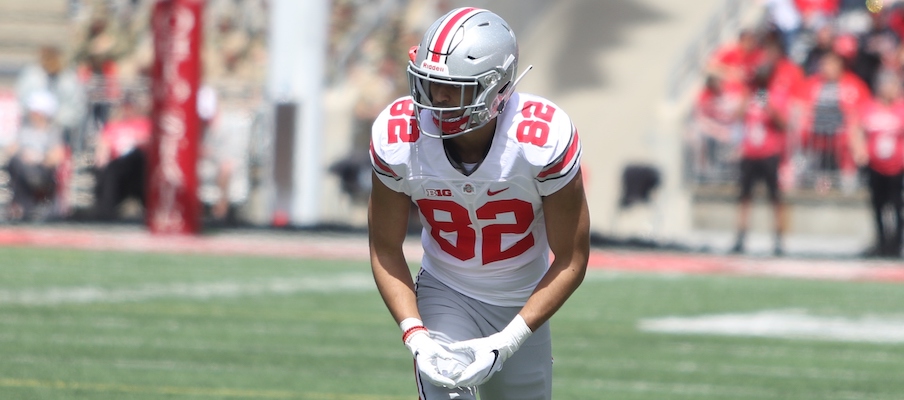 Q: Fickell publicly praised Ohio State for its cooperation in helping Smith apply for immediate eligibility while engaging in a public war of words this summer with Jim Harbaugh after James Hudson did not receive a waiver. Why do you think Fickell felt so compelled to take a stand on that issue, and do you expect that to be something he continues to advocate for?

Page: This is my opinion: I think Fickell understood that his players were watching and it was important that he stood up for his guy in this case. 

Now, he walked a tight rope in relation to the NCAA because, while we can all agree the transfer waiver process seems arbitrary and lacks transparency, UC and Fickell will likely be fighting more battles on this subject in the future. No sense in upsetting the NCAA when there's nothing to gain or change with media interviews. 

But Fickell felt Michigan and Jim Harbaugh didn't handle James Hudson the same way Ohio State did Blue Smith and he let it be known. It made Michigan fans mad and turned into a he-said-he-said with Harbaugh. But the UC players seemed to appreciate what Fickell said. For Fickell, that's what he cares about. 
Q: What do you think Cincinnati needs to do to have a chance to win Saturday's game, or at least keep it close, and how do you see it playing out?

Page: The left side of the UC line has to hold up, and while I think Ridder and the passing attack has made strides since last year, the Bearcats likely don't stand a chance if they can't move the ball on the ground with Warren. 

I don't see the defensive line hanging on for four quarters against Justin Fields and J.K. Dobbins. I say Ohio State 34, UC 13.