Cincinnati head coach Luke Fickell would have plenty of reasons to feel sentimental when he returns to Ohio Stadium for the Bearcats' game against Ohio State on Saturday.
Fickell played for the Buckeyes from 1993 to 1996, then coached at his alma mater for more than 15 years. He got his first head coaching experience as Ohio State's interim head coach in 2011, and remained on the Buckeyes' staff until he got his first permanent head coaching job with the Bearcats following the 2016 season. Some of the players he coached and recruited to Ohio State in his final couple of seasons as the Buckeyes' co-defensive coordinator and linebackers coach are still playing for the Scarlet and Gray today.
As he prepares his Bearcats for Saturday's game, however, Fickell's trying not to think about any of that. Asked on Monday's American Athletic Conference teleconference whether he's been thinking back on his past at Ohio State going into Saturday's game, Fickell said he's keeping himself "very unemotional."
"I can't allow myself to get involved in any emotional type of things," Fickell said. "I don't want to talk about who's going to be there, tickets, different things like that. I've avoided that for a long time, and we'll continue to avoid it for five or so more days."
Cincinnati's coaching staff and roster both include multiple former Ohio State players – in addition to Fickell, former Ohio State linebacker Marcus Freeman is the Bearcats' defensive coordinator and former Buckeyes wide receivers L'Christian "Blue" Smith and Garyn Prater, as well as former walk-on defensive lineman Joe Schroer, now play for the Bearcats – so there's a reunion element that will come with Saturday's game. During the week leading up to the game, though, Fickell believes it is important for everyone to be "focused into the things that we have to do as opposed to letting it be an emotional game or prep."
Fickell said he has tried to keep in touch with some of the Ohio State players who were there when he was still with the Buckeyes, and he tries to keep up with what they're doing for the Buckeyes. Some Ohio State players have even made trips to Cincinnati to watch Fickell and the Bearcats play during Ohio State bye weeks. Now in his third year at Cincinnati, though, Fickell said he hasn't talked as regularly with his former players who are still at Ohio State as much as he did a couple years ago.
"Like 18-22 year olds as well, they got a lot of things going on. So I don't stay in contact with a whole lot of them. I don't stay in contact with a whole lot of my own family sometimes, especially during the season," Fickell said with a laugh. "So that's not abnormal, but I do follow them, for sure."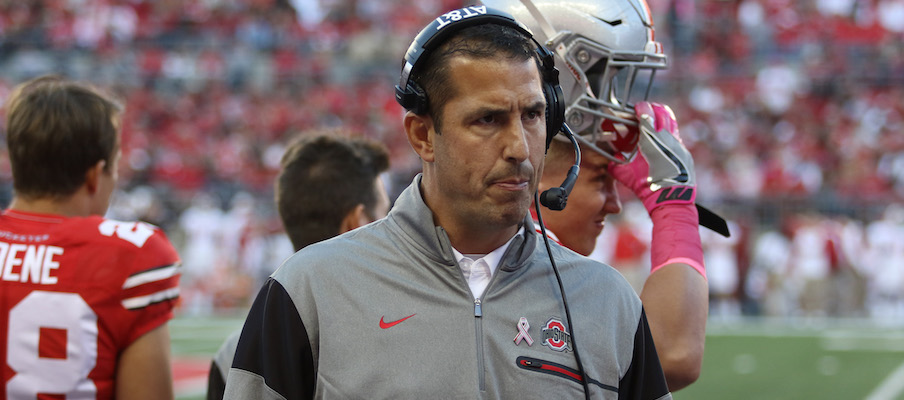 Fickell's tenure as an assistant on Urban Meyer's Ohio State coaching staff ended just before Ryan Day's began, so Fickell said he doesn't know the Buckeyes' new head coach well. He did work with Day this offseason on the process of obtaining a waiver for immediate eligibility for Smith, though, and Fickell said Day was "great" in that process.
As for the actual football game that Fickell wants to focus on, he said Monday that he expects his Bearcats, who are coming off a season-opening 24-14 win over UCLA, to have "a real challenge" on their hands against Ohio State on Saturday. 
He felt his team "didn't play exceptionally great" in the season opener against the Bruins, but was pleased with the way the Bearcats were able to claw out a victory in front of what he described as a "phenomenal" atmosphere at Cincinnati's Nippert Stadium. That said, Fickell knows traveling to Ohio State to play one of the most talented teams in college football on the road will present another degree of difficulty as his teams tries to take down another Power 5 opponent.
While Ohio State wasn't as consistently dominant as many people thought the Buckeyes should be in their 45-21 win over Florida Atlantic, Fickell was impressed by what he saw from the Buckeyes on film because he recognized that they only showed some of what they might be capable of and were playing with a new coaching staff and in Justin Fields, a new starting quarterback.
"We got our hands full," Fickell said. "I think the thing that you saw from them on Saturday – obviously, it was over before it started in a lot of ways – but I think they were pretty vanilla in a lot of things defensively. They didn't have to do a bunch of things offensively. I don't know that they had to throw a lot of things at them. But you saw them be very efficient, very explosive … you're always curious with some new parts and new staff and new quarterback that what will the efficiency (be), kind of how will it run and how will it roll … They didn't have any issues. They continued to motor and move and create a lot of momentum."
Saturday's game between the Buckeyes and Bearcats is scheduled for a noon kickoff at Ohio Stadium and will be televised on ABC.