The two best college football teams in the Buckeye State will battle in Ohio Stadium on Saturday.
Ohio State hasn't lost to an in-state opponent since it suffered a 7-6 loss to Oberlin College in 1921 – the Buckeyes have since won 41 consecutive games against other teams from the state of Ohio – but it could face a legitimate threat this weekend from Cincinnati, which is coming off an 11-2 season in 2018 and earned a 24-14 win in its season opener against UCLA on Thursday.
With two extra days of rest and preparation, former Ohio State coach and player Luke Fickell will lead the Bearcats back to his old stomping grounds in search of an upset, and they should provide a step up in competition from the Buckeyes' season-opening opponent, Florida Atlantic.
Fickell isn't the only former Ohio State player who will be coaching or playing for the visiting team in Saturday's game, and the Bearcats have the pieces to potentially present challenges on both sides of the ball, with a defense that was one of the best in the country in 2018 and a quarterback and running back who were among the American Athletic Conference's stars last season.
We take a closer look at Ohio State's second opponent of the season in this week's Five Things to Know.
No Shortage of Ohio State Ties
One of the big storylines leading up to this week's game will be the return of Fickell, who was a star nose tackle for the Buckeyes from 1993 to 1996 and a member of Ohio State's coaching staff for more than 15 years. Fickell initially coached for the Buckeyes as a graduate assistant in 1999, then returned to become the special teams coordinator at his alma mater in 2002. He quickly climbed the ranks to become Ohio State's co-defensive coordinator in 2005, and served as both defensive coordinator and linebackers coach for each of his final 12 seasons on the Buckeyes' coaching staff with the exception of 2011, when he worked as the team's interim head coach.
Fickell has actually coached against Ohio State once before; he was the defensive line coach at Akron in 2001, when the Buckeyes defeated the Zips 28-14 at Ohio Stadium. But this will be his first game back in Columbus as an opposing head coach. He is entering his third season as the head coach at Cincinnati, his first permanent head coaching gig.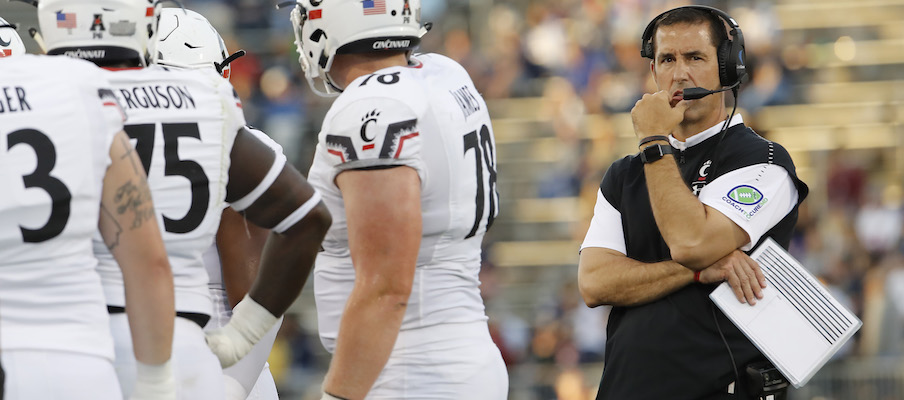 Former Ohio State linebacker Marcus Freeman, who played for Fickell in Columbus from 2004 to 2008 and was a graduate assistant for the Buckeyes in 2010, is also entering his third season at Cincinnati as the defensive coordinator and linebackers coach. 
Other members of Fickell's coaching and support staff who previously worked at Ohio State include safeties coach Jon Tenuta, who coached Ohio State's defensive backs from 1996 to 1999 and was the Buckeyes' defensive coordinator in 2000, and director of football sports performance Brady Collins, who was previously an assistant strength and conditioning coach for Mickey Marotti at Ohio State. Marotti's son, Mitch, serves as an operations and video assistant for the Bearcats.
Cincinnati's roster also includes three former Ohio State players who transferred to play for the Bearcats. Most notably among them, wide receiver L'Christian "Blue" Smith – a four-star recruit out of high school – transferred to Cincinnati this offseason after just one year with the Buckeyes. Fellow wide receiver Garyn Prater, who was a walk-on for the Buckeyes, also transferred to Cincinnati to become a scholarship player for the Bearcats after two seasons at Ohio State. Joe Schroer, a reserve defensive tackle for the Bearcats, was a walk-on at Ohio State for the 2016 season before transferring to Cincinnati.
None of them saw playing time in Cincinnati's season opener against UCLA, so it's uncertain whether any of the former Buckeyes will see the field against their former team on Saturday.
Most of the Roster is from Ohio
With 74 total Ohio natives on its roster, a majority of Cincinnati's players grew up inside state lines. 
Many of those players hail from the southwest quadrant of the state, but the Bearcats have drawn players to the Queen City from all over Ohio. 
Notable Columbus-area players on Cincinnati's roster include safety Darrick Forrest, who played with Malik Harrison at Walnut Ridge and led the Bearcats with nine tackles in their season opener; field goal kicker Sam Crosa, who played at Dublin Scioto; and Ethan Tucky, a regular in the defensive end rotation who played at Delaware Hayes.
Talented Backfield Tandem
Cincinnati's quarterback and running back aren't the household names nationally that Justin Fields and J.K. Dobbins are, but both of them are stars in their conference who are quietly in college football's upper tier of players at their respective positions.
Desmond Ridder was named the American Athletic Conference's Rookie of the Year in 2018 after starting 11 games for the Bearcats and completing 194 of 311 passes for 2,445 yards and 20 touchdowns with five interceptions, while he also ran for 572 yards and five touchdowns. Pro Football Focus ranked Ridder, a redshirt sophomore, as the nation's 23rd-best starting quarterback entering the 2019 season.
Michael Warren earned second-team All-AAC honors last season after he ran for 1,329 yards and a school-record 19 rushing touchdowns – fourth-most all Football Bowl Subdivision players last season – on 244 carries, while also catching 25 passes for 232 yards and a touchdown. A Toledo native who was the state of Ohio's Mr. Football in 2016, Warren was ranked as the 16th-best running back entering the 2019 season by Athlon Sports.
Together, they'll pose a test to Ohio State's defense in both the running and the passing game.
Strong Defensive Track Record
Freeman's unit was one of the best defenses in college football last season, ranking eighth in points allowed per game (17.2), 11th in yards allowed per game (303.5) and 13th in yards allowed per play (4.7). Only three teams – Ohio, UCF and Virginia Tech – topped 30 points and 400 yards against the Bearcats in 2018, while every other opponent was held to no more than 23 points or 351 yards.
The Bearcats have seven returning starters from last year's defense and looked as strong as ever on that side of the ball in Thursday's season opener, holding UCLA to only 14 points on 218 yards.
Cincinnati is without safety James Wiggins, who was expected to be one of its stars on defense this season but will instead miss the year with a torn ACL, and that could hurt the Bearcats more against the Buckeyes than it did against the Bruins. Based on how it started off the season, though, Cincinnati's defense looks as though it could be one of the best in the nation once again, so Justin Fields and the Ohio State offense will need to be on top of their game Saturday.
All Buckeyes Since the 19th Century
Since winning back-to-back games against Ohio State in 1896 and 1897, Cincinnati has lost each of its last 11 games against the Buckeyes. Ohio State defeated the Bearcats six times between 1900 and 1931, then went 68 years before playing Cincinnati again in 1999, winning that game 34-20. The Buckeyes have since played the Bearcats in 2002, 2004, 2006 and 2014, and Ohio State has won all of those games, as well.
Of the five games played in the last 20 years, Cincinnati came closest to upsetting the state's flagship university in 2002 – in a game that was played at Paul Brown Stadium – when the Bearcats dropped two touchdown passes on their final drive of a 23-19 loss.
Ohio State has won each of the last three matchups, all at Ohio Stadium, by at least 21 points. The Bearcats opened the week as 17-point underdogs for Saturday's trip to the Shoe.