Ohio State doesn't begin the Big Ten portion of its schedule until it faces Indiana in Bloomington in the third week of the season.
On Saturday, though, defensive line coach Larry Johnson believes the Buckeyes will get a taste of what their conference feels like when they welcome the Cincinnati Bearcats to Ohio Stadium.
"They're power football. They're really a Big Ten team. Really are," Johnson said on Tuesday. "They run the football well. They have a really great scheme. Great offensive coordinator. Offensive line is big – they're young but they're big. Got some veteran guys there. And the quarterback and the running back is special. So we've got to stop their run first. We have an opportunity to chase the passer."
Defensive tackle Jashon Cornell agreed with that characterization.
"They play downhill football," he said on Wednesday. "They run the ball. That's what Big Ten teams do. They're here to come run the ball, and you have to play the run. They're a pass team, but Big Ten, we run the ball in the Big Ten. That's what we have to worry about."
With Desmond Ridder at quarterback and Michael Warren at running back, Cincinnati has arguably the best combination at the two key offensive positions in the American Athletic Conference. 
Warren, in particular, garnered preseason accolades after running for 1,329 yards on 5.4 yards per carry and earning second-team all-American Athletic Conference honors last year. His 20 total touchdowns and 18 rushing touchdowns in 2018 were both program records.
In Cincinnati's season-opening victory against UCLA, Warren had 26 rushes for 92 yards and a touchdown.
"He's a running back that breaks tackles," Cornell said. "He likes to run downhill. He pretty much likes to bounce off defensive players. And I think one thing that we stop him is just tackle him. Get him on the ground. Don't miss tackles. And that's one thing we stress here is we don't want to miss tackles."
Pete Werner, too, mentioned tackling as a key to stopping Warren. That had been a focus throughout the offseason and continues to be a point of emphasis.
"Their running back is tough, and he will bounce off," Werner said. "We've got to key him, wrap up."
Big weekend for the training staff
When Fields walked into the training room on Sunday, a day after the quarterback had started his first game since high school, he was asked what's hurting him.
Fields had a simple answer: "Everything."
"I was crazy sore," Fields said. "It was my whole body, really … I'm going to do a good job this week on treatment and just try to get my body back right on Saturday."
Fields certainly wasn't alone.
"The trainers were kind of making jokes," Pete Werner said on Wednesday. "They're like, 'Dang, we've never seen this many guys in the training room before.' I'm just like, 'Yeah, I'm part of that.'"
That's normal for a first game, Werner said.
"That'll change by weeks, I think," Werner said. "But I don't know. You could say that people were running to the ball more and piles on the ball-carrier. There's a lot of things that could factor into that."
The Return of Munford
Earning "champion" status for his play in the season opener, Thayer Munford seamlessly rejoined the starting lineup as Ohio State's left tackle. 
He played well enough and long enough on Saturday that had somebody not known he had a back injury that required him to miss the Rose Bowl, have surgery in January, sit out the entirety of spring camp and slowly ease back onto the field during preseason camp, they wouldn't have guessed he had had anything wrong. Offensive line coach Greg Studrawa said he played "extremely well."
"Physically I did have some rough spots. It was only during camp," Munford said on Wednesday. "But when I was on the field on Saturday, I didn't feel like I lost one beat, for real. I felt like I did everything in my power to actually be ready for the game."
Returning to the field for the opener, Munford said he physically "felt great."
Throughout fall camp, he never intended to miss any games, always eyeing Aug. 31 as his return to the field. But with redshirt senior Joshua Alabi as his backup, Munford was able to take it slow, minimizing his practice reps.
"I think the most reps he had in any practice leading up to the game was 22, so you're right, he was limited," Studrawa said on Tuesday. "We wanted to make sure we (brought) him along slowly to make sure his back was back at 100 percent. We were able to handle it. He played 50 plays in the game, which was about what I wanted him to play. He had no ill effects. He moved around well. He bent well. He was really athletic."
The minimal practice preparation, Munford said, didn't have much of an effect on his play.
"I didn't feel fatigued," Munford said. "I felt that I was prepared to actually dominate and play to my best ability."
Part of the positive post-game feelings could be attributed to an offseason weight loss. Studrawa said he believes it took "a little stress" off Munford's back.
Munford spent most of his sophomore season around 330 pounds, Studrawa said, and now the junior weighs 313 pounds.
"I noticed that a lot," Munford said. "Last year, I played heavy because it was my first year starting. This year, I just had to get lighter so I can protect everything so I won't get injured as much."
"What do they say, Tight End U?"
After getting his fair share of opportunities to match up with Florida Atlantic's Harrison Bryant who had six catches for 79 yards in the season opener, Werner has already faced a tight end on the radar of NFL teams.
He'll have another chance to match up with somebody at the position gaining traction as a draft prospect on Saturday when he faces Cincinnati's Josiah Deguara, who had four catches for 53 yards and a touchdown against UCLA. He's the latest impactful Bearcats tight end, following in the footsteps of Travis Kelce and Brent Celek.
"Their offense isn't too complicated, but they've got big guys up front," Werner said. "They've got a strong running back and their quarterback is good as well. What do they say, Tight End U? They're good. They are good."
Deguara earned second-team all-American Athletic Conference honors last season after catching 38 passes for 468 yards and five touchdowns. He's not the only tight end to pay attention to, though.
When watching film, Cincinnati's propensity to use multiple tight ends on any given play stands out to Werner more than any single player.
"Their tight ends are good too – they have really good tight ends – and they will use a lot of them," Werner said. "I've never seen formations where they've stuck so many tight ends in there before, and we've been practicing that and it's just weird for me because I've never been experienced to that."
Olave's touchdown preparation
If you thought it looked like Ohio State had run the 29-yard Justin Fields-to-Chris Olave touchdown connection against Florida Atlantic before, you'd be correct.
"We ran it a lot of times during practice," Olave said on Wednesday. "When we got to the game, it's exactly the coverage we had. So it became easy for me."
"The exact coverage" meant all Olave had to do was win his one-on-one matchup, and there wouldn't be a deep safety in the middle of the field to help the cornerback.
On Saturday, the Buckeyes faced the coverage they anticipated. Olave ran a precise route and Fields hit his wide open receiver for Ohio State's fourth touchdown of the first quarter.
"All practice last week, we did it," Olave said. "We ran a couple times, and that's how we had it, and that's what happened in the game."
Sometimes it just works out that way.
Luke Fickell Memories
As a four-star outside linebacker recruit from Mount Vernon, Indiana, Werner had top-flight programs from around the country after him.
Ohio State and Notre Dame wanted him badly. Michigan, Michigan State, Penn State, Nebraska and Iowa offered him scholarships, hoping he'd play for them in the Big Ten. Schools outside of the region, including California, Boston College, Mississippi, Texas A&M, Tennessee and Vanderbilt extended offers, too.
Among all of those programs, Werner found himself attracted to Fickell, then Ohio State's co-defensive coordinator and linebackers coach, who he called both a "great guy" and a "tough guy." Suddenly, he left to become Cincinnati's head coach.
"I remember I was just kind of confused," Werner said. "It was my second visit here, and then they have a call up at the end of practice and I'm clueless, I don't know what's happening. And then coach (Urban) Meyer announces coach Fick as Cincinnati's head coach. I'm just like, 'What? The guy's recruiting me.'"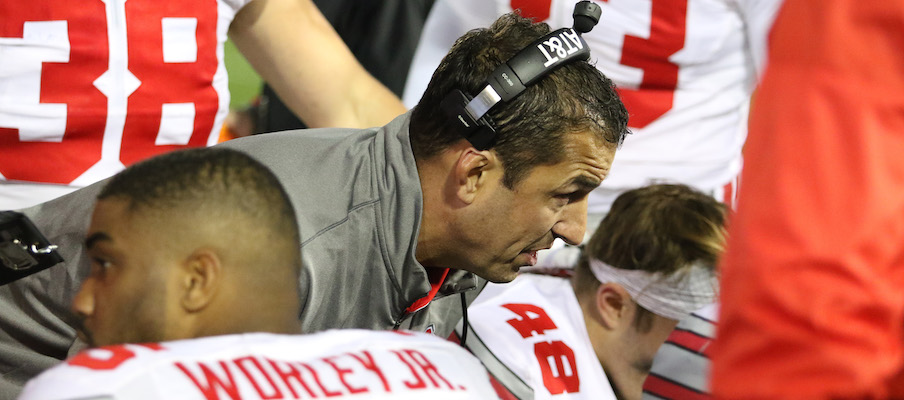 Most of Ohio State's fourth-year and fifth-year players know Fickell because he remained on the team's coaching staff through the 2016 season. Some, like Werner, were recruited by him.
Davon Hamilton, a redshirt senior, both played for the Buckeyes for two years with Fickell on staff and was recruited by him. Attending Pickerington Central, Hamilton was one of the lower-ranked Ohio recruits that Fickell targeted and helped the Buckeyes land.
"He's just a great leader overall," Hamilton said on Tuesday. "When he was here, he led the defense. Obviously he was the defensive coordinator and whatnot, and he was always there, always prepared, always sound. We've got a lot to look forward to on Saturday."
Though the players, especially those who know him personally, understand how much Saturday's game will mean to Fickell, Ryan Day doesn't plan to spend any time talking to the team about the opposing head coach. Some players who know him don't need the lesson on Fickell, and it likely wouldn't matter much to the others who have never met him.
Day has developed a relationship with Fickell and said they talked several times during the summer. He called Fickell a "tremendous coach."
"Got a lot of respect for coach Fickell and what he's built down there," Day said. "I think it's a very strong program, in great shape. So we know they are going to come in here hungry. Being in the same state we know that means a lot. We are up for the challenge but getting ready for it as we get ready for Saturday."