After last weekend's 45-21 win over Florida Atlantic, the schedule kicks up a notch tomorrow as Ohio State welcomes Luke Fickell's Cincinnati Bearcats to Ohio Stadium. 
Ryan Day's squad enters the contest as a hefty 16-point favorite but make no mistake, Fickell's team will come in ready to tangle. 
So how do things shake out? What are the most encouraging and discouraging aspects of Ohio State's squad after week one? Have you ever been in a Turkish prison? 
For answers to most of those questions and more, we welcome 11W's Colin Hass-Hill, Jake Anderson and Matt Gutridge to this week's roundtable. 
---
What is your most encouraging takeaway from last weekend's win over Florida Atlantic?
Colin: The defense. It has to be the defense. All of it – at least, until Florida Atlantic finally picked it up against the backups later in the game.
Chase Young looked like a superstar. Jashon Cornell was the Jashon Cornell everybody has waited for since he arrived in 2015. The defensive tackles lived up to their hype. The linebackers were a complete revelation. Jeff Okudah, Damon Arnette and Shaun Wade didn't get tested often, but they impressed when Lane Kiffin decided to challenge them. Brendon White made plays. Jordan Fuller played with confidence, often as the single deep safety.
During the offseason, I bought into what Jeff Hafley, Greg Mattison, the rest of the coaches and the players were saying about an improvement. And on Saturday, the Buckeyes provided everybody with some results. As I wrote after the game, it bears repeating that this is just Florida Atlantic. But the defense showed the necessary early signs of rectification after a rough 2018 season. 
Jake: The potential of this team is frightening. Listen, the offense is still a work in progress. The offensive line is inexperienced, there's a first-time starter at quarterback and a new head coach. There are going to be mistakes and missed assignments. But once that side of the ball starts firing on all cylinders it will be a sight to behold. 
Defensively, there were much more positives than negatives against FAU. Okudah and Young will control the headlines but the play of Jashon Cornell and Jordan Fuller can not be understated. This group may not match the Silver Bullets of the past but as long as the linebackers play decently and the secondary does not give up a million big plays, they should be fine shape. By Week Eight, barring any unforeseen loss on a Friday night, opposing coaches should be having nightmares about the Buckeyes. 
Remy: I'm always encouraged every time the Buckeyes finish a game with a win and none of the players sustained a serious injury. I also liked that the defense didn't give up touchdown runs of 80 and 78 yards like they did last year against Oregon State. To this guy's eye, the defenders looked more confident in their assignments and ran faster to the ball than a year ago. Cincinnati will give a better litmus test and I expect the Jeff Hafley's defense to meet the challenge.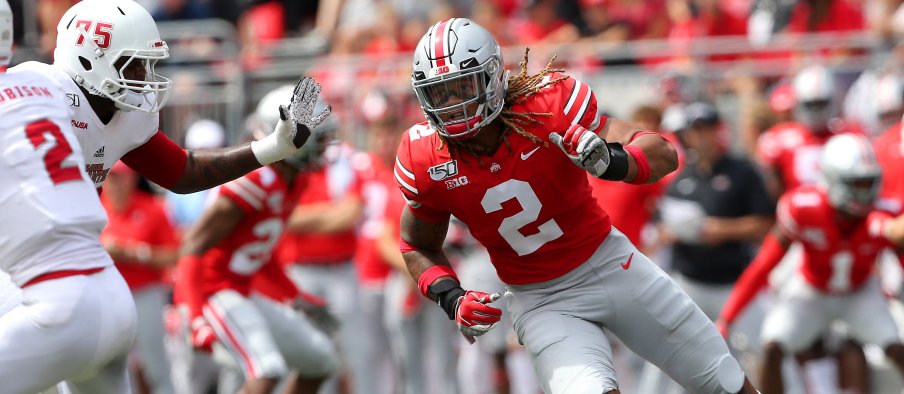 Will Ohio State have a clear No. 2 running back behind J.K. Dobbins once Big Ten play starts? If so, who? If not, why?
Remy: Man Chris, before diving into who the No. 2 running back will be, you made me start thinking about all of the talented running backs Ohio State has had in recent seasons. Weber and Dobbins combined for 2,007 yards last year. Dobbins also became the first player in program history to rush for at least 1,000 yards as a freshman and sophomore. However, the dynamic duo were in the envious position of following the one of the all-time greats in Ezekiel Elliott. That kind of skews how everybody, myself included, views their performances.
Since 1985, only a handful of Ohio State running backs have eclipsed 1,500 yards. Eddie George (1995), Beanie Wells (2007), Carlos Hyde (2013) and Elliott (2014, 2015). Who were the No. 2 running backs during those seasons? Exactly. It's nice to have 1a and 1b at running back, but when Ohio State has a stud running back, feed him the ball. By the numbers, Dobbins should be that back this year.
When Dobbins burst on the scene as a freshman, I expected him to be the next "guy". However, the eye test tells me that Dobbins is not physically as gifted as George, Wells, Hyde or Elliott. If the Buckeyes needed a yard or two, you knew those four backs would get the job done. Do you feel confident that Dobbins will get the job done in those critical short yardage situations? From what I saw last year, and in last week's game, Dobbins made the correct reads, and I loved his stiff arm, but this team will be benefit from a second running back that runs like a bruising buster.
From the limited action we saw from him against FAU, Master Teague III stood out to me. He ran hard and reminded me a little of Carlos Snow, perhaps Joe Montgomery. Because the team will need a powerful and bruising running back, I think Teague will be called upon for that job. I like it when Ohio State has a running back like Beanie or Hyde to give the ball to, but I don't see that type of body in the running backs' room. I think Teague will fill that role, but will be happy with whoever provides the team with that hard edge at running back and punishes the defenders. It's been a while since we've had a hammer, instead of a nail, at running back.
Jake: I have been on the Demario train for this entire offseason, but the answer is no. McCall is a great situational back; he is a speedster that can help you spread the defense out and take advantage of mismatches. He will not, however, be the tailback running inside-zone whenever Dobbins needs a break. Master Teague fits that role much better than McCall. The two of them will continue to complement Dobbins on a situational basis. 
Colin: The Big Ten portion of Ohio State's season begins against Nebraska on Sept. 28, giving Ohio State three more games to figure that out. Ultimately, I'll say no, Ohio State doesn't have a clear backup to J.K. Dobbins by then. But that might say more about how I think Ryan Day and Tony Alford use their running backs rather than whether somebody has stepped up to assert himself as the No. 2 option by then.
Provided Demario McCall remains healthy – a seemingly never-ending question that popped up again when Ohio State listed him as a game-time decision on Friday – I think he'll remain in the game plans each week. But does he take over as a typical backup running back, coming in for a snap or a series to give Dobbins a breather? I remain skeptical about that. Day showed a willingness to get him involved in the offense, but I believe his role won't look like what most people imagine of a No. 2 running back. Therefore, Master Teague has an opening to pick up some snaps and carries during meaningful downs, too. I expect both McCall and Teague to factor into the offense as complements to Dobbins without either taking the entirety of the touches reserved for the backup back.
I think it's pretty unanimous that the offensive line looked the position group needing to show the most improvement before next Saturday. What else stuck out as something or someone that maybe didn't meet your game one ideal?
Colin: Somehow, some way, Ohio State has to get Dobbins on a roll. We spent the offseason wondering whether not having to split carries with Mike Weber would turn him into the dynamic running back who averaged 7.2 yards per carry as a freshman rather than the back who managed just 4.6 yards per carry as a sophomore. Dobbins heaped blame onto himself at every opportunity during the offseason, too, saying he "regressed" last year and calling his 2018 performance a "failure." 
Though he seemed to take the right approach ahead of what he hoped to be a rebound season, cutting his body fat percentage from 12 to 8 percent and practicing with a sense of urgency, the early returns on Saturday weren't what he hoped. Dobbins had 91 yards, but they came on 21 carries for an average of 4.3 yards per rush. In order for the Buckeyes' offense to be running at peak performance, it needs to get more out of Dobbins.
Remy: Justin Fields' job will be easier if the running game becomes a priority for defenses to stop. However, the performance of the ball carriers (and the quarterback) go hand in hand with the play of the line.
Perhaps a little unfair since he is a true freshman, but Garrett Wilson finished the game without a catch and mishandled the tough "lateral" that Fields threw his way. Also bummed that Drue Chrisman didn't drop all of his punts inside the 20. Hopefully all of the marriage planning isn't taking his attention away from the most important play in football.
Jake: The most obvious answer is J.K. Dobbins. Much was made about his offseason transformation and how he wants to be the guy for Ohio State this year, but after one game, I just don't see it. He was not dealt the best hand at times (Fields missed a number of pull reads) but nothing about his performance really stuck out to me. 4.3 yards per carry will not cut it as the feature back for the Buckeyes.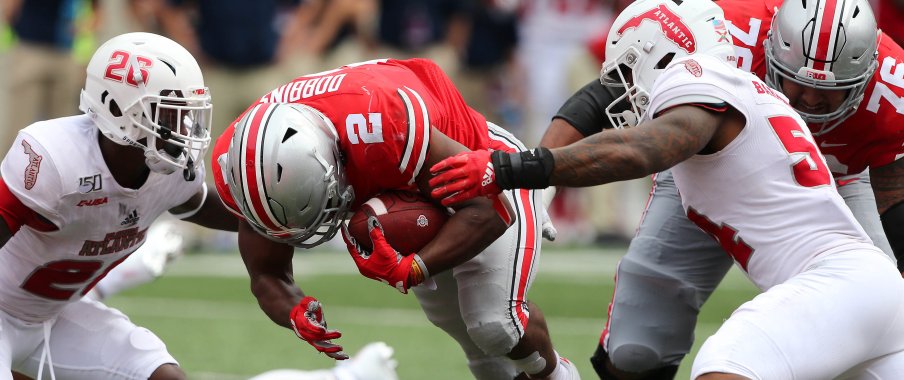 Justin Fields threw it 25 times and ran it 12 while J.K. Dobbins had 21 carries. How do feel about the ratio of carries for Dobbins to Fields? Will Fields carry it more than 12 times a game when the competition stiffens such as this week versus Cincinnati?
Jake: This may be a #take but I do not want Fields to have designed runs all season long. A couple of pulls on some zone reads is more than enough for me. As for the rest of his carries, give them to Dobbins; he's the 216-pound bruiser that is supposed to take those hits. The only exception to this would be in the red zone, where Fields' quickness and dual-threat ability will become invaluable. 
I do, however, believe Fields will carry the ball more than 12 times against Cincinnati. In his first test against a solid defense, I could see him scrambling around to avoid the pressure. 
Colin: I didn't have any problem with that ratio of carries between Fields and Dobbins. Sure, Ohio State wants to use Fields' legs as a weapon – who wouldn't? – but with Gunnar Hoak and Chris Chugunov as his only security on the bench, there's no reason to push it, especially against a team it expects to beat handily. Even though Dobbins didn't have his best performance, he deserves the brunt of the carries.
Will Fields have more rushes against stiffer defenses? Probably. But not by much. The coaches have spent a good portion of the past eight months working with him to keep his head up when he scrambles away from pressure, but at this point in his career, he looks to run fairly quickly when he has to escape the pocket. 
Remy: As far as the ratio goes, I'm good with it. Looking back at the film, I counted five plays in which Fields ran on designed rushes. His seven other carries were on scrambles. If you kept track at home, after Fields scored on the 51-yard designed run, he only netted 10 yards on his next 11 carries. That Includes negative three yards on the next four called runs. Fields could have had more rushing attempts, but he made the correct decision to throw the ball to open receivers as he was scrambling on several occasions.
In the end, I like that Fields is a threat running the ball. I hope the Buckeyes will put more stress on their opponents' defenses by utilizing play action and rolling Fields out to allow him to use his arm or legs. This will make defenses respect the threat of the running back and will open up passing lanes. Giving Fields the green light to run when passing plays break down is a great weapon to have. Hopeful that his rushing attempts stay at 12 attempts, or less.
Ohio State enters Saturday's matchup as a 16-point favorite. Do the Buckeyes cover? Give us your final score and game MVP. 
Remy: Saturday will be the sixth time Ohio State has played Cincinnati since 1999. The Buckeyes have outscored the Bearcats 171-80 in that time frame and 448-135 all time. I'll go with the recent average and say that Ryan Day's team wins by a score of 34-17. I am worried about Ohio State facing a defense coached by Luke Fickell and Marcus Freeman.
Drue Chrisman, the Cincinnati kid, will drop coffin corner after coffin corner and flip the field to help the Buckeyes beat the battling Bearcats for this game's MVP. On a serious note, it's tough not to pick Jeff Okudah after his play last week, but I'll go with the trio of tight ends tripping up the UC linebackers and secondary.
Colin: I have the Buckeyes winning, 34-21. So, no, I don't have them covering the spread. But given my history of picking games, I'd advise you to fade this pick and all of my future picks.
That said, I think Ohio State's defense continues to impress against a Cincinnati offense that doesn't have the talent to overcome what Hafley and Mattison will throw at it. I'm more interested in watching Fields face a much stiffer test than what he went against on Saturday. If the Bearcats shock Columbus and pull of an upset – which, to be clear, I don't see happening – I believe it will come due to their defense stifling Fields in his second career start.
Game MVP? Give me Chase Young. He's gunning for Vernon Gholston's program record of 14 sacks, and he'll continue to disrupt the backfield this weekend.
Jake: Unfortunately, the Bearcats from Kentucky will keep it within 16 points. Ohio State will come away with the win, of course, it will just be a little closer than we would have hoped, with the final score at 31 - 17. Shaun Wade will have himself a game, taking the ball away twice with a fumble recovery and an interception.