Urban Meyer won football marathons.
He oversaw an unprecedented run of success with his Ohio State teams losing only nine games in seven years. The Buckeyes won the 2014 national championship, earned a spot in another College Football Playoff field and captured three Big Ten championships under Meyer's reign. At the end of every single regular season, his teams peaked, beating Michigan all seven opportunities. 
Ryan Day hasn't won a marathon because he hasn't even coached one. The closest he came was winning a sprint last year.
After taking over for the suspended Urban Meyer and leading Ohio State through fall camp in 2018, he guided the team to a 3-0 record in the first three weeks. The stretch included a season-opening 77-31 victory against Oregon State, a 52-3 stomping of Rutgers and a 40-28 win versus TCU at AT&T Stadium in Arlington, Texas. 
Then, he gave the reins back to Meyer – which he won't have the option of doing this season.
"Now there is a lot more that goes with it, a lot more consequences," Day said at Big Ten media days. "You play the what-if game a little more. Other than that, I am embracing it."
Ohio State has plenty of what-ifs on its 2019 schedule.
In some years, the Buckeyes have only had a handful of games that truly feel like possible losses. At times under Meyer, portions of the schedule felt like bridges between major showdowns with Michigan, Michigan State or Penn State. Of course, that perspective sometimes left a feeling of devastation both locally and nationally when Ohio State lost to opponents widely viewed as overmatched, including Iowa in 2017 and Purdue in 2018.
"The guys around (the quarterback), our defense, the running game, the receivers on the end, they've got to pick up the slack there, and so as we go and grow throughout the season, we kind of get into that middle season hitting our stride on offense."– Ryan Day
With the way the 2019 schedule shakes out, and because Day is in his first year as a head coach, the Buckeyes have more games that feel dangerous than in prior seasons. Of their 12 regular-season matchups, somewhere between seven and nine opponents feel like they could actually threaten Ohio State.
The season opener will come at home against Lane Kiffin-coached Florida Atlantic, a solid C-USA team but an opponent the Buckeyes should handle without stress. 
By the second week of the year, Day's newfound what-if game will be in full force, though. His team will welcome Cincinnati to Ohio Stadium with Luke Fickell's team looking for its first win against Ohio State since 1897. Undoubtedly, the Buckeyes will be favored to win, but it's not a cinch. The Bearcats went 11-2 last season and should have another strong team – especially on defense – this fall.
Day's first road game will come the following week against Tom Allen's Hoosiers. Indiana won't contend in the Big Ten, but the Buckeyes have had recent trouble in Bloomington, Indiana. Ohio State will then essentially get a one-week break by playing host to Miami (Ohio), arguably its weakest opponent of the season.
Next up? Potentially the second-most-difficult two-game stretch on the schedule.
The Buckeyes will head to Nebraska to take on Scott Frost's Cornhuskers who were picked by the media to win the Big Ten West despite finishing with a 4-8 record last year. Given how early the road matchup is on the schedule, it's widely expected to be one of the toughest matchups of the regular season.
The following week, Ohio State heads back home to take on Michigan State, which was picked to finish ahead of Penn State in the Big Ten East. Sandwiched between the Nebraska game and a bye week, Mark Dantonio's Spartans will look to pull another upset of the Buckeyes.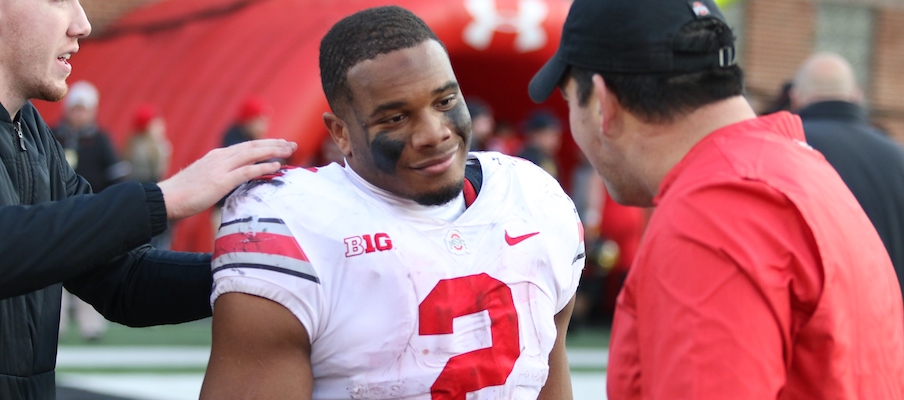 By the time Ohio State gets to its first bye in the seventh week of the season, the college football landscape will have adjusted its expectations of the Buckeyes and Day will have a chance to recalibrate and respond to what went right and wrong in the first six games.
"Our schedule is funny this year," Day said. "We have six games, a bye week, two games, a bye week, and then we play four games. And so in those first six games, the quarterback is going to be green. He's not going to have a lot of experience. So the guys around him, our defense, the running game, the receivers on the end, they've got to pick up the slack there, and so as we go and grow throughout the season, we kind of get into that middle season hitting our stride on offense."
J.K. Dobbins will have a chance to power the offense, especially early in the season as Justin Fields eases into the offense.
"In those first six games (Dobbins has) got to get his pads down and play veteran for us, play good," Day said. "The offensive line has to do the same thing to take the pressure off that position."
With back-to-back matchups at Northwestern and versus Wisconsin up next, Ohio State won't ease back into its schedule by any means. The Wildcats, who lost to the Buckeyes in the 2018 Big Ten title game, will play host for an oddly timed Friday night game in Evanston, Illinois. Ohio State's second bye week of the season will follow the game versus the Badgers. 
A duo of winnable games – against Maryland and at Rutgers – follows the second off week. If Mike Locksley puts it together quicker than anticipated, the Terrapins could scare the Buckeyes, but they'll surely be viewed as de facto prelims for the final two games of the season.
Ohio State ends the regular season with a game versus Penn State and a jaunt north to Ann Arbor, Michigan, to take on Jim Harbaugh's Wolverines. Michigan was picked to win the Big Ten this year in cleveland.com's preseason media poll – and its head coach agrees with that prediction.
You won't find a much tougher two-game stretch than that to end anyone's regular season.
Three two-game stretches – Nebraska and Michigan State, Northwestern and Wisconsin, and Penn State and Michigan – will define the season. But games against Cincinnati, Maryland and Indiana represent possible slip-ups, too.
It's a tough, spread-out slate for a first-time head coach, first-year starting quarterback, five new assistant coaches and four new starting offensive linemen.
Based on how the 12 games are laid out, Ohio State can't expend all its energy early in the season, and it can't hold back until the end. Few games can be viewed as surefire wins. The trap games that tripped the Buckeyes up the past couple years will largely be replaced by a group of quality opponents expected to provide consistent tests.
Day won a sprint last year. But this marathon of a regular season requires a different set of skills, and the way the schedule is configured doesn't do him any favors.