I'm not a bettor. I have never been to Las Vegas. But I've set some lines.
Ohio State's season kicks off in just over a month, so we're taking a look at 10 hypothetical over/under bets for players in the 2019 season. The rules are simple: will the player(s) have more or less than the designated number of the respective statistic?
There's no better place to start than at quarterback.
1. Justin Fields: 3,900 combined passing and rushing yards
Dwayne Haskins reset the Ohio State record books in a way that makes this over/under seem like it might be obvious. If Haskins racked up nearly 5,000 total yards, including 4,831 passing yards, isn't Fields a lock to go over 3,900 yards?
It might not be that obvious. J.T. Barrett came close but didn't cross the 3,900-yard mark in any season.
Fields will certainly rush for more yards than Haskins, who had just 108 rushing yards on 79 carries. But he isn't as polished of a passer as the quarterback he's replacing. There's a slew of other factors to consider, too: games played, injuries, offensive line, how much he rests in blowouts, reliance on J.K. Dobbins, etc.
Colin Hass-Hill: Over, Dan Hope: Over, Kevin Harrish: Over, Taylor Lehman: Over
2. J.K. Dobbins: 1,550 rushing yards
In his first two years at Ohio State, Dobbins has twice cracked 1,000 rushing yards, but maxed out at 1,403 yards as a freshman. 
He enters his junior season – his likely final year in college – as the sole starter, no longer splitting carries with Mike Weber. That should lead to an uptick in carries. However, the addition of Fields and his ability to pick up yards on the ground could cut into Dobbins' touches.
Only five players in college football rushed for more than 1,550 yards last season. Can Dobbins break that mark this fall?
Colin Hass-Hill: Over, Dan Hope: Under, Kevin Harrish: Over, Taylor Lehman: Over
3. K.J. Hill: 80 receptions
Only two players in Ohio State history have ever caught at least 80 passes in a season: David Boston in 1998 (85 catches) and Parris Campbell in 2018 (90 catches).
In the new age of offense, though, passing records frequently fall. And Ryan Day has shown a propensity to advance the ball through the air. K.J. Hill has been – and will continue to be – a major beneficiary of the passing offense.
He had 56 catches in 2017 and 70 catches in 2018. He could be in line to hit 80 receptions for the first time in 2019.
Colin Hass-Hill: Over, Dan Hope: Over, Kevin Harrish: Over, Taylor Lehman: Under
4. Garrett Wilson: 550 receiving yards
If you're taking the over, you're betting on his natural talent. And if you're taking the under, you're only doing so because he's a true freshman.
It shouldn't – and doesn't – feel good to take the under. Wilson has as much talent as any player in Ohio State's wide receiver room, and he'll have a spot in the rotation. Still, he's unlikely to start and will fight for passes from a first-time starting quarterback with a bunch of older receivers and an improved tight end group.
Colin Hass-Hill: Under, Dan Hope: Under, Kevin Harrish: Under, Taylor Lehman: Under
5. Luke Farrell, Jeremy Ruckert and Rashod Berry: 50 catches
Ladies and gentlemen, we did it. Eleven Warriors did not write a story this summer about whether this is the year Ohio State's tight ends will finally become major pieces of the passing offense.
But in actuality, how the Buckeyes use their tight ends is one of the most intriguing aspects of the offense as the team prepares to begin fall camp. They pair Berry, a fifth-year senior and multi-game starter, with Farrell, who ended the season taking more snaps than any other tight end on the team. Ruckert will enter the mix with a larger role, too, after making only a single catch in 2018.
Will that trio reach 50 receptions, though? That could be tough since the three tight ends had only 30 combined catches last year. But with Ruckert playing more snaps and the potential for an increase in two-tight end sets, it's certainly possible.
Colin Hass-Hill: Under, Dan Hope: Under, Kevin Harrish: Over, Taylor Lehman: Over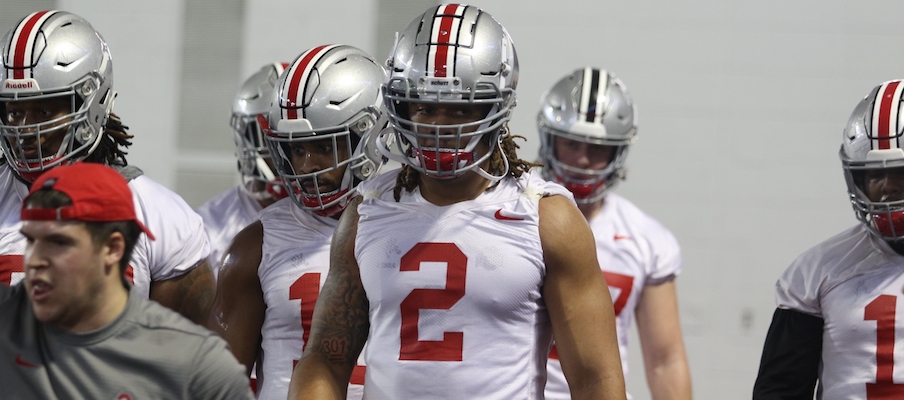 6. Chase Young: 11.5 sacks
Nobody in Ohio State history has ever recorded double-digit sacks in multiple seasons other than Mike Vrabel. Young has a chance to be the second.
As the team's premier pass rusher, most people would pick him to reach 10 sacks. But can he improve upon his 2018 sack total of 10.5 and reach 12? That's more difficult. Only five times have Ohio State players recorded at least 12 sacks: Vernon Gholston in 2007 (14), Joey Bosa in 2014 (13.5), Mike Vrabel in 1995 (13), Andy Katzenmoyer in 1996 (12) and Vrabel in 1994 (12). 
Colin Hass-Hill: Under, Dan Hope: Over, Kevin Harrish: Under, Taylor Lehman: Over
7. Zach Harrison, Noah Potter, Javontae Jean-Baptiste and Alex Williams: 7 combined sacks
Nobody would question the ceiling of any of these four defensive ends. None of them, though, have ever played a snap in college, let alone recorded a sack.
Harrison, an incoming five-star prospect, hopes to be an all-time great. Potter has plenty of edge rushers ahead of him, though he wants to play in his first year. Jean-Baptiste has finally added the weight he needed. Williams has a year of development under his belt.
The quartet – especially the first-year freshmen – is fighting an uphill battle, though. Even Young had only 2.5 sacks as a freshman.
Colin Hass-Hill: Under, Dan Hope: Under, Kevin Harrish: Under, Taylor Lehman: Over
8. Jeffrey Okudah, Damon Arnette and Shaun Wade: 7.5 interceptions
Jeff Hafley wants everybody to know his cornerbacks will turn their heads to look for the ball. Will that translate into more interceptions, though?
Arnette, Okudah, Wade and Kendall Sheffield combined for six interceptions last season. Okudah, who many have pegged as a future first-round pick, hasn't intercepted a pass in his first two years at Ohio State. He'll likely have to change that to both fulfill his potential and become an early draft pick and to help the team's cornerback trio rack up at least eight interceptions.
Colin Hass-Hill: Under, Dan Hope: Under, Kevin Harrish: Under, Taylor Lehman: Under
9. Jordan Fuller and Brendon White: 6.5 combined interceptions and sacks
Fuller wants to make more game-changing plays as a senior, and White will be playing all over the field.
In order to reach seven combined interceptions and sacks, Fuller needs to do as he hopes and White needs his new position to translate into increased production. Fuller and White each had one interception last year, and neither of them had a sack.
Fuller will likely spend more time as the only deep safety, which could lead to more opportunities to pick off passes. And White will sometimes play closer to the line of scrimmage at the bullet position, which could give him opportunities to blitz and rush the passer in addition to playing in coverage.
Colin Hass-Hill: Over, Dan Hope: Over, Kevin Harrish: Over, Taylor Lehman: Over
10. Malik Harrison: 81 tackles
Harrison tied with Fuller to lead the team with 81 tackles last season. He returns as Ohio State's starting weakside linebacker and should compete for the team lead in tackles once again.
In each of the past two seasons, no Ohio State player has recorded more than 81 tackles, but at least one Buckeye recorded triple-digit tackles in each of the prior five seasons. 
Colin Hass-Hill: Over, Dan Hope: Over, Kevin Harrish: Over, Taylor Lehman: Over