All but one of Ohio State's defensive assistant coaches have yet to coach a game in scarlet and gray.
First-year head coach Ryan Day made defensive line coach Larry Johnson the only holdover. He hired co-defensive coordinator Greg Mattison, co-defensive coordinator and secondary coach Jeff Hafley, linebackers coach Al Washington and assistant secondary coach and special teams coordinator Matt Barnes to round out the rest of his defensive staff.
As a result of the turnover, significant changes are coming to Ohio State's defensive scheme. And though the Buckeyes have yet to play a regular-season game, we have gotten glimpses of what the defense could look like.
As the beginning of preseason camp nears, we take a look at everything we currently know about the new defensive scheme.
Balanced between "bend-but-don't-break" and "aggressive"
Day is mostly focused on Ohio State's offense, allowing the defensive assistant coaches to lead the way their side of the ball. He does have a philosophy, though, for what he'd like to see on defense.
It begins with stopping the run; "that goes without saying," he said last week at Big Ten Media Days. Against the pass, he prefers a combination of "aggressive" play and a "bend-but-don't-break" style that situationally differs depending on the opponent, time in the game and other factors.
"As an offensive coach, I think about the guys who give us the hardest time and it's the combination of those two things," Day said last week.
Four defensive linemen
In constructing his defensive coaching staff, Day decided from the beginning that Ohio State would continue to use a four-man front on the defensive line.
Larry Johnson has recruited the crop of defensive linemen on Ohio State's current roster, and he has churned out dominant college players and NFL draft picks in a formation that typically employs two defensive ends and two defensive tackles. Given his success, Day had no interest in changing what Johnson was already doing.
"We had long discussions about what that was, but just felt like if we went to a three-down scheme too much that we're taking one guy off the field that maybe we shouldn't," Day said on March 6. "There's too much talent there, and that's what we recruited to. Larry's done such a great job. So that was kind of the one thing we started on. We're going to be a four-down front for the most part, and then where do we go from there."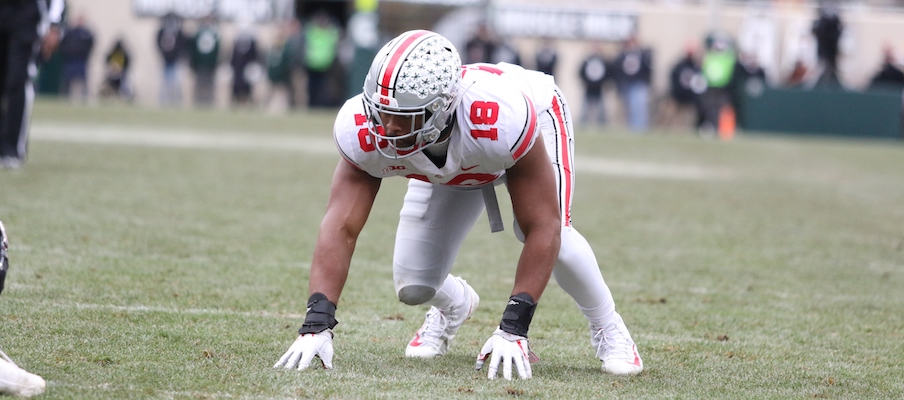 Defensive line getting upfield quicker
This spring, Ohio State's defensive line focused on penetrating offensive lines with greater frequency and getting upfield faster than it did a year ago.
"I love it," Jonathon Cooper said last week. "I feel like that's how football is supposed to be: north and south."
Larry Johnson said this spring that each lineman's focus on controlling his respective gap allows for players to aggressively get into the backfield without worrying about moving laterally. Therefore, the linemen hypothetically won't need to think as much during plays and can play more instinctively.
Nose tackle lining up in "2i" spot
In a four-man front, nose tackles typically shade either the right or left of the center. Ohio State, though, has moved to a defense that lines its nose tackle up on the inside shade of a guard, commonly referred to as the "2i" alignment. That move is commonly made to increase penetration from nose tackles and make outside runs more difficult.
"I think it helps us fit the run a lot more and better, like with my hands," Tommy Togiai said on March 29. "And then getting off, too, you can go straight and work in fitting."
To most television viewers, the change won't be noticeable, but it will absolutely factor into game plans of opponents.
Lots of rotation on defensive line
This is hardly new, but it's worth noting. As it did in past years, Ohio State will continue to rotate multiple players at every position on its defensive line. 
Robert Landers and Davon Hamilton will play at nose tackle, with Togiai and Antwuan Jackson pushing for time. Jashon Cornell, Taron Vincent and Haskell Garrett will all get snaps at 3-technique. 
"I've never felt that we have too many (defensive tackles)," Johnson said on March 29. "We've got a plan to play those guys."
Chase Young, Jonathon Cooper, Tyreke Smith and Tyler Friday will play at defensive end. Javontae Jean-Baptiste, Alex Williams, Zach Harrison and Noah Potter could also factor into the rotation.
Linebackers make most pre-snap calls
Jordan Fuller revealed at Big Ten media days that Ohio State's safeties made most of the pre-snap calls on defense last year. They were trusted so much with that responsibility that Fuller said it wouldn't have made sense for the safeties and cornerbacks to meet in the same room – like they do under the current staff – because the cornerbacks would have "wasted their time" hearing the safeties learn about calls.
The linebackers will be trusted to make the majority of calls this fall, Fuller said last week.
"If I'm in the middle of the field, I would still be making calls," Fuller said. "So it's not like I would miss it as much, but I definitely won't be thinking as much, I'll say that. Just because like, last year, if there was somebody in motion, I would have to be ready. So I would get in my stance and be like, 'OK, if he goes here, then I'm going to say this. If he goes here, I'm gonna say that.' This year, I don't really have to do that as much."
Now, it's up to the linebackers.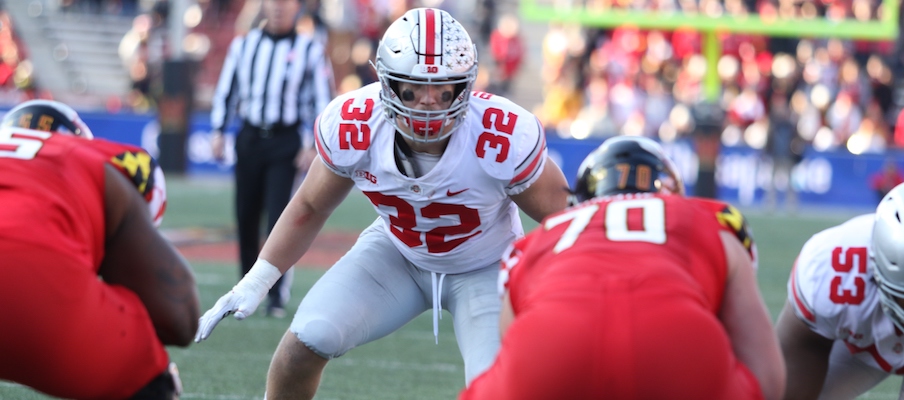 Fewer reads for linebackers
On a defense that allowed more than 400 yards per game last season, the linebackers stood out as one of the weakest units.
In order to improve the position group that returned all three starters, Ohio State has simplified the reads of the linebackers, per the players who spoke to the media this spring. That, the linebackers said, will lead to increased in-game speed.
"I would say that this year we're going to play more straightforward and just going downhill and playing fast and making sure that it's simple and we're getting stuff done and just playing fast," Dallas Gant said on March 29. "Last year, lot of changes with motions and stuff like that, which wasn't difficult, but sometimes it would be unsure, and sometimes we played that way, which made us play slower, which wasn't a bad thing, it was just a change-up. This year, just playing more straightforward, I would say."
Linebackers might rotate
Even with all three starters – Malik Harrison, Tuf Borland and Pete Werner – back for the 2019 season, a rotation isn't out of the realm of possibility.
"It keeps you fresh," Day said last week. "It helps you later on in the game. It helps you later on in the season. But they have to earn the spot. We're not going to do it just to do it."
Harrison will undoubtedly start and play the majority of weakside linebacker snaps ahead of Dallas Gant. Werner will likely start at strongside linebacker, with K'Vaughan Pope behind him. Borland is competing with Teradja Mitchell and Baron Browning to keep his starting job at middle linebacker.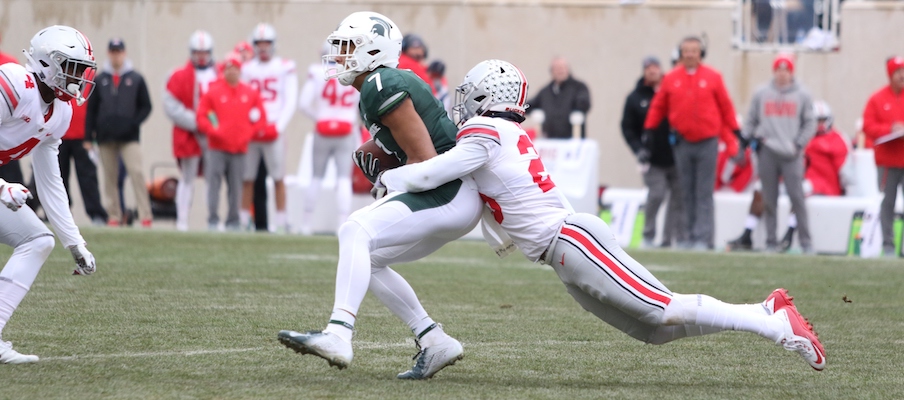 Implementation of the hybrid linebacker-safety bullet
No defensive change received more attention this offseason than the implementation of the bullet, a hybrid linebacker-safety position. 
Brendon White is expected to be the starting bullet. Jahsen Wint spent the spring practicing at the position, too. 
"It's a versatile position, so I can play the safety spot and I can come down and play the run with the 'backers," White said in March. 
It's not yet fully clear how exactly the Buckeyes will put the position into use and how often in games they will use it.
But Mattison, who coaches all strongside linebackers, wants the bullets to have the ability to play at every level of the defense and make plays from different areas. That requires a special combination of size and athleticism.
"That guy is a guy who can sack, he can rush the passer; not every safety can do that," Washington said. "He's a guy that has to be able to play at the line of scrimmage and use his hands; not every safety can do that. The guy has to be able to cover man, the slot; not every linebacker can do that."
When lining up on the second level, the bullet will often force a linebacker out of the game. That means the strongside linebacker – Werner – might not play as many snaps as the two inside linebackers.
Both man and zone coverages
Under Urban Meyer, cornerbacks played press man coverage. That's just what they did.
Hafley, as the secondary coach, has altered the principle. He doesn't want to completely shun press man, noting he intends to use that coverage, but he expects to play more zone, giving different looks to offenses. 
"I just think that you have to mix things up," Hafley said on June 5. "I think you have to give corners the ability to zone off and be able to play off the quarterback to try and go make some plays rather than just be in man the whole time. I also think you also get tired playing man the whole entire game, which you have to protect those guys sometimes and mix it up."
Use different personnel and schemes to match up with offenses
Welcome to one of the core tenets of Ohio State's defense. 
Co-defensive coordinators Greg Mattison and Jeff Hafley want to be able to switch between schemes and personnel groupings to match up with opponents. They don't want to be stuck in something without the ability to change up its look.
If a pass-happy team goes with four wide receivers on every down, the coaches don't want to rely on three linebackers for the entire game. And conversely, when facing a run-heavy team, they plan to have the ability to put the right personnel on the field to match up. Hafley and Mattison want a certain level of versatility – both in its players and schemes – available to them.
Only one deep safety on the field for a "solid amount" of time
Ohio State used a single deep safety in defensive formations for extended portions of practice this spring, and it's fair to expect that to continue into the fall.
Fuller, a returning starter and team captain, will play the majority of snaps at deep safety. He said he thinks the amount of snaps with only one safety will depend on the opponent and Hafley's game plan.
"But I think a solid amount of the time you'll see one safety back," Fuller said last week.
That is a welcomed change to Fuller.
"In certain defenses last year we would start split and rotate to single-high, so the only difference is that you're there already, which is cool," Fuller said. "It's a little easier because you don't have to run to it. Having eyes on the quarterback is fun too. You're able to make more plays."
Try to confuse offenses by lining up in similar formations and playing differently
Though the coaches have stressed versatility and the ability to offer different looks, Fuller hypothesized the defensive formations could look similar even if what happens once the ball is snapped changes on each play.
"It's going to be hard for offenses because we're probably going to look pretty similar every snap and you're not really going to know what we're in," Fuller said last week. "A certain defense will take this away and maybe be susceptible to one thing, but another defense we play is gonna look the same pre-snap but it's gonna take away whatever the other coverage was susceptible to."