Opportunity matters, and you never know quite when it's coming.
Chris Olave remained buried on the depth chart last season, catching just five passes in the first 11 games of the season. But he got enough playing time against Michigan to catch a pair of touchdowns and blocked a punt, leading to a five-catch, 79-yard game with another touchdown in the Big Ten championship.
Brendon White's opportunity almost never came. The Buckeyes tried both Jahsen Wint and Isaiah Pryor at safety before an injury to Pryor and a targeting ejection for Jordan Fuller put White on the field against Nebraska. He shined, leading the team in tackles in that November game, and laid claim to the starting spot for the remainder of the season.
Ohio State has a host of underclassmen currently blocked on the depth chart waiting for opportunities. Those chances might come out of sheer happenstance, but they could also force their way onto the field.
Let's take a look at five Buckeyes who don't have clear paths to the field this fall, but who have the potential to emerge as difference-makers if the opportunity comes their way.
Josh Proctor
Had Jordan Fuller opted to turn pro and enter the 2019 NFL Draft, Josh Proctor might have been in prime position to snag the starting safety spot as a sophomore. Fuller's decision to return to school foiled those plans, relegating the former four-star Oklahoman to a likely backup role.
Proctor will compete with Isaiah Pryor to serve as Fuller's primary backup. That appears to be the only true deep safety position on the defense, considering Brendon White's newly implemented bullet position acts like a strong safety, often playing closer to the line. 
Thus, no matter how well Proctor develops, he might have to wait until 2020 for substantial playing time. That didn't stop him from shining this spring though. Multiple teammates and coaches, including Ryan Day, singled him out as someone who stood out among younger, more inexperienced players. Since he didn't enroll until last summer, this spring was Proctor's first chance to truly show out in practice. 
Proctor played only three defensive snaps in 2018 as a freshman, and he should have a larger role in 2019. However, given that Fuller remains the starter, he'll have a tough task earning significant playing time. When the team exited spring camp, Pryor still remained ahead of him on the depth chart, too.
Javontae Jean-Baptiste
Just about any of Ohio State's underclassman defensive ends could fit into this category. Chase Young and Jonathon Cooper return as the undisputed starters on the edge, and Tyreke Smith appears to be in line as the first edge rusher off the bench. Behind them, though, opportunity for someone to step up exists, and that player could be Javontae Jean-Baptiste.
Tyler Friday has the most in-game experience of the non-Smith backups at the position, and Zach Harrison entered the program as a five-star recruit, making them a duo likely to push for snaps. Noah Potter, too, has expressed an interest in pushing for early playing time. Jean-Baptiste, conversely, has flown almost completely under the radar.
After entering the program as a 6-foot-5, 215-pound defensive end, he was in no way ready for immediate playing time. Thus, the former four-star recruit from New Jersey redshirted as a freshman, not playing a single snap. He worked to put on weight and develop as an edge rusher.
By the beginning of January, Jean-Baptiste was up to 236 pounds. In the locker room after the Rose Bowl, he said he hoped to reach 250 pounds by the time spring football kicked off. Though he wasn't available to speak to the media this spring to update his progress, Jean-Baptiste flashed in a couple open practices and made a game-high five tackles, including a sack, in the spring game.
Larry Johnson has shown an affinity to rotating defensive ends. So if Jean-Baptiste continues his progression into the preseason, he could have a role off the edge. He has the frame to become an impact player, and the opportunity to show how much he has developed could come soon.
Teradja Mitchell
When Al Washington spoke about Teradja Mitchell this spring, he gushed, and for good reason. There's not much to dislike about the second-year linebacker from Virginia Beach, Virginia, except for his inexperience.
After entering Ohio State as a top-50 overall prospect and the second-ranked inside linebacker in his class, Mitchell played just two snaps on defense as a true freshman, spending most of his time affecting games on special teams, specifically in kickoff coverage. 
As he prepares for his sophomore season, Mitchell once again has a couple players ahead of him on the depth chart. Tuf Borland didn't practice much this spring due to an injury, but he returns as the starting middle linebacker. With Borland out during spring practices, Baron Browning, a former five-star prospect, stepped up with the first-team defense. Both Borland and Browning currently stand in Mitchell's path to playing time on defense.
With fall camp looming, Mitchell must put together an impressive performance in front of Washington and the other coaches to earn the starting job – or, at least, a situational role in a rotation. Despite the obstacles, it's not a particularly far-fetched idea. Borland has dealt with multiple injuries and struggled at times last year, and Browning hasn't yet won a starting job in his first two years.
This spring, Washington said he wants his middle linebacker to be a "thumper." Mitchell fits that description. Now, can he win the starting position?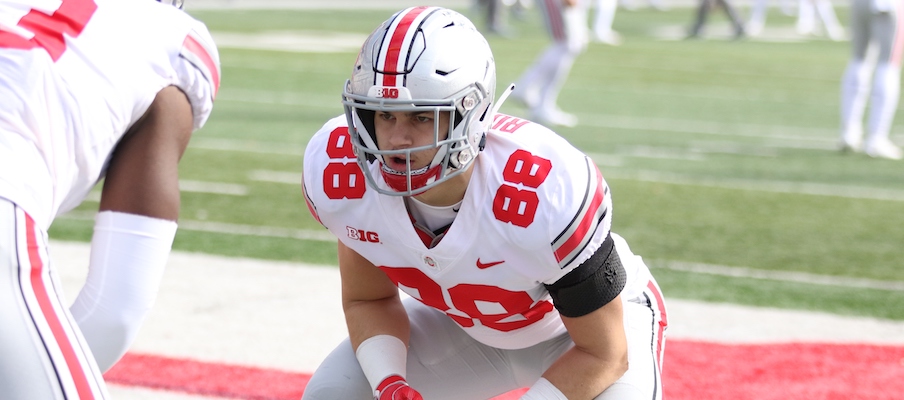 Jeremy Ruckert
Even as a third-string tight end, Ruckert barely belongs on this list. Why? He's widely expected to have a role in Ohio State's offense this fall.
Ruckert headed to Columbus last year hyped as one of the most talented tight ends to sign with the Buckeyes in recent history. He was ranked as the No. 37 overall prospect and the second-rated tight end in his class. Urban Meyer called him possibly the best tight end he had ever recruited.
As a freshman, though, he was limited to 129 snaps and caught just a single pass. Luke Farrell and Rashod Berry played the majority of snaps at the position.
This fall, Farrell and Berry remain ahead of Ruckert on the depth chart, but coaches talked about the possibility of putting the second-year tight end in the slot at times to get him on the field more. 
"I'm kind of going back to my old stomping grounds, so it's a lot of fun going out there and being allowed to do my thing," Ruckert said this spring. "It's a different position obviously, because I'm not really attached to the ball. We got a lot of depth at tight end, so that allows me to do that, and learning from the older guys at H, too – K.J., I'm learning a lot from him watching him, C.J. – so it's definitely something I'm learning and it's something I'm willing to do. Anything to help the team."
If Ruckert can become an asset in the passing game while lined up at both tight end and in the slot, he could become a major asset to Ryan Day and Kevin Wilson.
Tommy Togiai
Most teams in the country would have no problem starting Togiai, a second-year nose tackle who was the third-ranked defensive tackle in his class. At Ohio State, though, the Idahoan finds himself as a third-stringer.
Robert Landers and Davon Hamilton return for their five-year senior seasons, putting a cap on Togiai's potential for snaps this fall. Both veterans have starting experience and deserve ample playing time.
Don't count Togiai out, though.
He played 114 snaps as a true freshman, which is a feat for a first-year defensive tackle and can be attributed to his physical maturity. In seven games, he played at least 10 snaps. As a sophomore, it's fair to anticipate him playing an increased amount of snaps, especially as someone widely regarded as the strongest player on the team. 
Johnson said this spring that he expects every defensive tackle to have a role, considering he prefers to rotate them and maintain fresh, healthy linemen. So, even with three – or four, if you count Antwuan Jackson Jr. – nose tackles vying for playing time, Togiai should have a shot to play and earn even more snaps.