Early in the 2018 season, Ohio State desperately needed someone to step up at safety beside Jordan Fuller.
Alex Grinch trotted out Isaiah Pryor and Jahsen Wint to split snaps in the season opener, and Amir Riep and Brendon White got on the field once the blowout of Oregon State was nearly complete. For weeks, Pryor and Wint traded series with Pryor seeming to take a slight lead, but not exactly running away with the starting position. Eventually, Ohio State stumbled into Brendon White, who entered the game against Nebraska after Fuller was ejected for targeting, then held the spot alongside Fuller for the remainder of the season.
During the entire ordeal, Josh Proctor barely played. The freshman entered the program as a top-100 prospect with high expectations, but saw some time on special teams in two games, played two defensive snaps against Tulane and didn't leave the bench in three of the first six games of the season.
"It was tough," Proctor said after the Rose Bowl on Jan. 1. "At the beginning, it was just up-and-down, up-and-down. It was just me trying to get the feel for the whole college thing."
He continued: "I just didn't catch on as fast as I thought I would as far as studying and everything. It's a lot different."
Proctor was paired with Fuller as part of what he called the "big brother-little brother system."
Fuller aided with the transition to the collegiate level, helping Proctor keep a disciplined, day-by-day approach. Proctor said Fuller taught him "don't let everything get to you" since eventually "things will fall in place as you want."
"Coming in as a freshman, you don't know what you don't know," Fuller said on Dec. 26. "You see all the talent he has, but really it's guys making transition to, 'OK, this is my role.'"
Midway through his first season at Ohio State, Proctor began to make strides in practice that the coaching staff noticed. He was placed on the first-team kickoff unit – which Proctor said is nicknamed the "turn-up crew" – as a gunner for his team's win against Indiana on Oct. 6.
At that point, Proctor finally began to feel a little more settled down after the rocky beginning of his collegiate career.
"I'm like, 'OK, I'm making some steps. Coaches trust me a little bit,'" Proctor said. "So I just kind of took that and ran with it."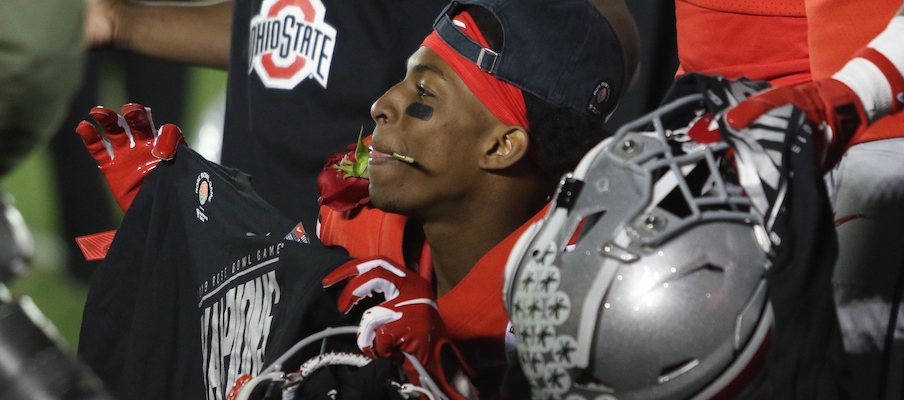 Nine days after his debut on the kickoff team, Urban Meyer noted Proctor taking his next step, saying he "is now contributing on special teams." Three weeks later, Meyer said Proctor "did a heck of a job" on the kickoff unit. Three weeks after that and two days after the Buckeyes beat Michigan, 62-39, Meyer called Proctor an "unsung hero" for his performance on special teams.
"Josh Proctor went from a nonproductive teammate to a very productive teammate," Urban Meyer said on Nov. 26. "And it all started with a couple of motivational, inspirational meetings and confrontational meetings. But he's a good kid from a good family and wants to play. Now he is playing at a very high level for us."
Despite Meyer's increasingly positive comments throughout the season, Proctor stayed on special teams.
He played a single defensive snap against Purdue, but didn't take the field on defense the rest of the season. Fuller, White and Shaun Wade, who played primarily at slot cornerback, played every single defensive snap at safety in the final five games of the year.
Had Fuller headed to the NFL following his junior year, the Buckeyes would've had just one returning starter. With both Fuller and White returning for the 2019 season, Proctor's odds of ascending from a nearly exclusively special teams role to starter seems relatively unlikely. However, it would have been even less likely had Alex Grinch and Greg Schiano returned as defensive coordinators.
An entirely new coaching staff that features co-defensive coordinator Greg Mattison, co-defensive coordinator and secondary coach Jeff Hafley and assistant secondary coach Matt Barnes could lead to some of the positions on defense with returning starters becoming open competitions. Sure, White had a solid back half of the season, but it would behoove the new coaches to evaluate their options, and Proctor is a prime example of someone who barely played defensive snaps last season yet could be in line for a substantial increase under new leadership.
Regardless of whether he eventually works his way into a starting role or makes his impact backing up Fuller and White next season, he's primed to be in a good position to compete to become a starter when Fuller leaves after 2019. The 6-foot-2, 198-pound safety has intriguing physical gifts, and he'll get opportunities to show his growth on defense this year.
In the next couple months as he prepares for spring practice, Proctor's goals are simple.
"Study. That's it," Proctor said. "Study and in the weight room. That's it. Those are my goals this offseason."