No one ever quite knows what to expect from players following their redshirt seasons.
A smattering of high schoolers enter Ohio State each year as highly regarded high-school prospects, but a chunk of them don't play and are often forgotten about, despite many fans feverishly tracking their recruitments before they get on campus. Thirteen of the 26 prospects the Buckeyes signed in the 2018 class redshirted as freshmen. Three of the top four highest rated recruits used redshirts.
With some of those who redshirted expected to play increased roles in 2019, we took a look at how they might impact the Buckeyes next season and beyond.
QB Matthew Baldwin
2018 in review: After suffering a torn ACL on his first play of a high school playoff semifinal game, Baldwin spent most of the season recovering from his injury. He might have been able to play in the final few weeks of the season, but he didn't take a snap the entire year.
2019 outlook: Either Baldwin will start at quarterback or he will back up Justin Fields. His role will largely be determined by whether or not Fields gains immediate eligibility. If Fields is able to play in the fall, Baldwin will likely back him up. If Fields' waiver is not successful, Baldwin will assuredly start. In both scenarios, he's one of the most indispensable players on the team. Even as a backup, he would be one of just three scholarship quarterbacks on the roster and one of two quarterbacks that the coaches would feel comfortable playing in a game. 
Long-term outlook: Even if Baldwin doesn't start in the fall, he's positioned well to land a starting spot down the line, and he almost certainly will have the edge in experience on whomever competes with him. If everything with Fields goes according to plan, the Georgia transfer will start in 2019 and 2020, then head to the NFL with two years of starting experience. Baldwin, who will be a redshirt junior in 2021, could be next. Jack Miller, a four-star quarterback from Arizona, will be a redshirt freshman and will likely be Baldwin's main challenger for the starting job. But considering what has happened with Ohio State's quarterbacks this offseason – Dwayne Haskins leaving for the NFL, Tate Martell transferring to Miami and Fields transferring to Ohio State – nothing is certain.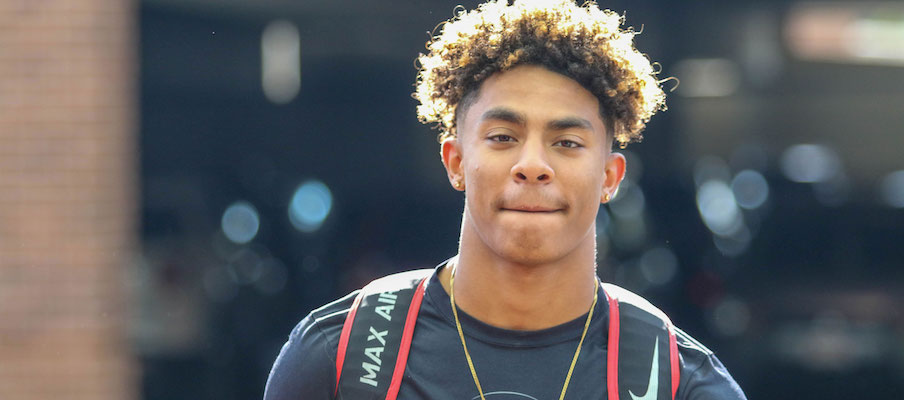 WR Kamryn Babb
2018 in review: Babb did not play a snap as a freshman. He suffered a torn ACL in his left leg as a senior in high school, then torn his ACL in his right leg during the summer. So, he spent the year recovering.
2019 outlook: The most important thing for Babb will be to get through spring practice healthy, make it through the summer without another injury, then have an injury-free season. Given his two torn ACLs in two years, that would be a positive for Babb. He might not be fully healthy for spring practice, which could set him behind a bit. There could be opportunities to earn playing time at the X or Z receiver positions with Johnnie Dixon and Terry McLaurin gone, but Babb is most likely to find the majority of his playing time on special teams and in blowouts.
Long-term outlook: The injuries set Babb back in the short term, but he still has ample opportunities ahead of him. Austin Mack and Binjimen Victor will graduate after the 2019 season, leaving Babb to compete for a spot in the rotation with Chris Olave, Garrett Wilson, Jaylen Harris, Ellijah Gardiner, L'Christian Smith and Jameson Williams. He'll have a solid chance to leap into the fray as a redshirt sophomore in 2020.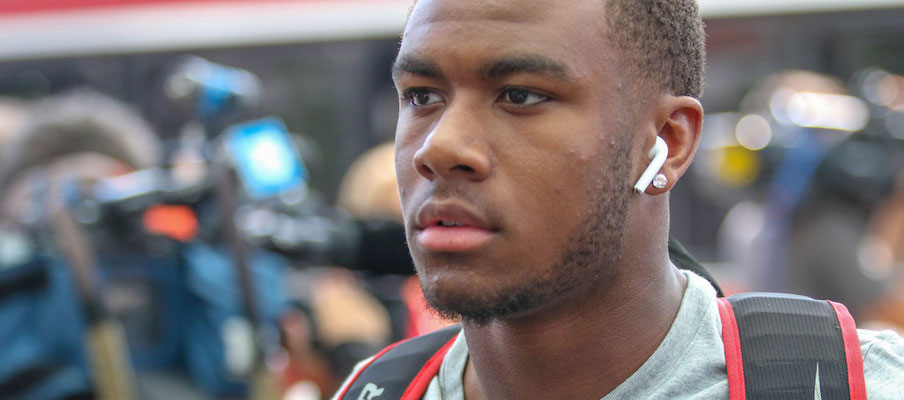 CB Cameron Brown
2018 in review: Brown played defensive snaps in three of the first four games, but didn't see any time on defense the remainder of the season. He did, however, play special teams in two games, which means he played in five games, crossing the four-game threshold of a redshirt. Ohio State listed him as a redshirt, though, so we're including him in this article.
2019 outlook: Brown doesn't have an easy path to the field. Jeffrey Okudah, Damon Arnette and Shaun Wade have the inside track to be the top three cornerbacks on the team in the fall. Multiple teammates and coaches noted the progression of Sevyn Banks during bowl practices, so he could enter the rotation. Brown still must compete with Marcus Williamson and Tyreke Johnson for snaps. There's not an easy path to the field in his second year at Ohio State.
Long-term outlook: Some schools recruited Brown as a wide receiver, but the Buckeyes brought him in as a cornerback. At either position, he'd have a lot of competition for snaps. Though Okudah could leave early for next year's NFL draft, Wade, Banks, Williamson and Johnson would all likely still be in Columbus in 2020. Brown might have to be patient before getting his shot.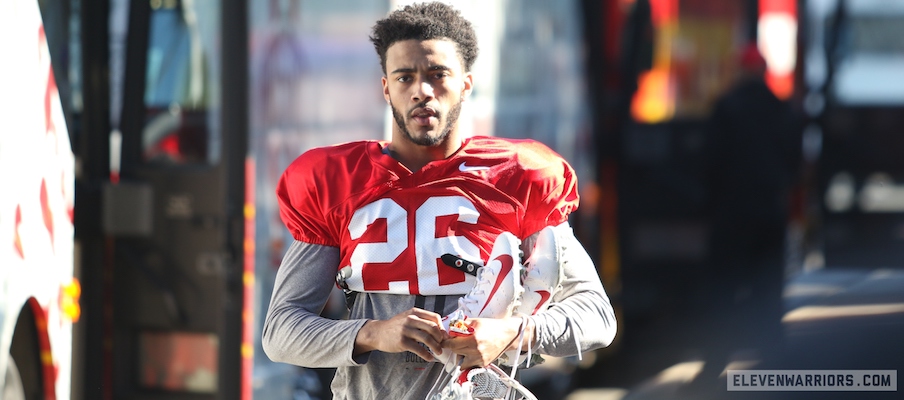 H-Back Jaelen Gill
2018 in review: Gill played six snaps versus Rutgers and nine snaps against Tulane. He did not play after the fourth week of the season. He had one catch for 11 yards.
2019 outlook: Had K.J. Hill opted to leave for the 2019 NFL Draft, Gill might have gone from redshirt to starter in one year. Hill will return as starting H-back next season, but Gill could rotate with him. He entered Ohio State as a five-star prospect who played running back in high school and spent his first year transitioning to H-back, where he could offer Ryan Day an intriguing counter to Hill, who is almost exclusively a pass catcher. Gill's main competition will come from former walk-on C.J. Saunders and Demario McCall, whose position isn't locked in.
Long-term outlook: Some people figured Gill would make an immediate impact as a true freshman. He didn't play much, but don't expect that to happen again. He's too talented to keep off the field for much longer. With Hill gone after the upcoming season, Gill has a chance to lock up the starting H-back position in 2020 with a successful 2019 performance. The transition from running back to H-back can be difficult, as McCall learned, so it's worth keeping an eye on how Gill manages the move as a redshirt freshman.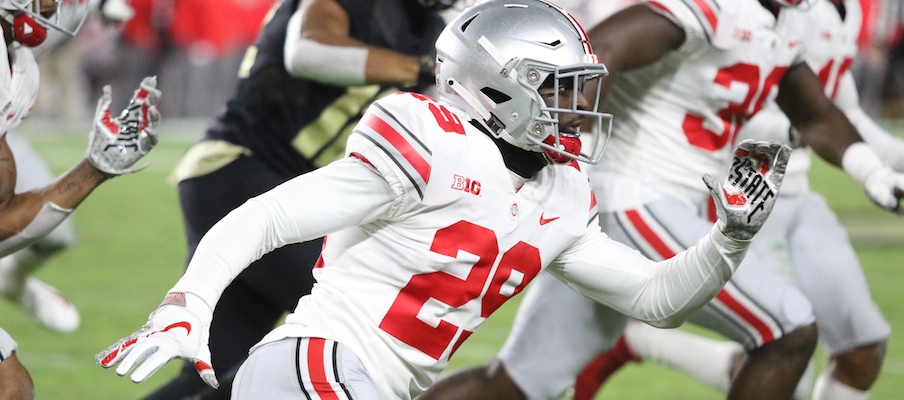 S Marcus Hooker
2018 in review: Hooker played special teams against Minnesota and Purdue, then did not play again the rest of the season. He was suspended for the first game of the season after a DUI, then was held out four more weeks due to an undisclosed hand or wrist injury.
2019 outlook: Ohio State spent the entire first half of the 2018 season searching for a starting safety opposite Jordan Fuller. That might not be a problem next season. Brendon White had a solid season, and Josh Proctor made a second-half move up the depth chart. Hooker likely won't have a shot to work his way into the regular rotation. He'll have to make his contributions on special teams.
Long-term outlook: The Buckeyes have more than enough safeties, which could hurt Hooker's ability to get on the field any time soon. Fuller will be gone after the 2019 season, but White, Proctor, Isaiah Pryor, Jahsen Wint, Amir Riep, Ronnie Hickman and Bryson Shaw will all be back. Hooker will have his chance to move up the depth chart at some point, but it's certainly crowded right now.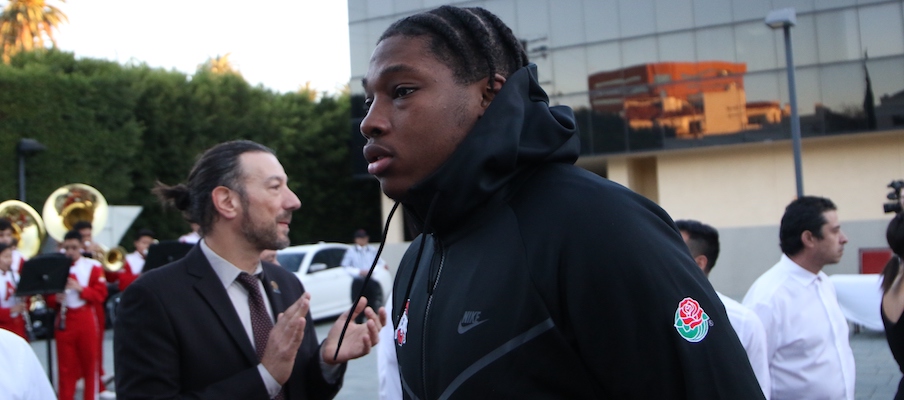 DE Javontae Jean-Baptiste
2018 in review: Jean-Baptiste did not play a snap as a freshman.
2019 outlook: Chase Young, Jonathon Cooper and Jashon Cornell return for one more season. Tyreke Smith and Tyler Friday are also back for their second years. Zach Harrison and Noah Potter will enter the mix, too. So, Jean-Baptiste has quite a barrier to play in 2019. Increased size from 236 to 250 pounds will help, but he's most likely to get most of his playing time in blowouts. 
Long-term outlook: Young, Cooper and Cornell should all be gone in 2020, and that will be Jean-Baptiste's first opportunity to ascend as a rotational piece. Smith, Friday, Harrison, Potter, Alex Williams and Jean-Baptiste will make up the defensive ends. Jean-Baptiste has the frame to develop into a terror off the edge, though he needs some time to maximize his lanky 6-foot-5 physique. In a year or two, he should be primed to take key snaps.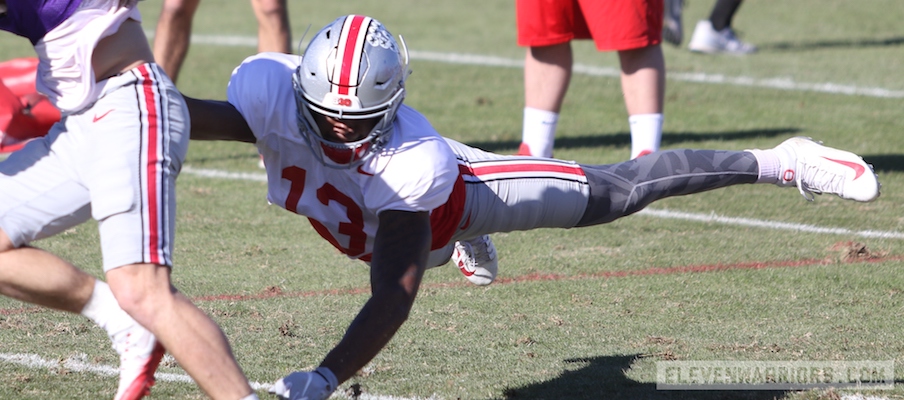 CB Tyreke Johnson
2018 in review: Johnson earned time on special teams against TCU and Penn State and played two defensive snaps versus Tulane, but did not play again after the fifth week of the season. He didn't record a statistic.
2019 outlook: Like Cameron Brown, Johnson has a tough road to traverse in order to get onto the field next season. He entered the program as a highly regarded recruit, but he wasn't discussed much as a true freshman. In order to play significantly more defensive snaps, Johnson will have to beat out Banks, Williamson and Brown, becoming the fourth cornerback behind Okudah, Arnette and Wade.
Long-term outlook: Johnson entered Ohio State as a five-star prospect and the No. 21 overall recruit in his class, so there are high expectations on him. He should play more defensive snaps in 2019, then will be in line to compete for a starting spot in 2020 when Arnette graduates. Okudah could also leave for the NFL after next season. Johnson, who hails from the same high school as Wade, will have a chance to play alongside him in the rotation in 2020.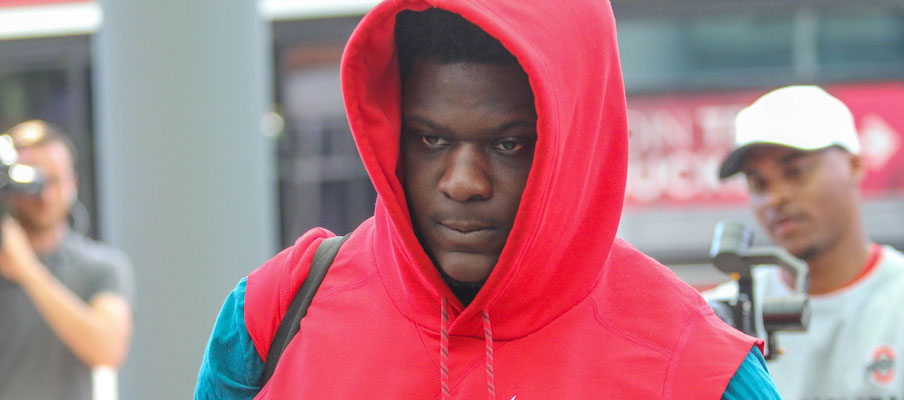 OL Matthew Jones
2018 in review: Jones did not play a snap as a freshman.
2019 outlook: Though he's not the favorite, Jones has a chance to ascend into a starting role next season. Michael Jordan, Demetrius Knox and Malcolm Pridgeon all either graduated or left for the NFL, necessitating two new starting guards and a starting center. Wyatt Davis is locked in as a guard, and Josh Myers has the first shot as center. Jones will compete with Branden Bowen, Gavin Cupp and Harry Miller for the second starting guard spot. Bowen is the likely started, but Jones can't be completely counted out. If he doesn't start, he'll likely serve as a backup at either guard or center.
Long-term outlook: If both Davis and Myers start in the fall, they could lock themselves into starting positions for the next few years, minimizing the opportunity for Jones to a single guard spot. Miller should be Jones' biggest long-term adversary for playing time, other than Davis and Myers. Jones was the top-ranked center in his recruiting class, but his skills would translate to guard.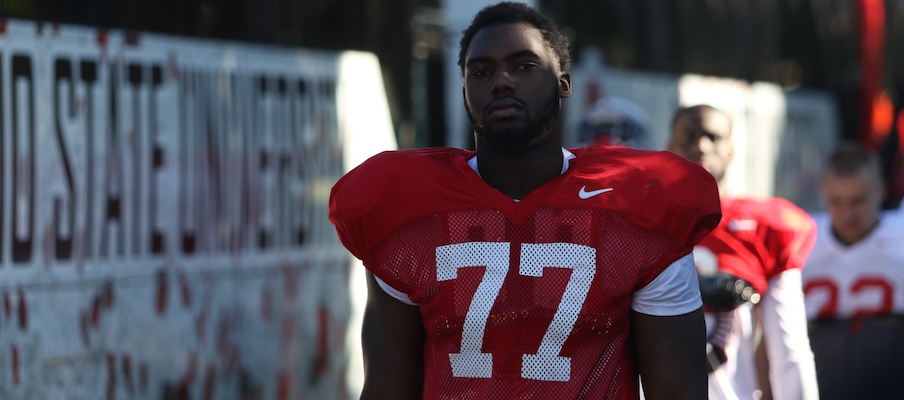 OT Nicholas Petit-Frere
2018 in review: Ohio State didn't originally plan to use a redshirt for Petit-Frere. He played at least 18 snaps in three of the first four games, seeing time with the reserves in blowouts. But with sufficient depth at offensive tackle, the Buckeyes kept him off the field for the remainder of the season.
2019 outlook: Petit-Frere will take part in a three-man competition to become Ohio State's starting right tackle. Isaiah Prince vacated the position with his graduation, so Petit-Frere, Joshua Alabi or Branden Bowen will start opposite Thayer Munford, the left tackle. Bowen is likely to start at guard, so it could come down to Petit-Frere and Alabi. Alabi, who started at left tackle in the Rose Bowl, has the edge in experience. But Petit-Frere, who entered the program as a five-star prospect, has a high ceiling, even though he's still developing. If he can successfully put on weight, he might be Greg Studrawa's pick to start.
Long-term outlook: Even if Alabi beats Petit-Frere out as the starter at right tackle next season, Petit-Frere would still have a clear path as a multi-year starter. Alabi will graduate after the 2019 season, and there isn't much depth at offensive tackle, so Petit-Frere will likely start in 2020, regardless of whether or not he starts in the fall. He has bundles of potential, so it's up to Studrawa to maximize Petit-Frere's natural talent.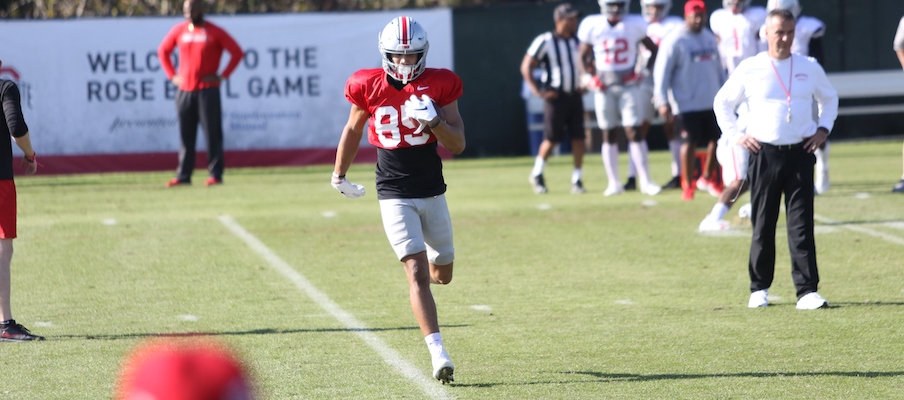 WR L'Christian "Blue" Smith
2018 in review: Smith played just five offensive snaps, seeing minimal playing time in the fourth, ninth and 12 games of the season. He did not catch a pass.
2019 outlook: Standing 6-foot-6, Smith provides the wide receiver room has sufficient physical gifts to make an early impact. But he didn't see much action as a freshman. Next season, he'll compete with Harris, Babb, Wilson, Williams and Gardiner for time at wideout behind Victor, Mack and Olave. Smith hasn't showed much in games yet, but he has a shot to break the rotation in the offseason. 
Long-term outlook: Much like Babb, Smith's major chance to become a factor in the wide receiver rotation will come as a redshirt sophomore in 2020 after Mack and Victor graduate. He will compete with Olave, Wilson, Harris, Gardiner, Babb and Williams for playing time.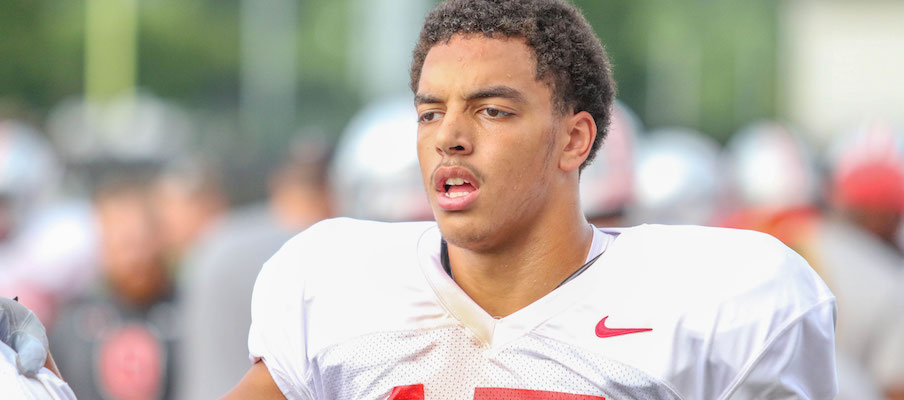 DE Alex Williams
2018 in review: Williams did not play a single snap as a freshman.
2019 outlook: Williams is a project. That's not a bad thing – it just means he just needs time to develop. So, don't expect him to play much in the fall. He and Jean-Baptiste are both in similar positions waiting for playing time, growing into their bodies and learning different technical moves from Larry Johnson. Young, Cooper, Cornell, Smith and Friday are ahead of Williams on the depth chart for now, so his playing time will likely come on special teams and late in blowouts.
Long-term outlook: Though Williams could conceivably play both sides of the ball, Johnson referenced to him as a defensive lineman prior to the Rose Bowl. He seems likely to get his first shot on that side of the ball. And just like Jean-Baptiste, the 6-foot-7 defensive end should have his first opportunity to enter the defensive end rotation in 2020 when Young, Cooper and Cornell are gone.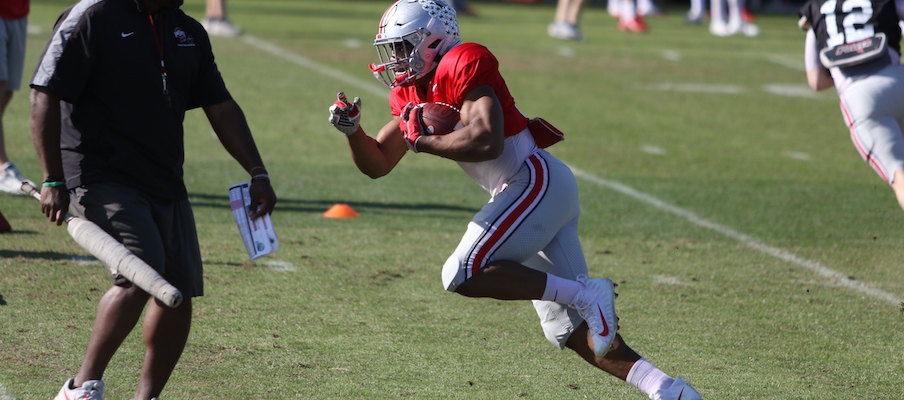 RB Master Teague
2018 in review: Ohio State seemed poised to burn Teague's redshirt, playing him in three of the first four games of the season. However, he only stepped on the field one more time – playing special teams versus Minnesota – in order to preserve his redshirt. Teague had 17 rushes for 106 yards and a touchdown.
2019 outlook: Teague has a chance to become the backup to J.K. Dobbins in the fall. He'll have to beat out a couple fellow backs to earn the spot, but he'll be in the running. Demario McCall and Marcus Crowley will be Teague's main competition. McCall could serve as a third-down or passing-down back, though his role is unclear. Crowley will be a freshman. So, Teague has as good a shot as anyone to secure some of the carries the opened up by Mike Weber leaving for the NFL.
Long-term outlook: Dobbins will have the chance to enter the NFL draft after the 2019 season, and if he opts to leave Ohio State, Teague will be in prime position to become the starter. The transfer of Brian Snead clarified his future role, which should include plenty of carries, no matter how they get split up.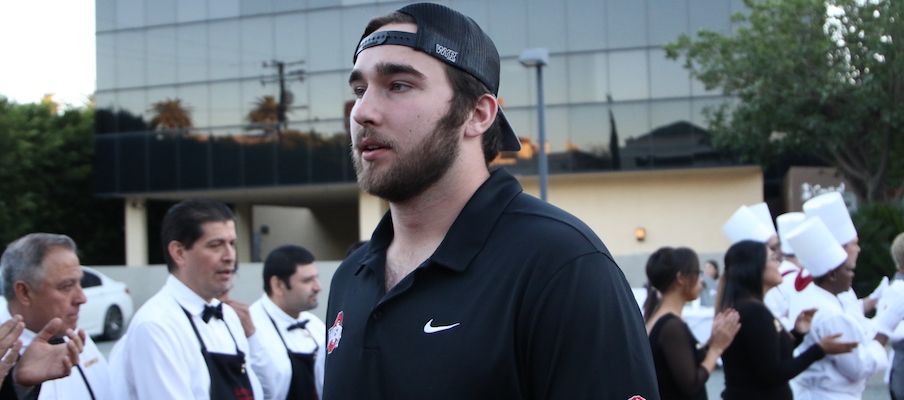 OT Max Wray
2018 in review: Wray did not play a single snap as a true freshman.
2019 outlook: Failures on the recruiting trail will almost solely get Wray on the two-deep depth chart. The Buckeyes simply don't have enough offensive linemen to keep him off. Munford will start at left tackle, and either Alabi or Petit-Frere is expected to start at right tackle. That leaves Wray and either Alabi or Petit-Frere as the only two backup offensive tackles on the roster. So, even if he needs more development, Wray will be the fourth tackle. 
Long-term outlook: Though Wray is being counted on in the two-deep depth chart earlier in his career than some people anticipated, he likely won't have a shot to start for a couple years. Munford has two more years of eligibility, and Petit-Frere has four years of eligibility remaining. Wray could compete for a starting spot in 2020 if Alabi beats out Petit-Frere this season. Otherwise, he will serve as a backup at right tackle and left tackle for the next couple years, then have a chance to win a starting job.