Both Joey and Nick Bosa will be in the NFL, but a defensive end wearing No. 97 with brown hair flowing out of the back of his Ohio State helmet will still take the field at Ohio Stadium for the next three to five years.
Meet freshman Noah Potter. The Mentor native unafraid to follow the Bosa brothers and Cameron Heyward, who each left a legacy with the jersey number he now inherits.
Potter didn't randomly end up with No. 97. Of course not. No one accidentally ends up with a pair of digits that represents such recently heralded players. Per famed defensive line coach Larry Johnson, Potter asked for the number, the one he has worn dating back to high school.
"Sometimes I have flashbacks watching 97," Johnson said this spring. "Some different guys have been in that jersey number. So we'll see how it goes."
Johnson doesn't want Potter to feel like he's in the Bosa shadow, even though undoubtedly the first thing every Ohio State fan watching will think whenever he records his first sack will be, "Wait a second, is there another Bosa brother?"
"The guys who have wore that jersey have been great football players," Johnson said. "Really outstanding players. Noah's just got to be himself. He can't follow those guys. Those are special players."
Just being Potter means being the next defensive end that Johnson believes can turn into a force at the college level before eventually developing into an NFL prospect. Given the studs who Johnson has coached both in Columbus and at Penn State, that's simply the expectation at this point.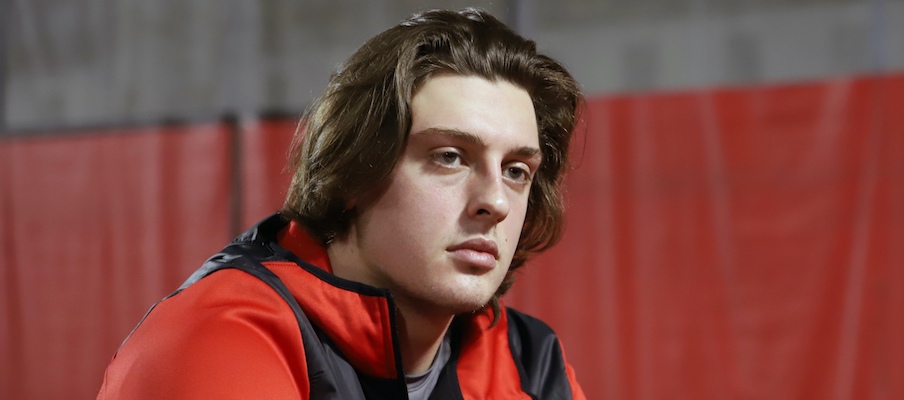 Potter entered the program as a four-star prospect ranked No. 334 in his class. He was the 23rd-ranked strong-side defensive end and the ninth-rated recruit from Ohio. Ryan Jacoby, a fellow four-star prospect from Mentor, joined him in the Buckeyes' 2019 recruiting class.
Defensive end Chase Young, Jonathon Cooper, Tyreke Smith, Javontae Jean-Baptiste and Tyler Friday return this fall, comprising a position group not lacking in depth or top-tier talent. But those who have watched Ohio State play in the past decade certainly won't overlook the edge rusher wearing No. 97.
"(Potter) has big shoes to fill," Smith said through a giant smile, laughing as he spoke. "But I think he's fine. Nick, he did a lot for his program. I think he understands what he has to do. But I tell him don't worry about that stuff. It's just a number. You go out there and play your game. Just make sure you're good. Just play hard. Do the best you can do. We're not playing for Nick. We're playing for this unit. It's a brand, coach J said. We've got to play for this brand, and we've got to put on a show for everybody.
"Everybody's watching us, and everybody's expecting the Rushmen on the D-line to come out there and prove something to the other team. I think he just has to go out there and play his game, and he'll be fine."
Along with fellow defensive end Zach Harrison and five other freshmen, Potter enrolled early in Ohio State this spring, getting a head start on integrating himself both into the strength program and the defensive line room.
At 6-foot-6, 252 pounds, he has uncanny size for a freshman, even though Young and Harrison are typically the first two names brought up when anyone discusses the team's physical freaks.
"They are both good players, but I am not scared or anything," Potter said. "I came here because I know what I can do and I'm not scared of anyone at all."
He has grand ideas about a future across the line with Harrison.
"Me and Zach, we're going to wreck some offensive tackles the next few years," Potter said.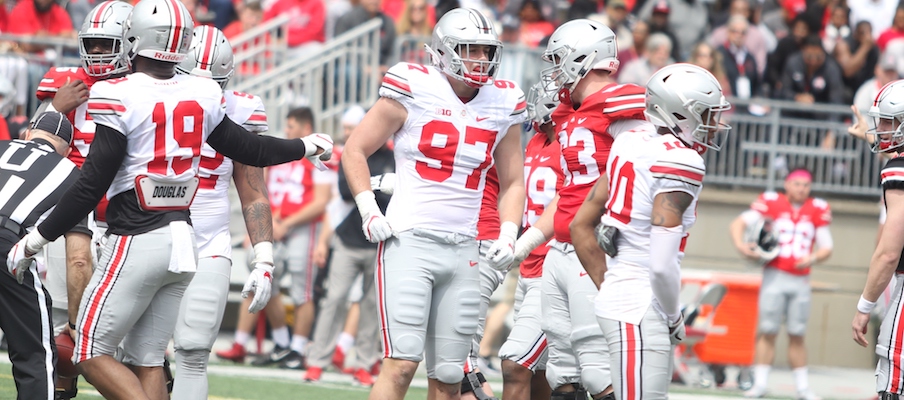 Potter has exuded optimism about playing early in his collegiate career since signing his National Letter of Intent in December. But given the presence of Young, Cooper, Smith and the other returners, along with the addition of Harrison, he has a steep climb before earning immediate snaps as a true freshman. Johnson also has talked in the past about not wanting to put freshmen in positions where they might fail, which could potentially be detrimental in future years.
Ultimately, Potter will live with whatever amount of snaps Johnson determines is optimal. He signed with Ohio State to play for Johnson, and he has seen the annual assembly line of linemen headed to the NFL, so he has his full trust in his position coach.
"That just shows you what coach J has done for the program, especially at the defensive end position, and I hope to continue that legacy," Potter said in February.
Smith noted Potter's "good upside" when talking about him after the spring game.
"Got good hands coming out of high school," Smith said. "He has better hands than I did. He wears his hands way better than I did."
High praise, and coming from someone widely expected to have a breakout sophomore season.
Potter picked up a sack in the spring game, and he flashed in moments during practices open to the media to watch. Plus, at least according to Smith, he continued Johnson's drills out of uniform.
"Coach J says you've always got to work on flipping your hips, so you'll see him sometimes walking the hallways flipping his hips on people," Smith said. "So, yeah, he's doing good. He's improving day by day. It's going to be good to see where he's at when he's at the end of his career."