Ohio State typically has a marquee non-conference opponent each year.
In the past decade, the Buckeyes have faced Oklahoma, TCU, Virginia Tech, Miami and USC, and they're scheduled to take on Oregon, Notre Dame, Washington and Texas in future seasons. Originally, they were supposed to face TCU in the second year of a home-and-home series this fall, but that was changed to a one-time game at a neutral site – AT&T Stadium in Arlington, Texas – and played last fall.
In 2019, Ohio State's non-conference schedule will feature games against a trio of Group of Five opponents: Cincinnati, Florida Atlantic and Miami (Ohio).
Cincinnati doesn't have the national brand that some of Ohio State's other recent non-conference opponents have, but the Week 2 matchup this fall will still be one of the most intriguing non-conference games in the Big Ten this season.
Each Big Ten team will play three non-conference games during the regular season for a total of 42, and we took a look at how they stack up against one another.
42. Rutgers vs. UMass (Aug. 30)
Massachusetts is among the worst teams in the country. Rutgers is Rutgers. 
Nope.
41. Illinois at Connecticut (Sept. 7)
Connecticut is projected to be the second-worst team in Division I football, per SB Nation's preseason S&P+ projections. Illinois hasn't finished above .500 since 2011.
40. Maryland vs. Howard (Aug. 31)
Howard, an FCS team, finished below .500 last year. It lost to two MAC teams, including a 40-point defeat to Kent State. 
The last time the Bison played the Terrapins – in 2016 – they lost, 52-13, and proceeded to finish with a 2-9 record. So, uh, revenge game, I guess?
39. Illinois vs. Akron (Aug. 31)
38. Penn State vs. Idaho (Aug. 31)
Idaho went 0-6 on the road last season, including a 79-13 loss to Fresno State and a 63-10 loss to Florida. So, if you want to see Penn State score its season high in points in the first week of the season, tune in.
37. Illinois vs. Eastern Michigan (Sept. 14)
Chris Creighton is a miracle worker for getting Eastern Michigan to a bowl game in two of the past three seasons, but even he might not be able to make this watchable.
36. Indiana vs. Connecticut (Sept. 21)
Another game against the Huskies. At least the Hoosiers could make it a more viscerally pleasing game than the Illini. Maybe.
35. Wisconsin vs. Kent State (Oct. 5)
34. Northwestern vs. UMass (Nov. 16)
33. Wisconsin vs. Central Michigan (Sept. 7)
In his one season on Michigan's staff as wide receivers coach, Jim McElwain and the Wolverines beat Wisconsin, 38-13. It might not go as well for him against the Badgers this season as Central Michigan's new head coach.
32. Rutgers vs. Liberty (Oct. 26)
I couldn't decide where to place this game.
The Hugh Freeze factor initially had me ranking this game around the 25-30 range for pure comedic reasons. But the date of the game changed my mind. Who's tuning in to this one when Ohio State-Wisconsin, Notre Dame-Michigan, Texas-TCU, Penn State-Michigan State and Auburn-LSU, among many others, are also scheduled for that day? Hard pass. So I put it in the bottom five.
However, since it has immense train-wreck potential, I had to move it back up a bit. It'll either be a hilarious disaster or a disastrous disaster, but I might have to tune in for a couple minutes regardless.
31. Nebraska vs. Northern Illinois (Sept. 14)
Maybe Northern Illinois can catch Nebraska off-guard a week after the Cornhuskers face Colorado, their only Power Five opponent in the non-conference portion of their schedule. But the Huskies have a new head coach and lost a bevy of key pieces on defense. 
30. Indiana vs. Eastern Michigan (Sept. 7)
29. Michigan State vs. Tulsa (Aug. 30)
28. Northwestern vs. UNLV (Sept. 14)
A sneaky interesting matchup will be UNLV's run game against Northwestern's rush defense. The Runnin' Rebels were one of the least efficient passing offenses in the nation last year, but they averaged five years per carry and returned most of their key pieces to a successful ground game, including quarterback Armani Rogers and running back Charles Williams. Still, it's fair to expect Northwestern to pull it out by a couple touchdowns.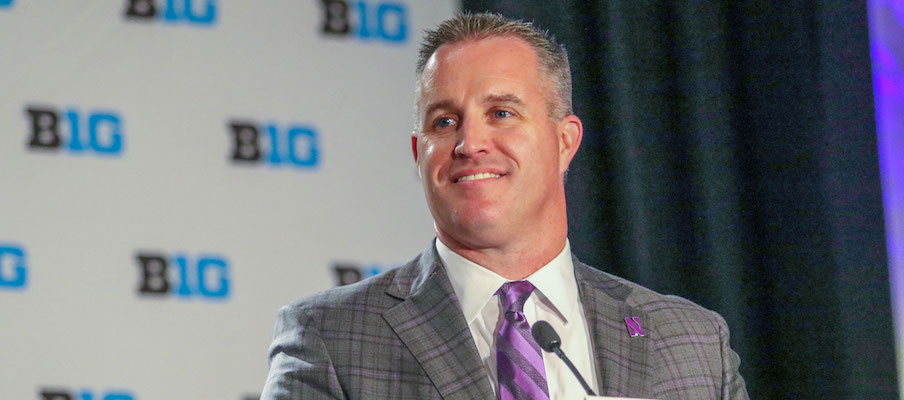 27. Minnesota vs. South Dakota State (Aug. 29)
Might this be a bit high? Sure. But it's probably the only chance of an FCS team taking down a Big Ten team this season. South Dakota State went 10-3 last year and made it to the semifinals of the FCS playoffs before losing to North Dakota State. Minnesota should win with relative ease, but it always seems like an FCS team sneaks up on an FBS team about once a year.
26. Iowa vs. Miami (Ohio) (Aug. 31)
25. Ohio State vs. Miami (Ohio) (Sept. 21)
Were there any backups or less experienced players you wished you had seen more in the spring game? Any freshmen you're interested in watching? Want to see Gunnar Hoak in action? Tune in to this beatdown in Week 3.
24. Indiana vs. Ball State (Aug. 31)
Always love a matchup between the state's flagship university and a Group of Five opponent. This one, though, likely won't be close.
23. Nebraska vs. South Alabama (Aug. 31)
South Alabama won't shake Nebraska's proverbial boots, but this is the first chance of the 2019 season to see the Cornhuskers in Year 2 of Scott Frost. 
22. Iowa vs. Middle Tennessee (Sept. 28)
21. Minnesota vs. Georgia Southern (Sept. 14)
20. Rutgers vs. Boston College (Sept. 21)
Rutgers tried to guarantee itself a pair of wins by scheduling Liberty and UMass. Boston College will pose, by far, the stiffest challenge of the non-conference portion of the Scarlet Knights' schedule. The Eagles have beat Rutgers 10 times in a row since falling to the Scarlet Knights in 1994, and that streak will likely extend to 11 this fall.
19. Michigan vs. Middle Tennessee (Aug. 31)
The first chance to see Michigan's Josh Gattis-led offense.
18. Michigan State vs. Western Michigan (Sept. 7)
Western Michigan didn't exactly light the world on fire last year, going 7-6, losing to both Power Five regular season opponents and dropping the Idaho Potato Bowl to BYU. But Tim Lester brings back one of the nation's most experienced offenses, which has an early season upset opportunity in East Lansing, Michigan. 
17. Penn State vs. Buffalo (Sept. 7)
A pair of teams with impact players to replace will test each other in Week 2. Both Buffalo and Penn State will roll with quarterbacks starting their second career games.
16. Purdue at Nevada (Aug. 30)
Don't look now, but early win probability rankings by SB Nation give Nevada a 42 percent chance of upsetting Purdue in the opening week of the season. Jay Norvell's program is on the upswing, having finished 8-5 last season, and returns much of its offense, other than its quarterback. The Boilermakers took down Ohio State last season, but they'll have to play well to avoid ending up on the other end of an upset to kick off the 2019 season.
15. Ohio State vs. Florida Atlantic (Aug. 31)
Lane Kiffin welcomes Ryan Day to life as a full-time head coach. Sign me up. Also, the first chance to see Justin Fields – and, in all likelihood, Gunnar Hoak – in action. 
14. Maryland at Temple (Sept. 14)
A week after Maryland takes on Syracuse at home, it has to head on the road to face Temple. A tough pair of out-of-conference games for first-year Terrapins head coach Mike Locksley. Temple, too, has a new head coach after replacing Georgia Tech-bound Geoff Collins with Manny Diaz, who then left for Miami, leading the Owls to Rod Carey. Temple could enter this game as the favorite.
13. Wisconsin at South Florida (Aug. 30)
Respect to any Power Five team that opens hundreds of miles away on the road against a Group of Five team. Graham Mertz could make his debut in this game if he beats out Jack Coan to win the starting quarterback job.
12. Minnesota at Fresno State (Sept. 7)
Fresno State went 12-2 last year, but Jeff Tedford's team lost a bunch of key pieces. The Bulldogs will be Minnesota's toughest test among non-conference opponents. 
11. Michigan vs. Army (Sept. 7)
Michigan's updated offense and Don Brown's defense versus Army's triple-option will be a sight.
10. Purdue vs. TCU (Sept. 14)
TCU's first trip to take on Purdue in West Lafayette in nearly 50 years will feature a matchup between two well-regarded coaches, Gary Patterson and Jeff Brohm. Both teams could have first-time starting quarterbacks. Matthew Baldwin is a long shot to win the TCU job, even if he receives a waiver for immediate eligibility, but it's not impossible.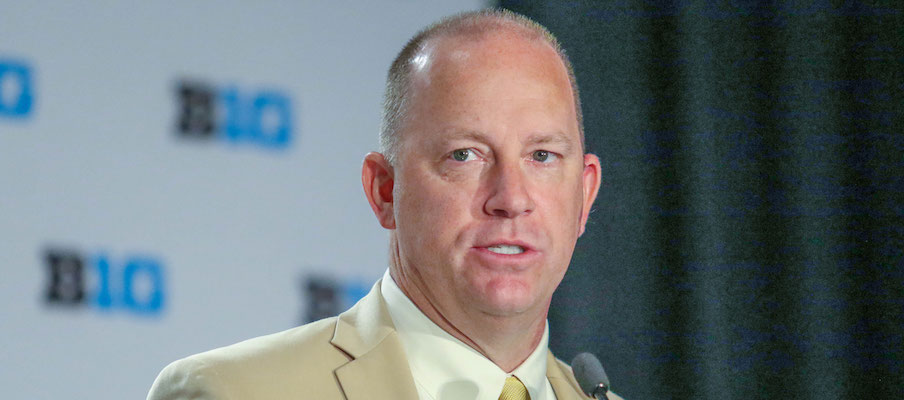 9. Purdue vs. Vanderbilt (Sept. 7)
The only Big Ten-SEC matchup of the regular season. Unfortunately, it features two teams picked to finish in the bottom half of their respective conferences. But at least it's happening. 
8. Maryland vs. Syracuse (Sept. 7)
More Dino Babers is always a good thing for a neutral viewer. Syracuse cracked double-digit wins last season, and it'll look to do so again this season. Maryland has a pair of difficult early-season matchups, facing both Syracuse and Temple, but its game against the Orange could be Locksley's toughest non-conference test. 
7. Nebraska at Colorado (Sept. 7)
The Nebraska-Colorado rivalry returned last fall, with the Buffaloes winning 33-28, and it's back in 2019. The Cornhuskers won't play Colorado again until 2023, so Scott Frost surely doesn't want to get swept in the home-and-home series. Mel Tucker inherits a quality passing game, which features wide receiver Laviska Shenault Jr., a potential future first-round pick. But in Year 2 of Frost's offense, Adrian Martinez could evolve into one of the Big Ten's top quarterbacks, and he has a chance to show his improvement early in the season.
6. Northwestern at Stanford (Aug. 31)
The Wildcats don't play a star-studded out-of-conference schedule, but their trip to take on Stanford on the road certainly won't be easy. The most interesting dynamic from Northwestern's perspective will be Hunter Johnson, who'll be starting his first game for the Wildcats after sitting out last season. The Clemson transfer will be the highest-rated recruit to ever play for Northwestern. 
5. Michigan State vs. Arizona State (Sept. 14)
Herm Edwards versus Mark Dantonio for the second time in two years. Arizona State, after Edwards spent the summer being mocked, hosted Michigan State last September and pulled out a three-point win. The Sun Devils have a chance to make it two in a row. Dantonio is banking on a fully healthy Brian Lewerke improving an offense that endured multiple key injuries last year and a defense that returns multiple impact players, namely 2018 Big Ten Defensive Lineman of the Year Kenny Willekes.
4. Penn State vs. Pittsburgh (Sept. 14)
Penn State responded to Pittsburgh pulling an upset in 2016 by winning by at least three touchdowns in each of the last two years. The Nittany Lions and Panthers don't have any future matchups scheduled yet, so this one will come with long-term bragging rights.
3. Iowa at Iowa State (Sept. 14)
An underrated annual college football rivalry. Iowa has won each of the past four years, but both teams have important offensive pieces to replace (David Montgomery and Hakeem Butler for the Cyclones and Noah Fant and T.J. Hockenson for the Hawkeyes). We'll get a high-stakes opportunity to see quarterbacks Nate Stanley and Brock Purdy play without some of their past weapons.
2. Ohio State vs. Cincinnati (Sept. 7)
Florida Atlantic shouldn't present Ohio State with much of a threat in Week 1, but the comfort level for the Buckeyes could change drastically the following week. Luke Fickell has built the Bearcats into one of the top teams in the American Athletic Conference, and they went 11-2 last year despite relying on a bevy of underclassmen, including a freshman quarterback. Cincinnati has lost to Ohio State in each of the past 11 matchups, and it hasn't defeated the Buckeyes since 1897 (that's not a typo). Ensuring that streak doesn't end in Ohio Stadium this fall will be Ryan Day's first major in-game test as a full-time head coach.
1. Michigan vs. Notre Dame (Oct. 26)
The only possible top-10 matchup involving Big Ten teams in non-conference play has to take the No. 1 spot. Michigan and Notre Dame rightly rekindled its longtime series in 2018 after a three-year break. The Fighting Irish will enter the game with two weeks of rest, and the Wolverines will face Penn State on the road the week before. Both teams have eyes on a College Football Playoff berth, and this matchup could either garnish the resume of the winner or eliminate the loser from consideration.