One of the nice things about having access to all of the collective knowledge of humanity at all times is that I'm free to indulge some of my weirder obsessions to the point of it being detrimental to my sanity.
One of my more recent interests is how things age in the natural world. The lifespan of cetaceans, for example, varies widely but is also way, way longer than you might expect; for some species of whale scientists don't have a great bead on their lifespan because some of the individuals being studied have been alive and kicking longer than the concept of studying whales has existed. Which is neat!
Other members of the animal kingdom have tragically brief lifespans. Racoons only survive for around 2-3 years in the wild on average. River otters can break 20 years in captivity, but typically only survive for less than 10 on the mean streets of the eastern United States.
All of this is heartbreaking, but given that the North American college football coach usually only sticks around for less than four seasons, maybe we should focus on protecting this particular endangered species.
Ryan Day is one of 47 college football head coaches hired in the last two seasons, and while we treat a new Ohio State football coach like the coming of Halley's Comet, in truth college football programs are approaching some kind of weird event horizon where in just a few seasons every team will be hiring a new head coach every six games like an ersatz swap meet.
There is one FBS head coach still currently going strong at a school that hired him in the same year She's All That came to a theater near you (the year of our Lord 1999), and his name is Kirk "The Eternal" Ferentz. Powered by animal sacrifices and an unusually adept agent, Ferentz has successfully surfed a wave of semi-consistent competence to a tenure that, as of this fall, will stretch into twenty seasons. TCU's Gary Patterson is right behind him, followed by the like of Mike Gundy, Pat Fitzgerald, Nick Saban, and also a bunch of guys you're probably not super familiar with.
Simply put: there are 130 FBS teams and 116 of them have hired a head football coach in the last ten years.
The concept of a head coach emeritus, a wizened sage that sits on a golden throne cobbled out of the hard-won treasure from a thousand Motor City Bowl games, is probably over and done with.
In November of 2011, we posted a poll asking our readers how long they expected Urban Meyer to stay at Ohio State.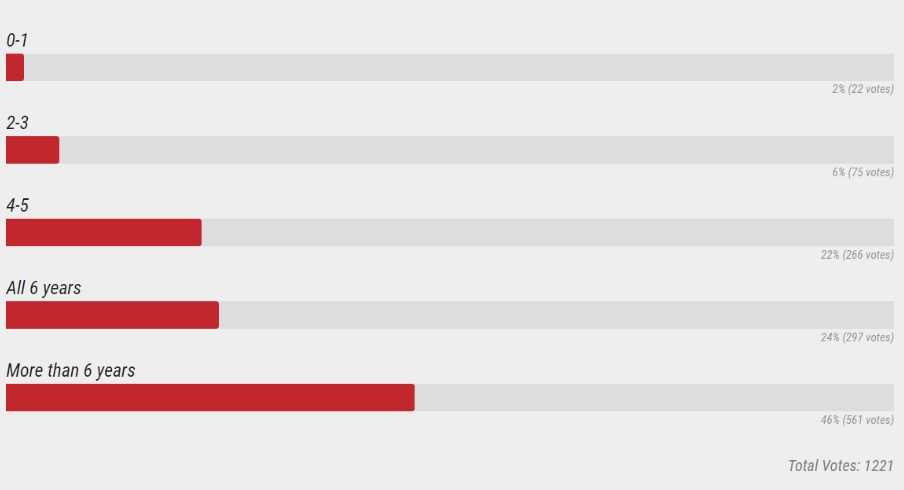 I'm not sure how I would've voted back then! My lizard brain wanted Urban Meyer to finally find his happy place and finish out a long and successful career in Columbus sometime in the 2030s, but in my heart I knew that wasn't going to be the case. Meyer is a mercenary coach in both the positive and negative sense of the word, and ultimately the seasons that we did get (and the resulting national championship) ended up being a pretty good deal.
We don't really know too much about Ryan Day quite yet. Whereas Urban Meyer's aspirations seem to be strictly collegiate, it's always possible that a successful Ryan Day tests the waters of the NFL after just a few seasons. After all, his mentor Chip Kelly followed that path (and, eventually, ended up back in the college ranks). There's also a chance that he has the same kind of career trajectory as most of the coaches that came before him, meaning that he does a great job for the better part of a decade, and then is forced to bounce for one reason or another.
What isn't likely is that we see a legacy kind of situation, where Ohio State ends up naming the field after the dude. Which is fine; college football has changed immensely in the past few decades, and coaches are increasingly measured by championships, not longevity. Big fan of Rick Rockstill? Probably not, even though that dude coaches the Middle Tennessee Blue Raiders and has done so since 2006. And also his name is actually Rick Stockstill.
Ultimately the question that Buckeye fans may be forced to confront is this: does the inherent appeal of coaching Ohio State football have long-lasting appeal to a person without deep ties to the state or the program? Is Ohio State going to have a coach that can lead it's football program to long-term success, or will we be taking lessons from Penn State and Bill O'Brien?
If I had to put money on it, I'd say that simple math tells us the Ryan Day era may be shorter than we'd like. But hey, maybe, just maybe, we've caught ourselves a blue whale. Here's hoping.