Justin Fields and Matthew Baldwin don't make the cut – at least not on this list of young players to watch in the spring game.
Everyone already knows to have their eyes on the two quarterbacks competing to start the 2019 season for Ohio State. Beyond them, though, a lot of other intriguing players who don't have much experience playing for the Buckeyes will have a chance to prove they deserve playing time in Saturday's exhibition.
"I just kind of want to see how some of the guys go out there and play," Day said. "I think when you look at on defense a lot of guys have experience, they've played a lot of football, but they're in a new scheme, so kind of see how they put that on the field, what that looks like in a game situation. On offense, we have guys who have some experience, but not a lot of game starts."
Every year, a couple players who have either never taken a college snap or have had minimal playing time shine in the spring game at Ohio Stadium. Others who the team is relying on to take major leaps give glimpses of their progress.
"Some of the younger guys who haven't played, you just want to see how they react in the Horseshoe in a game," Day said.
Let's take a look at the crop of young talent that will be on display on Saturday.
Garrett Wilson
Both coaches and players haven't been able to stop gushing about Wilson's progress. Undoubtedly, he'll play as a true freshman, and as spring camp has progressed, it has become more clear he'll have a sizable role in the receiver rotation.
Ryan Day was the latest to praise him, bringing him up first on Wednesday when asked which players with minimal experience had flashed this spring. His reasoning was simple: "Just seeing him make plays day in and day out."
Wilson might not be the biggest or fastest receiver, but the former five-star prospect is exceptionally polished for his age and is the most college-ready wideout to enter the program in years. Given the propensity to throw the ball around in spring games, he should have his fair share of targets.
Jaelen Gill
Gill doesn't have a chance to win a starting job – K.J. Hill returned as the undisputed starting H-back – so he's focused on locking down the backup position and a spot in the rotation. Since Hill is in his fifth year, he likely won't take many snaps on Saturday, allowing both Gill and C.J. Saunders to have the majority of H-back reps.
After entering Ohio State with a near five-star pedigree from Westerville South, Gill played just 15 offensive snaps as a true freshman last season while transitioning from running back, the position he played in high school, to H-back. He has years of experience in the backfield but had to spend time learning how to become a wideout.
After a year of Brian Hartline teaching him, Gill should be ready for an increased role on offense. He has flashed in practices and offers the offensive coaching staff different options as someone who could be effective both as a wideout and as a ball-carrier via sweeps or similar plays.
Teradja Mitchell and Dallas Gant
With Tuf Borland out of action this spring, Teradja Mitchell will get a chance to play a high percentage of snaps at middle linebacker in the spring game with Baron Browning likely manning the position on the opposing team. Since Malik Harrison is a senior who likely won't play much on Saturday, Gant should be in the spotlight at weakside linebacker.
Both Mitchell and Gant have been talked up this spring as having progressed, though they're both currently blocked by returning starters. Mitchell remains behind both Borland and Browning at the moment. 
The two second-year linebackers will have a chance on Saturday to show they deserve to have roles on the defense.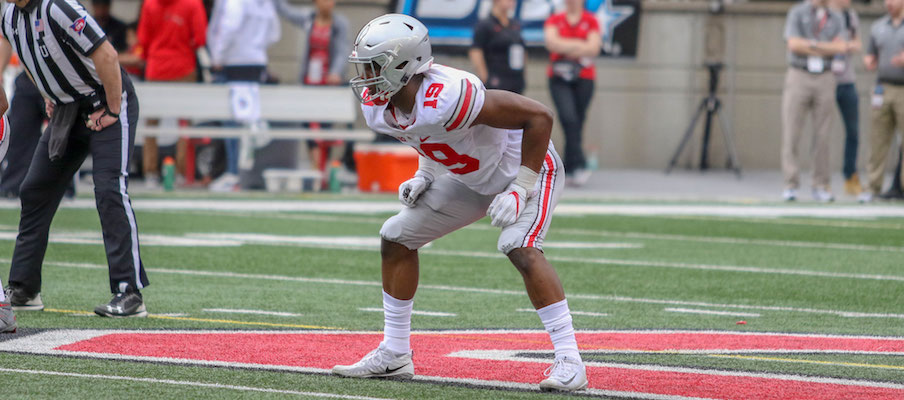 Gant won't be able to supplant Harrison as starter, but he could eventually carve into Harrison's playing time. The middle linebacker situation remains in flux. Borland is out for spring with an injury, allowing Browning and Mitchell to take all the reps. No one knows what will happen once fall begins, but Mitchell has an opportunity to make a statement on Saturday.
Josh Proctor
Proctor just keeps turning heads.
After spending much of his freshman season on special teams, the Owasso, Oklahoma, native has made a push to play on defense in the fall. With Jordan Fuller sidelined due to injury this spring, he and Isaiah Pryor have take the majority of deep safety reps.
"Josh Proctor's another guy who's shined," Day said. "He's got his hands on a lot of footballs, and he's done a good job. When his eyes are on the right place and he's disciplined on each play, he is showing up."
Proctor won't unseat Fuller for the starting spot, but if he keeps rising, Ohio State will have to find a way to get him on the field. Saturday will be his next chance to show what type of player he could be.
Zach Harrison
Though he's just a true freshman who has spent less than a semester in college, Harrison has already impressed in practices and has seemingly made substantial progress already.
The former five-star Olentangy Orange defensive end has a lot of other players at his position to compete with for playing time – Chase Young, Jonathon Cooper, Tyler Friday, Tyreke Smith, Javontae Jean-Baptiste, Alex Williams and Noah Potter – but he's making a move for an early role. 
Larry Johnson prefers to rotate his linemen, and Young and Cooper likely won't play much on Saturday, so Harrison will have a considerable opportunity to play in front of his hometown crowd for the first time.
Nicholas Petit-Frere
The way both Day and Greg Studrawa have talked about Petit-Frere in recent weeks, it seems like the redshirt freshman might be the leading candidate to start at right tackle.
On Wednesday, Day called him "one of the more improved guys on the whole offense."
"Really impressed with what coach Stud has done with him," Day said. "He got here this summer and in short order, he's really taken big strides. Is he perfect? No. Is he ready yet? No. But he's close."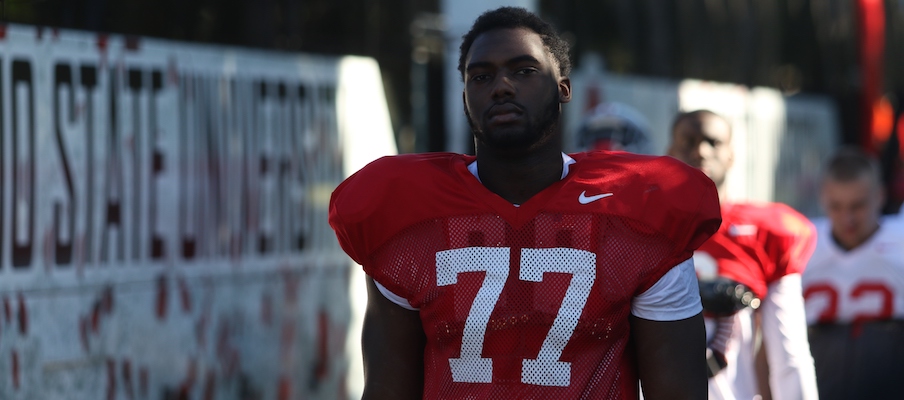 Your eyes naturally might drift toward the quarterbacks on Saturday, but it's worth keeping track of Petit-Frere during the game. He and Branden Bowen are engulfed in a competition to start, and the exhibition will be the next step in the evaluation process. Keeping Ohio State's defensive ends in check is always a challenge.