As Ohio State lined up to begin its scrimmage during Friday's practice at the Woody Hayes Athletic Center, Chase Young and Tyreke Smith took their positions on each side of the line. Young, a potential All-American, and Smith, an up-and-coming edge rusher, flanked a pair of fellow defensive ends lined up as interior pass rushers in Larry Johnson's vaunted Rushmen package.
Jonathon Cooper, the only rising senior among the team's defensive ends, was one of the them. Beside him, with his hand in the turf propping himself up, lined up Zach Harrison. As an early enrollee into Ohio State, the scarily athletic 6-foot-6, 255-pounder should have spent his Friday morning in class like the rest of the classmates he grew up with at Olentangy Orange. Had he not graduated early, he might've got a workout or two in that day and thought about where he would take his high-school prom photos.
Instead, Johnson placed Harrison on a package of pass-rush specialists alongside Young, Smith and Cooper, a foursome containing the present – Young and Cooper – and future – Harrison and Smith – of edge rushers at Ohio State.
Whether Harrison will remain a fixture in the Buckeyes' Rushmen package is unknown. Tyler Friday did not practice on Friday due to a minor injury, and had he been healthy, he might've slid into the spot on the interior. But regardless of whether he has a spot on the exclusive package wrapped up or not, one thing has become clear: it will be hard for Ohio State to keep Harrison off the field, even as a freshman.
"He's doing really well," Johnson said. "I'm really pleased with him."
During Friday's scrimmage, Harrison had three sacks. Even though the majority of his impact plays came against a depleted second-team offensive line filled with walk-ons, he beat Nicholas Petit-Frere and picked up a sack. In the one-on-one pass-rush portion of practice, he had a mixed performance, winning with ease a couple times. A beautifully timed swim move allowed him to claim victory on one rep, but he also got stuffed on a rep when matched up with fellow freshman Ryan Jacoby.
No one has ever doubted Harrison's potential.
On Dec. 19, the day the Buckeyes locked him into their 2019 recruiting class, Ryan Day cited Harrison's 10.8-second 100-meter dash, saying his combination of size and athletic gifts reminded him of "the Bosas of the world" and the best defensive ends in the country. In February, Harrison said he wants the be viewed as "one of the greatest to come through Ohio State." He was a five-star recruit, ranked 12th overall in the 2019 class.
Until recently, it appeared that Harrison might need some time to develop. His natural blend of size and speed doesn't come around often, but his technique still has room to improve. It's one thing to be fast and another, entirely, to play fast.
Harrison's appearance on the Rushmen package and his production in both the scrimmage and one-on-one period, though, showed he's trending toward earning early playing time. How much? It's far too early to know. But it's hard to keep that kind of talent off the field.
"It's going really well," Johnson said. "So, we're in a slow process. We're pushing him. What we're really trying to make sure is his technique is really sound before we can push him more. Once he masters the technique, how to play fast, everything is (there). He's got the talent. Now it's just learning how to play faster."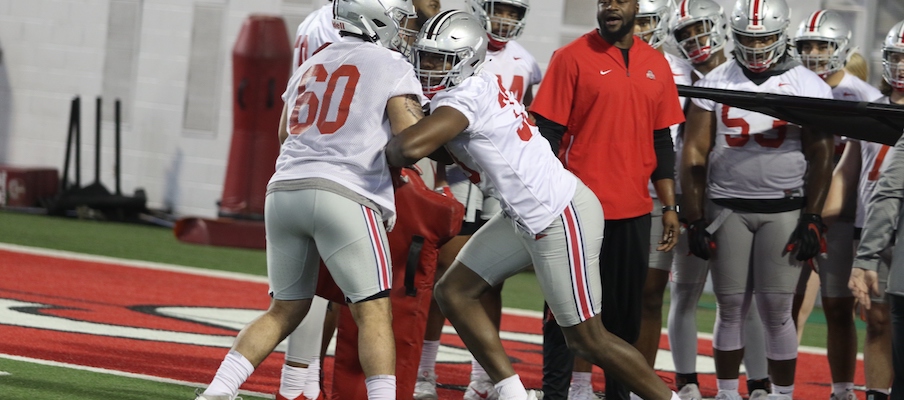 As Johnson has made clear in recent years, he doesn't put freshman defensive linemen in the game in situations in which failure could affect long-term development. 
Smith worked his way into the rotation by earning a spot on the Rushmen unit last year, averaging 13 snaps per game. But that's about as much as first-year players see the field under Johnson, and Smith's opportunity was aided by a lack of returners at the position, which won't be the case in the fall. Even Young played just 14 snaps per game as a freshman.
"Year one is a learning process, trying to figure out how to play the game fast," Johnson said.
Chase Young and Jonathon Cooper will start at defensive end this season. Smith, Friday, Javontae Jean-Baptiste, Alex Williams and Noah Potter will vie for playing time behind them, along with Harrison. Smith and Friday pushed for playing time as freshmen last year and are in line for increased roles. Ohio State used a redshirt last season on Jean-Baptiste and Williams, both of whom also have flashed this spring.
In order for Harrison to wedge his way into the rotation as a freshman, he'll have to continue developing his "tool box," which is what Johnson calls each defensive lineman's repertoire of moves.
"The one thing that's really good is we had a great relationship before he got here, and that has really carried," Johnson said. "He takes to coaching really well. He's really bright, always coming in our office to watch videotape: how can I get better? That's what you want."