With just one week and three more practices to go until the spring game, Ohio State held its 11th practice of the spring on Friday, and for the final time before next week's showcase in Ohio Stadium, Ryan Day and the Buckeyes welcomed in the media to watch a full practice.
Much of the practice featured the offense and defense going head-to-head against each other, with the coaching staff awarding points to each unit based on the result of each play. The defense came out on top at Friday's practice, winning 79-74.
As for the quarterback battle, Justin Fields continued to take the majority of first-team reps during Friday's practice, though Matthew Baldwin mixed in for his fair share of reps with the first-team unit, as well. During the 11-on-11 portion of practice, Fields and Baldwin alternated with the first-team offense while third-string quarterback Chris Chugunov led the second-team offense.
Day said after Friday's practice that the competition between Fields and Baldwin remains ongoing. The coaching staff began to crunch the quarterbacks' numbers this week, and their statistics have been comparable so far.
"Looking at it, I think the completion percentage is pretty close right now with those guys," Day said. "The completion percentage is kind of on par with what Dwayne was last spring. So we want to keep working on that. I think we should be a little higher than we were last spring, just because of the style of defense we're going against. But today was an opportunity to kind of move the ball up and down the field a little bit more, and play more situational stuff, so I thought the guys competed really well, and they both did a good job."
More updates from Friday's practice:
Punch out
Ohio State's practice featured no shortage of trash talk on Friday, with Damon Arnette serving as the lead instigator for the defense and K.J. Hill and Kevin Woidke among those chirping back from the offense. Those emotions came to a head when Arnette was involved in a scuffle with wide receiver Jaylen Harris, which ended with Arnette hitting Harris with a punch.
Day wasn't overly concerned with the fracas, acknowledging that's simply a part of spring practice, and he likes seeing his players practice with passion and emotion.
"I like the fact that they're going after it," Day said. "I think that if you don't have any kind of scuffles, then maybe you don't have the right team. If you have too many, then it starts to get reckless. I think if you have one or two every now and again, I think it's good. You never want it to get too over the top. But when you're competing, football's a violent game, and so emotions get high."
Harris left Friday's practice early, but Eleven Warriors was told that was not related to the scuffle; trainers instructed Harris not to return to practice after helmet-to-helmet contact with Isaiah Pryor during a drill.
While Day is actually glad to see some scuffles this spring, he also said it is important to make sure that players are holding their emotions in check when the Buckeyes begin their preparation for their actual games in fall camp.
"We have to play with emotion, we can't let emotion play with us. Otherwise, it's going to cost us 15 in a game," Day said. "So while we're trying to create energy and create that environment, I think it's a good thing. If it starts to get over-the-top and get reckless, then we'll put a stop to it. But as we get closer to the preseason, that stuff will start to calm down a little bit."
Harrison joins Rushmen package
Last season, Ohio State's Rushmen package consisted of Chase Young and Jonathon Cooper at defensive end and Tyreke Smith and Dre'Mont Jones at defensive tackle. But with Jones heading to the NFL, the Buckeyes appear to be going back to using four defensive ends on the pass-rush specialist package.
During Friday's scrimmage, Young and Smith served as stand-up defensive ends, and Cooper slid inside to play defensive tackle with true freshman Zach Harrison. Given Smith's involvement in the Rushmen last year, Larry Johnson has shown a willingness to include freshmen in the package, and Harrison seems to be next in line.
Harrison entered the program as a much-hyped five-star recruit from Olentangy Orange, and his athleticism at 6-foot-6, 255 pounds poses a challenge to interior linemen. He typically plays defensive end, though, and spent the rest of practice on the edge, working mostly with the second-team defense.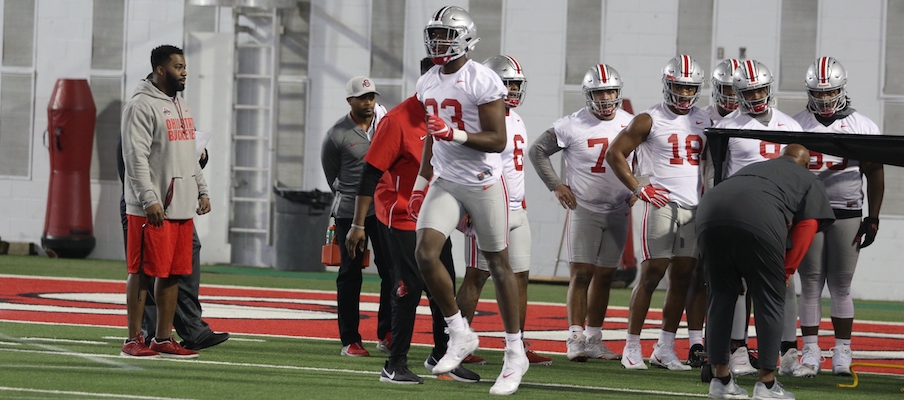 Bowen slides back to guard
As he competes to earn his way back into the starting lineup on Ohio State's offensive line, Branden Bowen has been practicing primarily at tackle this spring, seeing playing time at both right tackle – where he could be the frontrunner to start – and left tackle.
With Wyatt Davis sidelined by an illness from Friday's practice, however, Bowen slid back inside to the right guard position – where he started the first six games of the 2017 season before suffering a leg injury that had sidelined him through the 2018 season – with Nicholas Petit-Frere at right tackle and Joshua Alabi at left tackle.
Bowen is a player who the Buckeyes trust to play both outside and inside, and because they are down on numbers this spring – with left tackle Thayer Munford sidelined by a back injury and graduate transfer guard Jonah Jackson yet to arrive – they've moved Bowen to fill needs as they have popped up due to other linemen missing practices.
"He's played left tackle, right tackle, left guard, right guard. So to be able to plug a guy in like that, we lose Wyatt, we're able to put Bowen in there and he's able to play and we're operating today pretty good on offense, that's a huge deal for us," Day said. "And he's unselfish that way, which means a lot."
Another reason why they moved Bowen inside with Davis out, instead of elevating someone else into that first-team right guard role: Petit-Frere has continued to perform well as he makes his own push to potentially start at right tackle.
"Really impressed with Nicholas Petit-Frere," Day said. "I think he has really come along and doing a nice job this spring."
During one-on-one pass-rushing drills, Petit-Frere won all three of his reps, including wins against Alex Williams, Smith and Cooper.
Practice standouts
Entering Ohio State after playing in a run-heavy offense, Josh Myers had to spend time getting up to speed as a pass blocker. But as the heavy favorite to start at center in the fall, he has appeared much more confident kicking back and blocking pass rushers.
In one-on-one pass-rushing drills, Myers won all three of his reps, including one against Tommy Togiai that ended with the defensive tackle – who is regarded as the strongest player on the team – on the ground. Later in the practice, Myers got to the second level on a designed draw for Fields and buried Malik Harrison into the ground.
Day likes what he's seeing from Myers as the redshirt sophomore continues to cement himself as the new man in the middle of Ohio State's offensive line.
"Josh is really getting a handle and more comfortable every practice, being up front and being in charge of everybody up front, making the calls and protections," Day said.
Young also shone during the one-on-one portion of practice. On his first rep, he took an outside step before ripping under Joshua Alabi's hands and won the drill with Alabi barely managing to get any hands on him.
Ryan Jacoby lost a rep to Antwuan Jackson Jr. who bull rushed him, but the freshman offensive linemen had a quality morning, stuffing Harrison and stymying Jashon Cornell. Matthew Jones, the second-team center, had three wins in the one-on-one period, including a victory against Jackson. Jackson also had a bull-rush sack against Gavin Cupp, running over Cupp and pushing him backward to the ground.
Zach Harrison had a couple wins in the one-on-one period, including one by utilizing a swim move. He also had a sack in the scrimmage. Smith picked up a sack late in the scrimmage, too, beating Petit-Frere.
Redshirt freshman defensive end Javontae Jean-Baptiste was also among the young defensive linemen who stood out in Friday's practice. He saw plenty of reps with the first-team defense, recorded a sack and also chased down Master Teague from behind for a tackle for loss on an outside run.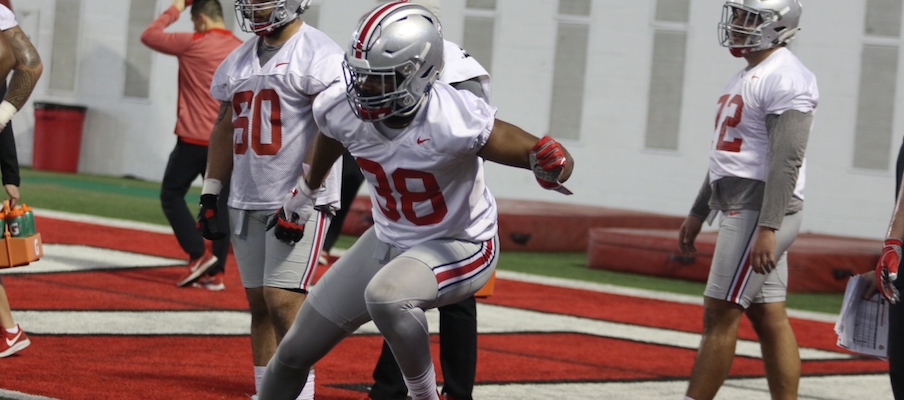 Fields delivered the best ball of the day, hitting K.J. Hill in the back right corner of the end zone from about the 20-yard line. He also showed both his ability and willingness to run. Dwayne Haskins didn't scramble much or have many designed runs called for him, but that will change with Fields behind center.
Walk-on wideout Garyn Prater made a pair of deep touchdown catches. He beat fellow walk-on Lloyd McFarquhar deep on one of the scores, then caught a long pass from Fields in the back left corner of the end zone a few minutes later.
Sevyn Banks and Amir Riep were among the defensive backs who stood out in Friday's practice, as each were responsible for breaking up multiple passes.
More observations
In addition to Davis, other players who did not practice included Tyler Friday, Demario McCall, Tuf Borland, Jahsen Wint and Jake Hausmann, but all of them were in the Woody Hayes Athletic Center rehabbing. Borland had a sizable brace on his right knee. McCall has been sidelined by a calf injury, while the others have also missed practice time with undisclosed injuries.
Chris Olave went down with an injury early in practice and spent the rest of the morning on the sidelines. Day said Olave has been dealing with tightness in his hamstring, but it's not a serious injury.
With Olave sidelined and most of the veteran skill-position players only taking limited reps on Friday, Garrett Wilson and Ellijah Gardiner took most of the first-team reps at the outside receiver spot during team drills. Teague took most of the first-team reps at running back in place of J.K. Dobbins.
With Borland out, Baron Browning took most of the first-team reps at middle linebacker on Friday. Malik Harrison also took some reps at middle linebacker with Browning at weakside linebacker; co-defensive coordinator Greg Mattison said Friday that those two positions have to be interchangeable. Pete Werner also lined up with the first-team defense at linebacker; on the second-team defense, Dallas Gant and Teradja Mitchell played weakside and middle linebacker positions, and K'Vaughan Pope was strongside linebacker.
With Jordan Fuller out for the spring due to injury, Brendon White and Pryor served as the first-team safeties, and Riep and Josh Proctor were second-team safeties. Pryor and Proctor were the deep safeties.
Five-star running back prospect Kendall Milton watched the entire practice as part of his visit to Ohio State. He spent some time talking with Dobbins, Tony Alford and Day.
Offensive tackle signee Dawand Jones and offensive line commits Luke Wypler and Jakob James were also at Friday's practice. Jones, at 6-foot-8, 360 pounds, might have been bigger than any offensive linemen on the team.
Phil Matusz, Ohio State's associate director of strength and conditioning, gave the Buckeyes their pre-practice speech.
The Buckeyes kicked off practice with the circle drill, which the offense won 3-2. However, the media was unable to see who participated in the drill.
Director of football operations Quinn Tempel, speaking over the speakers, continued to harp on winners and losers throughout the day, focusing on the competition aspect of practice.