Ohio State didn't make waves on the defensive line in the Class of 2019, and it doesn't look like it will in 2020 either. But the Class of 2021 might look a little more like 2018.
In the Class of 2018, Ohio State landed four defensive linemen within the top-100 nationally – Taron Vincent (No. 20), Tyreke Smith (No. 34), Tommy Togiai (No. 55) and Tyler Friday (No. 93) – and all four of them could find their ways into the defensive line rotation in 2019.
But since that class, Ohio State's defensive line hauls have not been as collectively successful, as five-star No. 12 2019 prospect Zach Harrison was the only top-100 defensive lineman brought in in 2019. That could change with the Class of 2021 if the Buckeyes' efforts continue their trajectory.
The probability of Ohio State earning 2020 commitments like those it earned in the 2018 class wanes as the weeks pass by through the spring. While there's still the possibility of the class' top prospect, Maryland defensive end Bryan Bresee, to pledge to Ohio State and Cincinnati four-star defensive end Darrion Henry all but committed, the Buckeyes aren't particularly in with the rest of the top defensive line recruits of the class.
While much of the reason for the lack of highly rated defensive line offers or commitments is because there are fewer top linemen in relation to the overall class, only a handful have above average interest in Ohio State.
One of those interested, four-star Illinois defensive end Rylie Mills, is expected to pledge to Notre Dame, and four-star Texas defensive tackle Vernon Broughton is expected to commit to Texas. The only other defensive tackle with above average interest in the Buckeyes is Bresee, while Fadil Diggs, Aaron Lewis and Deontae Craig – the No. 139, No. 426 and No. 550 2020 prospects – are the only other defensive ends.
Ohio State has a deep defensive line rotation, so earning commitments from the 2019 and 2020 classes aren't the highest priority, but 2021, particularly at defensive tackle, could be another 2018.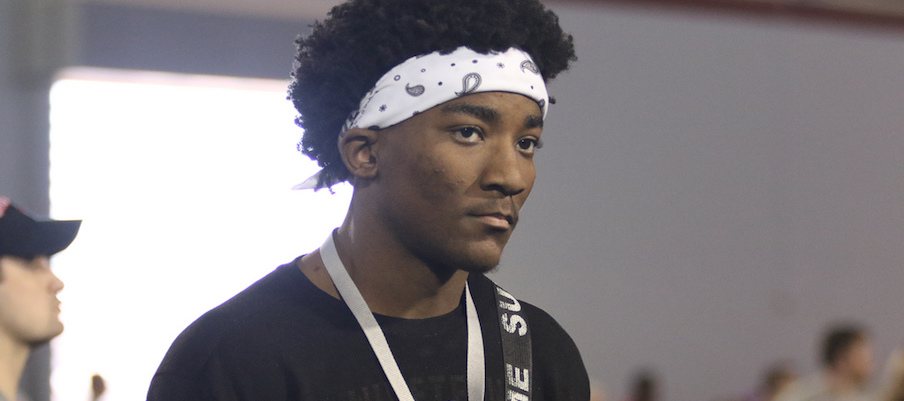 Per sheer volume, Ohio State has addressed the defensive tackle position as much as any position in the 2021 class. Second to wide receivers (11 offers), defensive tackle has the most offers of any other position, with 10. There are 17 along the entire defensive line. Its number of defensive tackles offered has also already surpassed the number of 2020 defensive tackles offered (9).
As far as ratings are concerned, Ohio State already has its Chase Young or Zach Harrison for the 2021 class in five-star Pickerington North defensive end Jack Sawyer, who committed to Ohio State in February and has become more entrenched in the Ohio State program with every passing week. Even the No. 2 defensive end, Saguaro (Ariz.) High School recruit and teammate of 2020 cornerback Kelee Ringo, Quintin Somerville has interest in Ohio State.
Missouri defensive end Travion Ford and Pennsylvania defensive tackle Elliot Donald, who are expected to be a couple of the top defensive line prospects in the class, were both at Ohio State for Student Appreciation Day and both walked away impressed.
Monkell Goodwine has offers from more than 20 schools, including Alabama, and already has high expectations for his relationship with Ohio State before he's made regular contact with the coaching staff. In-state defensive end Najee Story, Chicago defensive tackle Dominic Bass, Florida defensive tackle Desmond Watson and Missouri defensive tackle Gabriel Rubio are all names to watch with high interest in Ohio State too.
That's all without mentioning that Ohio State is in with the top recruit of the class, Washington defensive tackle J.T. Tuimoloau, who is teammates with Ohio State wide receiver commit Gee Scott, Jr.
Many of these relationships are in the beginning phases, so there's the possibility of certain recruits straying from initial relationships with programs like Ohio State, such as 2020 Kansas four-star offensive tackle Turner Corcoran, whose fifth offer came from Ohio State but just recently eliminated the Buckeyes from his top-seven.
What is crucial at this point in the class' progression though is that Ohio State is hitting the position hard and getting ahead of many schools trying to create relationships with top defensive line recruits. That gets them to events like Student Appreciation Day on March 23, which 2021 athlete Emeka Egbuka said was his best visit to date, and visits like those can make lasting impressions.