INDIANAPOLIS – Ohio State is set to make its mark on the NFL Scouting Combine once again.
A total of 10 Buckeyes are in Indianapolis to participate in this year's event – more than any other school except Clemson and Alabama – and Ohio State's contingent at this year's event includes two of the 2019 NFL draft's top prospects and several others with a chance to be early-round picks, including a few who could be among the combine's fast runners.
The headliners of Ohio State's draft class this year are Nick Bosa and Dwayne Haskins, who will both look to cement themselves among the draft's top picks when they work out in Indianapolis this weekend. Bosa is considered a virtual lock to be a top-five pick, and could be the draft's No. 1 overall pick; Haskins is expected to be one of the top two quarterbacks drafted, along with Oklahoma's Kyler Murray, which makes a likely top-10 pick.
Even though they are already in position to be among the first players selected in this year's draft, Bosa and Haskins are both expected to be full participants – or at the least, participate in position drills and run the 40-yard dash – at the combine this weekend.
For Bosa, the most important part of the week will simply be proving he's healthy – and back to full form – after he suffered a core muscle injury in September that forced him to undergo surgery and to shut down his final season at Ohio State after just three games. He already proved in his three-year Ohio State career that he has all the tools to be a dominant defensive end, but can solidify himself as a top prospect by testing well on Sunday (when defensive linemen are scheduled to work out) and showing no ill effects from his injury.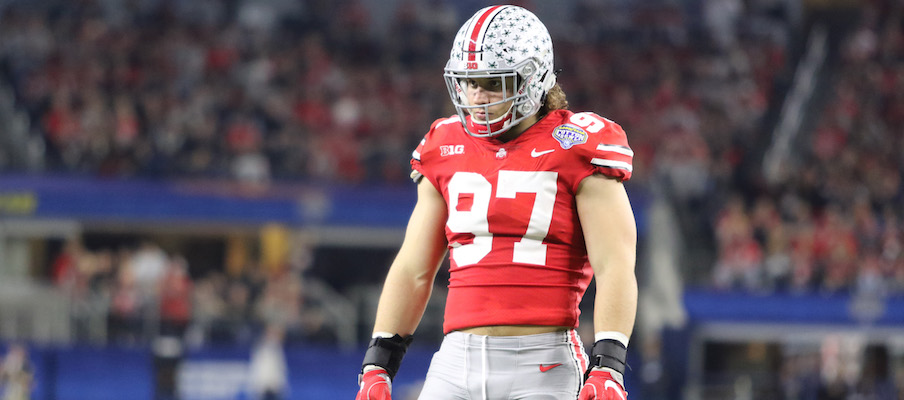 Haskins, meanwhile, can make his case for being the draft's top quarterback when he participates in throwing drills on Saturday. While Murray is a much more explosive athlete than Haskins and should run a substantially faster 40, Haskins' standing as a top prospect is all about his ability to throw the ball – and he'll look to stand out among all the signal-callers in Indianapolis in that regard. (Update: NFL Network's Tom Pelissero reported Thursday that Murray does not plan to participate in any on-field drills at the combine.)
Among the rest of Ohio State's prospects, the most likely candidate to join Bosa and Haskins in the first round is Dre'Mont Jones – and he should have a shot to strengthen his first-round chances when he works out on Sunday. An excellent athlete for the defensive tackle position, Jones should perform well in athletic testing, which could push him up draft boards.
The two Ohio State prospects with a chance to steal the show this weekend, however, are wide receiver Parris Campbell and cornerback Kendall Sheffield – who are both very real candidates to run the fastest 40-yard dash among all combine participants.
Sheffield broke Ohio State's school record in the 60-meter dash by running a time of 6.63 seconds during a stint with the indoor track team last year, which should translate to a blazing time in the 40-yard dash on Monday, when defensive backs work out on the final day of the combine. Former Ohio State cornerback Denzel Ward tied for the fastest 40 time at last year's combine, completing the drill in 4.32 seconds, and it wouldn't be a surprise to see Sheffield run even faster.
He'll have competition from his own teammate, though, in Campbell – who made a video response when he was left off NFL.com's list of the fastest players in college football last summer. Campbell demonstrated his elite speed throughout his Ohio State career by breaking away from defenses for big plays, and he's expected to complete the 40 in less than 4.4 seconds, too, when he runs on Saturday.
"I think I'm the fastest in the draft," Campbell told Eleven Warriors in an interview last month.
Another Buckeye who expects to run fast this weekend is fellow wide receiver Terry McLaurin, who was recording running as fast as 22.2 miles per hour at the Senior Bowl and told NFL.com's Chase Goodbread that he believes he can run the 40 in 4.35 seconds or faster. If he can even come close to accomplishing that, his draft stock that has already been soaring since the Senior Bowl will only continue to rise.
Ohio State's other wide receiver at the combine, Johnnie Dixon, is the Buckeye who most needs to have a strong showing in Indianapolis. While the other nine Buckeyes are all expected to at least be drafted, and all of them have been projected to be picked as early as the first four rounds, Dixon is the one Buckeye at the combine who appears to be at risk of going undrafted.
An impressive performance in his on-field workout on Saturday could pay huge dividends for his draft stock and improve his chances of being selected in the later rounds. Like Bosa, though, the most important part of Dixon's week will likely come before he even sees the field. After being plagued by knee injuries for most of his first three years at Ohio State, Dixon's chances of being drafted could hinge in large part on the results of his medical examinations in Indianapolis, and whether doctors identify any reasons for NFL teams to be concerned about a recurrence of knee injuries in the future.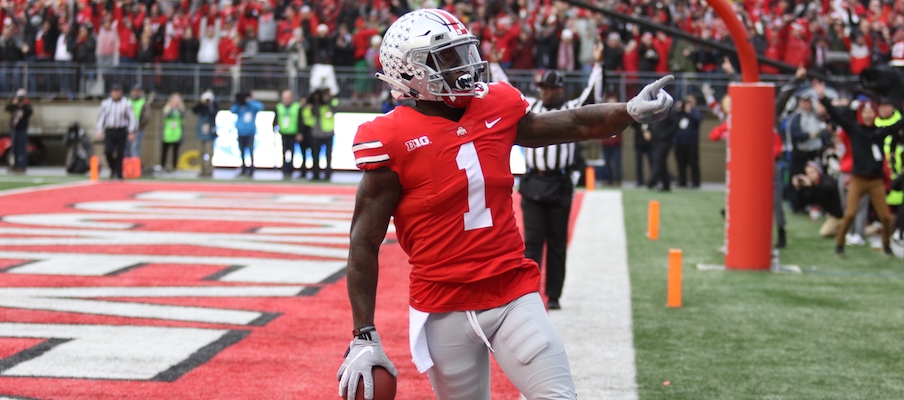 Ohio State's class of combine participants is rounded out by offensive linemen Michael Jordan and Isaiah Prince and running back Mike Weber, who will be the first Buckeyes to meet with the media in Indianapolis on Thursday and go through their on-field workouts on Friday.
They were also the first Buckeyes to go through the weigh-in process on Wednesday. Jordan measured in at 6-5 7/8 and 312 pounds with 10-inch hands, 34 1/4-inch arms and an 83-inch wingspan; Prince measured in at 6-6 1/2 and 305 pounds with 10 1/8-inch hands, 35 1/2-inch arms and a 84 1/2-inch wingspan; Weber measured in at 5-9 5/8 and 211 pounds with 9 3/8-inch hands, 29 3/4-inch arms and a 72 1/4-inch wingspan.
You can see the full schedule for when each Buckeye is set to participate in each phase of the combine in the table below:
Ohio State's NFL Combine Participants

| Players | Position Group(s) | Weigh-Ins | Bench Press/Media | On-Field Workouts |
| --- | --- | --- | --- | --- |
| MICHAEL JORDAN, ISAIAH PRINCE, MIKE WEBER | OFFENSIVE LINE, RUNNING BACKS | WEDNESDAY | THURSDAY | FRIDAY |
| DWAYNE HASKINS, PARRIS CAMPBELL, JOHNNIE DIXON, TERRY MCLAURIN | QUARTERBACKS, WIDE RECEIVERS | THURSDAY | FRIDAY | SATURDAY |
| NICK BOSA, DRE'MONT JONES | DEFENSIVE LINE | FRIDAY | SATURDAY | SUNDAY |
| KENDALL SHEFFIELD | DEFENSIVE BACKS | SATURDAY | SUNDAY | MONDAY |
Eleven Warriors is in Indianapolis to provide coverage of all 10 Buckeyes as they go through the combine process this weekend, so be sure to check back throughout the next five days for stories on Ohio State's draft prospects, videos from interview sessions, workout results and more. I'll also be providing live updates on Twitter from the combine each day.
If you want to watch the on-field workouts yourself, NFL Network will televise coverage of the drills beginning at 9 a.m. Friday, 10 a.m. Saturday and 9 a.m. Sunday and Monday. ABC will also televise two hours of live coverage of quarterback and wide receiver drills beginning at 1 p.m. Saturday.