Ohio State's newest school record holder in track and field isn't even a full-time member of the track and field team.
Kendall Sheffield has only been competing for Ohio State's track and field team for two weeks, and he's only able to practice with the track team two days a week, but that was enough for Sheffield to run a 6.63-second 60-yard dash – the fastest time by any Big Ten runner and the 14th-fastest time in the entire NCAA this season – at the Buckeye Tune-Up on Friday night, breaking the school record of 6.65 seconds previously set by Jonathan Burrell in 1995.
While most track and field athletes spend all year priming themselves to perform as best as possible in their specific events, Sheffield spends most of his year priming himself to make plays on the football field. But because sprinting and playing cornerback both require an athlete to run fast, Sheffield says there are aspects of his football training that translate over to excelling on the track.
"I can use the same things as running with a receiver on the '9' route (straight-line route in football) to running the 60 as far as training," Sheffield told Eleven Warriors after breaking the school record on Friday night.
Excelling on the track is nothing new for Sheffield. During his years at Thurgood Marshall High School in Missouri City, Texas, Sheffield was a state champion in the 300-meter hurdles and a two-time state champion in the 110-meter hurdles, a discipline in which he had the fastest time in the entire country (13.42 seconds) among high school athletes in 2015.
"I've been running track since I was seven years old, so there's always been a love for the sport," Sheffield said.
Sheffield didn't want to give that up just yet, so he told Ohio State football coach Urban Meyer while being recruited out of Blinn College – where Sheffield played football for one season after transferring from Alabama – that he wanted to run track for the Buckeyes as well. Meyer gave Sheffield his full support.
"I told him I wanted to run track, and he was all for it because he had a lot of people run track at University of Florida, so he said I could do it," Sheffield said.
Considering what he accomplished in high school and what he has already accomplished just two meets in his Ohio State track career, it could easily be said that track and field is Sheffield's best sport. Considering what he has been able to do in the sport as a part-time side gig, it's easy to project that Sheffield would be one of the best sprinters in the entire country if he focused on track full-time.
Sheffield, however, says football has always been his first love.
"There's just something to do with the game of football that I love," Sheffield said. "I just love the game of football more than track, but I also love track, too."
Sheffield hasn't allowed his track participation to get in the way of continuing to participate in all of Mickey Marotti's offseason football strength and conditioning workouts. On Mondays and Wednesdays, however, Sheffield has pulled double duty, working out with Marotti and his football teammates in the morning before attending track practice in the afternoon.
That hasn't been easy, Sheffield acknowledges.
"It's very difficult," Sheffield said. "I live in the training room, to keep my legs right."
Sheffield believes the extra stress on his body is worth it, though, not only because he expects it to make him faster on the football field but also because he loves to compete.
"That's just one thing that I love to do," Sheffield said. "I just came out to compete, and do the best that I can."
"I've been running track since I was seven years old, so there's always been a love for the sport."– Kendall Sheffield
Coming off of his first season for the football Buckeyes, in which he had 40 total tackles and nine pass breakups but also had some struggles in coverage, Sheffield is looking for improvement heading into the 2018 season, in which he is expected to be one of Ohio State's starting cornerbacks.
"I think it went pretty well," Sheffield said of his first season as a Buckeye. "I had some ups and downs, but I learned from it for next year. I'm going to have a big target on my back. That one year gave me a lot of experience … I'm getting better and better, and going to play as hard as I can."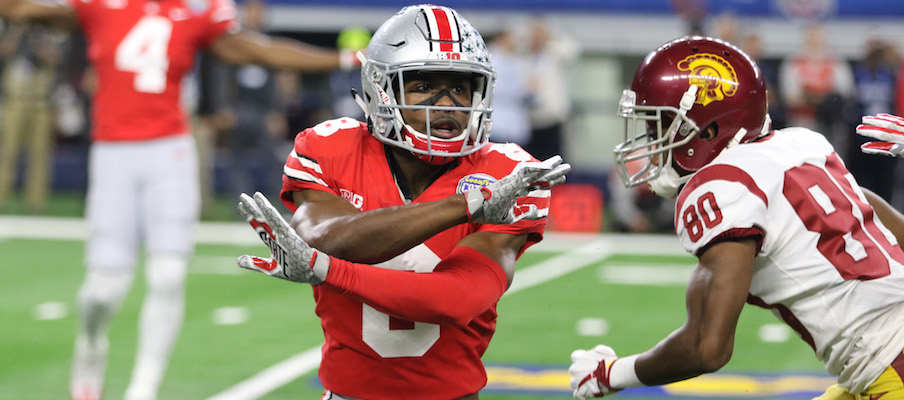 Sheffield will soon trade in his track spikes for his football cleats once again, as the Buckeyes are set to begin spring football practices on March 6. Sheffield isn't planning to participate in outdoor track, as he will need to be fully focused on football through the Buckeyes' April 14 spring game, and whether he returns for another indoor track stint next year could depend on whether he declares for the 2019 NFL draft.
For now, though, Sheffield is turning his attention toward next week's Big Ten Indoor Track and Field Championships in Geneva, Ohio, where he has his sights set on running even faster.
"I just have to work on my technique, my start and my drive phase," Sheffield said. "My goal is a 6.5 for the 60."