During his early signing period press conference on Dec. 19, Ryan Day admitted Ohio State was "a little down" in terms of how many offensive linemen the team had.
But he downplayed the issue.
With Isaiah Prince, Malcolm Pridgeon and Demetrius Knox out of eligibility and Michael Jordan forgoing his senior season to enter the 2019 NFL Draft, the Buckeyes have to replace four offensive linemen this season.
Jonah Jackson eases some of that concern. The 6-foot-4, 305-pound lineman announced his transfer from Rutgers to Ohio State on Monday and immediately becomes a likely starter at either guard or center on an offensive line in transition.
With experience at both guard and center, Jackson has the ability to step in and start at any of the three interior line positions. Though Rutgers hasn't had much success recently, Jackson was honorable mention All-Big Ten in the fall at guard and started five games at center in 2017. 247Sports ranked him as the No. 5 overall prospect and the top offensive lineman on this year's transfer market.
Before adding Jackson on Monday, Ohio State's offensive line was lacking in experience, especially in the interior of its line. Thayer Munford returns as starting left tackle. Wyatt Davis, who started and performed well in the Big Ten championship and the Rose Bowl, has right guard handled. Beyond them? A lot of uncertainty, especially prior to Jackson's transfer.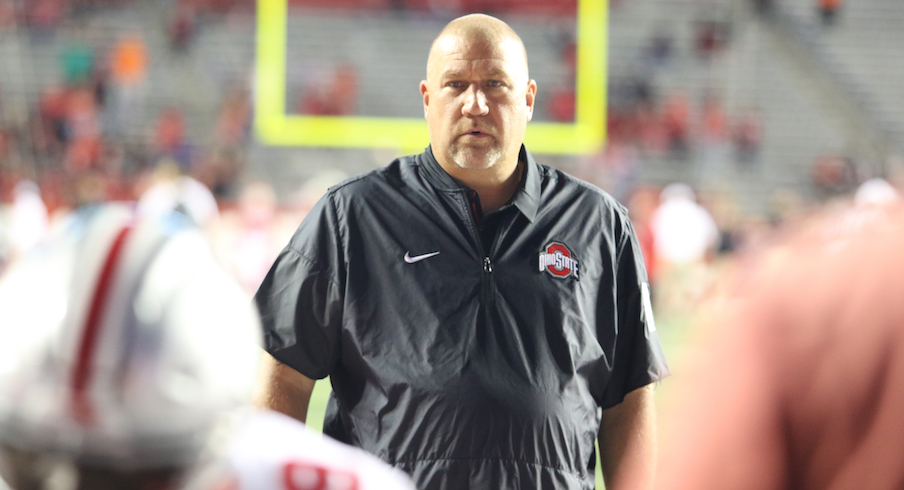 Despite playing just 72 snaps in his first two years at Ohio State, Josh Myers seemed to have the upper hand as the starting center entering spring practice, though the lack of other enticing options surely made that an easy choice. Branden Bowen (who started six games in 2017, but hasn't played in a game in over a year due to a broken leg), Gavin Cupp (has appeared in two games on offense in three seasons) and Matthew Jones (hasn't played a snap) were the only options at left guard. Bowen, Joshua Alabi and Nicholas Petit-Frere were the possible right tackle starters.
Jackson doesn't change everything, but he alters the landscape up front for 2019.
With Jackson, two possibilities of the general structure of the offensive line now exist. Two pieces seem to be locked in: Munford at left tackle and Davis at right guard. Jackson fits at either left guard or center – unless he doesn't win a starting job, of course. But assuming he starts, here's a peek at what the line would look like.
Option 1
Left tackle: Thayer Munford (Jr.)
Left guard: Jonah Jackson (RS-Sr.)
Center: Josh Myers (RS-So.)
Right guard: Wyatt Davis (RS-So.)
Right tackle: Branden Bowen (RS-Sr.)/Joshua Alabi (RS-Sr.)/Nicholas Petit Frere (RS-Fr.)
This is the most likely scenario. It would allow Jackson to remain at guard, the position he played last season at an honorable mention All-Big Ten level. Myers would become a first-year starter at center with a year of experience practicing the position. Bowen would shift back to his natural position – offensive tackle – to compete with Alabi and Petit-Frere for a starting spot.
Option 2
Left tackle: Thayer Munford (Jr.)
Left guard: Branden Bowen (RS-Sr.)
Center: Jonah Jackson (RS-Sr.)
Right guard: Wyatt Davis (RS-So.)
Right tackle: Joshua Alabi (RS-Sr.)/Nicholas Petit-Frere (RS-Fr.)
This scenario is a bit more of a risk, but by starting Michael Jordan at center in 2018, Greg Studrawa showed he's willing to move players around to put the five best linemen on the field at once. Billy Price and Pat Elflein also shifted from guard to center to facilitate starting the top players. If Studrawa believes the combination of Bowen, Jackson and Alabi or Petit-Frere is better than Jackson, Myers and Bowen, Alabi or Petit-Frere, then shifting Jackson back to center, having Bowen start at guard and playing either Alabi or Petit-Frere at right tackle could work.
Regardless of whether the Buckeyes end up using one of those two lineups or go in an entirely unforeseen direction, their offensive line now has a higher floor, more depth and improved experience.
Prior to Jackson's arrival, Ohio State had just four offensive linemen who had ever started a game and two linemen who had more than two starts, and one of them – Bowen – hasn't started since the sixth game of the 2017 season. Beyond the six most likely starters – Munford, Davis, Myers, Bowen, Alabi and Petit-Frere, who could the Buckeyes rely on? Cupp, Jones, Max Wray and Kevin Woidke were the only other non-true freshman linemen on scholarship.
Jackson likely won't develop into a first-round pick. He's not a former five-star prospect. But he has started 16 games at multiple positions for a Big Ten program with success, and that's all the Buckeyes needed.