Ohio State's mid-year enrollees officially start their first semester on Monday.
Of the 15 recruits who signed with the Buckeyes in December to be a part of Ohio State's 2019 freshman class, six arrived on campus this weekend as early enrollees: running back Marcus Crowley, wide receiver Garrett Wilson, offensive tackle Ryan Jacoby, defensive ends Zach Harrison and Noah Potter and safety Ronnie Hickman.
Now, they'll have the chance to participate in the Buckeyes' full offseason program – including spring practices – giving them a head start toward potentially playing significant roles in their first season on the team.
Being an early enrollee doesn't always lead to early playing time, or vice versa. This past season, for example, the five true freshmen who saw the most playing time for the Buckeyes were Tyreke Smith, Chris Olave, Jeremy Ruckert, Tommy Togiai and Taron Vincent; among them, Togiai was the only early enrollee. Among the other seven early enrollees, only Dallas Gant and Sevyn Banks earned regular roles on special teams, while Master Teague, Tyreke Johnson, Matthew Baldwin, Matthew Jones and Max Wray all redshirted.
Nonetheless, being an early enrollee is a real opportunity for a freshman to make an early impression on his coaches and teammates, and among this spring's crop of newcomers, there are several players with the potential to earn their way onto the field this season if they take advantage of their early opportunity to impress.
The newcomer who could play the biggest role next season, of course, is Georgia transfer Justin Fields, who could potentially end up being Ohio State's starting quarterback in 2019 if Dwayne Haskins opts to leave for the NFL and Fields receives a waiver for immediate eligibility.
In this article, though, we'll focus solely on the team's newly arrived freshmen, where Wilson and Harrison – both five-star recruits – stand out among their peers as players who could make their presence felt this spring and more importantly, next fall.
Garrett Wilson, WR
Among all of Ohio State's early enrollees – and for that matter, its entire incoming freshman class – no one looks like a stronger candidate to make an immediate impact as a true freshman than Garrett Wilson.
Ranked as the No. 16 overall prospect in the class of 2019, Wilson arrives at Ohio State as the Buckeyes' highest-rated wide receiver recruit since Ted Ginn in 2004. A truly elite talent with a flair for making spectacular catches – including two touchdown catches in this past weekend's All-American Bowl – Wilson would be a candidate to earn an immediate spot in Ohio State's receiver rotation no matter who the Buckeyes were returning at the position.
But with Parris Campbell, Terry McLaurin and Johnnie Dixon all done with the Buckeyes, and K.J. Hill also still a candidate to potentially leave for the NFL, the door is wide open for Wilson to quickly become one of the Buckeyes' top receivers. And while the Buckeyes have plenty of other talented young receivers who will also be vying for a spot in the rotation alongside Austin Mack, Chris Olave and Binjimen Victor – the Buckeyes' top returning receivers if Hill ultimately opts to go pro – it shouldn't come as a surprise if Wilson emerges as the star of the group sooner than later.
Zach Harrison, DE
While Harrison comes to Ohio State as an even more highly touted recruit than Wilson, ranked as the No. 4 overall player in the entire class of 2019, he'll have a tougher path to a spot on the two-deep at defensive end than Wilson will at wide receiver. With Chase Young, Jonathon Cooper, Jashon Cornell, Tyreke Smith and Tyler Friday all set to return at defensive end, Harrison would surpass older players and take someone's spot away to earn a significant role in the rotation.
It's certainly possible that Harrison could do that, considering the type of talent he is. Possessing the combination of size (6-6, 243) and speed (he ran a 10.78-second 100-meter dash in high school) to be an elite pass-rusher, Harrison has the potential to be Ohio State's next superstar defensive end, and the Buckeyes should find a way to get him on the field. Considering there's a good chance he'll only play collegiately for three years before heading to the NFL anyways, Ohio State shouldn't seek to redshirt him.
What seems most likely for Harrison's first year, though, is a role similar to that which Young – who was also a top-10 overall prospect in his recruiting class – played as a true freshman in 2017, when he played 196 snaps as a third-team defensive end behind returning veterans Tyquan Lewis, Sam Hubbard, Jalyn Holmes and Nick Bosa.
Ohio State defensive line coach Larry Johnson likes to play a deep rotation, so as long as Harrison demonstrates that he's ready to play as a freshman, he should get his share of playing time (assuming Johnson is retained as defensive line coach). Johnson has also said, though, that he prefers not to play freshmen in extensive roles, so while Harrison might already be one of the two most talented defensive ends on the depth chart (along with Young), he probably won't leap to the top of the depth chart right away.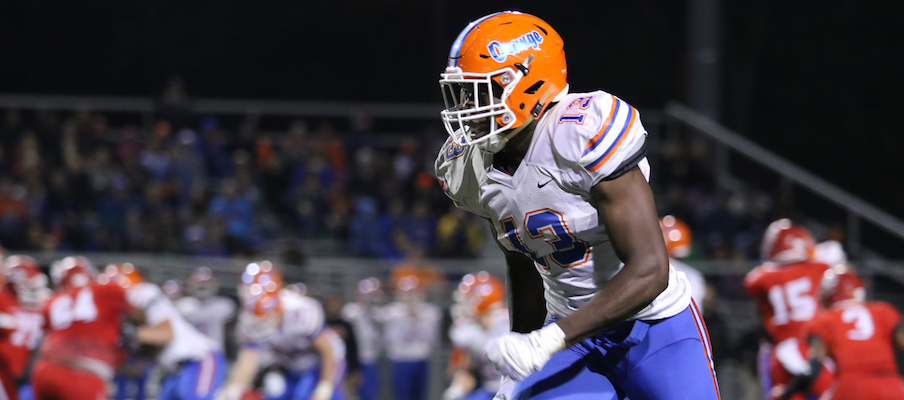 Noah Potter, DE
Like Harrison, Potter will have a chance to earn playing time in significant game action as a freshman because of the deep defensive end rotation that Johnson likes to employ.
That said, Potter also looks like a potential candidate to redshirt because of the talent that could be ahead of him on the depth chart. With Young, Cooper, Cornell, Smith, Friday and Harrison all likely ahead of him in the pecking order, Potter probably won't be in the three-deep at defensive end barring injuries, while redshirt freshmen Javontae Jean-Baptiste and Alex Williams will also be looking to earn their first playing time.
In the least, though, the Buckeyes should look to get Potter on the field near the end of a few lopsided games – with the new rule that allows players to participate in up to four games and still redshirt – as long as he shows this spring that he is ready to play.
Marcus Crowley, RB
Mike Weber's decision to enter the 2019 NFL draft leaves J.K. Dobbins as the only running back on Ohio State's roster with significant playing experience at the position, which should leave the rest of the depth chart behind Dobbins open for competition. By arriving at Ohio State for the spring, Crowley will have a chance to thrust himself into the thick of that competition and potentially a significant role in the Buckeyes' backfield right away.
Demario McCall should be in line for a bigger role in Ohio State's offense next season, but it's uncertain how exactly how he'll be utilized, and he might be best suited to play specifically as a passing-down back – like he did in the Rose Bowl – or to move back to H-back. Redshirt freshman Master Teague should also enter the spring as a leading candidate to earn playing time in the running back rotation behind Dobbins, but Crowley could potentially be next in line after him, as redshirt freshman Brian Snead's status remains very much up in the air after he was suspended for all but the first two games of this past season.
If Dobbins, McCall and Teague are all healthy, the most likely scenario for Crowley is probably one in which he sees playing time near the end of a few games and takes a redshirt. He'll have a chance over the next eight months, though, to prove he deserves a bigger role and try to snag an immediate spot in the rotation like Dobbins did as a true freshman (and early enrollee) two years ago.
Ronnie Hickman, S
Unlike the rest of the early enrollees, Hickman probably won't be able to participate fully in spring practice. Hickman tore his ACL while playing for DePaul Catholic High School in October, so he'll be continuing to rehabilitate his way back from that injury this spring.
That means that Hickman likely won't be able to show what he can do in actual practice reps until fall camp at earliest, which lessens his opportunity to make an early run at playing time. He'll still have the opportunity to make an impression off the field, though, while getting to know his new coaches and teammates and learning from them all spring.
With Ohio State set to return its entire safety roster from last season, including starters Jordan Fuller and Brendon White, Hickman was unlikely to play a significant role on defense as a true freshman even if he was healthy. He'll have a shot to make an immediate impact on special teams, though, if he can make a full recovery in time to compete for a role this summer.
Ryan Jacoby, OT
If all goes according to plan, Ohio State will likely seek to redshirt Jacoby as a freshman. That's typically the objective with offensive linemen, and Jacoby could use at least a year of physical development and scout-team work before being called upon to play a more significant role.
Given that the Buckeyes currently have only 11 scholarship offensive linemen on their roster for 2019, though, Jacoby will have a shot to earn a spot on the Buckeyes' two-deep, and if they have any injuries up front, they'll need him to be ready to play. If he earns a spot on the second-team offensive line, he should have the opportunity to play in a few games, which could be valuable experience for the future.
Unless the Buckeyes get into dire straits up front, though, they'll likely limit Jacoby's playing time to four games or less in order to preserve his four seasons of eligibility.