In his seven seasons as Ohio State's head coach, Urban Meyer has coached 91 football games, winning 82 of them.
On Tuesday afternoon in the Rose Bowl in Pasadena, Calif., Meyer will look to earn his 83rd win as Ohio State faces Washington in what will be Meyer's 92nd and final game coaching the Buckeyes.
The Buckeyes are participating in the Rose Bowl – a game they have previously played in 14 times, winning seven times and losing seven times – for the first time in nine years. They will be looking to win 13 games in a single season for just the third time in school history.
At least 14 Buckeyes will be on the field for their final games in scarlet and gray. Ohio State had 12 seniors who were recognized on Senior Day – including wide receivers Parris Campbell, Johnnie Dixon and Terry McLaurin and right tackle Isaiah Prince, among others – while defensive tackle Dre'Mont Jones and running back Mike Weber have already announced that the Rose Bowl will be their final games as Buckeyes before entering the NFL draft.

WASHINGTON HUSKIES
10-3 (8-2 PAC-12)
ROSTER / SCHEDULE
---
5:10 P.M. – TUESDAY, JAN. 1
ROSE BOWL
PASADENA, CALIF.
---
ESPN
WatchESPN
Ultimately, it could end up also being the final game for Ohio State quarterback Dwayne Haskins, as well as several other Buckeyes who are still deciding whether to make the leap to the next level or stay in Columbus for another year.
So while the Buckeyes' chances of winning a national championship came to an end on Dec. 2, when they were not selected to play in this year's College Football Playoff, the Big Ten champions still have plenty to play for in their final game of the season.
Nothing will be a greater source of motivation than the opportunity to send Meyer out with one more victory.
"This is a team that's been through a lot this year, and we want to finish it the right way, finish the right way for Coach Meyer and for these seniors," said offensive coordinator and quarterbacks coach Ryan Day, who will succeed Meyer as head coach after the Rose Bowl. "They deserve that. They've started out strong. And when it's now time to finish this thing strong with a lot of pride and playing for the guy next to you, playing for your brother, it's really, really important."
Buckeye Breakdown
Ohio State's path to a 12-1 record this season has been paved by Haskins and its passing offense, which has a chance to make even more history with a strong Rose Bowl performance on Tuesday.
In his first and possibly only season as the Buckeyes' starting quarterback, Haskins has already broken Big Ten single-season records with 4,580 passing yards and 47 passing touchdowns. If he can put together his sixth 400-yard passing game of the season or throw for three or more touchdowns against Washington, Haskins could have become the first quarterback in Ohio State history to throw for 5,000 yards or 50 touchdowns in a single season.
While he's still deciding whether to enter the 2019 NFL draft or stay at Ohio State for another season as the Buckeyes' starting quarterback, there's no question that he wants to finish his season with a bang.
"You want to put on a show every game, and this helps that it's the last game of the year, and one of the best defenses in the country," Haskins said. "So this gives us all the incentives to want to go out there and play well. So we're looking forward to the challenge."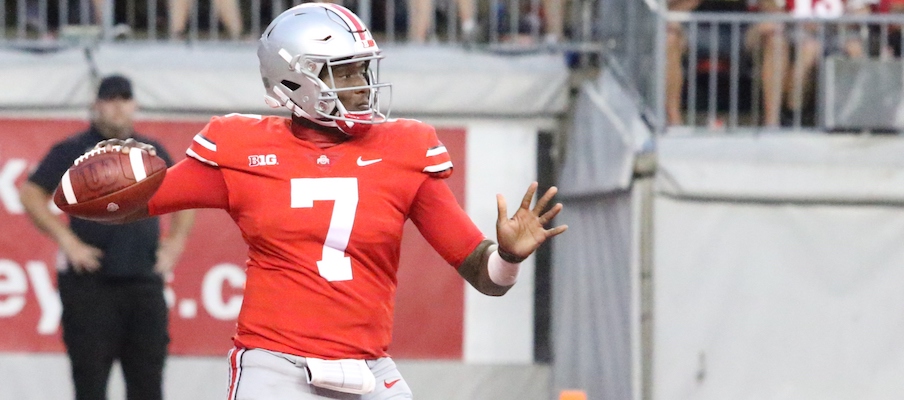 Led by Haskins, Ohio State's offense ranks second in the entire country this year with 548.8 total yards per game and 373 passing yards per game, and the Buckeyes' wide receivers have played a big part in that as well. Campbell, McLaurin, Dixon and K.J. Hill have led the group with their experience, while Olave – one of two California natives on the roster – emerged as a playmaker late in the season, catching two touchdowns against Michigan and another against Northwestern in the Big Ten Championship Game.
J.K. Dobbins, meanwhile, has been a 1,000-yard running back for the Buckeyes for a second consecutive year, while Weber – who has rushed for 858 yards and five touchdowns this season – will look to finish his career on a high note in Pasadena.
The biggest question mark for the Buckeyes' offense entering this game is their offensive line, which could be without two of their starters from the regular season. Demetrius Knox is out after undergoing foot surgery earlier this month for a Lisfranc injury suffered against Michigan, so Wyatt Davis – the Buckeyes' other California native – will make his second start at right guard. Thayer Munford is also expected to miss the game due to injury (though he has been officially designated as a "game-time decision"), which means Joshua Alabi is likely in line to make his first career start at left tackle.
As has been the case all season, though, the bigger question for Ohio State entering this game is its defense, which has allowed 400.3 yards per game and 25.7 points per game – statistically, the worst marks in school history. Washington's offense isn't a particularly formidable opponent, but the Buckeyes' defense have struggled more often than not, especially when it comes to giving up big plays.
The Buckeyes don't have any senior starters on that side of the ball – and that inexperience has likely played a role in their defensive struggles this season – but there are several players in addition to Jones who could consider leaving for the NFL after the Rose Bowl, including safety Jordan Fuller, cornerbacks Damon Arnette and Kendall Sheffield and linebacker Malik Harrison.
Regardless of what the future might hold after Tuesday's game – it also seems likely, considering their struggles this year, that there will be several coaching staff changes on the defensive side of the ball when Day takes over – Ohio State's defenders feel like they have something to prove in the Rose Bowl, and they want to finish their season with their strongest showing of the year.
"It's obvious that the expectation level, my expectation and overall our program's expectation level for our defense, is not where we are now," said defensive coordinator Greg Schiano. "But my focus right now is one game. And we need to play our best game of the year in this game."
Meyer has said all week that he's tried to avoid getting sentimental about coaching his last game, as he's kept his focus on trying to prepare his team as well as possible for Tuesday's game.
"We try and avoid that at all costs because any distraction other than getting ready to play – we're not going to allow that," Meyer said.
Ohio State's players and other coaches say Meyer has been as engaged as he's ever been in the weeks leading up to Tuesday's game, providing the same level of leadership that the Buckeyes have become accustomed to over the last seven years.
"He's coaching the coaches, coaching our players all the way to the end, just like you would expect him to," Day said.
Washington Breakdown
Like Ohio State, Washington was projected as a potential College Football Playoff team entering the 2018 season. The Huskies returned a pair of fourth-year starters in quarterback Jake Browning and running back Myles Gaskin on offense, and several stars on defense including defensive tackle Greg Gaines, linebacker Ben Burr-Kirven, cornerback Byron Murphy and safety Taylor Rapp.
2018 Statistical Comparison
 
OFFENSE
43.5
8th
POINTS FOR
26.6
82nd
175.8
57th
RUSHING OFFENSE
179.9
55th
373.0
2nd
PASSING OFFENSE
232.5
63rd
548.8
2nd
TOTAL OFFENSE
412.4
59th
.482
11th
3rd DOWNS
.454
21st
.758
119th
RED ZONE
.780
111th
DEFENSE
25.7
55th
POINTS ALLOWED
26.6
82nd
160.5
61st
RUSH DEFENSE
116.4
16th
239.8
83rd
PASS DEFENSE
185.4
21st
122.6
44th
PASS EFFICIENCY DEFENSE
114.3
20th
400.3
67th
TOTAL DEFENSE
301.8
12th
.314
11th
3rd DOWNS
.388
65th
.897
109th
RED ZONE
.800
35th
SPECIAL TEAMS
8.0
75th
PUNT RETURN
5.7
105th
17.8
113th
KICKOFF RETURN
18.9
93rd
42.3
41th
NET PUNTING
33.9
120th
MISCELLANEOUS
+0.5
34th
TURNOVER MARGIN
+0.2
51st
8.2
124th
PENALTIES
4.9
24th
9
EDGE
9
The Huskies stumbled out of the gates, however, suffering a 21-16 loss in their season opener against Auburn. After suffering a pair of October losses to Oregon and California on the road, the Huskies were eliminated from the playoff conversation entirely, and weren't even the favorites to win the Pac-12 North.
Washington coach Chris Petersen acknowledged earlier this month that at that point, the Huskies had doubts about whether they'd be able to accomplish anything of any significance this season.
"A month ago, things were not looking real good," Petersen said on Dec. 2. "I think everybody had counted us long and out from doing anything in our league. But the kids work hard, they stay focused, they battle, they're tough guys."
The Huskies bounced back by winning their last three games of the regular season, including a 28-15 win at Washington State with a Pac-12 North title on the line for both teams. One week later, the Huskies battled to a 10-3 win over Utah in the Pac-12 Championship Game to win their second conference title in three years and earn their first Rose Bowl berth in 18 years.
Washington's defense has been one of the best in the country all season, holding opponents to 24 points or fewer in all but one game this year, including seven games in which opponents have scored 15 points or less. The Huskies have held opponents to less than 300 yards in eight of their 13 games this season, and have allowed 400 or more yards in three games. They rank in the top 20 nationally in both passing and rushing defense, and lead the entire Football Bowl Subdivision with only nine plays of 30-plus yards and one play of 40-plus yards allowed this season.
"They have a great scheme," Day said of Washington's defense. "They're very, very well coached. (Washington defensive coordinator) Jimmy Lake does a great job and the whole staff does a great job. They play very hard. They're powerful up front. They don't give up a lot of big plays. Their secondary does a great job of keeping things in front of them. They break on the ball really well, and opportunistic obviously in turnovers. So they make you work the thing down the field. They're not going to give you big plays. So we're going to have to do a good job there, stay on schedule and then do a good job in situational football."
The problem for the Huskies has been their offense, which has only scored more than 30 points in four games this season. They've particularly struggled in the red zone, scoring touchdowns on just 54.2 percent of their trips inside the opponent's 20-yard line, while Browning has had an underwhelming senior season, throwing only 16 touchdowns with 10 interceptions.
Still, Washington's offense has done enough for the Huskies to win 10 of their 13 games this season, but to have a chance to win against an Ohio State team that has scored at least 30 points in 10 of its 13 games this season, they know their offense needs to be at its best on Tuesday.
"We've certainly been a little bit of a mixed bag at times," said Washington offensive coordinator Bush Hamdan. "But we're excited to go. We think we've had a couple of really good weeks of practice. And the guys are ready to go and excited about the game."
How It Plays Out
Typically, there'd be reason to question how motivated Ohio State will be and whether the Buckeyes will play up to their ability in a non-playoff bowl game, considering the national championship aspirations that they had going into the year.
With the prestige of the Rose Bowl and Meyer coaching his final game, however, it's hard to imagine the Buckeyes being anything but motivated to play their absolute best.
Ohio State's Last Six Games Against Washington

| Date | Location | Result |
| --- | --- | --- |
| Sept. 15, 2007 | Seattle | Ohio State 33, Washington 14 |
| Aug. 30, 2003 | Columbus | Ohio State 28, Washington 9 |
| Sept. 16, 1995 | Columbus | Ohio State 30, Washington 20 |
| Sept. 10, 1994 | Seattle | Washington 25, Ohio State 16 |
| Sept. 11, 1993 | Columbus | Ohio State 21, Washington 12 |
| Sept. 13, 1986 | Seattle | Washington 40, Ohio State 7 |
Although it's not the chance to compete for a national title that Ohio State and its fans had hoped for, Tuesday's game sets an otherwise perfect stage for Meyer to ride off the shoulders of his players into the literal sunset.
The Buckeyes have a more talented roster than the Huskies. Washington's defense won't make things easy on Ohio State, but Haskins and the Buckeyes have proven that they have the potential to carve up any defense, as evidenced by their 62-point output in late November against a Michigan defense that statistically ranked as the nation's best at the time. Ohio State's defense has been a wild card all season, but the Buckeyes are more than capable of keeping Washington's offense in check if they play up to their ability.
With Day taking over recruiting responsibilities since Meyer announced his upcoming retirement on Dec. 4, Meyer has been able to focus almost entirely on preparing to play Washington for the past month. And considering he does not currently have any plans of coaching again, there's reason to believe he'll coach an aggressive game and unleash a few tricks that he's had up his sleeves.
If all of that comes together, the Buckeyes could send Meyer out with not only a win, but a victory in convincing fashion.
---
ELEVEN WARRIORS SCORE PREDICTION: Ohio State 42, Washington 21