LOS ANGELES – Washington has already played its fair share of talented quarterbacks this season.
Washington State's Gardner Minshew led the entire Football Bowl Subdivision in passing yards per game this season (367.6). Oregon's Justin Herbert was expected to be a high first-round pick in the 2019 NFL draft before announcing earlier this week that he would stay in school for his senior year. Stanford's K.J. Costello ranks in the top 12 nationally in both quarterback rating (157.9) and passing yards per game (286.3), and Auburn's Jarrett Stidham is an NFL quarterback prospect, too.
Even so, Washington defensive coordinator Jimmy Lake says no quarterback the Huskies have played this season compares to Ohio State's Dwayne Haskins, the quarterback they will face in the Rose Bowl on Tuesday.
"He's definitely the best quarterback we've faced all year long," Lake said of Haskins. "Can really do it all. He can make all the throws. You see him coordinate the offense at the line of scrimmage. Strong arm, athletic, big, hard to tackle."
Statistically, Lake's statement holds up; Haskins has thrown for more yards per attempt (9.2) and touchdowns (47) and has a better passer rating (175.8) than any quarterback Washington has faced this season.
It isn't just the quarterbacks who Washington has faced this year that don't compare to Haskins. Lake said that in his five years as an assistant coach for the Huskies, he hasn't coached against anyone quite like Haskins. To come up with an apt comparison for Ohio State's quarterback, Lake had to think back to his time as an NFL assistant coach and facing a Pittsburgh Steelers quarterback who is likely a future Pro Football Hall of Famer.
"In the Pac-12, I don't think so, just with his size alone. The guy he reminds me that I coached against in the National Football League would be Ben Roethlisberger," Lake said. "Tall, big, strong, hard to tackle, can make all the throws. You see him checking plays at the line of scrimmage, has a really good command of the offense. So that's a guy I would think I would relate him to."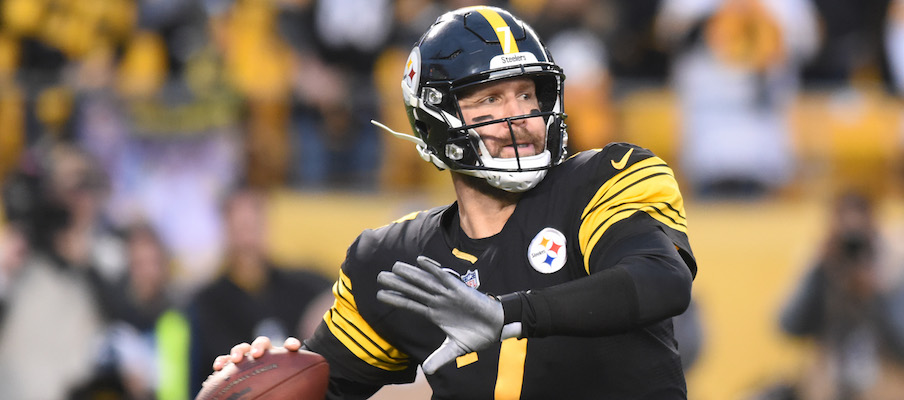 Like Lake, Washington's defensive players are also impressed by what they've seen from Haskins. Huskies cornerback Jordan Miller said he believes Haskins "has the 'it' factor."
"He can definitely sling it," Miller said. "He can put the ball anywhere on the field. He's confident and patient, and he can also run a little bit and the weapons around him are real good. So it's going to present a challenge to our defense."
While Haskins is known much more for his passing ability than his running ability, Washington defensive tackle Greg Gaines said he believes Haskins is somewhat comparable to former Oregon quarterback Marcus Mariota – the No. 2 overall pick in the 2015 NFL draft, and now the starting quarterback for the Tennessee Titans – because of his ability to throw on the move.
"I'm really impressed with his ability to scramble outside and on the run, throw like a perfect pass," Gaines said. "Because usually some quarterbacks have one or the other – they can either run really well and can't throw, or can throw really well and can't run. I think he's got both."
"He's definitely the best quarterback we've faced all year long."– Washington defensive coordinator Jimmy Lake on Dwayne Haskins
Lake certainly believes Haskins, a Heisman Trophy finalist and the Big Ten Offensive Player of the Year, is worthy of all the praise he gets. With his background in the NFL, Lake said he expects Haskins to be a top-10 draft pick when he declares.
That said, Lake also recognizes that it isn't just Haskins who makes Ohio State's offense dangerous.
"First and foremost, the offensive line," Lake said when asked what else stands out to him on Ohio State's offense. "That offensive line is huge. They're nasty. They're physical. Exactly what you would want on an offensive line. And they blow defensive lines off the ball. They're a downhill running team. And so I think the offensive line is an obvious strength."
Lake also said he believes Ohio State's wide receivers deserve just as much credit for the success of the Buckeyes' passing game – which ranks second nationally with 373 passing yards per game – as Haskins does.
"No. 21 (Parris Campbell), No. 14 (K.J. Hill), 83 (Terry McLaurin), 9 (Binjimen Victor), 1 (Johnnie Dixon); there's a whole set of wide receivers that are as talented as anybody in the country," Lake said. "So I know Haskins gets all the print, but he is throwing to some future NFL wide receivers."
Washington State is the one team that has more passing yards per game (373.8) than Ohio State, so the Huskies have already faced one of the nation's best passing offenses. Washington State, however, also had the nation's second-worst rushing offense this season (77.7 yards per game), whereas the Buckeyes have two high-level running backs in J.K. Dobbins and Mike Weber.
Huskies linebacker Ben Burr-Kirven said that makes Ohio State's offense the biggest challenge of the season for Washington's defense.
"It's rare to see a passing attack that's this dynamic with a run game so good too," Burr-Kirven said. "So it's different. I think it's hard to really compare them to one team. You see plays you've seen before, but you just don't normally see this mix of run-pass that's so dynamic."
The Huskies are still confident, even though they know they will be challenged. They've tied for fifth nationally this season with only 15.5 points allowed per game and 12th in the FBS with 301.8 yards allowed per game, so they have reason to believe they can keep Haskins and the Buckeyes in check if they play up to their ability.
"I feel like they haven't seen a defense like ours," said Washington cornerback Byron Murphy. "I feel like we are the best defense in the country, and also the best coaches and players around. As a defense, I feel like we are the best in the country, so we're going to go out there and really put on a fight and show everyone what we can do."