LOS ANGELES – For most of the college football season, NFL draft analysts viewed Oregon's Justin Herbert as the top quarterback prospect. However, there was also an underlying sentiment that he might decide to return to college for one more year.
Herbert made his decision official on Wednesday, announcing he would remain at Oregon for his senior season. No Herbert means less competition for Dwayne Haskins to become the top-rated quarterback in the draft.
But Haskins said he wasn't surprised that Herbert opted for one more year and that his return to school will not alter his impending decision.
"I feel like I was the best quarterback in the country regardless of what Herbert did," Haskins said on Saturday. "I'm happy he made that decision for himself, but his decision had nothing to do with me. I'm just blessed to be a Buckeye. Whether that's coming back or not, it's just a great opportunity for me."
The potential to become the top quarterback drafted, which Haskins called "pretty cool," has never seemed out of the realm of possibility to him, and it shouldn't.
Without Herbert, he's a possible top-10 pick who could rise to the very top of the draft.
"I always knew I could be in that position," Haskins said. "Like I said, just had to put the work in to go do it. To be a Heisman finalist, to be considered as a top quarterback in the draft were all goals of mine. I'm just working for it. To be able to have my work be noticed, be achieved, is a feeling for myself to know that I worked hard a lot for the last several years. It's all worth it."
Haskins isn't tired of hearing the same questions asked, even though he doesn't have an answer for them yet.
Will you return to Ohio State next season? Are you heading to the NFL?
He views the queries as compliments.
"It hasn't been a bother," Haskins said. "You want to be in that position to go play in the NFL. So, I've got people taking notice of me."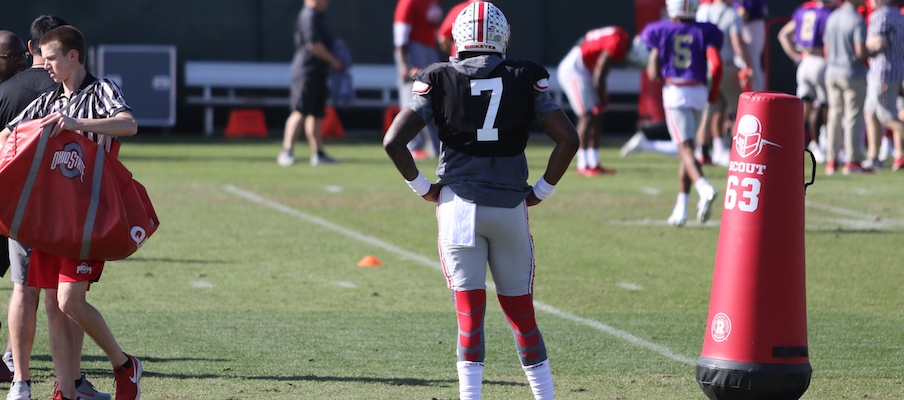 Haskins already has set program records for most completions and most passing yards in a single season. He has presided over the most prolific passing offense in Ohio State history. With 4,580 yards and 47 touchdowns, a 5,000-yard, 50-touchdown season isn't out of the realm of possibility.
One thing that he won't obtain this year, though, is a national title. He also didn't win the Heisman Trophy, though he finished as a finalist. So, despite playing a spectacular season, there would still be attainable goals if he opted to return.
"I talk to my teammates about it all the time," Haskins said. "It's like, come back, win the national championship, win the Heisman Trophy. All those great things to think about. There's a lot on my mind right now."
Haskins said he has discussed the decision with his family, friends, coaches and teammates, but hasn't given it too much thought because he has until Jan. 15 to make an official decision.
"Haven't really, like, put too much thought into it other than, like, you know, it's your dream to play quarterback here at Ohio State, and it's your dream to play in the NFL," Haskins said, "But at the end of the day, it doesn't matter if you don't dial in on Saturday. I'm just worried about the game."
Though Ryan Day would certainly be a proponent of Haskins returning for his first season as Ohio State head coach, he hasn't "recruited" him, per se.
"I mentioned that you can't self-servingly talk somebody into coming back," Day said. "But you put the pros and the cons out there. You talk about what the advantages of coming back would be, some of the things that he has and opportunities in front of him. But we're going to do a good job of putting those things out so he understands that we'd love to have him back."
Some analysts have suggested that Haskins could benefit from an extra year of experience at the collegiate level, but it's hard to pass up millions of dollars in order to return to school for another year of development. It happens – Herbert just made that choice – but it's not hard to see that Haskins thinks he's ready for the NFL. When asked whether Haskins was ready for the next step, Day said he thinks he "has a chance to be really successful in the NFL."
Haskins is an eternally confident quarterback who often talks about his dreams, of which there are many. He wants to be the next great NFL quarterback, and he certainly has people in power who think he has that potential.
Without Herbert in his way, the opportunity is there. Haskins said he wasn't worried with the competition atop the draft rankings, but the path just cleared up.