CARSON, Calif. – Ohio State fans have expressed mixed feelings toward Nick Bosa since the former Buckeyes defensive end announced in October that he would leave the team and withdraw from school to focus on his recovery from core muscle surgery and prepare for the 2019 NFL draft.
When Bosa showed up at the StubHub Center for Ohio State's third practice of Rose Bowl week on Friday, however, there was nothing mixed about the way he was welcomed back by his former teammates.
As soon as he made his way down the sideline to the opposite end zone of the field where players were stretching, players and coaches immediately began stepping out of their stretching lines to embrace Bosa and take a moment to catch up with their former teammate, who is now living in Los Angeles with his older brother, fellow former Ohio State defensive end Joey Bosa, who plays and practices at the StubHub Center as a member of the Los Angeles Chargers.
During the portion of practice that was open to the media on Friday afternoon, Bosa also spent extended periods of time chatting with Ohio State head coach Urban Meyer, director of sports performance Mickey Marotti, director of player personnel Mark Pantoni and defensive line coach Larry Johnson, among others.
Little bear hugs @nbsmallerbear pic.twitter.com/BYhJWv5JA8

— Ohio State Football (@OhioStateFB) December 28, 2018
Another visitor to the Buckeyes' practice on Friday was San Francisco 49ers general manager John Lynch, whose team is currently in line to hold the No. 2 overall pick in the 2019 NFL draft with one week to go in the NFL season – making the 49ers one of the most likely landing spots for Bosa, who is expected to be among the draft's top picks.
Larry Johnson pumps Buckeyes up
While Meyer led the Buckeyes in their pre-practice huddle once again on Friday, he wasn't the only coach who addressed the team before their first period of drills.
After Meyer spoke to the team for a couple minutes, he stepped to the perimeter of the huddle – where soon-to-be head coach Ryan Day and the rest of the coaches were standing – and gave the stage to defensive line coach Larry Johnson, who spent several minutes giving the team one of his famous motivational speeches before the Buckeyes broke off into their first official period of practice.

Once the practice action began, Johnson coached through the defensive linemen through a variety of drills, including one in which his players practiced knocking footballs out of their coaches as if they were strip sacking a quarterback.
Ohio State defensive linemen practice strip sacks: pic.twitter.com/1RtteWUR9Y

— Dan Hope (@Dan_Hope) December 28, 2018
The defensive linemen also spent time practicing their get-offs from the line of scrimmage in a drill that involves turning around upside-down trash barrels:
Ohio State defensive linemen practicing their get-offs at the line of scrimmage. pic.twitter.com/2n57JayFhD

— Dan Hope (@Dan_Hope) December 28, 2018
Coaches celebrate Proctor tackle
Of all the action that the media was able to witness during the three periods of practice that were open to the media on Friday morning, no play drew more of a celebration from his coaches than a big hit made by Josh Proctor during a defensive back tackling drill.
Wearing a purple No. 14 scout team jersey, indicating that he is simulating Washington safety JoJo McIntosh in practice this week, Proctor made a textbook hit on a fellow scout team player that led to both defensive coordinator Greg Schiano and co-defensive coordinator/safeties coach Alex Grinch running over to Proctor to congratulate him on his tackle.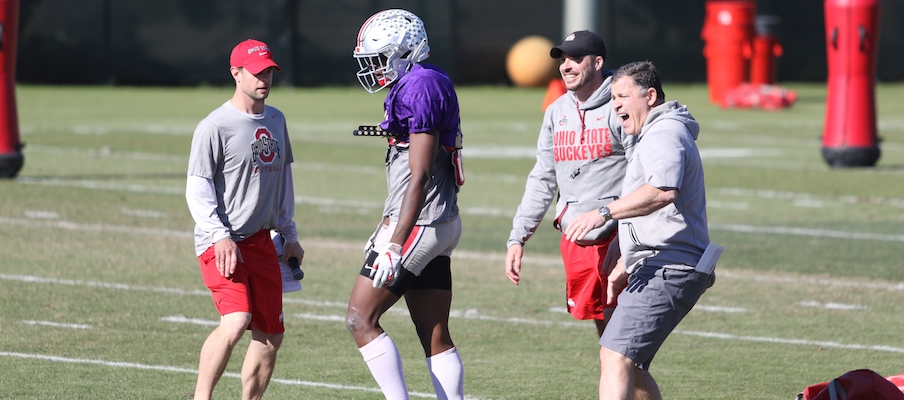 You can watch Proctor's hit and the subsequent celebration, as well as more of the defensive backs tackling, in the video below:
More defensive back tackling drills today. Josh Proctor (wearing purple No. 14 scout team jersey) got a lot of love from Greg Schiano and Alex Grinch after making a great tackle. pic.twitter.com/CuorQXTZal

— Dan Hope (@Dan_Hope) December 28, 2018
Victor, Olave make plays in red zone
Another portion of Friday's practice that was open to the media featured pass-catchers going head-to-head with defensive backs and linebackers in the red zone in an effort to catch touchdown passes.
The most impressive play in that session came from Binjimen Victor, who caught a pass in the left rear corner of the end zone from Dwayne Haskins, over coverage from Sevyn Banks, for a touchdown:
Binjimen Victor catches a pass from Dwayne Haskins over Sevyn Banks in coverage. pic.twitter.com/Rj27vmNveO

— Dan Hope (@Dan_Hope) December 28, 2018
Another highlight came from Chris Olave, who beat Banks coming back to the ball in the end zone for a touchdown catch of his own:
Chris Olave makes a touchdown catch in the red zone. pic.twitter.com/AwvTR6eA2i

— Dan Hope (@Dan_Hope) December 28, 2018
Others who caught touchdown passes during the drill included wide receiver Johnnie Dixon and tight ends Luke Farrell and Jeremy Ruckert, while linebacker Tuf Borland was credited with a pass breakup.
Injury recoveries continue
Left tackle Thayer Munford was sidelined from practice by an undisclosed injury for the second straight day, though he was standing with the offensive linemen during Friday's practice instead of sitting on the cart, which right guard Demetrius Knox – out for the season while recovering from a Lisfranc injury – piloted solo on Friday.
Demetrius Knox driving the cart: pic.twitter.com/paUTb6bfbq

— Dan Hope (@Dan_Hope) December 28, 2018
With Munford sidelined, Joshua Alabi worked with the first-team offensive line at left tackle while Branden Bowen lined up at left tackle with the second-team unit. Bowen also took some reps in place of Isaiah Prince with the first-team unit at right tackle, though Prince was in full pads and otherwise participating in practice. Nicholas Petit-Frere lined up as the second-team right tackle.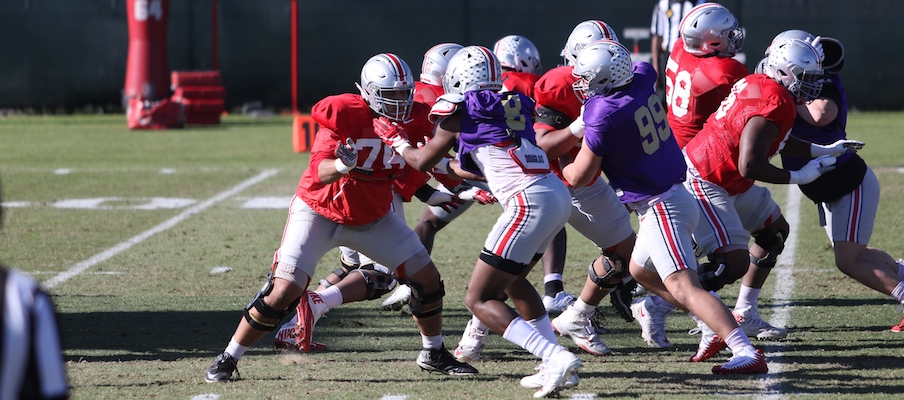 Ohio State wide receiver Austin Mack, who underwent foot surgery after suffering an injury in the Buckeyes' October loss to Purdue, is also continuing to work his way back to action. Mack was working out on a side field during the open viewing portion of practice on Friday, but was not in pads nor doing drills with his fellow wide receivers, and it does not appear that he will be available to play in the Rose Bowl.