LOS ANGELES – Talent disadvantage aren't new to Washington, and they certainly aren't anything Chris Petersen doesn't have experience with.
The Huskies haven't had a top-two recruiting class in the Pac-12 in the past five years, and they haven't been ranked better than fifth in the conference's recruiting rankings since before 2014. During that time, though, Washington has won two conference titles and has finished first or tied for first in the Pac-12 the past three seasons. Peterson compiled a 92-12 record while at Boise State, as well, including the memorable upset of Oklahoma in the 2007 Fiesta Bowl.
The Rose Bowl will be more of the same. Washington, once again, sees the Buckeyes as a physical, athletic opponent, and the Huskies are correct. Even the defense, which has been much maligned, features impressive physical specimens, such as Chase Young, Kendall Sheffield and Malik Harrison.
Almost every team that steps on the field to play Ohio State has a disadvantage in natural talent, given Urban Meyer's nearly unmatched recruiting success. Each of the past five years, the Buckeyes have ranked in the top four nationally in recruiting, and they have had the top class in the Big Ten every year during Meyer's tenure.
Eight commitments in Ohio State's 2018 recruiting class were ranked higher than the top-rated Washington recruit that year. The prior season, 11 of the Buckeyes' signees were higher ranked than the top-rated Huskies signee. Every year since Meyer and Petersen have coached their respective teams, Ohio State has had a significant recruiting edge.
Development, of course, plays a massive role in determining the ultimate successes and failures of a team. But a strong base of recruiting allows for more wiggle room and forces opponents with recruiting deficits to lean even more heavily on developing players.
Over and over on Thursday, Washington players praised Ohio State's athleticism. That's simply another way of touting a team's recruiting, which is Meyer's final gift to the Buckeye program before retiring after the Rose Bowl. He's leaving Ryan Day with a tremendously talented team that can be molded with sufficient development and coaching.
"I think this is the best team we've played this year," Washington running back Myles Gaskin said. "Yeah, I think this is the best team we've played this year."
Why? He didn't need to obfuscate. It comes back to recruiting.
"Just for the reason of just how they play in the sense that they've got all pretty much five-star recruits," Gaskin said. "I don't know personally, but they've got probably the most athletic dudes in the country on that team, and they play as hard as they do."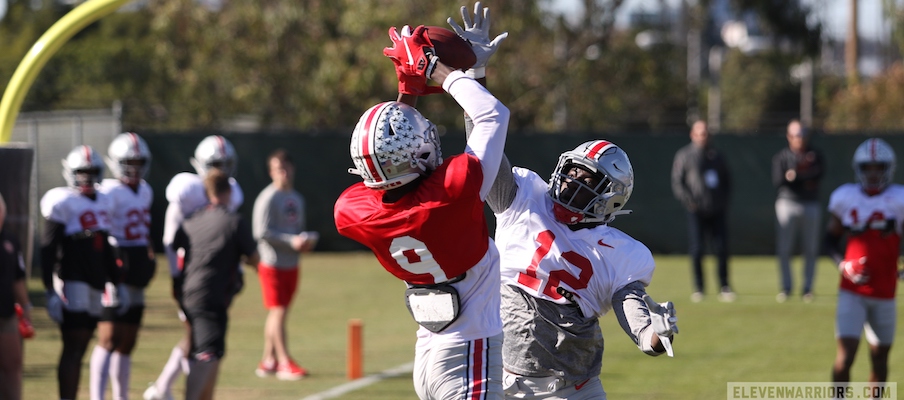 It's important to keep in mind that Gaskin is talking about Ohio State's defense, which allows 5.9 yards per play, which ranks No. 80 in the nation. The results haven't been particularly impressive in any way, yet Huskies players couldn't stop noting the Buckeyes' players natural gifts.
Drew Sample, Washington's tight end, said Ohio State has "really good players" and is "probably one of the best defenses we'll see all year."
"They are just they are athletic guys and they move real well," Washington center Nickl Harris said. "They are fluid. They are not real choppy with their movements. Their hands are real good. They use their hands. They strike well and they work as a group well. You rarely see them like misaligned or not doing their assignments. They are really gap-sound. Yeah, it's a good – they are a good group of guys and should be a good game, a good competition for us."
Huskies wideout Aaron Fuller added: "Very aggressive, athletic group of guys. They should probably be in the final four but unfortunately didn't make it, but they're going to bring a lot of energy, and they're a great team, been great for a while so it should be a great matchup."
Bush Hamdan, Washington's offensive coordinator, stuck with the same theme when asked the biggest Ohio State will pose.
"I think their athleticism, top to bottom," he said. "Their front seven. Got elite pass rushers, which is expected in a game like this. And so top to bottom, their athleticism is tremendous."
The Buckeyes certainly aren't infallible when they have the natural athleticism advantage. If they were, then they essentially would never lose.
Purdue and Iowa upset Ohio State in the past two years, and both relied upon three-star prospects. Michigan State didn't have any edge in talent, size or athleticism when Mark Dantonio's team upset the Buckeyes in 2015.
But more often than not, talent and athleticism wins games, and it's one of the reasons Meyer has lost just nine games in seven years.