With exactly one month between the Big Ten Championship Game and the Rose Bowl, Urban Meyer has had perhaps more time to prepare for his final game as Ohio State's head coach as he had for any bowl game before.
Typically, Meyer would have spent half of the month on December on the road recruiting before turning his focus back to bowl game preparation after the early signing period. After announcing his retirement on Dec. 4, however, Meyer turned those responsibilities over to Ohio State's next head coach – Ryan Day – allowing Meyer to keep all of his focus on preparing the Buckeyes to win their final game of the season against Washington next Tuesday.
What has Meyer seen in his preparation? Well, he's not going to reveal that, but based on our own look at the Buckeyes' upcoming opponent, he should see a team led by a stout defense – Washington is tied for fifth in the Football Bowl Subdivision with only 15.5 points allowed per game, and ranks 12th with only 301.8 yards allowed per game – along with an experienced backfield, a solid array of pass-catchers and a massive, talented offensive line.
A position-by-position look at the Pac-12 champion Huskies, who are 10-3 this season, follows in our Scouting Report for the Rose Bowl.
Quarterback
3 Jake Browning – 6-2, 210, Senior
A fourth-year starting quarterback, Browning led Washington to the College Football Playoff in 2016 – throwing 43 touchdown passes and just nine interceptions – but he hasn't played to the same level since, throwing just 16 touchdown passes with 10 interceptions this season.
Browning brings tremendous experience to Washington's offense, is highly regarded as a leader and is an accurate short-to-intermediate passer. He's not a great deep thrower, though, nor much of a threat as a runner, and makes some questionable decisions with the football.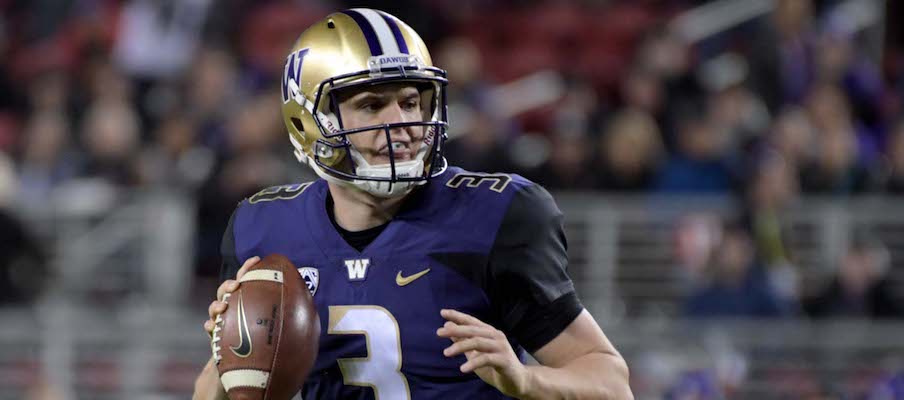 Running Back
9 Myles Gaskin – 5-10, 193, Senior
26 Salvon Ahmed – 5-11, 195, Sophomore
Like Browning, Gaskin is a fourth-year starter for the Huskies. After rushing for more than 1,300 yards and at least 10 touchdowns in each of his first three seasons at Washington, Gaskin has rushed for 1,147 yards and 10 touchdowns as a senior despite missing two games with a shoulder injury.
Gaskin isn't a burner, but he's a strong back who can finish through contact and also a sharp cutter with good vision. He's a workhorse for the Washington offense who has had more than 20 carries in six of the games he has played this season, and at least 14 in all of them. The Huskies offense often goes as Gaskin goes, so if the Buckeyes can keep him in check, they'll have a good chance of slowing down Washington's offense.
Ahmed has also seen regular playing time on the Huskies offense this year, rushing for 604 yards and seven touchdowns on 99 carries while also gaining 148 yards on 18 catches. The Huskies will find creative ways to get him the ball, including motions and jet sweeps, to give him the opportunity to use his speed and agility and make plays in space.
Wide Receiver
2 Aaron Fuller – 5-11, 186, Junior
5 Andre Baccellia – 5-10, 173, Redshirt Junior
20 Ty Jones – 6-4, 209, Sophomore
Fuller is the Huskies' No. 1 receiver, leading the team with 51 receptions for 794 yards this season, including four touchdowns. He's also the team's primary punt returner, having gained 114 yards on 19 returns this season. He has good speed and ability to extend plays in the open field with his agility, and he's the team's most consistent downfield playmaker.
Jones, Washington's biggest wide receiver, has also shown some big-play ability for the Huskies this season, catching 28 passes for 469 yards and a team-high six touchdowns.
Baccellia is a speedy receiver who makes most of his plays on short to intermediate passes, catching 43 passes for 475 yards this season. He hasn't scored a touchdown this season and has only five receiving plays of 20-plus yards, but he's a good route runner who will get open and move the chains for first downs.
Tight End
88 Drew Sample – 6-5, 251, Redshirt Senior
87 Cade Otton – 6-5, 249, Redshirt Freshman
1 Hunter Bryant – 6-2, 224, Sophomore
The Huskies regularly play multiple tight ends simultaneously, with Sample and Otton each playing in all 13 of Washington's games this year. Sample has caught 23 passes for 251 yards and two touchdowns, while Otton has 12 catches for 158 yards and three touchdowns, and both are solid run blockers.
Bryant missed the Huskies' first nine games after undergoing knee surgery, but he's returned to catch seven passes for 187 yards and a touchdown is four games since. A smaller but more explosive athlete than Sample and Otton, Bryant could be in line for an even bigger role in the Rose Bowl with another month to get healthy, and is the Huskies' most dangerous receiver over the middle.
Offensive Line
72 Trey Adams – 6-8, 316, Senior OR 70 Jared Hilbers – 6-7, 313, Redshirt Junior (Left Tackle)
76 Luke Wattenberg – 6-5, 307, Redshirt Sophomore (Left Guard)
56 Nick Harris – 6-1, 300, Junior (Center)
51 Jaxson Kirkland – 6-7, 315, Redshirt Freshman (Right Guard)
58 Kaleb McGary – 6-8, 324, Senior (Right Tackle)
A second-team All-American in 2016, Adams has been plagued by injuries since, but returned after missing the Huskies' first 10 games this season with what was originally expected to be season-ending back surgery. Hilbers started the first 12 games of this season before missing the Pac-12 Championship Game with an injury, but Adams has shown he can be one of the best left tackles in college football when healthy.
With Adams sidelined for most of the year, the stars of Washington's offensive line have been McGary, who was named by Pac-12 players as the conference's best offensive lineman this season, and Harris, who also earned first-team All-Pac-12 honors. Wattenberg, Kirkland and McGary have each started all 13 of the Huskies' games at their respective offensive line positions.
Overall, the Huskies' offensive line has been solid but not spectacular, limiting opponents to 22 sacks in 13 games while leading the way for the Huskies to rush for 4.43 yards per carry.
Defensive Line
99 Greg Gaines – 6-2, 316, Redshirt Senior (Nose Tackle)
96 Shane Bowman – 6-4, 291, Redshirt Senior (Defensive End)
92 Jaylen Johnson – 6-3, 286, Redshirt Senior (Defensive End)
The linchpin of the Huskies' defensive line, named by Pac-12 players as the conference's best defensive lineman this season, Gaines has recorded 52 total tackles from his nose tackle position. A fourth-year starter, Gaines is a stout gap-filler who also shows good quickness to get off of blocks and make plays himself, recording 5.5 tackles for loss and 3.5 sacks this year.
Johnson and Bowman see most of the playing time alongside Gaines on Washington's defensive front, which typically uses only two or three down linemen with outside linebackers doubling as edge rushers. Johnson, who ranks second among Washington defensive linemen with 34 total tackles, earned All-Pac-12 honorable mention recognition this season.
Levi Onwuzurike (6-3, 282, redshirt sophomore) also sees regular playing time in the Huskies' defensive line rotation, recording 33 total tackles with 5.5 tackles for loss and two sacks.
Outside Linebacker
8 Benning Potoa'e – 6-3, 277, Redshirt Junior OR 55 Ryan Bowman – 6-0, 263, Redshirt Sophomore
17 Tevis Bartlett – 6-3, 233, Senior OR 9 Joe Tryon – 6-5, 267, Redshirt Freshman
Potoa'e, Bartlett, Bowman and Tryon all see regular playing time in Washington's rotation at outside linebacker, often lining up on the edge alongside the Huskies' defensive line. Potoa'e is the Huskies' best edge rusher, tied for the team lead with six tackles for loss.
Bartlett started 10 of the Huskies' first 11 games at inside linebacker – and ranks second on the team with 68 total tackles as a result – but has since moved to playing in the outside linebacker rotation, where he offers versatility as a player who is skilled at dropping back into pass coverage as well as coming off the edge as a pass-rusher.
Inside Linebacker
25 Ben Burr-Kirven – 6-0, 221, Senior
13 Brandon Wellington – 6-0, 222, Junior
A first-team All-American and the Pac-12 Defensive Player of the Year, Burr-Kirven leads the entire FBS this season with 165 total tackles. He does a tremendous job using his eyes to diagnose plays quickly, takes good angles to the ball in pursuit and has both the speed to chase ballcarriers down and the tackling ability to take advantage and finish plays.
Burr-Kirven doesn't make many plays behind the line of scrimmage – only four of his 165 tackles have been for loss – but he's consistently around the ball at the second level.
Wellington, meanwhile, has seen his role gradually increase over the course of the season, starting the Huskies' last two games after missing the first four games of the year. DJ Beavers (6-1, 219, redshirt junior), who missed nine games of his own due to injury after starting the Huskies' season opener, has also re-emerged in Washington's inside linebacker rotation in the last two games.
Cornerback
1 Byron Murphy – 5-11, 182, Redshirt Sophomore
23 Jordan Miller – 6-1, 181, Senior
5 Myles Bryant – 5-8, 182, Junior (Nickel)
A second-team All-American and Bednarik Award semifinalist this season, Murphy is one of college football's best cornerbacks. Ranked by Pro Football Focus as the nation's top player at his position this season, Murphy has been dominant in coverage – intercepting four passes, including one that he returned 66 yards for a touchdown against Utah in the Pac-12 Championship Game, while also breaking up 13 more passes. He is also a strong tackler, recording 56 total tackles with 37 solo stops.
Miller isn't as dominant as Murphy, but the long cornerback holds his own in coverage, too – recording two interceptions and five pass breakups this year – while he is also an effective tackler when plays come his way.
Bryant, also a regular starter in the Huskies' defense at the nickelback position, is a versatile defender who can make plays all over the field, recording 55 total tackles with 4.5 tackles for loss. He can be inconsistent in coverage, but he's one of the Huskies' best playmakers in space and can line up all over the defensive formation, earning him second-team All-Pac-12 honors this year.
Safety
7 Taylor Rapp – 6-0, 200, Junior
14 JoJo McIntosh – 6-1, 205, Redshirt Senior
Another star of Washington's defense, Rapp has a multi-dimensional skill set than enables him to line up everywhere from in the box at linebacker to back in the secondary as a deep safety. A first-team All-American this season, Rapp has recorded 59 total tackles, leads the team with six tackles for loss and five sacks and also has two interceptions and five pass breakups.
Like Rapp, McIntosh is also a third-year starter at safety for the Huskies. He's not as much of a playmaker as Rapp, but he nonetheless earned All-Pac-12 honorable mention recognition this year, giving the Huskies a reliable pair of veteran starting safeties in their secondary.
Specialists
47 Peyton Henry – 5-11, 195, Redshirt Freshman (Kicker)
32 Joel Whitford – 6-3, 212, Redshirt Junior (Punter)
Washington's kicking specialists have been decent but below-average this year. Henry has made 15 of 21 field goal attempts in his first season as Washington's kicker, as well as 41 of 42 extra point attempts, but he's only one of three field goal attempts from 40 yards or more. Whitford has averaged 41.6 yards per punt on 28 punts this season.
Overall Outlook
With stars at all three levels in Gaines, Burr-Kiven, Murphy and Rapp, Washington's defense could legitimately be the best that Ohio State has faced all season. The Huskies have held all but one of their opponents to 24 points or less and have held eight of their three opponents to less than 300 yards. As explosive as Dwayne Haskins and Ohio State's offense have been this year, Washington's defense will force the Buckeyes to be sharp in their execution.
Offensively, Washington is just an average team. The Huskies rank only 60th nationally in total yards per game (412.4) and are tied for 85th nationally in points scored per game (26.6).
The Buckeyes, of course, haven't been great on defense this season. The Huskies aren't typically a team that scores in bunches, and Ohio State should be capable of limiting them, but Browning and Gaskin and the rest of Washington's offense is capable of taking advantage if the Buckeyes are stricken by the discipline issues on defense that have plagued them all year.
If Haskins and Ohio State's offense can carry over momentum from the end of the regular season and have a big game against the Huskies on New Year's Day, though, it might not matter how the Buckeyes' defense performs. Because if the Buckeyes offense can play up to its ability, Washington lacks the offensive firepower to keep pace, and Meyer should walk – or be carried – off the field a winner in the final game of his seven-year tenure coaching the Buckeyes.
Don't expect Washington to make it easy, and the Huskies' defense should give Day headaches in preparing for his final game as offensive coordinator. But the Buckeyes do appear to be the more complete team on film, and should have the upper hand in Pasadena as long as they play as motivated as they should.