PASADENA, Calif. – Just like a few of his Ohio State teammates, Kendall Sheffield has a million-dollar choice to make.
After two years playing under two cornerbacks coaches, Sheffield has to decide whether or not to head to the NFL draft or return to the Buckeyes for his fifth year of eligibility.
For now, he's undecided.
"I haven't made a decision yet," Sheffield said on Sunday. "I'm just worried about Washington right now."
Sheffield has until Jan. 15 to make his call whether to leave or not.
Ever since Ohio State's coaching staff, led by Urban Meyer and Kerry Coombs, began recruiting Sheffield, the NFL has been in the cornerback's mind. Both Meyer and Coombs used that as a sales pitch. During Coombs' six-year tenure at Ohio State, five cornerbacks were selected in the first round, and the coaches believed Sheffield had the tools to become the next.
"When I first came here, coach Coombs and coach Meyer, they came in, they said I have potential to be a first-round corner and coach Coombs can get me to my goal of being a first-round corner," Sheffield said. "Once I got here, I improved tremendously through my game and preparation."
After two seasons in the starting cornerback rotation, Sheffield feels like he's made the necessary strides in his game to take him into the upper rounds of the draft.
"Oh, yeah. I feel like I developed to the level, and I could always have room to improve my game," Sheffield said. "That's what I'm trying to do every day right now."
Much of Sheffield's higher-than-average ceiling stems from his impressive athleticism that enabled him to run track at Ohio State last spring. In his debut meet, Sheffield ran the sixth-fastest 60-yard dash in school history. One week later, he broke the program record with a 6.63-second 60-yard dash. The following week, Sheffield finished second in the event at the Big Ten indoor track and field championships.
During the summer, NFL.com ranked him as the fastest player in college football.
Before the 6-foot, 193-pound cornerback even played a single snap for Ohio State, his athleticism was readily apparent.
"Have you seen him? He looks like an action figure," fellow cornerback Damon Arnette said on Aug. 16, 2017.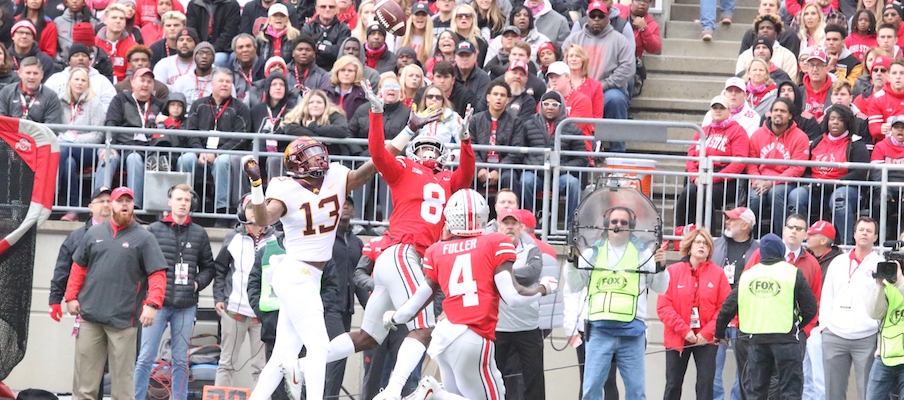 Meyer didn't recruit many junior-college players. But when Sheffield became available out of Blinn College two years ago, Ohio State pounced.
Sheffield was the second-highest ranked recruit in Alabama's top-rated 2015 recruiting class, but his time in Tuscaloosa, Alabama, didn't last long. After redshirting his first season in Nick Saban's program, he opted to transfer to Blinn, where he spent one season and became the top-ranked junior-college cornerback.
Ohio State landed him before the 2017 season with the intention of inserting him into the cornerback rotation immediately. Sheffield joined Arnette and Denzel Ward, an eventual top-five NFL draft pick, as a top-three cornerback and remained in the lineup alongside Arnette and Jeffrey Okudah this season.
Sheffield had 40 tackles and nine pass deflections last season, but didn't pick off a single pass. This season, he has 30 tackles, five pass deflections and a pair of interceptions.
"I think my technique has got a lot better from last year to this year," Sheffield said. "I caught interceptions. I'm getting better at the line of scrimmage."
Sheffield said he didn't have a single aspect of his game that he was working to improve, instead simply focusing on improving his entire game.
"Really, I can just work on every little detail around my game to be a first-round draft pick," Sheffield said.
After starting for two years in an Ohio State defensive backfield that has produced more NFL prospects than most, Sheffield hopes to be a first-round pick, but that seems unlikely for now.
In mid-October, Bleacher Report's Matt Miller ranked Sheffield in his top-32 NFL draft prospects. But in his most recent edition, Miller left Sheffield out of his top-32 prospects and ranked him as the No. 7 cornerback, one spot below Arnette. He listed Sheffield as the "biggest question mark" at the position. ESPN's Todd McShay does not have Sheffield in his top-10 cornerbacks, and CBS Sports' Chris Trapasso doesn't have him in his overall top-94 ranking.
Sheffield's athletic gifts will tantalize teams, though, if he opts to leave Ohio State. So, if he opts to forgo his redshirt senior season, NFL teams will certainly talk themselves into drafting the athletic, moldable corner. But if not, the Buckeyes won't mind getting one final year out of him.