PASADENA, Calif. – No member of Ohio State's coaching staff has drawn more criticism for the on-field play of his position group over the past two seasons than linebackers coach Bill Davis.
Ohio State's linebackers haven't performed up to expectations in Davis' two years on staff, and the Buckeyes' entire defense has been a frequent target for criticism this year, as they have allowed more than 400 yards per game (for the first time in school history) and 25 points per game, all the while giving up way too many big plays, including 23 plays of 40-plus yards.
Davis, however, doesn't believe all of that criticism is warranted. While he recognizes that Ohio State's linebackers are held to a high standard, and that they do need to play better than they have this season, he also believes that he and his players deserve more credit than they have received.
"I've coached linebackers and been a coordinator in the NFL for a long time. I didn't forget how to coach when I got to Ohio State," Davis said at Sunday's Rose Bowl media availability. "I know exactly what we're telling these young men to do, and I know how efficiently they are or are not doing it. We are not perfect. But the defense is about 11 guys playing as one.
"I do not let criticism get me at all because I know the experiences I have and I know I know what I'm doing," Davis continued. "I know these young men are growing under my leadership. It's a great group of young men. It's a real healthy group right now. A strong, deep room. Now we have experience. And I think their football IQ has gone through the roof in the two years I've been here. So I'm very proud of a lot of the growth that has happened. At the same time, there's another level that I've got to get this group to. And we're striving every day to get this group to that next level."
One specific critique of Davis and Ohio State's defensive coaches this season was the way they played their linebackers close to the line of scrimmage, which opposing offenses regularly exploited for big plays this season. Davis acknowledged Sunday that the Buckeyes had to adjust away from that strategy as the season progressed, as they were unable to execute that scheme the way they had hoped. But, he explained why they tried to make that scheme work.
"In defensive football, every move you make has a positive and a negative. It has a strength and a weakness. When you move the linebackers up to the line, you create one-on-ones for the defensive line," Davis said. "But you don't have depth to the linebackers, so he has to be exactly right, and he doesn't have much time to make that decision that he has to make.
"When you back him up, now the defensive line has to take on more double-teams, and have the 'backers have more depth to make things right when they go wrong. So you do it for a specific reason, and I think early on, the creating of tackles for loss and one-on-ones for the defensive line was working. We just didn't have the depth, so we adjusted and have kind of moved in and out of moving the linebackers up and back. But it does have an effect."
Ohio State's linebackers were inexperienced entering the season. Among the linebackers who saw regular playing time this year, only Tuf Borland had started multiple games in 2017, while Malik Harrison and Pete Werner were both new starters. As the Buckeyes go into their final game of the season against Washington on Tuesday, Davis believes the linebackers are "really trending up."
"I think there's been a lot of growth in the young linebackers. We finally have experience now," Davis said. "The last couple games, the last four or five, we just keep getting better and better. I'm excited about where the group is growing."
"I've coached linebackers and been a coordinator in the NFL for a long time. I didn't forget how to coach when I got to Ohio State."– Ohio State linebackers coach Bill Davis
Davis said he believes the football IQ of Ohio State's linebackers "has climbed immensely."
"You just can't throw a kid out there and he's going to be an instant star," Davis said. "They've got to go through the learning process, and you can't learn all of it at once. You have to just keep stacking learning on learning on learning.
"Each one's started at a different spot. Malik probably had more experience than Pete, he did. And then Tuf and Baron (Browning) were switching. So a lot of times the MIKE 'backer's going to lead the team in tackles. Well, they split time, so neither one could. Malik Harrison did a great job at the WILL spot and grew and grew and grew. So I think their football IQ is probably the thing that has grown the most over the season."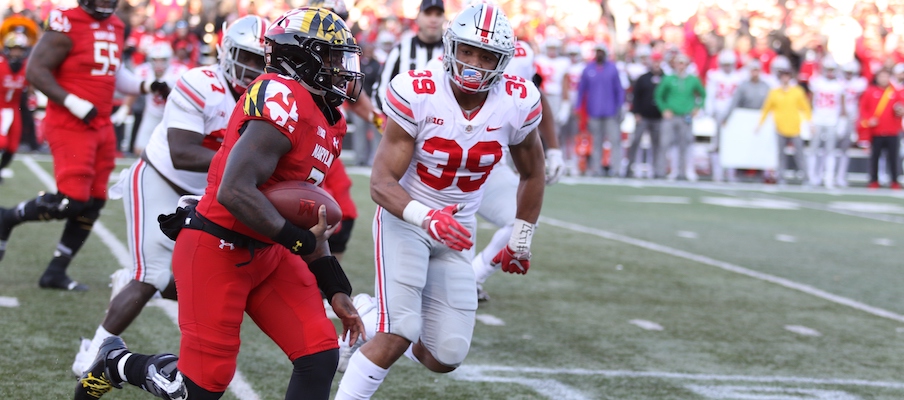 The question now, as the season comes to a close, is whether Davis will have the opportunity to continue working with those linebackers next season. Davis came to Ohio State in part because of his close friendship with Urban Meyer – Davis was the best man in Meyer's wedding – and now that Meyer is retiring, new Ohio State head coach Ryan Day must decide whether to retain or replace each of the Buckeyes' assistant coaches.
Davis said he doesn't know yet what Day will decide, but if it was up to him, he would like to return to Ohio State for a third season.
"I would love to be back," Davis said. "I don't know what the plan is, but we'll figure that out when we're done with this game. I've had a great experience here, and I'd love to continue it. But we'll see day-by-day. I've been around for a long time, and a lot of different things can happen, but I'm very proud of the group that I have, and I think they're getting better every day."
Among other assistant coaches, Ohio State defensive line coach Larry Johnson and offensive line coach Greg Studrawa both said Sunday that they believed they would be back with the Buckeyes next season. Cornerbacks coach Taver Johnson and running backs coach Tony Alford did not say whether they thought they would be retained by Day, but both said they hoped to be back for another year.
Studrawa and Alford did confirm Sunday that they interviewed for the head coaching position at Bowling Green, who ultimately hired Scot Loeffler, and said they are interested in becoming head coaches in the future.