LOS ANGELES – After Ohio State's 62-39 beatdown of Michigan, Dwayne Haskins didn't act surprised in the offense's dominance of what seemed like one of the best defenses in the country before the game. He said he was "licking his chops" when watching film.
That must be the reaction that offensive coordinators and running backs have when preparing for the Buckeyes' defense this season. Ohio State's defense doesn't even have the impressive statistics to give opposing offenses any reason to worry.
Myles Gaskin, Washington's fourth-year starting running back, should be excited about the opportunity to end his career against such a porous run defense. He has rushed for at least 1,100 yards each of the past four seasons, accumulating more than 5,000 yards on the ground in his career. This season, he has led a three-back rotation with 1,147 yards and 10 touchdowns despite missing two games with an injury in the middle of the season.
Washington has a relatively balanced offense, but Tuf Borland views Chris Petersen's team as being heavily reliant on its Gaskin-led run game.
"I think their kind of their identity, their M.O. has always been their running backs and O-line," Borland said on Thursday. "I think they want to run the ball. It kind of plays into their defense."
It also plays into Ohio State's defensive issues.
Since the first week of the season, when Oregon State gashed the Buckeyes for 196 yards on the ground, rush defense has been a concern. Ohio State isn't too effective against the run on an average play, allowing 4.59 yards per carry, which is the 84th-best out of 130 teams.
The number gets even worse when looking at how the Buckeyes have fared against big plays on the ground.
Ohio State's defense is ranked 71st nationally in giving up 10-plus-yard running plays. They're ranked No. 102 in giving up 20-plus-yard runs and No. 114 in allowing 30-plus-yard runs. The Buckeyes are bottom five in allowing runs of more than 40 and 50 yards, and they're second-worst in allowing rushes of 60 yards or more. They're either last or tied for last in allowing rushes for more than 70 and 80 yards, and they're second-worst in allowing runs of at least 90 yards.
So, yes, Gaskin should be licking his chops. He did not, however, have an explanation for how Ohio State has given up so many rushing yards, especially on chunk plays, instead calling the Buckeyes "the best team we've played this year."
"Those guys play hard," Gaskin said. "It happens to everybody. It happens to us sometimes. Can't win every down. That's a part of football. But like I said, they do play hard, so at the end of the day, that's kind of a weird thing to see. You see a team give up like an 80-yard run, they come back like it's the beginning of the game all hyped up and stuff like that. It's not going to be a lay down type of fight or anything."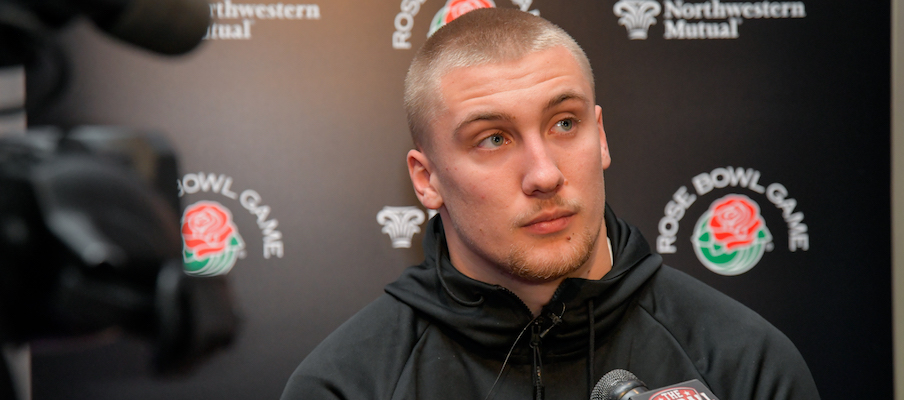 Jonathon Cooper, Dre'Mont Jones and Borland all referenced Gaskin's patience as an asset for the 5-foot-9, 192-pound back. Cooper said he "knows where or what to do with the ball," and Borland said Gaskin's "burst after he makes his decision on where he wants to go"
"I think, from my standpoint, we've got to be very, very disciplined, more than than usual, because he's able to create nothing into something, I feel like," Jones said.
Borland added: "I think we just need to be a little bit more patient, not burying yourself into blocks, staying free and then being gap disciplined. At the end of the day, you take away all the running lanes, there's not going to be anywhere to go."
Beyond Gaskin, Salvon Ahmed has factored into the ground attack with 604 yards on 99 rushes. Sean McGrew, a 5-foot-7 back, also has 49 carries for 219 yards.
The trio of backs, along with an offensive line so tall that he remembered saying "wow" when he passed them walking around at Disneyland, stood out to Cooper.
"I see that they have a very decent offensive line," Cooper said. "I feel like the power of their offense is their running backs. They've got three really good running backs. They have good athletes. They're a good football team. I feel like our coaches have a good plan for them, and we'll be able to get after them."
Gaskin has rushes for 64 and 80 yards in the past three weeks, but he's not a particularly explosive back. In the first seven games of the season, he had just one rush for more than 30 yards. 
Borland also said Washington's personnel groupings remind him most of Michigan, an offense that didn't run all over the Buckeyes. Gaskin's lack of big plays could be a boon to Ohio State's defense, but more than a couple running backs have had career days against the Buckeyes. 
In order to tilt the advantage toward Ohio State's defense, stopping Gaskin must be a primary focus.