The first order of business was to come back home.
Urban Frank Meyer Jr, known to everyone as Bud, passed away in Cincinnati on a chilly November Friday. Bud's son would have been embroiled in college football's final exams that month in each of the previous 25 years, but in 2011 Urban was a broadcaster.
That one-year stint carried a level of work/life flexibility he was either unaccustomed to or had refused to accept, and that had been the whole point. Had Bud passed in any previous year of Urban's adult life the son probably would have missed being there.
He might have taken a midseason leave of absence during the final days of his father's decline, but that's a hypothetical better left unexplored for a man who abruptly left the top of his profession after missing too much of real life and allowing work to consume him.
But Urban was in back home now, with and for his family, after years of conspicuously failing in both areas. He buried the most important man in the world on a Friday. The second-most important - Earle Bruce, whom he would describe as having been there for every part of his personal and professional life a few days later during a nationally televised press conference - spoke at the funeral.
On Sunday Urban was contacted by Ohio State about a job. He had already straightened out his health issues, coalesced around his family's expectations for him - and there was now the same type of football opportunity he had been so good at exploiting, but at home.
That was the first order of business - to come back home. The second order of business was to stay there.
---
He was introduced as the 24th head football coach for his father's favorite team on a chilly November Monday. Bud just missed seeing it, but Earle was in the room.
Urban spoke of his upgraded health and general condition, his late father, how Earle had always been there for him, his passion for coaching, the state of Ohio and his family. He had escaped a job that was consuming him, taken a step back and reassessed how he could do it differently before allowing the serendipity of timing and vacancy to find him.
Nine months later he was ecstatic to escape retirement. The third order of business was bringing the team at home back to national prominence after one tumultuous year off that had coincided with his own sabbatical. It meant being excellent and respected. Both he and the program presented their own self-inflicted challenges. They would recuperate together.
But Urban showed no concern either would be anything but an inevitability. He practically dismissed it as a foregone conclusion; instead he spoke of getting to the SEC's level of championship competence - while leaving his own SEC baggage in the past. Climbing atop the Big Ten's idle rich football programs wouldn't be nearly as challenging. But there was one in particular he was required to target by name.
He was home. It's Ohio - he grew up with the rules. Besides, Earle was in the room. The fourth order of business was taking down the Big Ten Coach of the Year.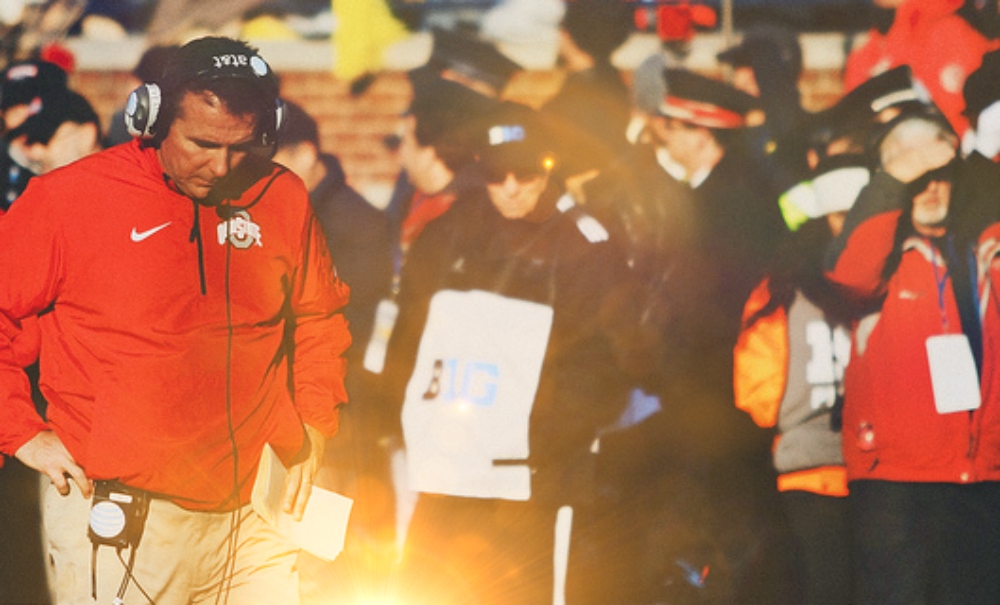 Brady Hoke was days away from receiving the conference's highest honor. At that point in the honeymoon he was undefeated against Ohio, having halted the Buckeyes' seven-year winning streak while getting the Wolverines to double-digit wins and a major bowl - all with his disastrous predecessor's roster. It was impressive. The indicators and enthusiasm in Ann Arbor were both high again. 
And while Michigan was trending up, Ohio State was 6-6, soon to be 6-7, still mired in two NCAA investigations and absorbing what had become a rare loss on the regular season's final Saturday. Their funk, which by the ancient tradition is supposed to be a year-long sentence, lasted almost two days.
So Urban spoke of exactly one football program aside from the three where he had previously coached. His predecessor's introduction a decade earlier had included a famous quip about the Michigan game being precisely 310 days away.
It's easy to forget that Urban followed Jim Tressel's introduction blueprint. He said that Ohio State-Michigan:
...is the game of games. That's the game that I grew up watching. It's the game that I though both teams played very hard. It's also 362 games away, so I understand the significance of it.

I remember my experience in that game was the first year when (San Francisco 49ers coach) Jim Harbaugh guaranteed a win here in Ohio Stadium. The second was Coach Bruce's final game at Michigan and we were able to beat Bo Schembechler.

As much as there is dislike and hatred across college football in some rivalries...there's a lot of respect in that rivalry, and I'm looking forward to coaching in it.
By the way, he actually said Michigan. It's on tape and everything.
Respect is the same philosophy Urban had brought to Bowling Green-Toledo, Utah-BYU and Florida-Florida State. It's the route Tressel took on the way to a 9-1 record against Michigan. It was a high bar to clear, and Urban was excited as hell to clear it.
He was back home, back in coaching and because of that Ohio State football escaped a downturn. There was no getting lost in the wilderness, no clawing back to relevance, no hardscrabble climb back up to the ledge it had tumbled from for nearly an entire calendar year. It was as if that one year off - for both the Buckeyes and its new coach - had been parallel anomalies.
There would be no losses on the final Saturday of November, which meant not only was there no blue period for the Buckeyes, there was no Blue period at all. All of the radiation from the hiatus just went away, and soon after - the 2011 B1G Coach of the Year did too.
---
The fifth order of business was winning the Big Ten, which Ohio State had done with regularity over the previous decade.
There was no significant drought or curse or hard-luck fanbase to satisfy; just a deeply entitled desperation to return to normalcy. Urban took a team disqualified from the conference crown to a perfect record in Year One and reluctantly forfeited the title shot to the next eligible participant. It was as infuriating as it was inspiring.
Year Seven, the final one, was the least enjoyable season of Urban's homecoming. It began with that scandal and concluded with another conference championship, a Rose Bowl invitation, a Heisman finalist and a humiliation of Michigan that would make Woody Hayes blush.
It sucked, was historic, ended triumphantly and would qualify as the best season in a generation for every one of the former idle rich, all of whom were forced into at least appearing to try harder. Urban handed the current B1G Coach of the Year his worst loss of the season in the title game on Saturday.
Last year, he gave the B1G Coach of the Year his only loss of the season in the same game. He leaves Ohio State, as his predecessor did, without having won that award while winning everything else.
It didn't matter who happened to be wearing a crown. Everyone knew who the king was.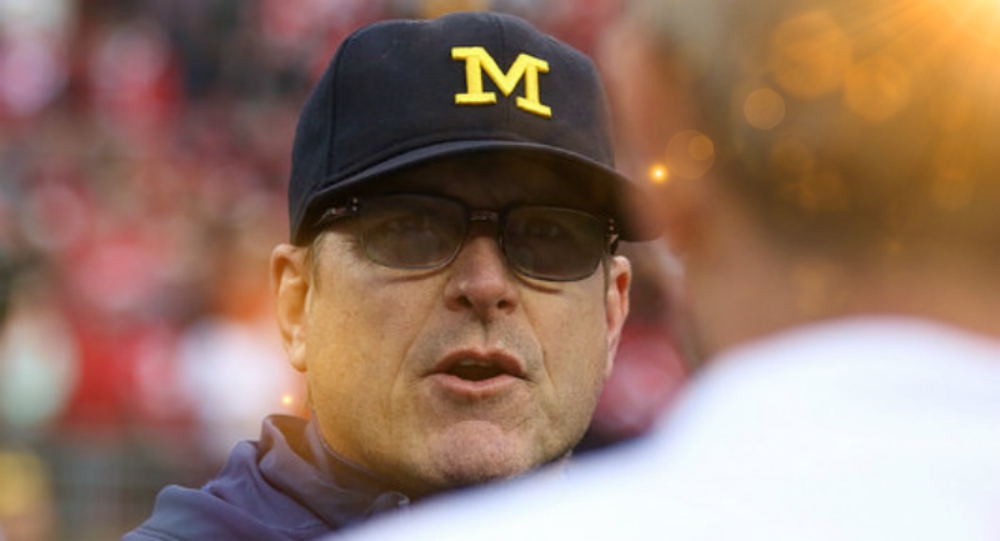 The sixth order of business is closing the book on the most prolific seven-year stretch in Ohio State football history.
It's rare to have a hyper-competent, fellow fanatic in charge of your beloved team. It's what Michigan thought it was getting when it brought Jim Harbaugh home. He's a respectable 38-13 in Ann Arbor. Meyer finished at 82-9 in Columbus with one to go. He inherited a roster with literally no offensive tackles, little secondary depth, two uncoached quarterbacks, NCAA sanctions, reduced scholarships for three seasons and a postseason ban. The handicaps were real.
It's too late. Harbaugh might find his cruising altitude yet but what Michigan thought it was getting is what Ohio State actually got: A coach who cares at least as much as the most rabid, self-immolating message board fanatic does - and delivered every season.
At this point in a coaching eulogy, the boilerplate generally veers into the both sides realm so we can delicately acknowledge the dark side without disparaging the departed. Urban has now retired three times from coaching; twice in Gainesville and once yesterday. He was too intense, too obsessed, too competitive, too nepotistic, too blindly loyal and too undisciplined.
Those last three toos directly led to Zach Smith's prolonged retention while providing the appearance of safe harbor for an alleged domestic abuser and too many second chances to a openly disastrous ambassador of his program. The first three are why someone else will be Ohio State's coach next season. They don't overlap. He's apologized for all of them.
Speculation as to when and to where Urban will return to coaching again began the moment his retirement was announced. He earned every bit of that speculation and told on himself back at his introductory press conference in the days after Bud's funeral when he admitted he wanted to return to coaching by Signing Day the last time he walked away. Urban was happily retired for about five weeks the second time; even shorter the first.
He would have cashed a $160,000 retention check the month after the upcoming Rose Bowl. His former grad assistant from his first season at Florida will have his own family photos on his old desk at the football facility by then, and the recruiting class he had a significant part in steering toward Columbus will be inked and ready to play for Ohio State's 25th head football coach.
Urban's name is going to enter the atmosphere every time a high-profile coaching job becomes available. He now resides in the Jon Gruden pantheon of eternal coaching candidacies, which doesn't make for a peaceful retirement. He'll be challenged to live into being a former football coach, and the carousel nature of the profession - along with the testimony to his success - are not going to help him, no matter how many grandchildren he has to play with.
He's just not wired that way. If Urban is going to stay retired, he'll need rewiring. We're talking about a guy whose sideline intensity was a major headline all of two weeks ago, leaving that sideline forever. Escaping is everything but easy.
The first order of business was to come back home. That turned out to be more than just a place; Ohio State ended up being the longest stretch of his career. His family life is healed. His coaching legacy is intact. His final season ends in Pasadena, and his final order of business will be escaping what's viewed as another inevitable relapse.
His successor's first order of business? Creating his own shadow. That might end up being just as hard as Urban keeping his own from casting somewhere other than home.