Before each week's Ohio State game, Eleven Warriors catches up with a media member who covers the opposing team to get his or her perspective on the Buckeyes' upcoming opponent.
This week, Michigan State football reporter Matt Wenzel of MLive.com joins us to give his insight on the Spartans ahead of the Buckeyes' trip to East Lansing for Saturday's game at Spartan Stadium (Noon, Fox).
Michigan State will be looking to first win in the annual divisional matchup with Ohio State since 2015, and oddly enough, looking for its first win over the Buckeyes at home since 1999. The Spartans suffered a blowout loss to the Buckeyes at Ohio Stadium in 2017, but have beaten Ohio State in three out of seven matchups since 2011.
The Spartans currently lead the nation with only 71.7 rushing yards allowed per game, and are 16th in scoring defense (19 points allowed per game). Offensively, though, Michigan State ranks outside the top 100 in scoring offense (23.4 points per game) and total offense (360.3 yards per game).
Are this year's Spartans drawing motivation from last year's loss? Has Michigan State's defense improved substantially from the one that Ohio State faced last year? Who are the Spartans' players to watch, and if you're making the trip to East Lansing, where should you go in addition to the game?
Wenzel answers those questions and more in this week's edition of Across the Field. 
Q: Michigan State suffered a 48-3 loss at Ohio State last year. How much do you think that motivates the players to want to turn the tables and beat the Buckeyes this year?
Wenzel: Short answer – a lot. Last year's beatdown in Columbus was the most lopsided loss and most rushing yards allowed (335) during Mark Dantonio's tenure at Michigan State, and the Spartans returned most of their key personnel on both sides of the ball. They rewatched last year's game on Monday and linebacker Joe Bachie said it looked like "men versus boys."
Q: How would you compare this year's Michigan State team to the one that Ohio State faced last year? In what areas have the Spartans improved, and in what areas have they taken a step back?
Wenzel: Michigan State returned 19 starters on offense and defense from last season. So, aside from shuffling due to a slew of injuries, the Buckeyes should be very familiar with the personnel they'll face this week.
The Spartans remain strong against the run and are No. 1 in the nation at just 71.7 yards per game. Defensive tackle Raequan Williams is a force while numerous other defenders have shown noticeable growth from last year, including cornerback Justin Layne and safety Khari Willis.
Michigan State expected to take a significant step forward offensively this season, and that simply hasn't happened. A series of injuries, including to quarterback Brian Lewerke, has played a factor. That has resulted in Michigan State's blueprint for success remaining similar to last year – the defense keeps the game close and the offense scores just enough to win.
Q: Michigan State has been held to less than 20 points in each of its three losses this season. What have been the Spartans' biggest issues on the offensive side of the ball?
Wenzel: Lewerke hasn't taken the next step many expected after a breakout 2017 season, has struggled with turnovers and accuracy and a right throwing shoulder injury suffered in an Oct. 13 win at Penn State obviously didn't help. Losing all three starting receivers to injury, at one point or another, severely tested depth at the position.
The offensive line has also dealt with injuries, resulting in seven different starting combinations in nine games, and the Spartans are averaging just 125.6 yards per game rushing, which is on track to be the lowest total during Dantonio's tenure.
Senior starting running back LJ Scott has missed five games due to injury, but it's unclear how much of a difference that has made, because the Spartans haven't been able to run the ball effectively when he has been in the lineup.
Even with injuries, the offense has underachieved expectations this season by a wide margin.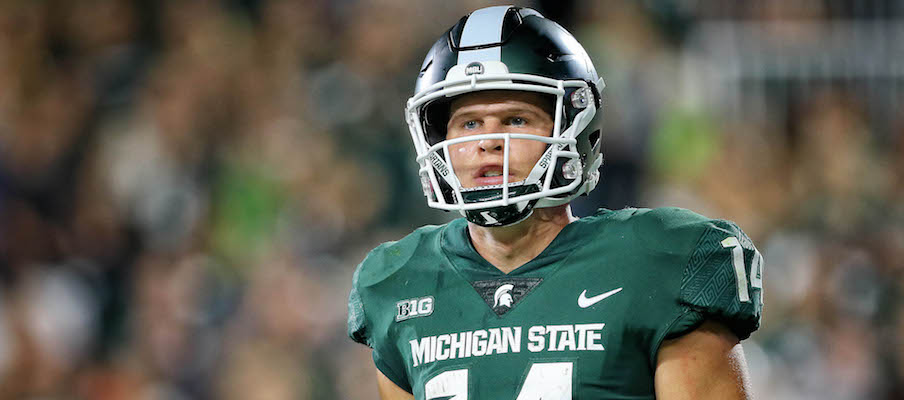 Q: Defensively, the Spartans are ranked No. 1 in the nation in rushing yards allowed per game, but they had one of the top rushing defenses in the nation last year too when Ohio State ran for 335 yards and four touchdowns against them. Is there anything different about this year's rushing defense that makes them even tougher to run the ball on?
Wenzel: There's no getting around the fact Ohio State embarrassed Michigan State last year. For a program built on toughness and stopping the run, allowing 335 yards was surprising and that total included missed assignments on big plays. Mike Weber and J.K. Dobbins form a talented duo, but the Spartans are better defensively than they showed last year.
They have proved it this season and limited seven of nine opponents to fewer than 100 yards rushing. It's a bit of a stretch to expect them to do the same this week, but Michigan State should keep Ohio State from racking up another huge total. Williams and fellow defensive tackle Mike Panasiuk are a load in the middle, end Kenny Willekes will make plays in the backfield, the linebackers have shown growth and Willis is a strong tackler coming downfield.
Q: Who are some of the Michigan State players that Ohio State and its fans should be keeping a close eye on in this game?
Wenzel: Lewerke remains the starter despite an injury that has limited his effectiveness but he's still a threat in the running game. If Lewerke struggles, redshirt freshman Rocky Lombardi could be plugged in, and he threw for 318 yards and two touchdowns in a win against Purdue in his first career start last month.
Scott remains questionable this week so keep an eye on Connor Heyward. The sophomore rushed for a career-high 157 yards and two touchdowns in last week's win at Maryland.
Leading receiver Felton Davis' college career is done due to a torn Achilles tendon and Cody White returned last week after missing four games due to a broken left hand. He was still wearing a cast but made a highlight-reel catch that shows why he is such a valuable member of the offense and missed over the last month.
On defense, Williams will be a problem for Ohio State's front five. Willekes is their top rusher off the edge and best hope at getting to Dwayne Haskins and limiting his time to throw. In addition to Layne, cornerback Josiah Scott returned last week after missing the first eight games of the season due to a torn meniscus suffered early in fall camp. He will likely be challenged a lot more than he was against Maryland's poor passing attack.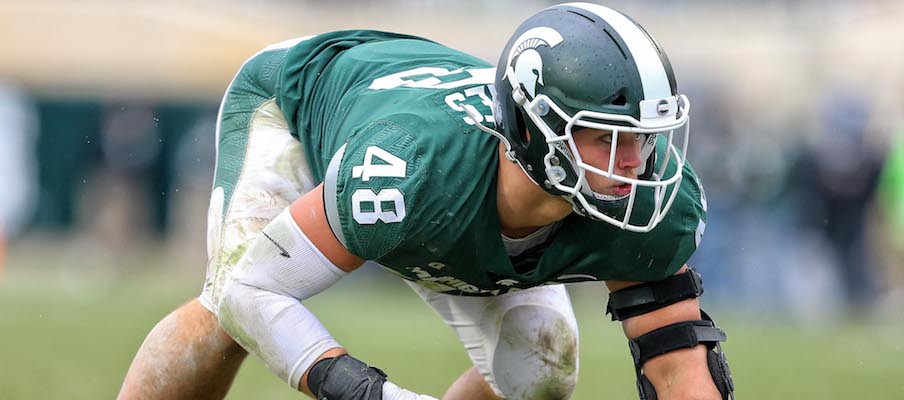 Q: For fans who are making the trip to East Lansing this weekend, are there any restaurants or other attractions you recommend visiting while in the area?
Wenzel: Given the forecast calls for a high of 33 degrees on Saturday, I'll focus on indoor options that include food and drinks. East Lansing provides the typical variety of college-town choices that will be crowded on gameday but if you're planning on staying close, Dagwood's – just barely west of campus – is a personal favorite. It's a classic, small, establishment with good burgers and cheap prices.
If you want to venture away from the crowds, I highly recommend Harry's Place, a former GM shop bar just west of downtown Lansing that has been transformed into a neighborhood bar. Good food, good prices and a friendly staff at a family-run establishment.
For those who want a little culture, the Michigan Historical Museum in downtown Lansing is actually quite interesting. The exhibits include everything from mining to automotive production to the 1960s. 
Q: How do you see Saturday's game playing out?
Wenzel: Michigan State will be plenty motivated following last year's embarrassment and its defense is good enough to keep the score down, even against a high-powered Ohio State offense. But, there's too much uncertainty on offense for the Spartans. Unlike last year, I think it will be close in the fourth quarter, but the Buckeyes have more weapons on offense than the Spartans. I'll take Ohio State to win, 24-20.