For the first time since its first two games of the season, Ohio State ran for more than five yards per carry on Saturday against Nebraska – 5.7, to be exact – after averaging less than four yards per carry in each of its previous five games.
The Buckeyes appeared to have finally found a solution for their running game that has struggled for most of the season, but whether they actually have will be put to a much stronger test this weekend at Michigan State.
Nebraska's rushing defense is ranked 81st in the Football Bowl Subdivision in rushing yards allowed per game (173) and 91st in the FBS in rushing yards allowed per carry (4.6). Michigan State's rushing defense, on the other hand, is ranked first in the nation in rushing yards allowed per game (71.7) and third in rushing yards allowed per carry (2.5).
That said, the Buckeyes can't afford to allow tougher competition to inhibit the progress that they've finally made. When asked during his press conference Monday whether what worked for the rushing offense in Saturday's 36-31 win over Nebraska would be sustainable against Michigan State, Ohio State coach Urban Meyer said "it has to be."
"Schematically, it will change because a completely different defense," Meyer said. "(Nebraska) was a Bear zero, 3-4 look, and this is going to be a 4-3 look. So schematically, it's different. But the mentality has to be the same."
The big change the Buckeyes made to their running game against Nebraska was deviating away from the run-pass options that they had used all season and throughout J.T. Barrett's tenure at quarterback, and handing the ball off directly to their running backs instead. Running back Mike Weber and right tackle Isaiah Prince both said after the game that that they didn't think Ohio State ran any RPOs on Saturday, and they felt the shift to a more traditional running attack played a big part in their success.
"It makes a big difference," Prince said. "You know you can fly off the ball, come off the ball hard and not have to worry about … when you do an RPO and the quarterback pulls the ball, you lose sense of where the defense is supposed to be. Me being a veteran, I know on certain run plays, I know exactly how the defense is going to react in certain situations. So when you add RPOs, it kind of makes it harder."
It wasn't entirely true that Ohio State didn't use any RPOs on Saturday, Meyer said, but those plays were clearly de-emphasized while the majority of running plays were direct handoffs to J.K. Dobbins or Weber, and he said that decision was made based on the two weeks of work the Buckeyes put into their run game between the loss to Purdue and the Nebraska game.
"That (decision to change the running game plan) was part of those hours and hours and hours of how do we get those two guys (Dobbins and Weber) involved in the game and let them drop their pads and go do what they do best, and that's run the ball," Meyer said.
The Buckeyes' mentality against Nebraska, Weber and Prince said, was to prove they could run the ball no matter how the Cornhuskers tried to defend them.
"We had a real good emphasis on running the ball the whole week of practice," Weber said. "Coaches told us to try to run guys over and get through the pile and stuff like that, and our O-line had to block better. We did that this week."
In agreement with Meyer, Prince says the Buckeyes cannot lose that mentality despite the Spartans' proven track record of stopping the run.
"It's very important to run the ball," Prince said. "To kind of break their will, you got to play tough and physical. That's the only way to break a defense, to be physical."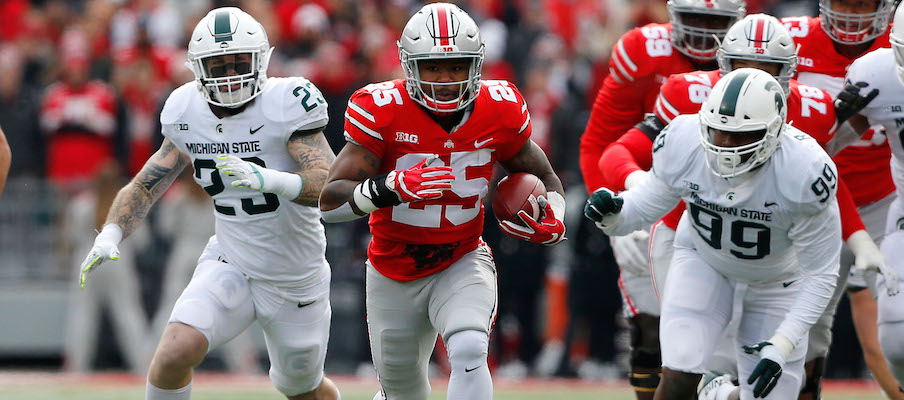 Meyer, who described Michigan State's defensive front and linebackers as "outstanding," knows his offense will face a tough challenge in East Lansing on Saturday (Noon, FOX). He has confidence, though, because of what he saw from the running game this past weekend.
"That's what we're working on right now. Obviously you're facing the number one rush defense in the country coming up this week," Meyer said. "But our offensive line played very well (against Nebraska) and the backs, that was their best pad level game as far as dropping their pads and getting through those holes."
Ohio State has had success running the ball against highly ranked Michigan State defenses before; just last season, the Buckeyes ran for just under eight yards per carry against a Spartans defense that held but all one of its other opponents (Notre Dame) to 3.2 yards per carry or less. So they'll look to replicate that again this week against a defense that Meyer says has done "a little bit different things this year" but "hasn't changed that much."