While Ohio State might have to make some personnel changes over the next two weeks before its next game against Nebraska, it didn't make many this past Saturday against Purdue.
Ohio State played a total of 60 players, the same number it had played in each of its last three games, in its 49-20 loss in West Lafayette on Saturday.
56 of those 60 players were on the field in the Buckeyes' previous game against Minnesota. Defensive end Jonathon Cooper and linebacker Malik Harrison returned from injuries to play against Purdue; wide receiver Jaylen Harris saw his first playing time in four games on both offense and special teams, while H-back Demario McCall and linebacker Teradja Mitchell also saw playing time on special teams after they didn't see the field versus the Gophers.
Cornerback Damon Arnette, meanwhile, did not make the trip to Purdue due to injury, while running back Master Teague, wide receiver Ellijah Gardiner and defensive tackles Taron Vincent and Antwuan Jackson also didn't see action after playing against Minnesota. (Correction: This article previously stated that Teague played on the kickoff return unit, but he did not; the No. 33 on the kickoff return unit against the Boilermakers was Josh Proctor).
Quarterback Dwayne Haskins played every one of Ohio State's offensive snaps for a fourth consecutive week against Purdue, while all five starting offensive linemen were also on the field for each of the Buckeyes' whopping 100 offensive plays in defeat. Safety Jordan Fuller, meanwhile, played every of one of Ohio State's defensive snaps (74) for the fourth week in a row.
Although the outcome of Saturday's game against the Boilermakers was certainly different than the wins Ohio State achieved in its first seven games of the year, the Buckeyes' personnel was mostly the same, with the exceptions of where they were affected by injuries, most prominently with Arnette's absence in the secondary – which led to cornerback Jeffrey Okudah, slot cornerback Shaun Wade and safety Isaiah Pryor, among other defenders also including defensive end Jonathon Cooper and defensive tackle Davon Hamilton, playing their career-highs in snaps for the scarlet and gray on Saturday.
Coming off an embarrassing 29-point loss to an unranked opponent on the road, how Ohio State utilizes its personnel will be scrutinized more heavily than ever before. To allow you to draw your own conclusions on what the Buckeyes should change, we present the data for who played where and how much in our weekly Snap Counts series.
All snap counts listed are compiled by Eleven Warriors data analyst Matt Gutridge and should be considered unofficial, as Ohio State does not make its official snap counts public. It is not always possible to see all 11 players on the field from TV broadcast angles, particularly on special teams plays, so exact special teams snap counts are not included and offensive and defensive snap counts could potentially differ from those tracked by Ohio State's coaches.
Quarterbacks
Dwayne Haskins: 100
Ohio State's offense hit the century mark in plays run in Saturday's game, and Haskins was on the field for every one of them, marking the fourth straight game that he was the only quarterback to play for the Buckeyes. He threw the ball on 75 of those plays – including two plays that did not count as passing attempts due to penalties – as Ohio State threw the ball more times than it ever had in any previous game in school history.
Running Backs
Mike Weber: 57
J.K. Dobbins: 43
Demario McCall: Special teams only
Per usual, Ohio State alternated its running back by series throughout Saturday's game, but although Dobbins started for the Buckeyes, Weber played more snaps than Dobbins for the first time since the third game of the year against TCU and just the second time all season.
Neither running back, however, had many rushing attempts for the amount of snaps they played. Weber carried the ball just nine times in Saturday's game for 45 yards, while Dobbins had 11 carries for just 24 yards.
Wide Receivers
K.J. Hill: 59
Binjimen Victor: 58
Terry McLaurin: 57
Parris Campbell: 50
Johnnie Dixon: 45
Austin Mack: 34
Jaylen Harris: 6
C.J. Saunders: 5
Chris Olave: Special teams only
While the Buckeyes began Saturday's game with their same wide receiver rotation as usual, Mack left the game due to injury in the third quarter, leading to Victor – who had played the least snaps of Ohio State's top six receivers in the previous five games – playing a career-high in snaps at X receiver. Harris also saw some playing time at the X position – his first playing time since the Buckeyes' fourth game of the year against Tulane – on two series in the fourth quarter.
Saunders, who typically checks in as the fourth receiver in four-receiver sets, also left the game with an injury after taking a hard hit from behind in the second quarter. With Saunders out of the lineup, Hill and Campbell were both on the field together went the Buckeyes went back to their four-receiver offense on their final possession of the game.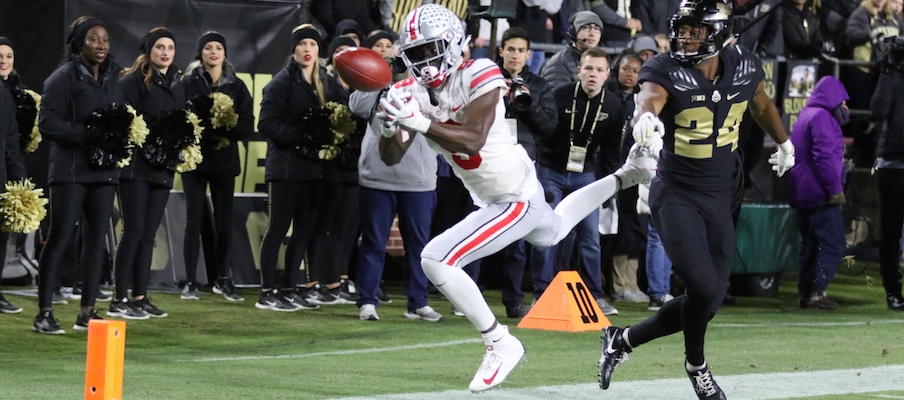 Tight Ends
Luke Farrell: 62
Rashod Berry: 17
Jeremy Ruckert: 7
Jake Hausmann: Special teams only
Berry started the game at Purdue, as Ohio State continued alternating starts between its top two tight ends, but after he was responsible for back-to-back penalties on the Buckeyes' first offensive play of the game, he was replaced in the lineup by Farrell and did not return to the field until the second quarter. Farrell went on to play the most snaps of any individual Ohio State tight end in any game this year – and the most of his career – as Berry only saw occasional playing time for the rest of the contest.
All seven of Ruckert's snaps came in the fourth quarter, at which point the Boilermakers had already built a commanding lead in the game.
Offensive Linemen
Thayer Munford: 100
Malcolm Pridgeon: 100
Michael Jordan: 100
Demetrius Knox: 100
Isaiah Prince: 100
Joshua Alabi: Special teams only
Gavin Cupp: Special teams only
Josh Myers: Special teams only
Wyatt Davis: Special teams only
Kevin Woidke: Special teams only
Despite leaving the Buckeyes' previous game against Minnesota in the third quarter with an ankle and hip injury, Munford started at left tackle for Ohio State on Saturday and played all 100 snaps of the game. Pridgeon, Jordan, Knox, Prince also played every snap from left guard to right tackle, marking the fourth straight game and fifth time this season that all four of them played every snap of the game, as all four have played every first-team offensive snap for the Buckeyes this season.
Defensive Ends
Jonathon Cooper: 66
Chase Young: 63
Jashon Cornell: 17
Tyreke Smith: 6
Tyler Friday: 1
With Nick Bosa officially done as a Buckeye, Cooper and Young were each on the field at defensive end for more than 85 percent of Ohio State's 74 defensive snaps in Saturday's game, with Cooper leading the way with a career-high 66 snaps. 
Cornell rotated in for most of the snaps when either one of them came out of the game, but true freshmen Smith and Friday also each rotated in for one snap at defensive end, with Smith also playing five snaps at defensive tackle in the Rushmen package.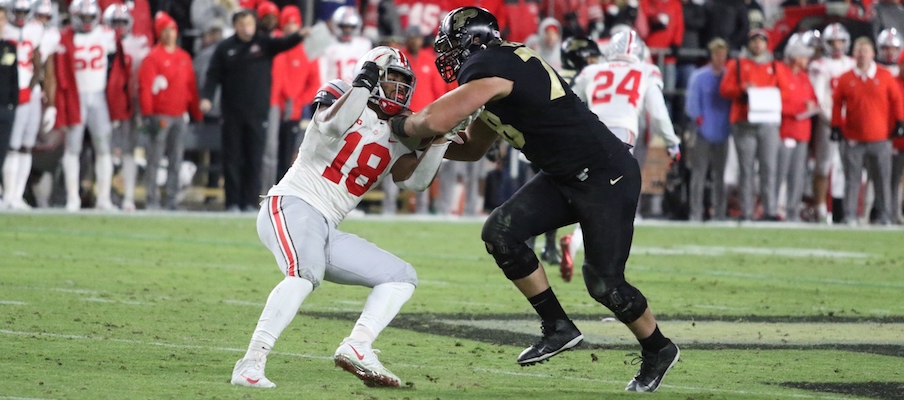 Defensive Tackles
Dre'Mont Jones: 72
Davon Hamilton: 39
Robert Landers: 21
Haskell Garrett: 3
Tommy Togiai: 3
Jones played all but two of Ohio State's defensive snaps in Saturday's game, with Garrett replacing him for those two plays and also playing one additional snap in a goal-line package. Hamilton started Saturday's game at nose tackle in place of Landers, who left the Buckeyes' previous game early due to injury, but Landers still saw playing time in the rotation throughout Saturday's game, while Togiai also rotated in for a trio of plays at nose tackle.
Linebackers
Malik Harrison: 56
Pete Werner: 47
Tuf Borland: 38
Baron Browning: 31
Justin Hilliard: 3
Dante Booker: Special teams only
Dallas Gant: Special teams only
Keandre Jones: Special teams only
Teradja Mitchell: Special teams only
K'Vaughan Pope: Special teams only
In a game in which Ohio State played at least five defensive backs for 53 out of 74 defensive plays, the Buckeyes used a variety of different nickel packages, with Harrison, Werner, Borland and Browning all on the field for some but not all of those packages.
Borland played all the snaps at middle linebacker alongside Harrison and Werner in the 4-3 defense, though Hilliard substituted in for Harrison for three fourth-quarter snaps in the base defense. Harrison and Browning saw the most playing time in nickel and dime packages, but Werner and Borland substituted in for some snaps in those formations as well.
Cornerbacks
Kendall Sheffield: 73
Jeffrey Okudah: 72
Shaun Wade: 53
Amir Riep: 2
Josh Proctor: 1
With Damon Arnette sidelined by injury, Sheffield played all but one of Ohio State's defensive snaps while Okudah played all but two, with each player missing one snap due to injury (Okudah's being Ohio State's final defensive play of the game) and Okudah checking out for one play when the Buckeyes went into their goal-line defensive formation.
Wade played all of his snaps at slot cornerback with the exception of one; when Sheffield checked out of the game, Wade slid outside for one play and Proctor filled in at Wade's spot. Riep, meanwhile, checked in for Okudah on Ohio State's final defensive play of the game (on which Rondale Moore ran by every other player in the Buckeyes' back seven en route to a 43-yard touchdown) at outside cornerback, while he also played one snap as a third safety in a dime package.
Safeties
Jordan Fuller: 74
Isaiah Pryor: 73
Marcus Hooker: Special teams only
Brendon White: Special teams only
Jahsen Wint: Special teams only
Fuller played every one of Ohio State's defensive snaps for the fourth straight week against Purdue. Pryor, meanwhile, played every snap but one – when the Buckeyes used their goal-line defense – as Ohio State did not rotate at either safety spot for the first time all season, resulting in Pryor played his career-high in single-game snaps to date.
Field Goals/Extra Points
Blake Haubeil (kicker)
Drue Chrisman (holder)
Liam McCullough (long snapper)
Luke Farrell (blocker)
Joshua Alabi (blocker)
Wyatt Davis (blocker)
Josh Myers (blocker)
Davon Hamilton (blocker)
Gavin Cupp (blocker)
Kevin Woidke (blocker)
Rashod Berry (blocker)
Haubeil filled in for an injured Sean Nuernberger for a second straight week on the placekicking unit, and went 2-for-3 on field goals with two made extra points. The rest of this unit's lineup remained unchanged.
Kickoffs
Blake Haubeil (kicker)
Amir Riep (gunner)
K.J. Hill or Chris Olave (gunner)
Dallas Gant (gunner)
Keandre Jones (gunner)
K'Vaughan Pope (gunner)
Justin Hilliard (gunner)
Jahsen Wint (gunner)
Brendon White (gunner)
Marcus Hooker (gunner)
Joshua Proctor (gunner)
Hilliard and Gant returned to Ohio State's starting kickoff unit at Purdue, replacing Jeffrey Okudah and Baron Browning. The rest of the lineup for this unit remained the same as the previous game against Minnesota, with Hill taking the field for the Buckeyes' first two kickoffs before being replaced by Olave.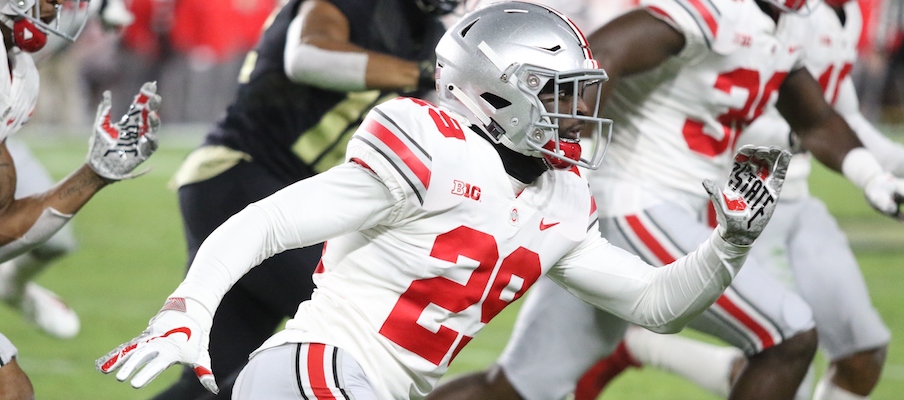 Onside Kick
Blake Haubeil (kicker)
Johnnie Dixon
Jeffrey Okudah
Jordan Fuller
Kendall Sheffield
Binjimen Victor
K.J. Hill
Pete Werner
Parris Campbell
Justin Hilliard
Terry McLaurin
Down 35-20 with less than five minutes to play in Saturday's game, Ohio State attempted its first onside kick of the year on its final kickoff at Purdue. Its seldom-used onside kick unit, alongside Haubeil, was made up entirely of wide receivers, linebackers and defensive backs who all either start or otherwise play regularly for the Buckeyes on offense or defense. The Buckeyes did not recover their onside kick.
Kickoff Returns
Johnnie Dixon (returner/blocker)
C.J. Saunders or Demario McCall (returner/blocker)
Jake Hausmann (blocker)
Jeremy Ruckert (blocker)
Justin Hilliard (blocker)
Binjimen Victor (blocker)
Keandre Jones (blocker)
Dallas Gant (blocker)
Jahsen Wint (blocker)
Brendon White (blocker)
Josh Proctor (blocker)
Saunders lined up as Ohio State's secondary kickoff returner to begin Saturday's game, but was replaced in the lineup by McCall after leaving the game with his injury. Hilliard returned to the kickoff return unit at Purdue, taking Shaun Wade's spot in the lineup. Proctor took Teague's place in the lineup. The rest of the kickoff return unit personnel was unchanged from the Buckeyes' previous game against Minnesota.
Punts
Drue Chrisman (punter)
Liam McCullough (long snapper)
Tuf Borland (upback)
Teradja Mitchell (upback)
Malik Harrison (guard)
Justin Hilliard (guard)
Parris Campbell (tackle)
Dante Booker (tackle)
Pete Werner (wing)
Chris Olave or Johnnie Dixon (gunner)
Terry McLaurin (gunner)
Harrison returned to the punting unit at Purdue after missing the Minnesota game due to injury. Jonathon Cooper, however, did not return to his usual role as an upback on the punting unit despite returning from injury to play on defense; Mitchell took his place in that spot. And with Okudah playing nearly every snap on defense, Olave and Dixon alternated snaps in his place on punt coverage.
The rest of the punt team remained the same from the Minnesota game.
Punt Blocks/Returns
K.J. Hill (returner)
Chris Olave (rusher/blocker)
Jaylen Harris (rusher/blocker)
Josh Proctor (rusher/blocker)
Amir Riep (rusher/blocker)
Isaiah Pryor (rusher/blocker)
Keandre Jones (rusher/blocker)
Dallas Gant (rusher/blocker)
Jahsen Wint (rusher/blocker)
Brendon White (rusher/blocker)
Justin Hilliard (rusher/blocker)
Ohio State kept its regular defense (with the exception of Pryor, with Hill in his place) on the field for four of Purdue's six punts, but on the Boilermakers' other two punts, the Buckeyes made some new additions to their punt block/return unit. Hilliard and Olave returned to the lineup after not playing on the punt return unit against Minnesota, while Proctor was promoted to the lineup and Harris was also added to the unit.
Jeffrey Okudah, Kendall Sheffield and Shaun Wade were all taken off the punt return unit with their increased workload in the secondary, while Johnnie Dixon also did not appear on the unit after playing on it against Minnesota.
SNAP TRACKER: OFFENSE

| POS | PLAYER | ORST | RU | TCU | TU | PSU | IU | UM | PUR | TOTAL |
| --- | --- | --- | --- | --- | --- | --- | --- | --- | --- | --- |
| QB | DWAYNE HASKINS | 68 | 48 | 84 | 43 | 79 | 96 | 77 | 100 | 595 |
| QB | TATE MARTELL | 20 | 26 | DNP | 34 | DNP | DNP | DNP | DNP | 80 |
| QB | CHRIS CHUGUNOV | DNP | 4 | DNP | DNP | DNP | DNP | DNP | DNP | 4 |
| RB | J.K. DOBBINS | 38 | 26 | 39 | 33 | 51 | 55 | 42 | 46 | 330 |
| RB | MIKE WEBER | 34 | 26 | 47 | 12 | 31 | 43 | 35 | 56 | 284 |
| RB/WR | DEMARIO MCCALL | 4 | 10 | DNP | 19 | DNP | DNP | DNP | ST | 33 |
| RB | MASTER TEAGUE | 7 | 10 | DNP | 13 | DNP | DNP | ST | DNP | 30 |
| RB | BRIAN SNEAD | 11 | 16 | DNP | DNP | DNP | DNP | DNP | DNP | 27 |
| WR | AUSTIN MACK | 38 | 31 | 49 | 36 | 48 | 63 | 47 | 34 | 346 |
| WR | TERRY MCLAURIN | 35 | 29 | 51 | 19 | 44 | 50 | 36 | 57 | 321 |
| WR | PARRIS CAMPBELL | 36 | 26 | 35 | 25 | 40 | 42 | 34 | 50 | 288 |
| WR | JOHNNIE DIXON | 35 | 23 | 33 | 29 | 36 | 45 | 38 | 45 | 284 |
| WR | K.J. HILL | 22 | 19 | 35 | 21 | 32 | 46 | 36 | 59 | 270 |
| WR | BINJIMEN VICTOR | 41 | 25 | 32 | 13 | 27 | 31 | 31 | 58 | 258 |
| WR | C.J. SAUNDERS | 14 | 14 | 9 | 29 | 6 | 6 | 16 | 5 | 99 |
| WR | CHRIS OLAVE | 18 | 16 | ST | 24 | ST | DNP | ST | ST | 58 |
| WR | JAYLEN HARRIS | 7 | 13 | DNP | 20 | DNP | DNP | DNP | 6 | 46 |
| WR | JAELEN GILL | DNP | 6 | DNP | 9 | DNP | DNP | DNP | DNP | 15 |
| WR | GARYN PRATER | DNP | 7 | DNP | 4 | DNP | DNP | DNP | DNP | 11 |
| WR | ELLIJAH GARDINER | DBP | 3 | DNP | 4 | DNP | DNP | ST | DNP | 7 |
| WR | SAM WIGLUSZ | DNP | 7 | DNP | DNP | DNP | DNP | DNP | DNP | 7 |
| WR | L'CHRISTIAN "BLUE" SMITH | DNP | DNP | DNP | 4 | DNP | DNP | DNP | DNP | 4 |
| TE | LUKE FARRELL | 43 | 27 | 30 | 18 | 41 | 33 | 33 | 62 | 287 |
| TE | RASHOD BERRY | 34 | 27 | 58 | 23 | 37 | 54 | 35 | 17 | 285 |
| TE | JEREMY RUCKERT | 23 | 23 | DNP | 22 | 2 | 10 | 2 | 7 | 89 |
| TE | JAKE HAUSMANN | DNP | DNP | DNP | 9 | ST | 2 | ST | ST | 11 |
| TE | DERRICK MALONE | DNP | 2 | DNP | DNP | DNP | DNP | DNP | DNP | 2 |
| TE | MITCH ROSSI | DNP | 2 | DNP | DNP | DNP | DNP | DNP | DNP | 2 |
| TE | TATE DUARTE | DNP | 2 | DNP | DNP | DNP | DNP | DNP | DNP | 2 |
| OL | MALCOLM PRIDGEON | 70 | 52 | 84 | 49 | 79 | 96 | 77 | 100 | 607 |
| OL | MICHAEL JORDAN | 70 | 52 | 84 | 49 | 79 | 96 | 77 | 100 | 607 |
| OL | DEMETRIUS KNOX | 70 | 52 | 84 | 49 | 79 | 96 | 77 | 100 | 607 |
| OL | ISAIAH PRINCE | 70 | 52 | 84 | 49 | 79 | 96 | 77 | 100 | 607 |
| OL | THAYER MUNFORD | 70 | 52 | 84 | 49 | 79 | 96 | 52 | 100 | 582 |
| OL | JOSHUA ALABI | 18 | 26 | ST | 28 | ST | ST | 25 | ST | 97 |
| OL | JOSH MYERS | 18 | 26 | ST | 28 | ST | ST | ST | ST | 72 |
| OL | WYATT DAVIS | 18 | 26 | ST | 28 | ST | ST | ST | ST | 72 |
| OL | NICHOLAS PETIT-FRERE | 18 | 26 | DNP | 28 | DNP | DNP | DNP | DNP | 72 |
| OL | GAVIN CUPP | DNP | 19 | ST | 28 | ST | ST | ST | ST | 47 |
| OL | BRADY TAYLOR | 18 | 7 | DNP | DNP | DNP | DNP | DNP | DNP | 25 |
| OL | KEVIN WOIDKE | ST | ST | ST | ST | ST | ST | ST | ST | ST |
| K | BLAKE HAUBEIL | ST | ST | ST | ST | ST | ST | ST | ST | ST |
| K | SEAN NUERNBERGER | ST | ST | ST | ST | ST | ST | DNP | DNP | ST |
SNAP TRACKER: DEFENSE

| POS | PLAYER | ORST | RU | TCU | TU | PSU | IU | UM | PU | TOTAL |
| --- | --- | --- | --- | --- | --- | --- | --- | --- | --- | --- |
| DE | CHASE YOUNG | 28 | 24 | 51 | 24 | 76 | 68 | 55 | 63 | 389 |
| DE | JONATHON COOPER | 25 | 22 | 52 | 24 | 58 | 46 | DNP | 66 | 293 |
| DE | JASHON CORNELL | 18 | 9 | 10 | 21 | 15 | 20 | 48 | 17 | 158 |
| DE/DT | TYREKE SMITH | 17 | 33 | 6 | 28 | 8 | 15 | 13 | 6 | 126 |
| DE | NICK BOSA | 35 | 37 | 41 | DNP | DNP | DNP | DNP | DNP | 113 |
| DE | TYLER FRIDAY | 12 | 18 | DNP | 29 | 2 | 6 | 4 | 1 | 72 |
| DE | AARON COX | 3 | DNP | DNP | 2 | DNP | DNP | DNP | DNP | 5 |
| DE | NOAH DONALD | 3 | DNP | DNP | 2 | DNP | DNP | DNP | DNP | 5 |
| DT | DRE'MONT JONES | 33 | 35 | 67 | 27 | 75 | 64 | 52 | 72 | 425 |
| DT | DAVON HAMILTON | 14 | 10 | 25 | 17 | 36 | 28 | 29 | 39 | 198 |
| DT | ROBERT LANDERS | 18 | 25 | 36 | DNP | 29 | 30 | 16 | 21 | 175 |
| DT | TOMMY TOGIAI | 13 | 12 | DNP | 16 | 2 | 10 | 7 | 3 | 63 |
| DT | HASKELL GARRETT | 15 | 4 | 10 | 13 | 4 | 9 | 4 | 3 | 62 |
| DT | TARON VINCENT | 12 | 14 | DNP | 16 | DNP | 3 | 4 | DNP | 49 |
| DT | ANTWUAN JACKSON | 4 | 5 | DNP | 12 | DNP | DNP | 3 | DNP | 24 |
| DT | JERRON CAGE | 6 | 3 | DNP | 8 | DNP | DNP | DNP | DNP | 17 |
| LB | PETE WERNER | 56 | 48 | 53 | 26 | 79 | 70 | 59 | 47 | 438 |
| LB | MALIK HARRISON | 56 | 43 | 76 | 29 | 79 | 56 | DNP | 56 | 395 |
| LB | BARON BROWNING | 37 | 17 | 33 | 21 | 31 | 40 | 20 | 31 | 230 |
| LB | TUF BORLAND | 9 | 21 | 39 | 15 | 36 | 30 | 39 | 38 | 227 |
| LB | JUSTIN HILLIARD | 9 | 17 | ST | 21 | ST | 9 | 49 | 3 | 108 |
| LB | KEANDRE JONES | 9 | 12 | ST | 29 | ST | ST | 1 | ST | 51 |
| LB | DANTE BOOKER | 9 | 15 | ST | 27 | DNP | ST | ST | ST | 51 |
| LB | DALLAS GANT | ST | ST | ST | 8 | ST | ST | ST | ST | 8 |
| LB | K'VAUGHAN POPE | ST | ST | ST | 2 | ST | ST | ST | ST | 2 |
| LB | TERADJA MITCHELL | ST | ST | DNP | 2 | ST | ST | DNP | ST | 2 |
| CB | KENDALL SHEFFIELD | 49 | 31 | 65 | 20 | 68 | 60 | 51 | 73 | 417 |
| CB | JEFFREY OKUDAH | 42 | 22 | 38 | 29 | 43 | 43 | 55 | 72 | 344 |
| CB | DAMON ARNETTE | 34 | 37 | 52 | 30 | 47 | 49 | 12 | DNP | 261 |
| CB/S | SHAUN WADE | 9 | 27 | 39 | 25 | 23 | 34 | 33 | 53 | 243 |
| CB | MARCUS WILLIAMSON | 1 | 21 | ST | 20 | ST | ST | DNP | DNP | 42 |
| CB | CAMERON BROWN | 9 | 5 | ST | 10 | ST | DNP | DNP | DNP | 24 |
| CB | TYREKE JOHNSON | DNP | DNP | ST | 2 | ST | DNP | DNP | DNP | 2 |
| S | JORDAN FULLER | DNP | 42 | 77 | 29 | 79 | 76 | 59 | 74 | 436 |
| S | ISAIAH PRYOR | 53 | 34 | 61 | 42 | 60 | 35 | 36 | 73 | 394 |
| S | JAHSEN WINT | 56 | 26 | 16 | 22 | 19 | 33 | ST | ST | 172 |
| S | BRENDON WHITE | 9 | 13 | ST | 25 | ST | ST | ST | ST | 47 |
| S/CB | AMIR RIEP | 12 | 11 | DNP | DNP | ST | 1 | ST | 2 | 26 |
| S/CB | JOSH PROCTOR | ST | ST | DNP | 2 | DNP | DNP | ST | 1 | 3 |
| S | MARCUS HOOKER | DNP | DNP | DNP | DNP | DNP | DNP | ST | ST | ST |
| P | DRUE CHRISMAN | ST | ST | ST | ST | ST | ST | ST | ST | ST |
| LS | LIAM MCCULLOUGH | ST | ST | ST | ST | ST | ST | ST | ST | ST |