Purdue Iowa'd Ohio State.
There's no other way to describe the Buckeyes' 49-20 upset loss in West Lafayette, Indiana. 
It was an ugly weekend for the Buckeyes, so let's not waste any time. Here are the risers and fallers for the weekend.
Stock Up
Rondale Moore
Sometimes, it's better to be a great freshman on a mediocre team than a great freshman on a nationally ranked team filled with former four-star and five-star prospects. Ohio State, Alabama, Georgia, Texas and other power schools wanted the No. 229 overall prospect in the 2018 recruiting cycle. But had Rondale Moore opted to sign with the Buckeyes (he picked up the hat, then set it back down before picking up the Boilermakers hat on signing day), he almost assuredly would not be getting as many touches as he does at Purdue.
The Buckeyes got a first-hand look at him on Saturday. The 5-foot-9 speedster had 12 catches for 170 yards, both of which were career bests. He had two touchdowns, including a 43-yard fourth-quarter score during which he broke Isaiah Pryor's attempted tackle for the final offensive points of the game.
Unbelievable 4#BoilerUp #LetsPlayFootball pic.twitter.com/vSrb88xUpP

— Purdue Football (@BoilerFootball) October 22, 2018
If you didn't know about Moore before Saturday, you certainly do now. Luckily for the Buckeyes, Purdue does not play them in the regular season either of the next two years, so they might never have to deal with him again. Unless Moore stays for his senior season (Purdue and Ohio State play on Oct. 9, 2021), Ohio State would only have to deal with him if both teams made the Big Ten championship in 2018, 2019 or 2020.
Jeff Brohm
Losses to Northwestern, Eastern Michigan and Missouri to begin the season casted doubt on whether second-year head coach Jeff Brohm had made much progress at Purdue. Those early season struggles won't define his season, though Saturday's upset of of Ohio State might.
The Boilermakers upset then-No. 23 Boston College to end the three-game slide, then beat Nebraska and Illinois to enter their game against the Buckeyes riding a three-game win streak. They didn't just extend the streak to four wins, crossing the midway point of the season with an above .500 record. The win was the most important of Brohm's short head coaching career.
That kind of victory makes a head coach millions of dollars. Louisville and a bevy of other programs will surely try to pile together enough cash to pull Brohm away from Purdue in the offseason. He'll be a wanted man, especially if Purdue finished the regular season well against Iowa, Michigan State, Minnesota, Wisconsin and Indiana. It's not a cakewalk, but Brohm showed the team's potential on Saturday.
Michigan
Ohio State's bad weekend didn't just take place in West Lafayette, Indiana. Michigan rolled over Michigan State for a 21-7 win earlier in the day. Surely just 21 points shouldn't make any Buckeye fans worried, but given Ohio State's 20-point performance against Purdue and the lack of success running the ball, particularly in the red zone, the Wolverine defense should strike fear. The Spartans gained just 94 total yards and picked up 15 yards on the ground.
Oh, and Chase Winovich went full WWE after the win.
"We knew they couldn't hang with us... Sometimes your little brother starts acting up, and you just gotta put them in place."

- @Chase_Winovich was wildin' postgame after @UMichFootball beat Michigan State. pic.twitter.com/MGXX3V9UAp

— Big Ten Network (@BigTenNetwork) October 20, 2018
Ohio State and Michigan trended in vastly different ways this weekend. An entire month remains before the teams will face off at Ohio Stadium on Nov. 24, but the Buckeyes played their worst game of the season this weekend while the Wolverines beat their rival by two touchdowns. Ohio State must beat Michigan in order to have a shot at a spot in the College Football Playoff.
Middle-of-the-road Big Ten teams playing host to Ohio State in the middle of the season
Is that specific enough?
Iowa decimated Ohio State last season, then Purdue dominated the Buckeyes on Saturday. A loss to Purdue wasn't too surprising – even though Urban Meyer said he was surprised – but the decisiveness was. No team as talented as Ohio State should get beat by either Purdue or Iowa by dozens of points.
So, who's the next Purdue or Iowa? Next season, the Buckeyes will take on Indiana, Nebraska, Northwestern and Rutgers on the road. Cross off Rutgers because it's Rutgers. Cross off Northwestern. That leaves Indiana and Nebraska, and I'm going with Nebraska as the most challenging road game despite Scott Frost's issues in Year 1.
Stock Down
Ohio State in the red zone
For the entire season, Ohio State has struggled in the red zone. But in the past couple weeks, the problem became even more dire. Seemingly nothing has worked. The team did not score a touchdown in the red zone on Saturday and didn't reach the end zone the prior game against Minnesota, either.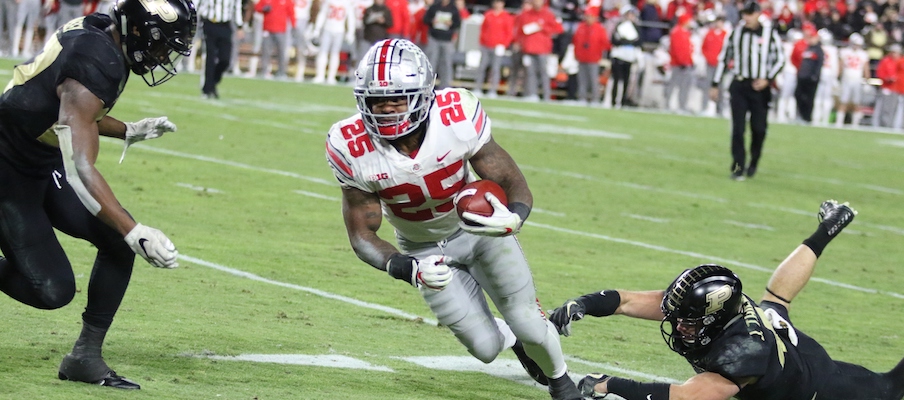 Ohio State managed just six points in five red-zone trips against Purdue. It's be stating the obvious, but that certainly can't fly against teams like Purdue that can put up points in bunches. Without J.T. Barrett or any other dual-threat quarterback, defenses have been cheating on run-pass options. No defender pays attention to Dwayne Haskins, and the edge rushers crash down the line to stuff runs. The coaching staff hasn't figured out how best to utilize Haskins in the red zone. If the problem persists, it's hard to imagine Ohio State winning the remainder of its games and reaching the ultimate goal, the College Football Playoff.
Billy Davis
It's not a hot take to wonder how Billy Davis was hired last offseason, or to ask why Meyer retained him for a second season. The best man in Meyer's wedding, Davis had never coached or recruited at the collegiate level and spent decades coaching for nine different teams in the NFL. He had three stints as a defensive coordinator in the NFL, but never lasted more than three years at any stop.
Davis was given only a one-year deal in 2017, a rarity for an assistant on Meyer's staff, but was brought back for the 2018 season. He did not get a raise on his $500,000 salary, though.
It shouldn't be much of a surprise that Ohio State's linebackers didn't impress last year under the tutelage of Davis and haven't made substantial steps this season, either. Malik Harrison has flashed at times, but none of the other linebackers have played at a consistently solid level. The scheme also seems to be an issue, and former Ohio State linebacker James Laurinaitis touched on that on Monday. I don't expect Davis to be back again next year, but I didn't think he would return after last season, either.
Ohio State's Offensive Line
Part of the reason Ohio State's run game has suffered lies with the offensive line, which has effectively protected Haskins in the pass game, but hasn't been able to get much of a push on run plays.
Thayer Munford, Malcolm Pridgeon, Michael Jordan, Demetrius Knox and Isaiah Prince have each had their fair share of struggles this season. Prince had a solid season last year and got off to a good start again this season, but has had an up-and-down past two games. He hasn't been the biggest problem, though. The interior of the offensive line hasn't been able to create holes for Mike Weber and J.K. Dobbins.