Although Ohio State is 7-0 and Purdue is 3-3, the notion that Saturday's game could be a dangerous game for the Buckeyes really does have a lot to do with what both teams have done this season.
While Ohio State's defense has been shaky, particularly with giving up big plays – the Buckeyes have given up 22 plays of 30 yards or more this season, more than all but five other teams in the Football Bowl Subdivision – Purdue's offense has been explosive, ranking 10th in the FBS with 510.2 yards gained per game and tied for sixth in the nation with 24 plays of 30-plus yards per game.
That's a dangerous combination, and the biggest reason why Buckeyes fans might feel a little consternation about this weekend's trip to West Lafayette.
Even before the season started, though, Ohio State coach Urban Meyer recognized that the Boilermakers were a quietly dangerous future opponent that shouldn't be overlooked.
"Purdue's a team to watch," Meyer said at Big Ten Media Days on July 24. "Their coach is obviously a very good coach. But you feel Purdue now everywhere. And they've done a very nice job."

PURDUE BOILERMAKERS
3-3 (2-1 BIG TEN)
ROSTER / SCHEDULE
---
7:30 P.M. – SATURDAY, OCT. 20
ROSS-ADE STADIUM
WEST LAFAYETTE, INDIANA
---
ABC
WatchESPN
Considering that Meyer was well aware three months ago that Purdue could be a threat, and that he and the rest of the Buckeyes know they need to improve despite their undefeated record, Saturday's game doesn't necessarily fall in the category of a "trap game." If Purdue's three-game winning streak isn't enough to get the Buckeyes' attention, the showcase of the game being played on ABC's Saturday Night Football should be enough to ensure they don't sleepwalk into this one.
Regardless, the Buckeyes appear to be in for a legitimate challenge this weekend at Ross-Ade Stadium – where Ohio State has actually lost in four of its last seven trips dating back to 2000 – and they know this isn't a game they can take lightly.
"We know it's a big challenge," said Ohio State safety Jordan Fuller. "Night game, primetime, against a team that's putting up a lot of points. So it's a big challenge."
Buckeye Breakdown
Coming off an underwhelming showing in a 30-14 win over Minnesota, a team that Ohio State was expected to beat much more handily, the questions surrounding the Buckeyes this week have been many of the same questions that surrounded the Buckeyes last week.
First and foremost, the Buckeyes' defense continues to be a concern. While they only gave up two touchdowns to the Gophers, and shut them out for the entire second half, they allowed Minnesota to gain 396 yards – its second-highest total of the season – with a season-high average of 7.1 yards per play, including eight plays of 15 yards or more.
Meyer is pleased that Ohio State is ranked 24th in the nation in scoring defense, allowing just 19.1 points per game, but as he's been saying for weeks, he's still concerned about the amount of big plays opposing offenses are hitting against his team's defense.
"Defensively, there's been some good scoring defense, we're pretty good," Meyer said. "The big plays are the concern. And we're working extremely hard on that."
One of the reasons why Ohio State's defense has been susceptible to big plays, yet has still been able to limit opponents on the scoreboard, is that the Buckeyes play an aggressive style of defense, particularly in pass defense, in which they try to challenge every throw.
That said, those big plays have been a big part of keeping opponents in games, and if Ohio State continues to give up as many as it has, they could eventually lead to a defeat.
"We know it's a big challenge. Night game, primetime, against a team that's putting up a lot of points."– Ohio State safety Jordan Fuller on Saturday's game at Purdue
Will Purdue be able to take advantage? The Boilermakers are certainly going to try.
"What they do sometimes is they're going to try to take away some of your throws and make you throw it over their head, which I don't blame them, because the chances of completing those are a lot less. But with that, every once in awhile, you're going to hit some of those," Purdue coach Jeff Brohm said of Ohio State's defense this week. "And that's what happened to them a few times. So we're going to kind of have the same approach, and make sure that if we're not getting our quick throws because they're up there tight on us, that we hit some throws up the field.
"They're doing a great job with what they're doing, but because of their aggressive style on defense and their ability to take away with the quick throws, you are going to be susceptible to a little more deep shots if the team can complete them and get open," Brohm continued. "The issue is, 'Are we going to be good enough to get open? Are we good enough to make those throws? Are we going to be good enough to block enough to vertically up the field?' … All those things come into play, but without question, we have to find ways to create some big plays."
On the other side of the ball, the concern for the Buckeyes has been their production in the running game, as their yards per carry have progressively fallen in every game they have played this season, down to just 2.9 yards per rushing attempt (92 yards on 32 carries) against Minnesota.
That hasn't prevented Ohio State from winning a game, either, as the Buckeyes still rank second in the nation in total offense (556.9 yards per game) and sixth in the nation in points scored per game (46.3). That's because their passing game has continued to be spectacular. Dwayne Haskins had another big day last Saturday, throwing for 412 yards and three touchdowns, and K.J. Hill had a career game against the Gophers, catching nine passes for 187 yards and two touchdowns.
While Purdue's offense poses a real threat to Ohio State's defense, Ohio State's offense poses a bigger challenge to Purdue's defense, and the Haskins-led passing attack is the main reason why.
"They've become a pass-first team that sets up the run by throwing the ball. But if you're going to try to just take away the run, they're going to throw the ball every play and they've done it successfully and they've put up a lot of yards," Brohm said of Ohio State. "So this is a challenge for us. This will be the first really team that we've faced that I think is this prolific in the passing game, has been this productive."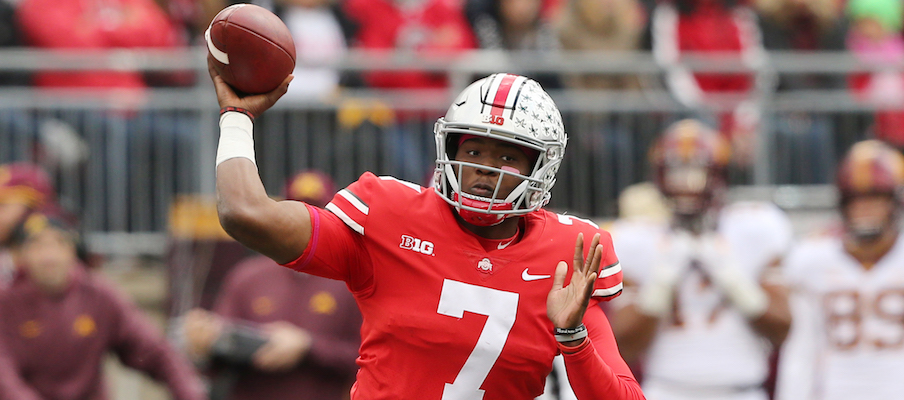 Still, Meyer believes it is crucial for his team to get its running game going, or that could prove costly at some point this season, too.
"We just need to get more balance because at some point – whether it be weather, whether it be defense, whether it be whatever – you need to have a little bit more balance," Meyer said.
The other thing that needs to happen for the Buckeyes, who are playing their eighth straight game without a week off, is to get healthy. Ahead of their open date next week, however, they will have to overcome being banged up to beat the Boilermakers and improve to 8-0.
Defensive end Jonathon Cooper and linebacker Malik Harrison are expected back this week after missing last week's game due to concussion protocol. Starting cornerback Damon Arnette, however, is questionable after leaving last week's game with an injury. Blake Haubeil, who made all three of his field goal attempts for the Buckeyes last week, will start in place of Sean Nuernberger for a second consecutive week at kicker. Left tackle Thayer Munford is considered probable after leaving last week's game with a hip injury, while defensive tackle Robert Landers is also probable after leaving last week's game with an undisclosed injury.
Defensive end Nick Bosa, of course, will not return to Ohio State this season after withdrawing from school earlier this week to focus on his rehabilitation from injury and begin preparing for the 2019 NFL draft.
Purdue Breakdown
2018 Statistical Comparison
 
OFFENSE
46.3
6th
POINTS FOR
33.5
42nd
185.4
52nd
RUSHING OFFENSE
179.3
59th
371.4
3rd
PASSING OFFENSE
330.8
7th
556.9
2nd
TOTAL OFFENSE
510.2
10th
.490
12th
3rd DOWNS
.456
25th
.813
88th
RED ZONE
.903
27th
DEFENSE
19.1
24th
POINTS ALLOWED
23.2
44th
148.0
55th
RUSH DEFENSE
146.8
53rd
221.6
59th
PASS DEFENSE
267.5
108th
120.9
42nd
PASS EFFICIENCY DEFENSE
125.2
53rd
369.6
57th
TOTAL DEFENSE
414.3
92nd
.316
23rd
3rd DOWNS
.293
11th
.875
97th
RED ZONE
.810
54th
SPECIAL TEAMS
5.8
96th
PUNT RETURN
4.9
109th
21.6
54th
KICKOFF RETURN
19.8
85th
43.5
5th
NET PUNTING
40.5
27th
MISCELLANEOUS
+1.0
13th
TURNOVER MARGIN
-0.2
77th
8.0
108th
PENALTIES
6.7
74th
13
EDGE
5
After being hyped as a team on the rise going into the year, Purdue's season began in incredibly disappointing fashion, as the Boilermakers lost their first three games to Northwestern (31-27), Eastern Michigan (20-19) and Missouri (40-37).
Since then, though, Purdue has bounced back, winning each of its last three games against Boston College (30-13), Nebraska (42-28) and Illinois (46-7).
None of those opponents are at the same level as the No. 2-ranked Buckeyes – or even particularly close – but the Boilermakers' aforementioned offense has been consistently productive this year, posting at least 372 yards in every game and at least 472 yards in every game but one.
The star of that offense has been true freshman wide receiver Rondale Moore, an explosive playmaker who ranks second in the Big Ten in both receptions (45) and receiving yards (558), with five receiving touchdowns, while he has also run the ball nine times for 139 yards and a touchdown, gained 269 yards on 13 kickoff returns and gained 41 yards on six punt returns.
"An elite player, No. 4 is a really good player," Meyer said in reference to Moore, who was also recruited by Ohio State.
Purdue's fifth-year senior starting quarterback, David Blough, has started 29 career games for the Boilermakers but is so far having the best season of his career to date, completing 68.4 percent of his passing attempts for 1,695 yards and 10 touchdowns with only two interceptions. And his film has also made a big impression on Ohio State's coaching staff.
"This quarterback is one of the top quarterbacks we have faced," said Ohio State linebackers coach Bill Davis. "He's very efficient, he's very confident. He's throwing a very accurate ball, he's throwing it before they're open. He's really operating at a high efficiency."
Blough has plenty of weapons around him beyond just Moore. D.J. Knox is a shifty running back who currently ranks fifth in the Big Ten in rushing yards (540) and rushing touchdowns (five) on 87 carries, while Markell Jones is an experienced back who gives the Boilermakers a strong one-two punch at the position. Isaac Zico has emerged as another playmaker at wide receiver, catching 20 passes for 399 yards and two touchdowns this year.
The Boilermakers also have a skilled pair of tight ends in Brycen Hopkins, who has caught 19 passes for 352 yards and two scores this year, and Cole Herdman, who has battled through stingers this year but has been a productive pass-catcher for Purdue dating back to 2015. Ohio State hasn't had to face too many receiving threats at tight end so far this season, but had a lot of problems covering tight ends last season, and the Boilermakers should put Ohio State's defense to the test in that regard on Saturday.
"They're the best group of tight ends catching the ball that we've faced," Davis said. "So we're in for a heck of a challenge."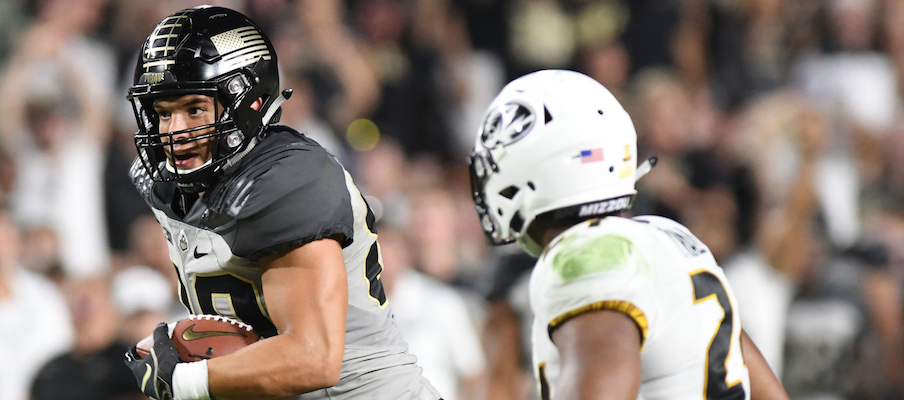 Ohio State defensive coordinator Greg Schiano says Purdue's offense is aggressive and uses a wide variety of formations, and offensive coordinator Ryan Day says the same is true of the Boilermakers' defense.
"They're aggressive," Day said. "They play a lot of defense. They come with a lot of pressure. And they try to create chaos."
Statistically, Purdue's defense hasn't been very good this season. The Boilermakers have allowed more than 400 yards per game in four of their six contests this season. They have performed better as the season has progressed, though, holding both Boston College and Illinois to 250 yards or less (though they allowed Nebraska to gain 582 yards in between).
Haskins says the Buckeyes have to be prepared to see a diverse array of looks from Purdue's defense.
"They run a whole lot of stuff … just a whole bunch of stuff we got to be ready for," Haskins said. "Honestly, I couldn't tell you what they do the most of. They do everything."
That said, Purdue ranks 109th in the FBS in passing defense, having allowed 267.5 passing yards per game, so the Boilermakers know they have to be much better in that regard to have a chance to slow down Haskins and the Buckeyes.
"We had some struggles earlier in the season giving up a lot of passing yards, so it is a concern," Brohm said. "We're going to have to find ways to put a little pressure on the quarterback and try to make him feel uncomfortable and give him some different looks. And if we don't, it's going to be a long day for us."
The top playmakers on Purdue's defense include fifth-year senior safety Jacob Thieneman, a former walk-on who has a team-high 45 total tackles, and junior linebacker Markus Bailey, a Columbus native who has 43 total tackles this year. Redshirt freshman cornerback Kenneth Major leads the Boilermakers with three interceptions, while sophomore middle linebacker Cornel Jones leads Purdue with 11 tackles for loss.
How It Plays Out
Considering the perceived advantages that each team's offense could have over the opposing team's defense, it's easy to see this game becoming a high-scoring shootout. Both offenses will look to hit their share of big plays, and they should have at least some success unless either defense plays drastically better than it has so far this season.
Ohio State's Last Six Games Against Purdue

| YEAR | LOCATION | RESULT |
| --- | --- | --- |
| 2013 | West Lafayette | Ohio State 56, Purdue 0 |
| 2012 | Columbus | Ohio State 29, Purdue 22 (OT) |
| 2011 | West Lafayette | Purdue 26, Ohio State 23 |
| 2010 | Columbus | Ohio State 49, Purdue 0 |
| 2009 | West Lafayette | Purdue 26, Ohio State 18 |
| 2008 | Columbus | Ohio State 16, Purdue 3 |
That said, games that are predicted to such shootouts don't always materialize that way – just look at Ohio State's similarly projected game earlier this year at Penn State, which finished with the Buckeyes winning a modest score of 27-26 in their lowest-scoring game of the season to date – which means there are a wide variety of ways in which this game could unfold.
On paper, the No. 2-ranked Buckeyes are clearly the more talented team, and they should be able to take care of business on Saturday night. Even if their defense continues to give up some big plays and the Boilermakers put up some points, Ohio State's offense shouldn't have much trouble scoring against Purdue's defense, which should clear the way for the Buckeyes to outscore their opponent.
If the Buckeyes get off to a slow start on both sides of the ball like they have in their past few games, however, it's possible this game could get away from them – much like their trip to Iowa did last season. With the Boilermakers' ability to put up points on offense, this isn't a game in which Ohio State can afford to fall into an early hole and still slog its way through to a comfortable victory.
Ohio State is a 12.5-point favorite in Vegas, according to Vegas Insider, and if it plays well, it's more than capable of covering that spread. But if the Buckeyes don't bring their A-game to West Lafayette, which has been a notoriously tough place for Ohio State to play in semi-recent history, the Boilermakers are dangerous enough to push for an upset under the lights.
"Purdue's a really talented team, and regardless of what their record says, they have a lot of talent on their offense," said Ohio State defensive tackle Dre'Mont Jones. "If we don't play our game, we can lose this game easily."
---
ELEVEN WARRIORS STAFF PREDICTION: Ohio State 42, Purdue 28