Before each week's Ohio State game, Eleven Warriors catches up with a media member who covers the opposing team to get his or her perspective on the Buckeyes' upcoming opponent.
As the Buckeyes prepare to travel to West Lafayette, Indiana to play Purdue on Saturday, we caught up with Mike Carmin, who covers Purdue for the Lafayette Journal & Courier, to get his perspective on the Boilermakers.
Purdue enters Saturday's game (7:30 p.m., ABC) at Ross-Ade Stadium with a 3-3 record, having won each of its last three games against Boston College (30-13), Nebraska (42-28) and Illinois (46-7) after losing its first three games against Northwestern (31-27), Eastern Michigan (20-19) and Missouri (40-37).
The Boilermakers offense has been explosive all season, led by true freshman wide receiver Rondale Moore and fifth-year senior quarterback David Blough, but its defense has been shaky, ranking 92nd in the nation with 414.3 yards allowed per game.
As they now prepare to face an Ohio State team that also has one of the nation's most productive offenses but a shaky defense, do the Boilermakers have what it takes to outscore the Buckeyes? What are the keys to their offensive success, what have been their biggest issues on defense and who are their top players to watch in Saturday's game?
Carmin answers those questions for us and more in this week's edition of Across The Field.
Q: Purdue has won its last three games after losing its first three games. What are the biggest improvements the Boilermakers have made that have allowed them to turn things around?
Carmin: First thing, the Boilermakers stopped beating themselves. Too many penalties in the first two games, including personal fouls and unsportsmanlike penalties. Those hurt them in the loss to Eastern Michigan and prevented Purdue from having a chance to beat Northwestern.
Coach Jeff Brohm became more aggressive with his play calling where quarterback David Blough was pushing the ball down the field. Brohm blamed himself for the EMU loss because he wasn't aggressive enough. The same approach has been adopted by the defense, where you're seeing more blitzes and different types of pressures the last three games. 
Q: The Boilermakers currently rank 10th in the Football Bowl Subdivision with 510.2 yards of offense per game. What do you think have been the keys to their offensive success?
Carmin: Part of the answer is what I mentioned about Brohm pushing his offense to play more aggressively. They're not reckless, but they're always looking for ways to keep the pressure on the defense. But the No. 1 reason is freshman receiver Rondale Moore. He's lived up to his hype and has helped move this offense into the next phase of its development. He's a dynamic playmaker – one Purdue's program hasn't seen in a long time – and demands more attention from defenses. His presence has given other players a chance to make plays.  
Q: Purdue's defense, on the other hand, has been inconsistent, allowing more than 400 yards in four of its first six games. What have been its biggest issues on that side of the ball?
Carmin: The numbers are ugly on defense, especially when you look at trying to contain Ohio State's offense. But you have to drill down a little bit to find why the defense has helped Purdue bounce back. While the Boilermakers are giving up yards, they're keeping teams from consistently scoring. In the last three games, Boston College, Nebraska and Illinois had 38 possessions, but those three teams scored a combined seven times. That's compared to Missouri, which scored on 8 of 13 possessions in the 40-37 win.
This was – and still is to some extent – a young defense. They returned only four starters and everyone else had little or no experience. They'll need to step up against the Buckeyes and the second-half schedule. 
Q: Who are some of the Purdue players that Ohio State and its fans should be aware of entering this game?
Carmin: Rondale Moore is No. 1. He already has 45 receptions in six games and last year's leader totaled 47 in 13 games. He's worth watching and Moore can make a big splash with a handful of big plays on the national stage, similar to what he did against Northwestern.
Quarterback David Blough is playing the best he's played at Purdue during the last four games and has directed this offense to big numbers. Jared Sparks is a former quarterback turned receiver who could be involved in a trick play. Defensively, linebacker Markus Bailey is a Columbus, Ohio native and is eager to face the Buckeyes. He's one of the team's best players. Safety Jacob Thieneman will play all over the place and usually delivers a big play.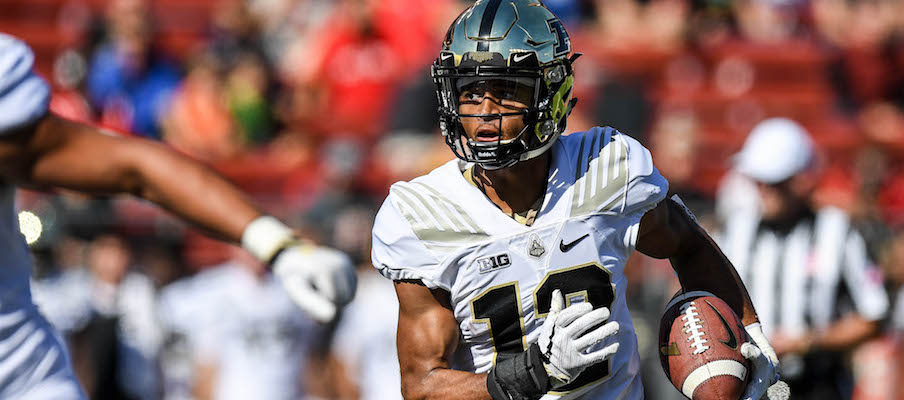 Q: It's not too often that Purdue gets to host a Saturday night game on ABC. How big of a game is this for the program, and what's the level of excitement like around West Lafayette?
Carmin: Any night game at Purdue is a big game because they don't happen that often, although we're seeing more of them with the new television contract. The game is a sellout, which you would expect because there will be a number of Ohio State fans in attendance. Plenty of buzz building around campus, especially since the Boilermakers have won three straight after the slow start. 
Q: For those who are making the trip to West Lafayette on Saturday, are there any restaurants or other attractions you recommend visiting while in the area?
Carmin: Bruno's in West Lafayette is a must. Plenty of Italian food – get the Bruno Dough if your doctor says it's OK – along with superb pizzas and a ton of Purdue memorabilia to enjoy.
Triple XXX in West Lafayette is a solid option, but Ohio State fans might want to avoid The Ryan Kerrigan – he singlehandedly beat the Buckeyes with a monster game in 2009 with nine tackles, three sacks, four TFL's, two forced fumbles and one fumble recovery. Or, the Drew Brees First Choice after the NFL's all-time passing leader hit Seth Morales to beat OSU in 2000. The menu is full of other choices and dishes named after Purdue stars. 
Nine Irish Brothers is a good spot for a Friday night beverage along with some tasty food.  The wings at Walt's Pub in West Lafayette is a good way to start dinner. If you're around for breakfast, Route 66 Diner, Christos and the Triple XXX will get your day started right. 
Q: What do you think the Boilermakers must do to have a chance to win this game, and do you think they will?
Carmin: They have to score. And score. And score. And score. While Purdue's defense is better in the middle of October compared to the end of August, it will be difficult to contain this offense, unless OSU turns it over and isn't executing. The Buckeyes have allowed a lot of big plays and I think Purdue's offense can take advantage, but not enough to win. Ohio State remains unbeaten.