It's been said that pressure can burst a pipe or it can make diamonds.
But during his senior year at Whitehaven (Tenn.) High School, tight end Cormontae Hamilton couldn't tell you if that's true or not because he hasn't felt it.
After committing to Ohio State as a three-star prospect in late July, Hamilton's focus has solely been on his senior year with the Tigers – a team that reached Tennessee's Class 6A regional semifinal last fall.
So far, Whitehaven is 6-2 and has outscored its opponents 301-113. But there's much work to be done. After all, according to Hamilton, in his final ride, it's either a state title or bust.
"The season has been going good," Hamilton told Eleven Warriors. "We have had some ups and downs, but we are still fighting and we are looking forward to being in Cookeville this year."
If you're wondering, Cookeville is the site of the Tennessee Secondary School Athletic Association's (TSSAA) state football championships, on the campus of Tennessee Tech University. As you can tell, Hamilton's confidence level in his team reaching that point has no end.
"I think my team can go all the way because of the hard work and effort we put in at practice each and every day," he said. "Playing together as a team could take us all the way."
Next up for Hamilton and Whitehaven is a contest against White Station this Friday; a program that's 3-5 and currently on a two-game losing skid.
Even though he's committed, Hamilton knows that each passing game proposes the opportunity to get better. He'll need to take advantage of every one of those chances before playing in front of 100,000-plus screaming fans in Columbus.
And he knows exactly what he needs to work on, as well as the traits he needs to polish.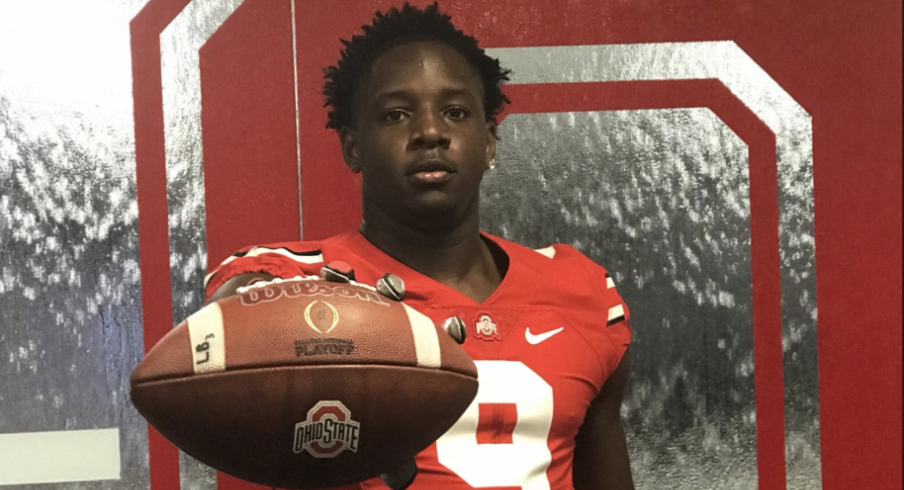 "Something that I have decided and am working on now is to play harder through low energy, no matter what," Hamilton said. "My strengths are going one-hundred percent on every play, my hands, and my aggressiveness. My favorite thing about playing tight end is scoring every time the ball touches my hands and, also, making key blocks."
Currently, 247Sports has Hamilton ranked as Tennessee's 23rd-best prospect overall and 28th-best tight end in the nation. The 6-foot-2, 263-pound tight end made his first impression on the Buckeyes during the program's annual Spring Game. The two parties then stayed in almost constant contact until Hamilton committed three months later. 
The level of communication between Hamilton and Ohio State's coaches hasn't changed.
"I chose Ohio State because of their outstanding program that they have for their student-athletes," Hamilton said. "I'm currently in contact and close to coach [Kevin] Wilson, coach [Tim] Hinton and coach [Urban] Meyer."
This Saturday, he'll get the chance to get to know those names on a more personal level. He's scheduled a visit to attend Ohio State's home game against Minnesota. Needless to say, he's excited for the opportunity. 
Ill Be In Columbus This Weekend BuckeyeNation #GoBucks #BuckeyeNation

— Cormontae Hamilton (@Cbvndzzz) October 11, 2018
"[Ohio State] has been playing some outstanding games," he said. "I'm just looking forward to connecting with the environment more and watching the Buckeyes kick some tail."