The Hurry Up is your nightly dose of updates from the Ohio State football recruiting trail, keeping tabs on the latest from commits and targets from around the country.
RINGO (FIVE) STARR
Come Saturday at noon, it's showtime ... and we're not just talking about on the field lining up across from Minnesota. Off the field, Ohio State will have the chance to court one of the nation's top prospects and the state of Arizona's No. 1 ranked prospect in five-star cornerback Kelee Ringo.
In Columbus, Ohio this weekend #Buckeyes

— KR7 (@KeleeRingo) October 10, 2018
Ringo, a 2020 prospect out of Saguaro (Az.) High School, is considered to be the nation's No. 11 ranked player at any position in his class. He has offers from Washington – who's considered to be the early leader in Ringo's recruitment – Oregon, USC, Alabama, Clemson, Florida State, etc. The Buckeyes offered Ringo this past April. Saturday will mark Ringo's first visit to Columbus.
It's important to note the fact that Ohio State has already received verbal commitments from a pair of 2020 Arizona prospects in Chaparral teammates Jack Miller and Darvon Hubbard. Earlier this season, Chaparral fell to Ringo and Saguaro by a 45-37 final.
Miller is ranked as Arizona's No. 4 overall prospect while Hubbard comes in at No. 6. Landing Ringo could give the Buckeyes the No. 171, 64 and 11 recruits in the '20 class – and that's just from the state of Arizona. Overall, alongside Miller and Hubbard, the Buckeyes already have Nos. 10, 33, 64, 124 and 184. Currently, Ohio State's 2020 recruiting class is ranked as the nation's third-best behind Alabama and Miami.
Ringo would certainly give the Buckeyes a boost and could potentially even catapult them over the Crimson Tide and Hurricanes.
MCCARTHY GETS ACQUAINTED WITH BUCKEYE NATION
While Ringo will visit this coming Saturday, 2021 quarterback J.J. McCarthy made a visit last Saturday. The Nazareth Academy (La Grange Park, Ill.) signal caller has early interest from Cincinnati, Indiana, Iowa State and South Carolina – all have offered. But it should be expected that more offers from top-level programs should be rolling in soon.
On Twitter, McCarthy posted pictures of his visit to the Shoe and wrote, "Now I know what 'Buckeye Nation' truly means. Awesome visit! Thank you!"
Now I know what "Buckeye Nation" truly means. Awesome visit! Thank you! @ryandaytime @CoreyDennis_ @etwill21 @OSUCoachMeyer @OhioStateFB pic.twitter.com/Cqk5Hq6rbo

— J.J. McCarthy (@jjmccarthy09) October 7, 2018
Nazareth Academy is currently 6-1 this season with a loss only to Marist, who's also 6-1.
STYLE JR. RECAPS OHIO STATE VISIT
Another 2021 prospect to visit the Shoe Saturday was Pickerington Central's Lorenzo Styles. Jr, and Ohio State legacy. Styles Jr. saw the Buckeyes beat Indiana 49-26 after his Tigers lost a close game to Lancaster by a 31-30 final.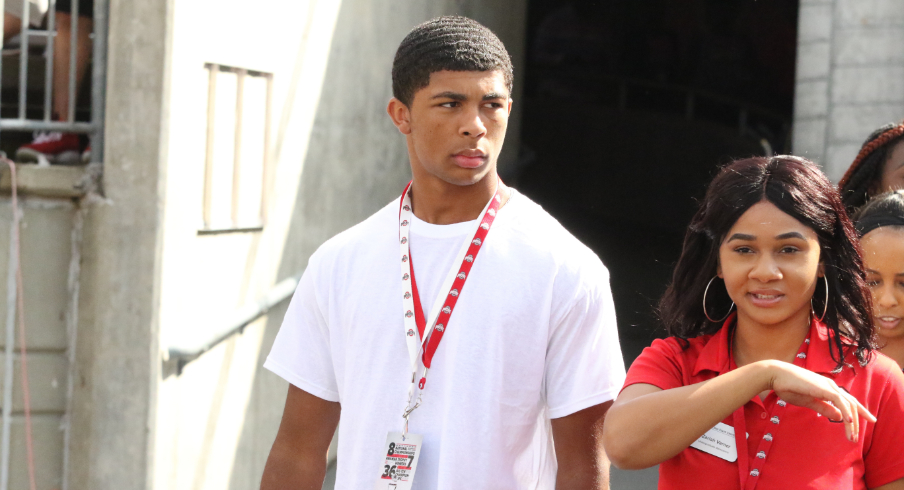 Styles Jr. felt right at home during his visit.
"I really liked the coaches as well as the staff," he told Eleven Warriors. "I knew a lot of the people there and a lot of the coaches and staff are from or around the same community I am from."
The 6-foot-1, 170-pound wide receiver certainly made sure to pay close attention to Ohio State's wide receiving corps while visiting with multiple coaches throughout the day.
"I was really impressed with the versatility of the wide receivers. Ohio State has a big involvement with their wide receivers in their offense," he said. "During the visit, I talked with coach [Tim] Hinton, coach [Alex] Grinch, as well as coach [Urban] Meyer. It was a great atmosphere and I hope I can get up there again."
JARRETT INCLUDES OHIO STATE IN TOP SIX
When the 2020 Polynesian Bowl rolls around, St. John's College High School's (Washington, DC) Rakim Jarrett will be in Honolulu lining up at receiver.
Jarrett, a four-star 2020 prospect at 6-foot, 182 pounds, is considered to be the nation's sixth-best recruit at his position and the second-best in the DC area. While he has offers from multiple schools, his recruitment will likely come down to Ohio State and Alabama with Penn State being a dark horse in the race.
From 247Sports:
His combination of speed, precision route running and quickness make him an exciting game breaker. His recruitment is open, but he admits there are a few schools he is talking to the most.

"Alabama, Auburn, LSU, Ohio State, Michigan and Penn State," he said. "I've kind of focused on my season so (recruiting) is not overwhelming."
Jarrett is the 11th player to receive an early selection to the 2020 Polynesian Bowl.