It didn't click right away for Davon Hamilton.
The defensive tackle now in his redshirt junior season at Ohio State entered the football program as an out-of-shape 315-pound lineman. He was the second-lowest-ranked recruit in the team's 2015 recruiting class — only long snapper Liam McCullough was ranked below him — and also admits he struggled to consistently believe in his abilities.
That has changed this year, though.
"He's always had it. It's always, like, a confidence issue. He does not have confidence in his abilities sometimes," fellow fourth-year defensive tackle Dre'Mont Jones said. "Sometimes, he'll just show it out of nowhere and then he'll pull back.
"I think this year he's really just letting go."
Hamilton burst onto the scene just eight minutes into Ohio State's 40-28 win against TCU on Saturday. He took advantage of Nick Bosa knocking the ball out of quarterback Shawn Robinson's hand, then pounced on it to score his team's first touchdown of the game. Leaping up and palming the ball in his right hand as he raised it to the sky, Hamilton bounded around in celebration.
"He is one of our most improved players."– Urban Meyer
A Pickerington Central graduate, Hamilton quickly became a miniature celebrity. He heard from fans, former teammates and former coaches who were proud of the local high-school star making a play at the next level.
"It was a big moment for me, but really, the opportunity wouldn't have even been there if it wasn't for Nick," Hamilton said.
That moment might not have come had Hamilton not made a major leap earlier this year.
Confidence wasn't his only issue prior to his ascendance this spring. Hamilton's body also was not yet ready to take the pounding it endures during the regular season. He has always had the size — even as a kid, Hamilton's mom had to pull him out of soccer due to him being too physical. But until recently, he did not mold his physique well enough to play regular snaps in games.
"Really, for the last couple years, along with confidence, I feel like I've been out of shape a lot and just been, like, not knowing what I'm doing," Hamilton said. "Really, that helps a lot when you come out and play a game because game speed is a lot faster than any practice or conditioning test."
Jones noticed Hamilton's improved, consistent confidence in spring practice. The maturation and increased "drive" were clear to Jones.
He wasn't the only veteran teammate who saw something different. Malcolm Pridgeon, who spent the spring blocking Hamilton in practice, said Hamilton "came out of nowhere."
Urban Meyer saw a different version of Hamilton, too.
"He is one of our most improved players," Meyer said. "Really a non-factor early in his career, but you could see talent."
The praise translated into playing time on Saturday.
Hamilton, who backs up Robert Landers at nose tackle, played 25 snaps in Saturday's game against TCU, more snaps than in both of Ohio State's first two games of the season combined. Even last year, Hamilton played mostly in mop-up duty behind Tracy Sprinkle and Landers. His snap count against TCU was larger than in any game last season, other than a 26-snap outing in the fourth game of the season, a blowout win against UNLV.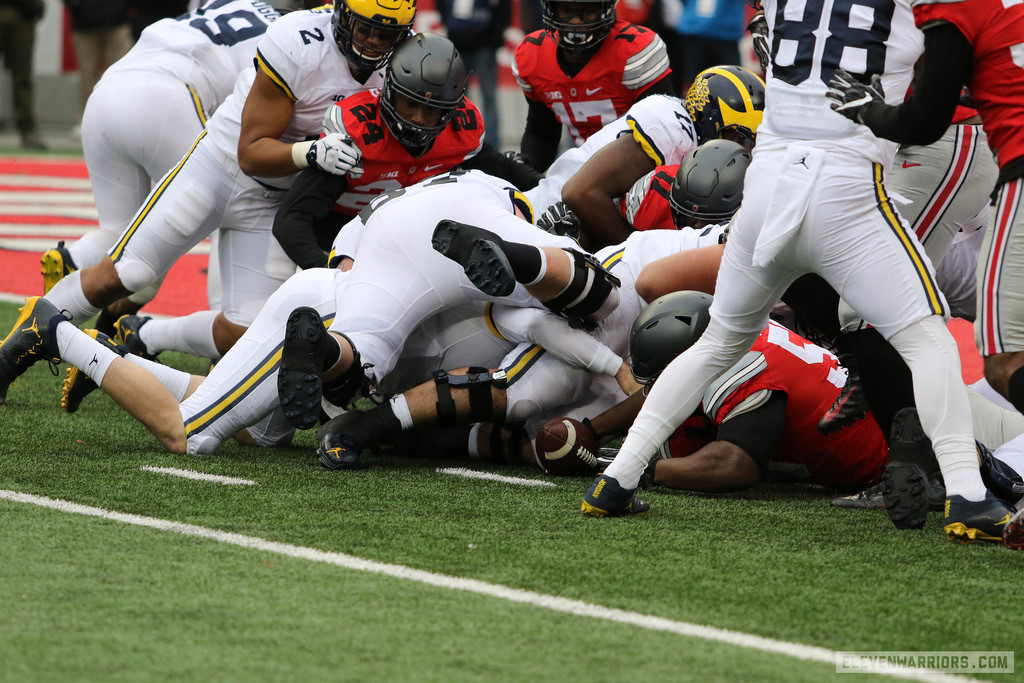 With Meyer declaring Landers probable for Saturday's game with an undisclosed injury, Hamilton might be in line for even more playing time. He was listed as a co-starter on this week's depth chart, alongside Landers.
A matchup against Penn State looms, and Bosa will miss the Tulane game and does not yet have a timetable for his return. In order to not risk Landers in what should be a blowout win, the Buckeyes could choose to start Hamilton.
After taking a circuitous route to Ohio State by decommitting from both Pittsburgh and Kentucky before committing to Ohio State on Jan. 26, 2015, then battling confidence issues and improving his body, Hamilton finally has a key role on a talented team with title dreams.
"I believe in myself. When I came here, I knew I could play here at this level," Hamilton said. "I knew maybe not the first year I came in, just because we had so much talent up front. But, eventually I'm going to have my own day when I'm out there. When I'm out there, I'm going to go as hard as I can to make plays, do what I have to do for my team."