After waxing the Beavers of Oregon State in last weekend's season opener, Ohio State is set for battle against Rutgers tomorrow afternoon at 3:30 p.m. in the Shoe. 
Ryan Day leads the way in his second game as acting head coach though Urban Meyer was able to spend the week with his team, taking part in all preparations. 
Across the sideline, a familiar foe will be on hand as former Buckeye defensive coordinator Chris Ash brings his Scarlet Knights into Ohio Stadium as huge underdogs. 
To get you prepped for action, this week I welcome Film Study guru Kyle Jones, your daily Skullmaster, Kevin Harrish, and staff contributor and resident Skyline enthusiast (we all have our faults), David Wertheim.
Break bread gents.. 
---
Isaiah Pryor and Jahsen Wint were both forced into starting roles last week, instead of sharing a safety role, when Jordan Fuller wasn't able to go against the Beavers. Obviously, both had their struggles in both coverage and run support. How big of an issue is this, assuming Fuller does return to full health by the time it matters against TCU? Should Josh Proctor get more of a look or are the errors from Pryor and Wint more about needing to gain experience than any significant talent deficiency? 
Kyle: The biggest issue appeared to be Pryor's struggles in pass coverage. He really seemed lost in man-to-man situations against Oregon State's slot receivers, and future opponents will surely take note. Fuller's presence at boundary safety should certainly help, meaning Pryor and Wint will likely rotate opposite him until one separates themselves from the other. However, safety might be the most difficult position to master in the entire defense, which makes the idea of a true freshman cracking the lineup seem extremely unlikely, no matter how many stars a recruiting service put next to his name. Schiano's defense is more complex than any high school system, and as we saw last week, it can't afford even the smallest mistakes from either safety. My money is on Wint retaining a starting role by the time the Buckeyes head to Penn State, as he seemed more comfortable and in the right position more often despite not possessing the same physical talents as Pryor.
David: It's a major issue. I like that athletic freak Shaun Wade is being moved to safety, but I still have concerns. If Fuller goes down again, or this injury is more serious than we thought and he's forced to miss even more time, it's a gaping hole in an otherwise pretty good defense. Isaiah Pryor was dreadful on Saturday against Oregon State and while it was his first career start, there were a few plays he just had to make, that he did not. Luckily, it's a long season, and I will acquiesce that there is a chance for this problem to be fixed before it ruins anything important.
Kevin: I believe the talent and athleticism is there. These guys would not be Division I athletes or be on scholarship at Ohio State if they weren't talented, so I tend to think it's a lack of experience.
I think most of the mistakes made in the secondary are very correctable with reps and experience, so it's tough for me to say after one game that we need to start looking for other options at safety.  That said, the whispers of Shaun Wade moving to safety certainly have me intrigued.
Terry McLaurin got off to a hot start with four catches for 121 yards and two touchdowns while K.J. Hill added six for 82 and Austin Mack hauled in five balls for 69 yards. What did you see from the receivers against Oregon State that gives you hope this group can exceed last year's effectiveness? Any reason to fret over Binjimen Victor failing to record a catch? 
Kevin: I don't want to be a pessimist here, but I'm really, really not going to jump on the "the passing game is back!" train until we see Ohio State play someone that isn't Oregon State. I took one look at Bill Connelly's radar chart on the Beaver defense and knew the Buckeyes could put up 80 no problem. I'm not saying the offense didn't look good, I'm just saying it's an extremely small sample size against an extremely terrible team.
That said, I did think they were fundamentally better and I really liked the number of targets to the X and Z receivers as opposed to just the H-back, and I think that's a byproduct of a confident young quarterback with a strong arm.
I was actually more impressed with Binjimen Victor than pessimistic, because I knew he has length and can catch a ball, but he hasn't been a great blocker. But he had a big downfield block on a long Mike Weber run. If he can do all those little things, the catches will come.
David: They looked good, but what was more important was that the guy throwing them the ball looked good. As we've seen millions of times in both college and professional football, a great quarterback can make any receiver look solid. The key will be for the receivers to do just enough, play to their strengths, and allow Dwayne Haskins a chance to flourish. As for Victor not recording a catch, I think it is more about how Ohio State returned everybody from last year's group, so there will be games when some guys don't get a lot of targets. With as many weapons as the Buckeyes have, that's just sometimes how it is going to happen. 
Kyle: Mack showed me the most, hauling in some tough catches in small windows before taking contact and giving Haskins the confidence to fire the ball into these tight spaces like no OSU receiver has since Michael Thomas. His ability to snatch the ball away from defenders while using his body to create space like a basketball player posting up should add a different dimension to the offense. Unfortunately for Victor, this advancement from Mack means his playing time will likely be reduced, especially in critical passing situations.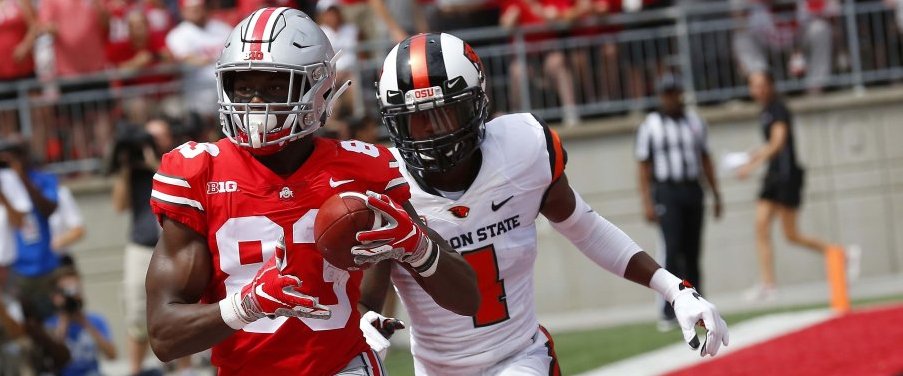 The defensive line was choice last week against Oregon State with four sacks, two quarterback hurries and two fumble recoveries, one of which was a touchdown. How does this front four of Nick Bosa, Dre'Mont Jones, Bobby Landers and Chase Young project and compare to previous defensive lines at Ohio State during Urban Meyer's tenure? 
Kyle: Athletically, this starting group may be unmatched in school history. However, the inexperience behind Bosa and Jones was on full display early in the second half. Playing defensive line involves far more than simply getting past a blocker and into the backfield, but doing so with discipline and composure. Young failed to do so on both long touchdown runs in the third quarter, and though his teammates missed tackles past the line of scrimmage, the runner never should've had a hole to begin with. While players like Tyquan Lewis or Adolphus Washington didn't always wow you with their speed or power, they were always in the right places at the right time, which can be more valuable at times than having a freak with a lightning quick first step. 
Kevin: I think this line is better than last season's, primarily because I thought Nick Bosa and Dre'Mont Jones were Ohio State's best defensive linemen last season and now they've had one more year of development and see more reps.
That also means I think this is the best defensive line Meyer's ever had at Ohio State, because I think last year was the standard. I think the Buckeyes are even more talented at the top this season even after sending three first-teamers to the NFL, and depth will come as talented young players get experience.
I think one thing you'll see missing from those young players like Chase Young, Tyreke Smith or Tyler Friday are mental lapses, like not filling a gap, as we saw a few times on Saturday. But those sorts of mistakes will become fewer and further between as time goes on.
David: This defensive line is nasty, but historically so have all of the other lines at Ohio State under Urban Meyer. This one is a little thinner than previous years, and we saw that when the backup d-line came in and promptly allowed a few long runs (Chase Young and Antwuan Jackson being the guilty parties on those plays). Again, if they can stay healthy, the top 5 or 6 lineman have a chance to make a tremendous impact and become a top-3 defensive line in college football.
You're coaching Ohio State and you play Alabama this weekend. Both teams have their existing rosters however you can start Dwayne Haskins or J.T. Barrett at quarterback. Which are you taking and why? 
David: Haskins.
Kyle: Haskins would get the nod for me, simply because of the threat he provides as a downfield passer. Forcing Nick Saban to keep his safeties from playing in the box makes it easier for Dobbins and Weber to get going on the ground, given that he is less likely to simply line up in man-coverage and put his back-seven in pattern matching coverages instead. Against a different top defense like Michigan's or Clemson's, though, I might still take Barrett and his running ability since it forces the best players on each unit (the DL) to play on their heels instead of simply racing to the QB against Isaiah Prince and Thayer Munford.
Kevin: First off, I don't love this question. I don't like how we can't seem to talk about J.T. Barrett or Dwayne Haskins without comparing them to one another. They're both great, let them both be great.
That said, I'll play the game. I honestly struggled with this, especially because I know David and Kyle and I know I'm going to be a tie breaker here, but I'm choosing J.T. Barrett.
I think most if it is I know what I'm getting with Barrett, and he has a ton of experience. He doesn't have as strong of an arm and is not as gifted of a passer, but he's safe, risk averse and can run an offense, and that's what I want in a game where I feel you have to be perfect.
Haskins is extremely confident, but with an small sample size that confidence kind of scares the hell out of me against a secondary as talented as Alabama's. I don't really want him trying to fit balls into tight windows in that game. I want him to take what's given, and help guide and manage a talented roster.
Ask me again at the end of their careers and my answer might be different.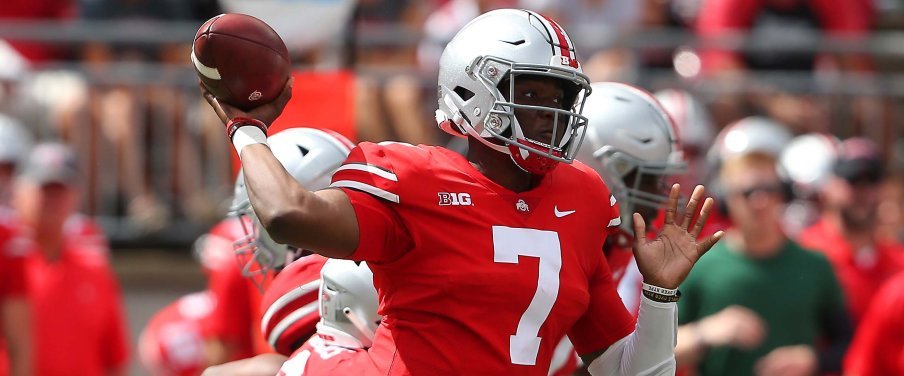 Switching gears to Michigan, I really thought - like a moron - that the Wolverines would handle Notre Dame on the strength of their defense but obviously they fell to 1-6 under Jim Harbaugh against the likes of Ohio State, Michigan State and Notre Dame with Saturday night's loss in South Bend. Will this team be a legit factor in the Big Ten East? Where do you see them ranking in the division when the dust settles in late November? Based on where you slot them, will Harbaugh's seat be even close to warm? 
Kevin: I was the same way. I honestly thought Michigan would have no problem with Notre Dame.
But I knew the Wolverines were in trouble when they looked bad defensively right out of the gates, because I have absolutely no respect for Michigan's offense, whoever you put at quarterback. By the time that defense came alive, Notre Dame had an insurmountable two-score lead.
It's really hard to tell how the season will go. They lost to a legitimately good team, and Penn State and Michigan State looked arguably worse in wins when they were pushed to the brink by Appalachian State and Western Michigan. So who really knows.
All I know is that I hope Jim Harbaugh stays at Michigan forever. He's by far the most entertaining underperforming Wolverine coach in my lifetime, and that's quite an exhaustive list.
Kyle: Despite all the supposed offensive changes during the offseason, bringing in Jim McElwain and Ed Warinner to the staff and handing the starting QB job to Shea Patterson, the utter lack of an offensive playmaker continues to haunt this team, just as it has ever since Harbaugh took over. As long as average running backs and receivers have the ball in their hands, defenses will continue to sell out to destroy an offensive line that still has a lot of work to do. Though there are still some questions about Penn State and Michigan State, it's hard to see how this year's team from Ann Arbor finishes with less than 4 losses, meaning a trip to Indianapolis in December is pretty much out of the question already. As for Harbaugh's job prospects, it appears that the seat heaters are already on, and will only be turned off with multiple late-season wins over the Spartans and Buckeyes.
David: Yes. Michigan needs a bit of time to figure things out. Jon Runyan Jr. will not be a massive turnstile all season long, Patterson will figure things out and develop more chemistry with his wide receiver corps, and Michigan's defense will play at an extremely high caliber, as we have come to expect under Don Brown. Plus, Notre Dame is just a really good football team. I think Michigan will beat the teams they are supposed to beat and will be a factor in the Big Ten east. I still think they finish 3rd or 4th in the East, but they are absolutely not as bad as everyone thinks they may be. As for Harbaugh, I think his seat is not warm. The reason I say that is that I honestly think that Michigan can't really hire anyone better. Harbaugh has pulled in some good recruiting classes (although his last one was anything but spectacular), and there is some talent on that roster. Nevertheless, I will say that he has looked like a Poor Man's John Cooper when comparing his results against rivals vs. results against everyone else. 
Finally, Ohio State opened as a 33-point favorite against Rutgers this weekend. Will the Buckeyes cover? Give us your final score and game MVP prediction. 
David: I never pick the Buckeyes to cover. I didn't last week, I won't this week, and I probably will not pick them to cover the entire season. With that said, let's go with 49-17. They just miss the cover. Haskins rolls to 4 more touchdown passes and I'll say that K.J. Hill catches two of them to earn MVP honors. 
Kevin: 63-10, Buckeyes. Dre'Mont Jones is my MVP with two sacks and a 30-yard scoop-and-score.
Kyle: I have the Buckeyes winning this one 56-10. Chris Ash's team has improved since he took over, but the talent gap between the two programs is still too vast to overcome. I expect Haskins to have another big day, but wouldn't be surprised to see Parris Campbell break a couple big gains off fly sweeps or bubble screens and steal the headlines.