The first year of a college quarterback's career is probably my favorite. There is a beautiful mixture of hope, optimism, and a dash of Baby Huey involved that can pretty much be summed up like "no no no no what are you doing for the love of GOD oh wait WAIT" and then your brain explodes because something you've never seen before just happened.
You know, like this:
We shrug off the fact that that was one of only seven completed passes Braxton Miller threw that day (and the touchdown alone accounted for almost half of his 89 total passing yards), because... who cares? It was an awesome, game-winning indicator that Braxton is cool and good and Ohio State football was going to be fun to watch with him at the helm.
We got some of that last season with Dwayne Haskins, via a Backup Steps Up to the Plate Against Michigan scenario that I feel like we've seen play out way too many times lately. With J.T. Barrett hurt, all Haskins did was lead Ohio State to a come-from-behind victory while completing six of seven passes for 94 yards.
It was a great performance and might've been the clincher that put him firmly ahead in the starting quarterback race for 2018.
but this article isn't about Dwayne Haskins' past. It's about his future.
Before we get to that, however, I should tell you about how once upon a time I used to deliver auto parts in the summer to make money for college. Rotors, mostly, but also brake pads and spark plugs and whatever else was lurking in our store room.
It was a pretty good job, and I liked it, but because this was southwestern Ohio and home to the agressively contrarian sports fan, I also worked with some guys who were all about Michigan.
This led to what was the absolute dumbest argument of my entire life (and I once had an hour long argument about whether tiramisu is cake or not. Which for the record it definitely is not, Gary), where a Wolverine-loving coworker and myself argued about which quarterback would end up putting a clamp down on the rivalry: incoming Ohio born golden boy Justin Zwick, or, incoming Cali born golden boy Matt Gutierrez.
If you're asking yourself "who the hell is Matt Gutierrez?" that's a valid question because he only threw 41 total passes for Michigan, made his way to Idaho State, and then after graduating somehow found himself in a couple of NFL games where he threw one pass in each. And completed them both! Good job, Matt Gutierrez!
You know Zwick's story, but the point here is that both of these guys made way for other players who would go on to define both The Game and their respective teams for years. An initial bout of excitement was quickly turned on its ear, despite some promising early results.
So that matters for us and for Dwayne Haskins is that he avoids that trap. He's an outstanding athlete with all of the tools necessary to be a legend at Ohio State. But this year, his first full year holding the reins of the Buckeye offense, will be the most important season of football in his life. In this case maybe the past can be instructive. So let's take a look at the first full seasons for new Ohio State quarterbacks, not so shiny and new, and burdened with the weight of expectations.
TROY SMITH, 2005

149/237, 62.9% completion rate, 2282 yards passing, 611 yards rushing, 16 passing touchdowns, 4 interceptions, 11 rushing touchdowns

Troy Smith is a good example of why this exercise is always going to be a little odd. Smith took over for Justin Zwick as the starting quarterback in 2004, but wasn't really given full control of the offense until there were five games left in the season. He was extremely hot and cold in those five games, but showed a ton of potential, most notably in an upset win against Michigan where he had 386 yards of total offense.
2005 is where things get interesting. He was suspended for part of the Texas game to start the season, and when he finally got in he wasn't great. In fact, there were some weird stretches of the 2005 season where he wasn't great. In a loss against Penn State, Troy completed just over 50% of his passes and rushed 19 times for a Lydell Ross-ian 15 yards. Against Northwestern, he only had seven completions, zero touchdowns, and an interception.
But man, when the dude was on, he was on. In his final two games against Michigan and then against Notre Dame in the Fiesta Bowl, he accounted for almost 750 total yards, which included four touchdowns. He passed for 249 yards against Michigan State despite only completing 10 passes (paging, Ginn, Ted Ginn). He racked up over 350 total yards against Illinois.
It was obvious that despite some rough games he was a star in the making and that 2006 was going to be incredible.
TODD BOECKMAN, 2007

191/299, 63.9% completion rate, 2379 yards passing, 63 yards rushing, 25 passing touchdowns, 14 interceptions, zero rushing touchdowns

Boeckman only had one year as the main man under center, and whatever level of nostalgia one has for the Boeckman era is unfortunately probably appropriate.
Boeckman was fine. He had the tools to be a really good quarterback, and at one point in the 2007 season people were even talking him up for Heisman, but his biggest issue was decision-making. That hadn't become apparent during the 14 passes he attempted in the 2006 season, but by 2007 it was a glaring weakness in his game.
In the final three games of the 2007 season, Boeckman threw six interceptions, including three against Illinois in a Senior Day home loss that also happened to be my final game at Ohio State as a student, which I'm clearly not bitter about. He wasn't much better the next week at Michigan, scoring no touchdowns and only completing seven passes, and had serious gorilla/chainsaw issues in the BCS Championship against LSU, completing 57% of his passes and tossing a couple of picks.
This would not portend well for his future.
TERRELLE PRYOR, 2009

167/295, 56.6% completion rate, 2094 yards passing, 779 yards rushing, 18 passing touchdowns, 11 interceptions, 7 rushing touchdowns

Controversy! And again, a bit of a fudge. Todd Boeckman was ousted as presumptive starter after a disastrous loss against USC only three games into the 2008 season. One could consider 2008 as Pryor's first full year as a starter.
But we won't, because 2009 is more fun and more relevant for Haskins.
I find Terrelle Pryor's 2009 season absolutely fascinating because it's blindingly obvious that Jim Bollman had absolutely zero idea what to do with him. He was a thing of beauty at times, especially in the Rose Bowl against Oregon, going 23/37 for 266 yards through the air with another 72 on the ground. Against Wisconsin, where I swear to you Ohio State had a total of 40 offensive plays the entire game, Pryor completed five passes and ran for 35 yards on 10 carries. Neat.
Imagine being Pryor through this. Against Indiana, you throw the ball 28 times. Okay, fair enough. Next week, you're asked to pass only 13 times against Wisconsin. The following week, a loss against Purdue, you heave it 31 times and are intercepted twice for your trouble. Despite being the most ridiculous physical specimen I've personally ever seen in my life, Pryor was being pulled in five different directions by a coaching staff that didn't know what they wanted the offense to look like and as a result wasn't as effective as he should've been.
2010 went much better, but that's the point: it took almost two years to figure it out.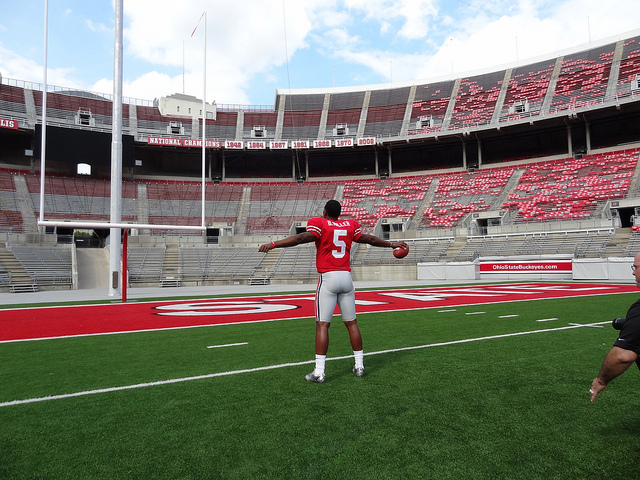 BRAXTON MILLER, 2012

148/254, 58.3% completion rate, 2039 yards passing, 1271 yards rushing, 15 passing touchdowns, 6 interceptions, 13 rushing touchdowns

2012 Braxton Miller is actually only really relevant as far as this exercise goes because of 2011 Braxton Miller.
2011 Braxton Miller, who split way, way too many snaps with Joe Bauserman, actually had more rushing attempts (159) than passing attempts (157). The offensive gameplan around him was nonsensical at best, as Luke Fickell and oh hey, Jim Bollman again attempted to fit an extremely round peg into a fastidiously square hole. That team lost seven games and Braxton completed more than ten passes in a game exactly twice, against Michigan and Florida. Ohio State lost both of those games.
2012 Braxton, with the help of a guy named Urban Meyer, went undefeated, scored 28 touchdowns, completed 10 or more passes in a game nine different times, ran for a trillion yards, etc. Funny how that works.
J.T. BARRETT, 2014

203/314, 64.6% completion rate, 2834 yards passing, 938 yards rushing, 34 passing touchdowns, 10 interceptions, 11 rushing touchdowns

I actually didn't want to include J.T.'s 2014 season because it hurts my narrative, but I'll just point out that Barrett had only one (1) bad game the entire season. He was either good or very, very good in virtually every other game. Guys, he scored four touchdowns or more seven different times. Oh, and he still ran for almost a thousand yards. We probably won't see a quarterback do that in their first season as a full-time starter anytime soon, and especially not from a guy thrust into the spotlight the way he was.
A rare duck indeed.
---
So if history is any indicator, in the 2018 campaign it is likely that we will see Dwayne Haskins struggle, probably through a combination of inexperience and a necessary period of coaching adjustments. And that's okay! It's his first year with his treads a little worn down; we know he's talented, he just has to have the means to show it.
What will allow him success is a consistent gameplan that he can rely upon on a week to week basis, an offensive philosophy that plays to his strengths, and a coaching staff that's patient enough to allow him to be kind of crappy from time to time.
Given that, Haskins should be set up to do some serious damage in the Big Ten.