College football may not be quite like baseball when it comes to the deluge of ever-evolving metrics but even as increasingly complex data becomes readily available, one statistic remains crucial to a team's success and that's its ability to stop the run. 
The value of stopping the run was never more apparent than last year when Ohio State's defense had its best season since Urban Meyer's arrival, limiting teams to 105.1 rushing yards per game (6th nationally) on 2.94 yards per carry (4th nationally). 
Those sturdy numbers marked the third-straight season in which the Buckeye defense improved its yards per carry and rush yards per game metrics. 
OHIO STATE'S RUSH DEFENSE METRICS SINCE URBAN MEYER'S ARRIVAL

| YEAR | G | RUSH ATT | TOT RUSH YDS | AVG YPC | NATL RANK | AVG RUSH YDS/G | NATL RANK | RUSH TD |
| --- | --- | --- | --- | --- | --- | --- | --- | --- |
| 2017 | 14 | 501 | 1,471 | 2.94 | 4 | 103.1 | 6 | 13 |
| 2016 | 13 | 481 | 1,610 | 3.35 | 12 | 123.9 | 19 | 8 |
| 2015 | 13 | 488 | 1,649 | 3.38 | 14 | 126.9 | 22 | 10 |
| 2014 | 15 | 537 | 2,120 | 3.95 | 43 | 141.3 | 34 | 24 |
| 2013 | 14 | 466 | 1,532 | 3.29 | 12 | 109.4 | 9 | 9 |
| 2012 | 12 | 392 | 1,393 | 3.55 | 21 | 116.1 | 14 | 14 |
Led by a defensive front getting more hype for its ability to rush the passer, the likes of Sam Hubbard, Nick Bosa, Dre'Mont Jones, Tyquan Lewis and others did work up front to either stop the run themselves or pave the way for linebackers Jerome Baker, Tuf Borland and Chris Worley, along with safeties Jordan Fuller and Damon Webb to clean up ball carriers. 
Looking further inside the stellar yards per carry and rush yards per game stats achieved the 2017 squad, even more impressive nuggets can be found. 
Six teams managed to rush for at least 100 yards against last year's defense though only Iowa did so while achieving a better yards per carry mark against the Buckeyes than their respective season average, going for 6.4 a pop against Ohio State versus a season average of 3.8 per tote. 
Army went for 259 yards on 58 carries, good for 4.5 per carry but that was still a full 1.5 yards below their season average. At the time, UNLV's 176 rushing yards seemed a bit nauseating but they did it on 4.3 yards per carry which was well below their season average of 5.5 which ranked 16th in the country. 
Three teams to hit the century mark – Oklahoma, Rutgers and Michigan – did so on the strength of less than 3.0 yards per carry. 
Conversely, eight opponents failed to register at least 100 rushing yards highlighted by Penn State, Wisconsin and USC. 
Penn State finished the 2017 season averaging 4.9 yards per carry but went for just 2.6 against the Buckeyes, producing 91 yards on 35 carries as Greg Schiano's crew held Saquon Barkley to 44 yards on 21 carries (2.1 ypc) which is even more impressive when you consider Barkley had a 36 yard touchdown run early in the second quarter. 
In the Big Ten title game, a Wisconsin squad that finished 2017 averaging almost 230 rushing yards per game on 4.9 yards per carry was held to 60 yards on 1.9 per carry by Ohio State's stout front. The Buckeyes bottled up Jonathan Taylor holding him to 41 yards on 15 carries (2.7 ypc) with a long of seven yards.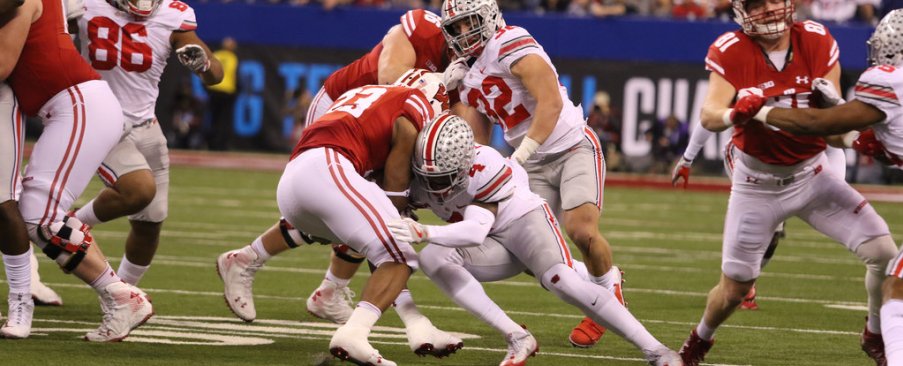 Finally, against a USC rushing attack averaging 185 yards per game, Ohio State swarmed the line of scrimmage in limiting the Trojans to 57 rushing yards on 1.6 a pop. Roughly eleventeen sacks of Sam Darnold bloated the stats but the Buckeyes still held Ronald Jones to 3.4 yards per carry in a lopsided affair. 
In total, 10 of Ohio State's 14 opponents averaged less than 3.0 yards per carry and 13 of 14 were held below their respective season averages. 
Situationally, the Buckeyes ranked fourth nationally giving up 3.13 yards per carry on first down, slotted third nationally averaging 1.08 yards per carry on third down, and second in the land giving up 1.29 yards per carry on third downs with 1-3 yards to go. In that particular scenario, the longest carry on 28 such attempts went for eight yards. 
Whether or not the 2018 Buckeye defense can build on the success achieved by last year's group remains to be seen but you have to feel good about what the defensive line will bring to the table. Sure, Sam Hubbard, Tyquan Lewis, Jalyn Holmes and Tracy Sprinkle are no longer in the fold but names like Bosa, Jones, Bobby Landers, Chase Young and others should provide another formidable wall at the point of attack. 
Losing Jerome Baker, last year's leading tackler, and Chris Worley from the linebacker unit could take a few games to overcome especially if Tuf Borland can't timely and fully recover from injury though the staff is certainly bullish on Baron Browning, Malik Harrison and Keandre Jones, to name a few. That said, my guess is if the 2018 rush defense doesn't approach the success seen in 2017, this group will land in the crosshairs. 
Finally, Jordan Fuller returns to anchor the back line after finishing just three tackles shy of becoming only the fifth Buckeye safety in the last 25 years to lead the team in stops. We could be in store for a rotation – particularly early in the season – at the other safety spot with Isaiah Pryor, Jahsen Went and Josh Proctor, among others, vying for snaps which could prove to be a bit of an issue if at least two of them don't step up. 
Overall however, the talent and certainly the scheme appear to be in place for Ohio State's defense to turn in another elite season of stopping the run.