Ohio State had so many leaders last season that it named a school-record nine captains.
Seven of those nine captains are no longer with the team this season, however, leaving the Buckeyes with a drop-off in leadership that is still being felt more than halfway through spring practice.
Last spring, Ohio State quarterback J.T. Barrett, center Billy Price and defensive end Tyquan Lewis were already so established as leaders that each of them were named captains on the first day of spring practice. This year, however, Ohio State coach Urban Meyer says he doesn't plan to name any captains until closer to the fall, describing the Buckeyes' leadership as "average right now."
"When you lose that many quality guys ... all those fifth-year seniors, guys that invested so much, but I see promise," Meyer said Monday. "I see there is some very good promise. So today was a better day. But it's day-to-day. We'll know more of that after spring ball. But it's nothing like it was last year."
In addition to Barrett, Price and Lewis, all of whom were fifth-year seniors in 2017, the Buckeyes also lost four other captains from last season in defensive ends Jalyn Holmes and Sam Hubbard, defensive tackle Tracy Sprinkle and linebacker Chris Worley. Left tackle Jamarco Jones and safety Damon Webb, who weren't elected as captains but were on the Buckeyes' leadership council last season, are also on their way to the NFL.
Even with all of those departures, the Buckeyes still have several players who stand out as potential leaders for 2018. The two most clear-cut candidates, who should be named captains eventually as long as they continue to do the right things both on and off the field, are fifth-year senior wide receivers Parris Campbell and Terry McLaurin, the Buckeyes' two returning captains from last year.
"Parris and Terry are elite leaders," Meyer said.
McLaurin said in January that he feels he, along with the rest of the Buckeyes' fifth-year seniors, has a responsibility to be a player who the rest of the team can look up to.
"Now being the oldest guys on the team really, it's crazy to think about. We got a younger team in a sense of leadership, so I think it starts with us," McLaurin said. "It starts with how we're working out, how the young guys see the way we prepare for games and practice, it's just a mentality that we want to take and we hope it permeates throughout the team."
On the other side of the ball, Meyer named defensive tackle Dre'Mont Jones and safety Jordan Fuller as defensive players who have demonstrated leadership this spring.
Isaiah Pryor, one of the safeties competing to start alongside Fuller this year, said last month that he and his fellow safeties have looked up to Fuller this spring and tried to take after his example.
"The biggest thing is just seeing his work ethic, how he always strains to go hard every play, and that's what we're trying to do," Pryor said of Fuller.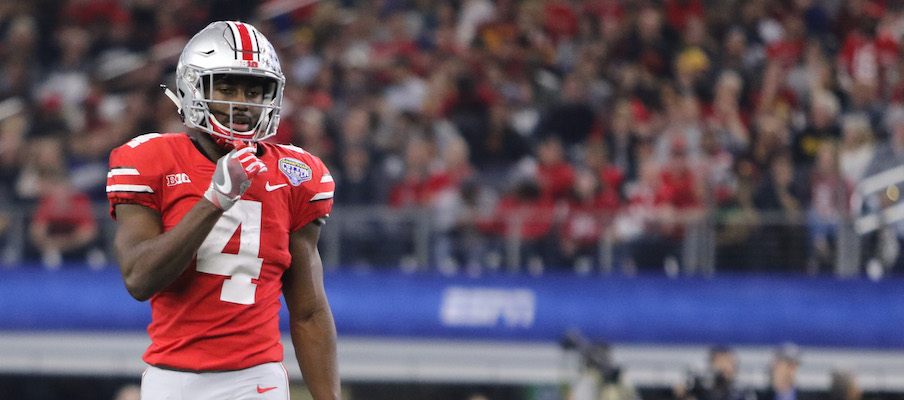 Additional players who could be among the candidates to emerge as leaders for the 2018 Buckeyes include running back Mike Weber, who was also on the team's leadership council last season; Isaiah Prince and Michael Jordan, who are expected to help fill the leadership void on the offensive line; and Nick Bosa and Robert Landers, who could join Jones as leaders on the defensive line. Wide receiver Johnnie Dixon, offensive linemen Brady Taylor and Demetrius Knox and kicker Sean Nuernberger are all fifth-year seniors who could buoy their experience into leadership roles.
Of course, as has already been well-documented, becoming a team leader is a requisite for either Dwayne Haskins, Joe Burrow or Tate Martell to establish oneself as the starting quarterback. Meyer said Monday that while the void in quarterback leadership left by Barrett's departure was "very obvious" when spring practice began, he doesn't "feel that void as much anymore" as the spring has progressed.
That said, the Buckeyes need leadership not only from the quarterback position but from every position. And Meyer said it is not only the responsibility of veteran players at each position to step up and become leaders, but also a responsibility for his position coaches to foster leadership within those players.
"If you don't have leaders, it's your job as a position group or coordinator to develop them, and then you got to provide it until they grow up and become that leader," Meyer said. "So I think there's been great examples around here where maybe there wasn't great leadership to start the season, and as it went forward, that developed, and that's because of the position coach."