With just over one month to go until the 2018 NFL draft, eighteen members of last year's Ohio State football team will return to Columbus in hopes of impressing NFL scouts on Thursday, when Ohio State will hold its annual pro day.
As is usually the case at Ohio State, this year's class of Buckeye draft prospects should draw representatives from all 32 NFL teams – including head coaches, general managers and other top decision-makers – to Columbus, as Thursday's participants are set to include multiple potential first-round picks and plenty of less heralded prospects who could prove to be hidden gems.
Our pro day primer takes a look at who will be participating, what drills they could participate in and what to expect from Thursday's event.
The Participants
A total of 17 Buckeyes from last year's team, including 14 who were honored on Senior Day and three early draft entrants, will work out at the Woody Hayes Athletic Center on Thursday, as listed alphabetically in the table below.
| Player | Position | Early Entry? | Combine Invite? |
| --- | --- | --- | --- |
| JEROME BAKER | LB | YES | YES |
| J.T. BARRETT | QB | NO | YES |
| MARCUS BAUGH | TE | NO | YES |
| TREVON FORTE | CB | NO | NO |
| ELIJAAH GOINS | WR | NO | NO |
| MICHAEL HILL | DT | NO | NO |
| JALYN HOLMES | DE | NO | YES |
| SAM HUBBARD | DE | YES | YES |
| JAMARCO JONES | OT | NO | YES |
| TYQUAN LEWIS | DE | NO | YES |
| NICK SEME | FB | NO | NO |
| ERICK SMITH | S | NO | NO |
| TRACY SPRINKLE | DT | NO | NO |
| ZACH TURNURE | LB | NO | NO |
| DENZEL WARD | CB | YES | YES |
| DAMON WEBB | S | NO | YES |
| CHRIS WORLEY | LB | NO | YES |
Ohio State center Billy Price, also among last year's Senior Day honorees, will attend pro day to interview with NFL teams but will not be able to work out after undergoing shoulder surgery earlier this month. Price suffered an incomplete pectoral tear while participating in the bench press at last month's NFL Scouting Combine.
The headlining participants of Thursday's event from a national NFL draft perspective will be Denzel Ward and Sam Hubbard, as both have the potential to be first-round picks in next month's draft. Both players will likely stand on most of their numbers from the NFL Scouting Combine – especially considering that Ward tied for the fastest 40-yard dash and had the longest broad jump among all combine participants, and Hubbard had the fastest 3-cone drill among defensive linemen at the combine – but both of them are expected to participate in workouts that they did not partake in at the combine, including cornerback-specific position work for Ward and the 40-yard dash for Hubbard.
Another headliner of the pro day, even though he is only likely to be a late-round draft pick at best, will be J.T. Barrett. As questions continue to linger over Barrett's downfield passing ability, scouts and decision-makers from NFL teams who might be considering drafting Barrett as a backup quarterback will keep a close eye on his throwing workout on Thursday.
Other Buckeyes who already worked out in front of NFL scouts at the NFL Scouting Combine, but are expected to participate in at least some drills at Thursday's pro day, include Marcus Baugh, Jamarco Jones, Jalyn Holmes, Tyquan Lewis, Jerome Baker, Chris Worley and Damon Webb.
The stakes could be even higher, though, for Michael Hill, Tracy Sprinkle, Erick Smith, Zach Turnure, Elijaah Goins, Trevon Forte and Nick Seme, because they were not invited to the combine, which means Thursday's pro day could be their only opportunity to work out for NFL scouts (though Hill also participated in the NFLPA Collegiate Bowl) before the draft.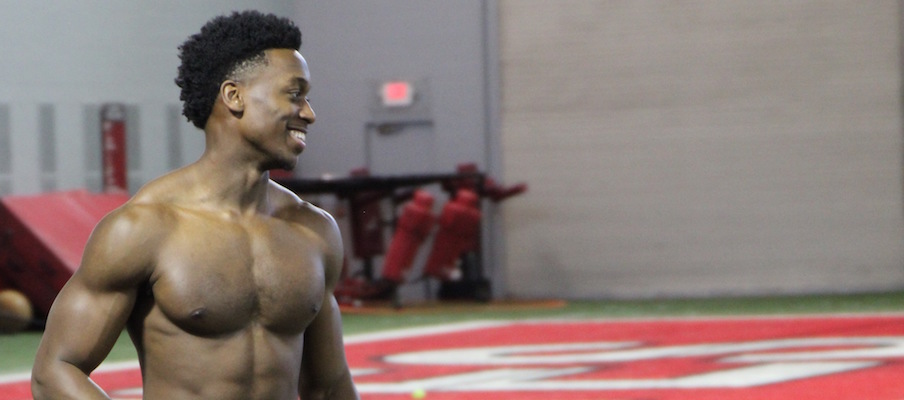 Seme, who played defensive end in his lone season with the Buckeyes as a walk-on last year, plans to work out as a fullback on Thursday. Turnure, a former walk-on who moved to fullback after being put on scholarship for his senior season last year, plans to work out at his original position of linebacker on Thursday.
Two small-school wide receivers from local universities that do not have their own pro days will also participate in Thursday's event. Otterbein's Hunter Joseph and Urbana's Trevon Saunders will be among the receivers catching passes from Barrett during his throwing workout, along with Goins and Baugh, in addition to having the opportunity to participate in individual drills alongside the Buckeyes.
The Drills
Like at the NFL Scouting Combine, pro day participants will have the opportunity to participate in seven measurable tests – the 40-yard dash, bench press, vertical jump, broad jump, 3-cone drill, 20-yard shuttle and 60-yard shuttle – that are used to evaluate a player's speed, explosiveness, agility and strength.
After the measurable tests are complete, prospects will have the opportunity to participate in position-specific drills with their respective position groups. While the receivers and tight ends will catch passes from Barrett, the defensive linemen, linebackers and defensive backs will each go through drills as a group, while Jones will also have the opportunity to be evaluated in offensive line drills.
Thursday's pro day, which will be led by Ohio State director of football sports performance Mickey Marotti, is set to begin with a Q&A period with scouts at 11:30 a.m. From noon to 1 p.m., participants will head to Ohio State's weight room for measurements and to participate in the bench press and vertical jump. On-field drills will begin at 1 p.m. with the 40-yard dash, followed by the 20-yard shuttle, 3-cone drill, broad jump, 60-yard shuttle and position drills.
The Potential Impact
Although scouts will want to see how Ward moves in a variety of position drills and how fast Hubbard can run on Thursday, pro day shouldn't make a drastic impact on those players' draft stocks. If a team that is seriously considering drafting one of them still has questions about a specific aspect of that player's game, Thursday could help answer those questions. But given that Ward has already established himself as a potential top-10 overall pick, and Hubbard is also in the first-round conversation, their pro day performances aren't likely to make or break where they ultimately get selected.
The same could be said for most of the players who already participated in the combine, though those that are not established as early-round picks or did not have great combine showings have more to gain.
Jones and Worley, for example, were among the worst performers in athletic testing in their respective position groups at the combine, so they will certainly be looking to improve upon those numbers at pro day, and could improve their draft stocks as a result. Lewis was only able to participate in the vertical and broad jumps at the combine due to a battle with the flu, so he could elevate his draft stock by taking advantage of his second opportunity to showcase his athleticism.
Ultimately, though, pre-draft workouts are more about making an impression on one team that might draft them than all 32 NFL teams, and that's why the players with the most to gain on Thursday will be Barrett and the players who were not invited to the combine – because all of them need to make a strong enough impression on at least one team that said team will want to draft them in the late rounds or sign them as a free agent after the draft.
Additional Reading Material
Eleven Warriors has been keeping up with and writing about many of this year's Ohio State draft hopefuls as they have pursued their dreams of playing in the NFL. Among the highlights you'll want to read before or after Thursday's pro day:
You can find all of those stories, all of our coverage to come from Thursday's pro day and more from our coverage leading up to the NFL draft at our 2018 NFL Draft page.
If you want to follow along with Thursday's pro day workouts as they happen, I will be providing live updates on Twitter. Our James Grega, Andrew Lind and Kevin Harrish will also be on the scene.