ST. PETERSBURG, Fla. – Throughout his career at Ohio State, J.T. Barrett was repeatedly praised by his coaches for his practice habits, work ethic, leadership qualities and everything else he brought to the table.
Zack Grossi, after having the opportunity to coach Barrett this week, understands why.
"Wow," Grossi interjected when asked what it was like to work with Barrett at this week's East-West Shrine Game. "Everything you hear about the intangibles and all the good stuff you hear about him is true."
Grossi, an assistant coach for the NFL's Tampa Bay Buccaneers, has worked directly with Barrett all week as the East team's quarterbacks coach for Saturday's Shrine Game (3 p.m., NFL Network). And Grossi has been nothing but impressed with what he has seen from the former Buckeye quarterback and 2018 NFL draft hopeful.
"He's a smart kid, been really great all week in the meeting rooms, picked things up fast," Grossi said. "Probably throws the ball better than I anticipated going in. Just has really worked hard."
Grossi says Barrett has "done a really good job taking ownership of the offense," much like he did at Ohio State, even though he has had less than a week to get to know his new teammates while also trying to learn a new offensive scheme himself.
"The leadership skills were on display early on," Grossi said. "At the end of practice, when it's hot and you're kind of dragging along, he stepped right up and kind of rallied the troops a little bit."
Grossi says he believes Barrett has "a chance to be a really good pro."
"He acts like a pro," Grossi said. "That's how a pro handles practices, the way that he goes about handling practice. He comes with a business mindset. He has a plan. You can tell that he's studied all the plays. And he just handles it like a pro. He comes to work. You can tell, as soon as we hit the field, he's got good energy. He does a great job going through his reads and progressions. You can just tell right away that he's studied. And it shows in practice right away."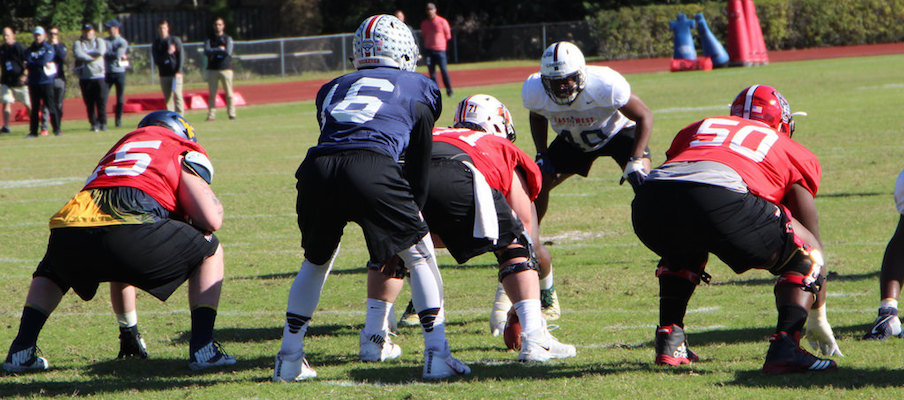 Not everyone believes that Barrett has what it takes to be a successful NFL quarterback. Grossi, however, says that those people must not know Barrett as a person.
"Anyone that's skeptical about J.T. Barrett has never met him," Grossi said. "You can just tell right away what a special guy he is. There's a lot of guys, you see a lot of those guys that don't have those intangibles, and he already acts like a seasoned pro. And I would say anyone that's going to doubt him, you don't know him very well."
While Grossi hasn't yet become a full-time quarterbacks coach in the NFL – he's currently an offensive quality control coach for the Buccaneers, but like the rest of the coaches at this week's Shrine Game, is working in an elevated role that could potentially help him further his career – he knows what it takes to succeed in the league, having worked for the Buccaneers in various roles since 2014.
Grossi also knows what it takes to be a successful quarterback, which he was during his own collegiate career at Concord University, where he set school records for pass completions and touchdown passes, among other marks, at the Division II school.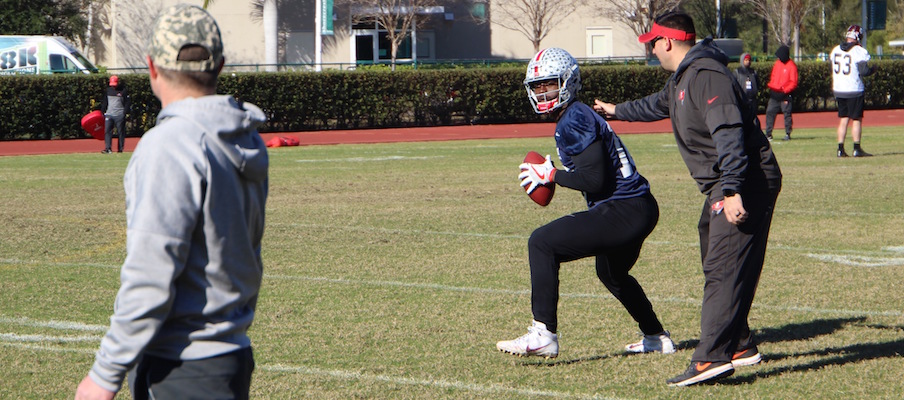 Grossi says he spoke with Barrett before Shrine Game week began, and Barrett told Grossi that he wanted to work specifically on the different footwork and ball handling that he will need to learn for the NFL. So Grossi has worked with Barrett in those areas, among others, in St. Petersburg this week, and Grossi was impressed with the progress Barrett demonstrated in those areas through four days of practice.
"He was really interested in understanding footwork, the ball handling, all the things that go with the run actions and play actions, and he's really done a great job working at that, asking great questions, trying to learn little coaching points," Grossi said. "Everyone always talks about, quarterbacks that played in the gun, they think about the dropbacks (that quarterbacks need to make from under center in the NFL), but that's not really hard. They're still taking dropbacks in the gun. It's the run plays, it's the action, the ball handlings, play actions, carrying out fakes, stuff like that that's hard to get used to. And we've really, really tried to detail it out for him, and he's really worked hard to get those actions right and to learn to play under center."
"Anyone that's skeptical about J.T. Barrett has never met him." – Zack Grossi
Grossi says he will advise Barrett to continue to work on mastering those techniques, while also preparing for the more complex play calling that he will encounter in the NFL, as he readies for the NFL Scouting Combine, the rest of the pre-draft process and his shot to earn a spot in the league.
"Just continue to learn," Grossi said of his advice to Barrett. "Doing some things that really aren't in the college game. Learning the long verbiage plays, plays where he's got to call plays, he's got to check at the line – I'm not saying he didn't do any of that at Ohio State – but there's going to be some different things, and guys are going to quiz him on the combine and stuff like that, they're going to try to put him in a position up on the board, and he's just got to be sharp on the NFL game and just continue to grow and continue to learn. He's got a good head on his shoulders. I know he's going to keep working."
Considering that there are 32 teams in the NFL, chances are good that Grossi will be coaching and Barrett will be playing for different teams than one another later this year. But even so, Grossi expects the bond he has built with Barrett at the Shrine Game to continue well beyond this week.
"He can always call me, that's for sure, if he ever needs advice on anything," Grossi said.